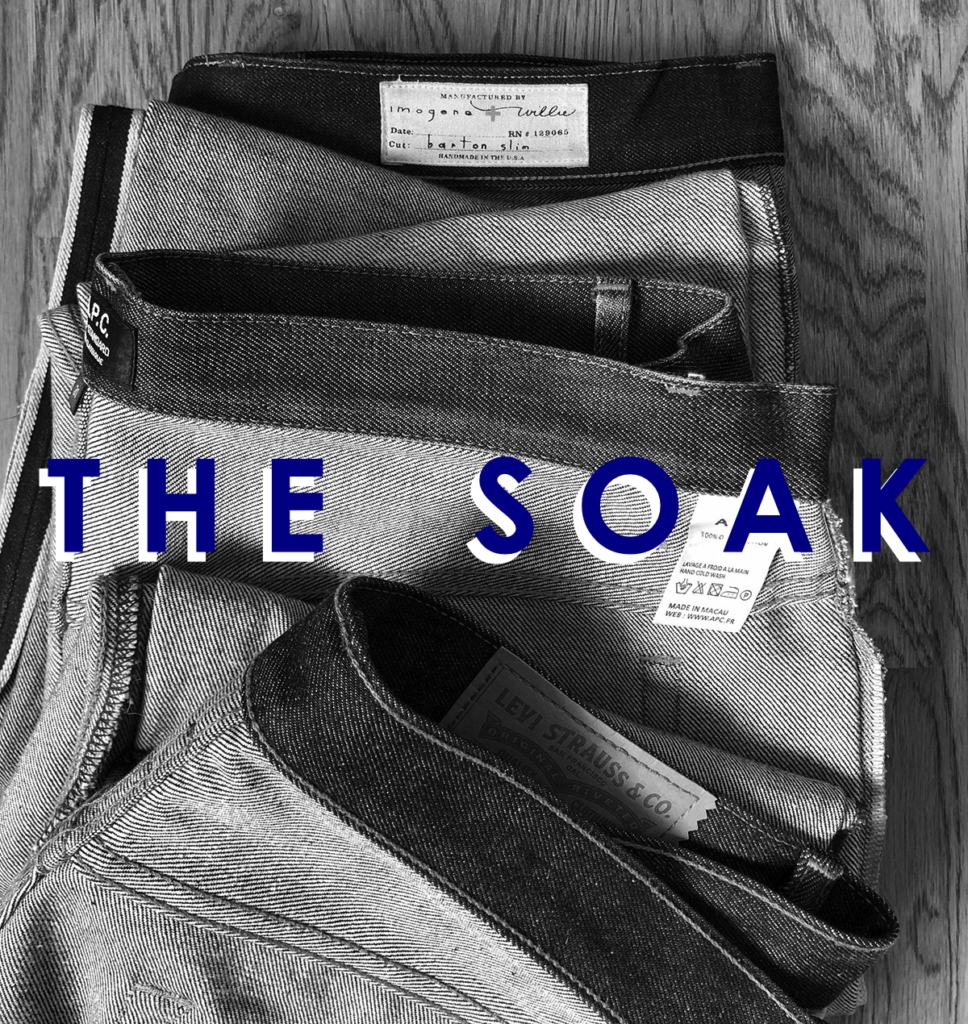 I find myself wearing jeans a lot.  Our office adopted a more casual dress code, allowing me to grab jeans 3-4 times a week.  I actually dig it- jeans are easy, and I like the tailored look of 'good jeans' with a dress shirt/sport coat/sans socks/loafers.  Those that follow me on Instagram see a lot of these in my #WIWT posts.
When I mention good jeans, I'm talking about either selvedge or raw denim.  These good jeans should not be thrown into your washing machine, and should never see the inside of a dryer.  Washing good jeans is a process, outlined below.
I have three pairs of jeans that make up the bulk of my rotation:
APC New Standards (tailored to a slimmer fit)
Imogene + Willie Barton Slims
Levi's Raw STF (soaked and tailored to a slimmer fit)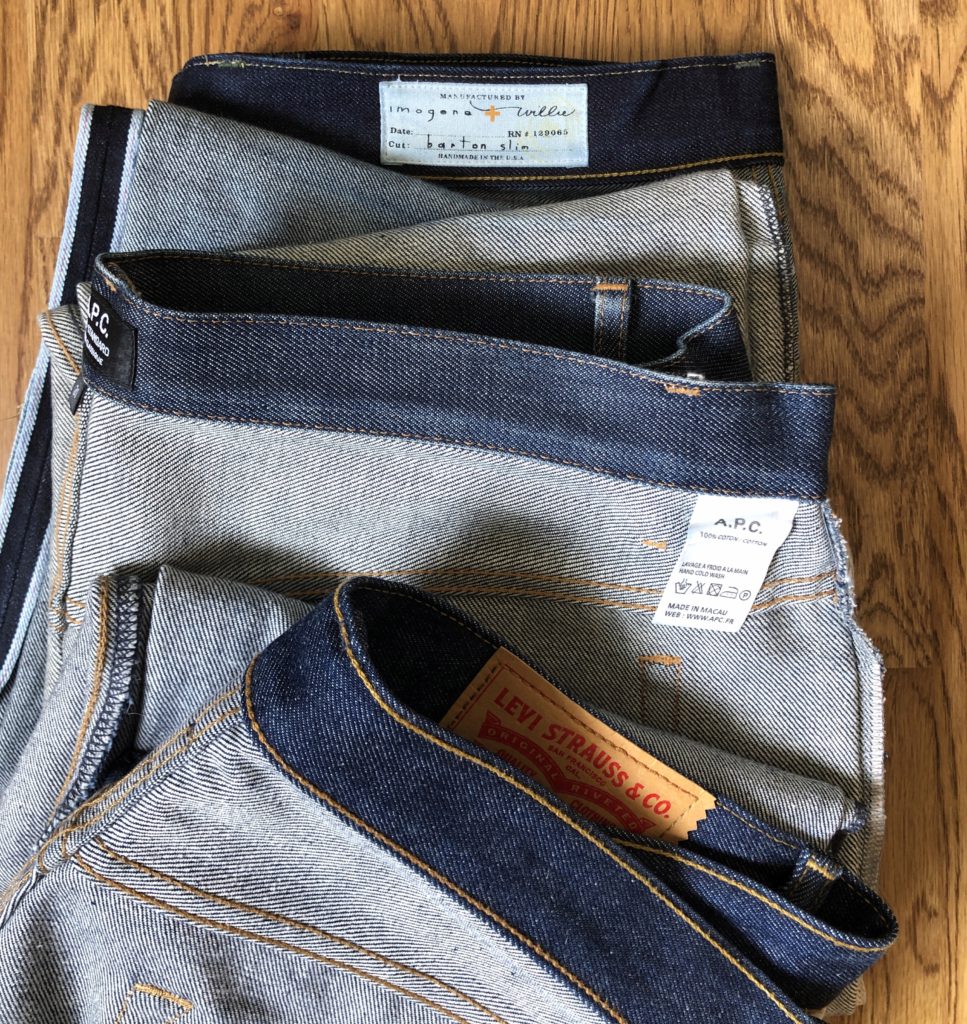 I really don't soak these much.  I can't remember the last time I soaked the APCs.  It's probably been a year.  I got caught wearing the Levi's at an outdoor event – I was in the sun, and it was about 90 degrees for a few hours, so the sweat and stretching forced a soaking event.
I did a post on the First Soak, which is mainly focused on how to soak shrink to fit (STF) jeans, but this really applies and works well for any brand new pair of good jeans.  Some people don't give jeans a first soak – which is fine, but they ALL need to be washed at some point.  That is the point of this post – the second (and subsequent) soaks.
Here's what you need for the soak:
1. Hangers with clips – for hanging
2. Woolite Dark – the soap
3. The jeans – the goods
4. Old beach towels that you don't care about – for a quick dry
5. (not pictured) A bath tub – for the soak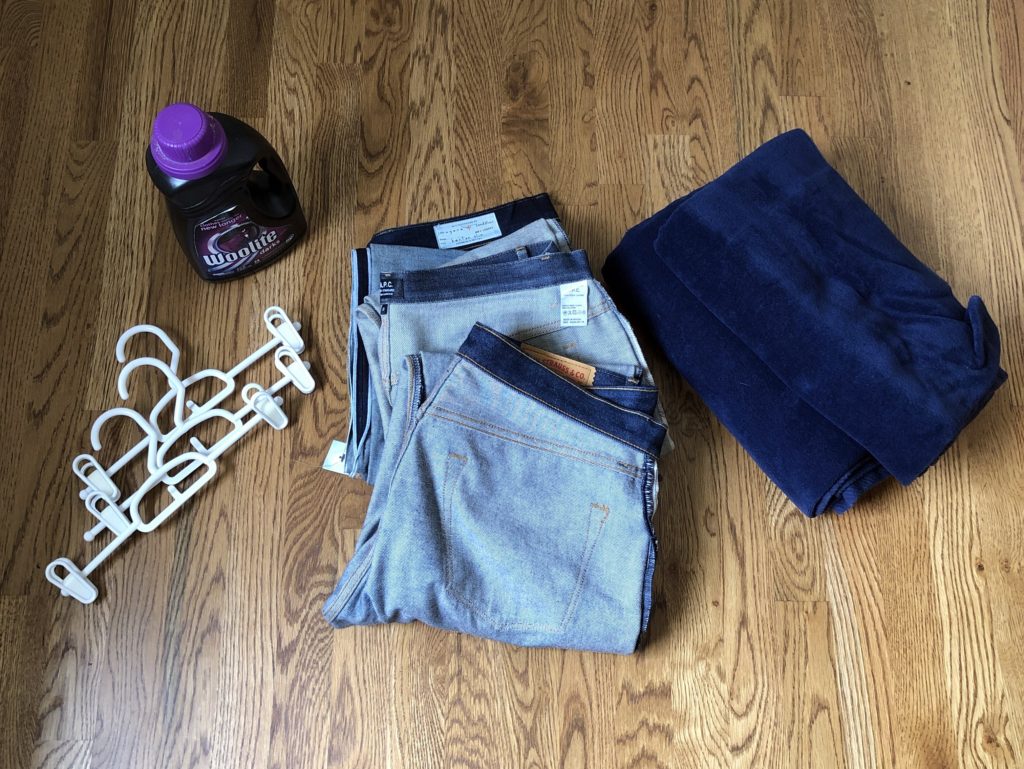 The ground rules:
1. The initial soak should happen inside out.  I have the best color results when I do this.  Keep in mind, my intent with all of my jeans is to keep them as dark and I want to avoid fading as much as possible.
2. In terms of water temperature, the hotter the water, the more the jeans will shrink.  Keep in mind that denim stretches, and has stretched quite a bit since you started wearing these, so if you are interested in tightening them up a bit, heat up the water.  If you like the size they are, go cold.
3. The whole soaking process takes about a day and half, so have some patience.  These jeans cost a lot of money, so they deserve to be cared for appropriately.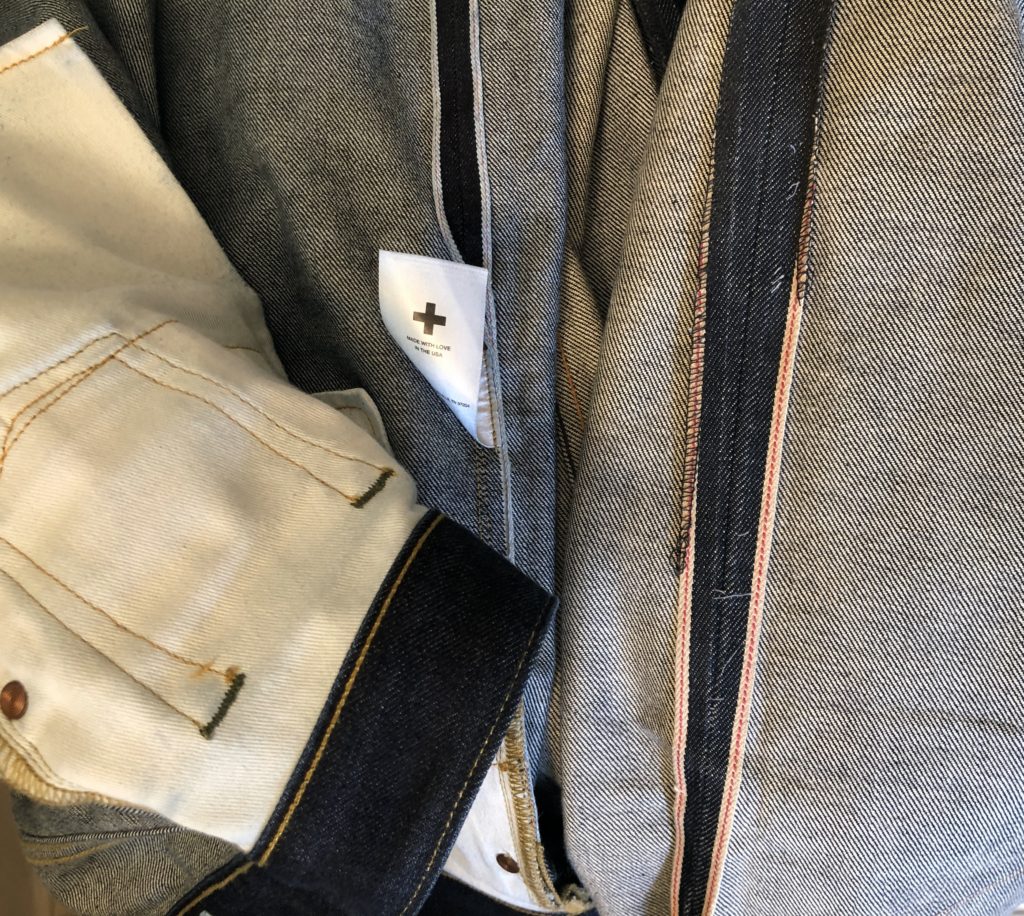 The Woolite Dark is key to keeping the darker look on the jeans.  It's worth having a jug for your soaks.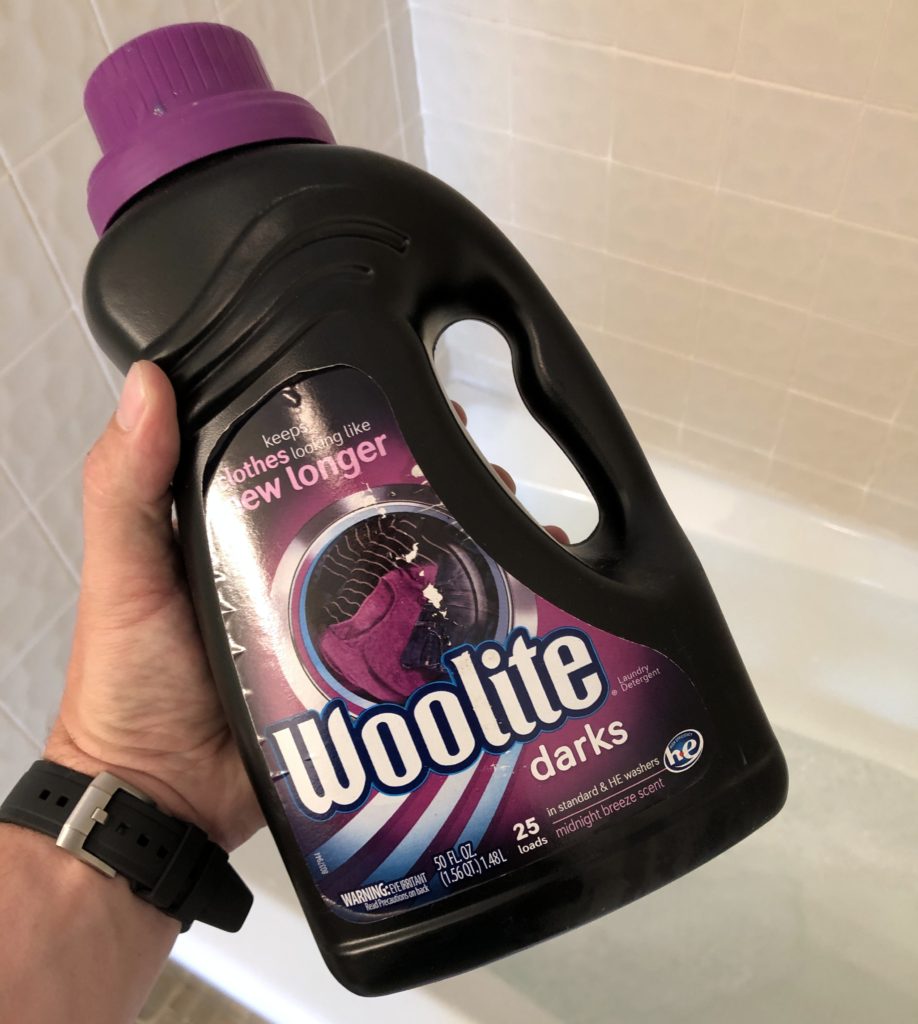 Start the water, and let it run until it's the desired temperature.  Stop the drain, add a half-cap of Woolite Dark, and let the tub fill to ~3-4 inches.  You don't need much more than that.  Submerge the jeans inside out until they are soaked.  Some folks use weights to keep the jeans underwater…feel free, but I've never seen the need.
Let them soak for about an hour.  Just walk away.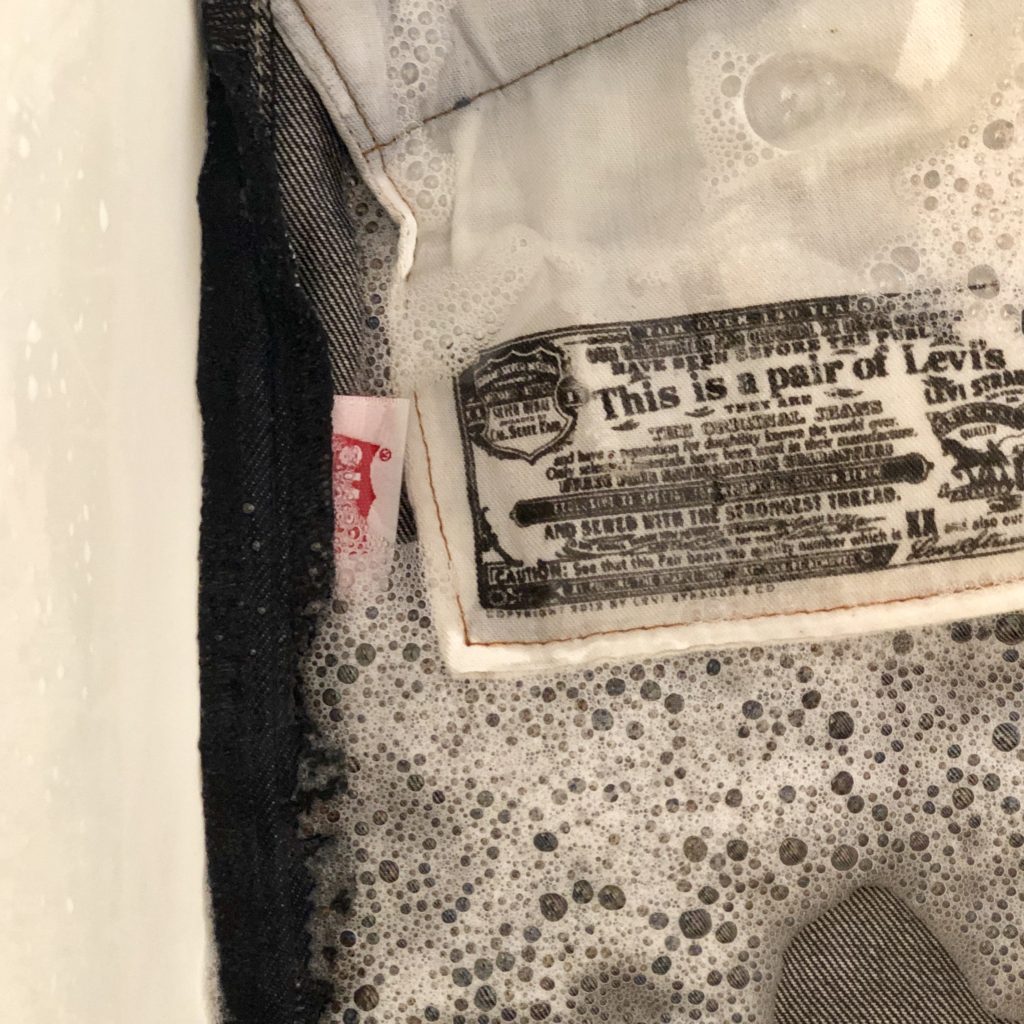 After an hour, grab the jeans by the waist, and turn them right-side out.  Re-submerge for a few minutes, pick them up out of the water, let them drain for about ten seconds, and re-submerge.  Do this three or four more times.  Then drain the water.  Do your best not to judge yourself on the disgusting, dirty water.
Drain the tub and refill with about two inches of cold water.  Then submerge – pick up – drain – re-submerge about 4-5 times.  This gets all the soap out.  Now, hang the jeans to drip dry, effectively shaping them along the seams (like below):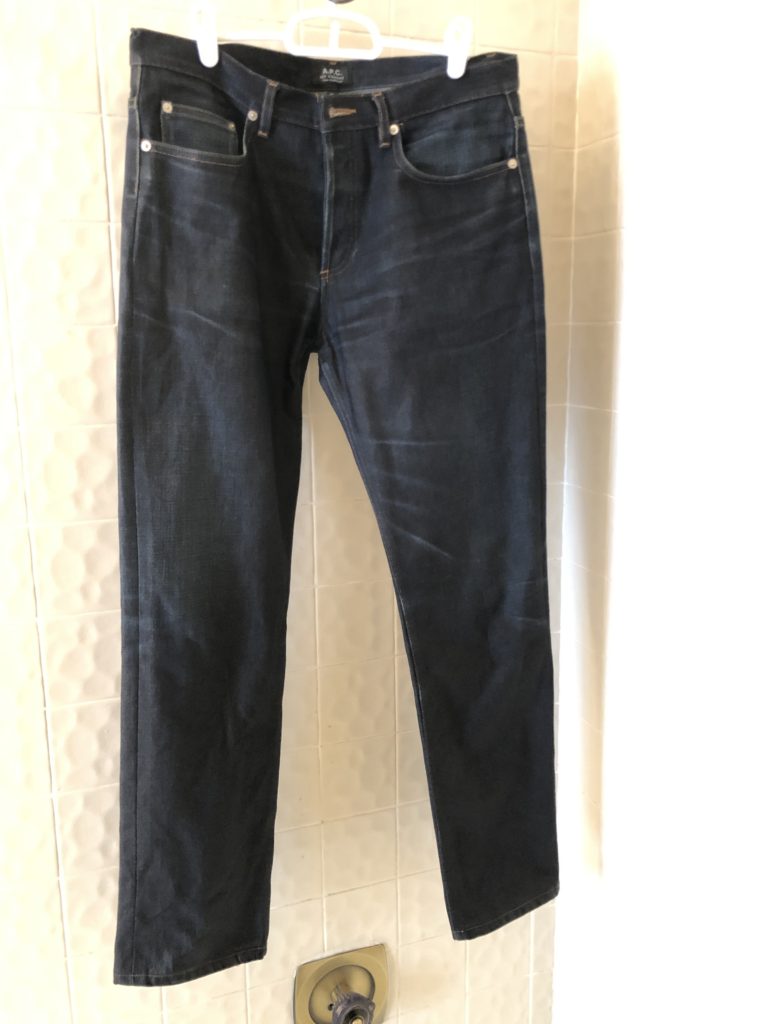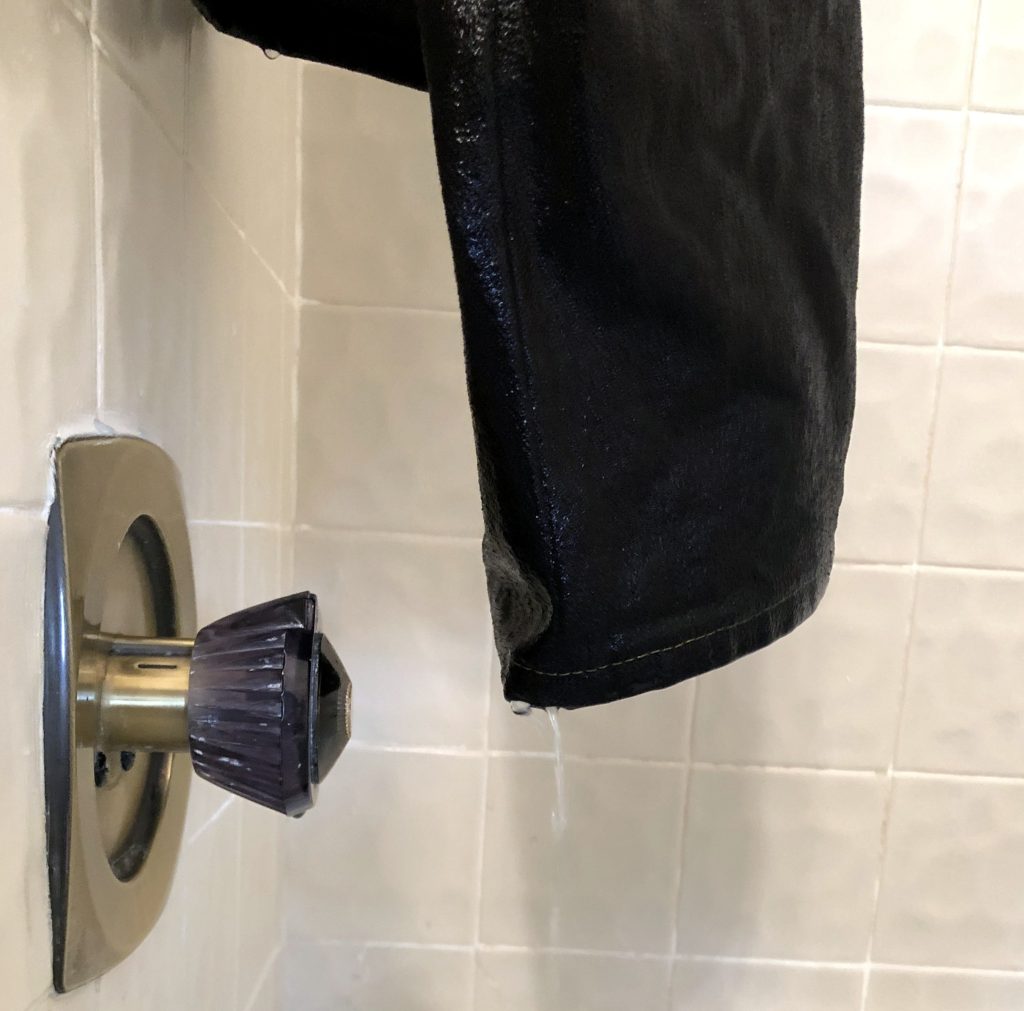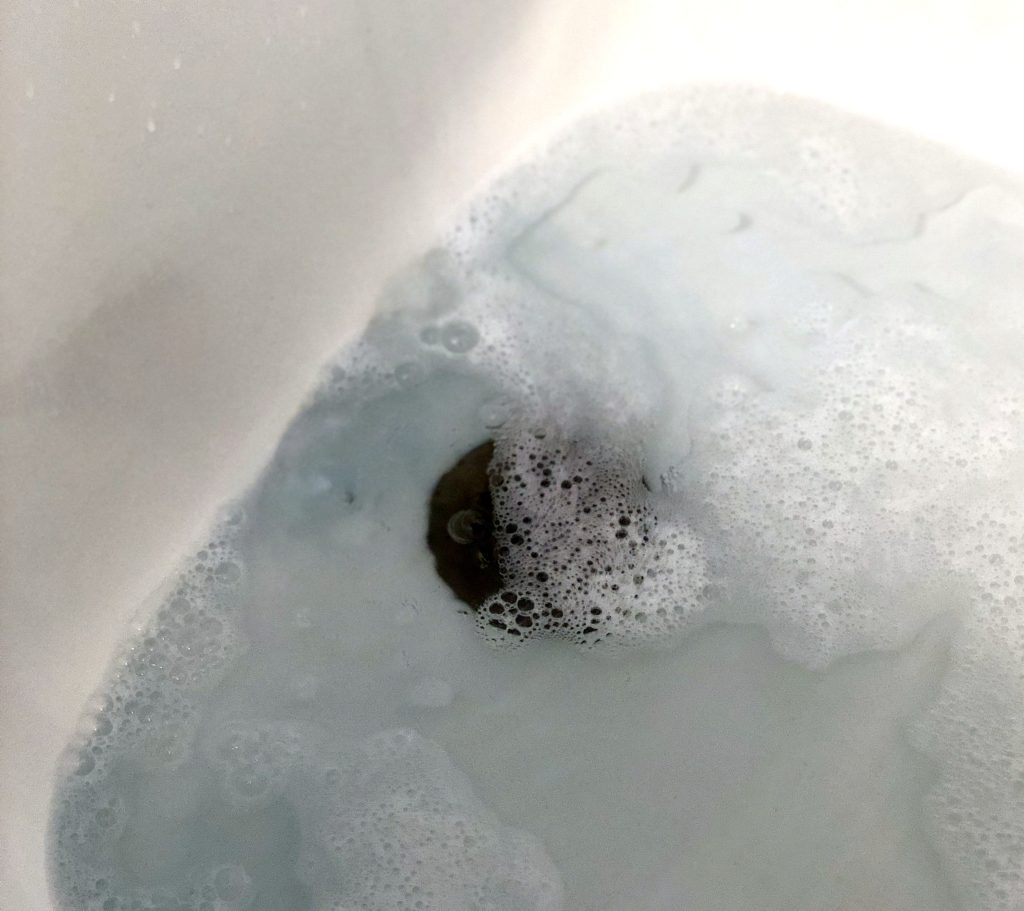 They will drip for what will seem like an eternity.  In fact, they'll drip for about an hour.  Let it happen.
The jeans will be super dark, as they are soaked, but you'll be able to see some of the natural whiskering that your jeans have earned: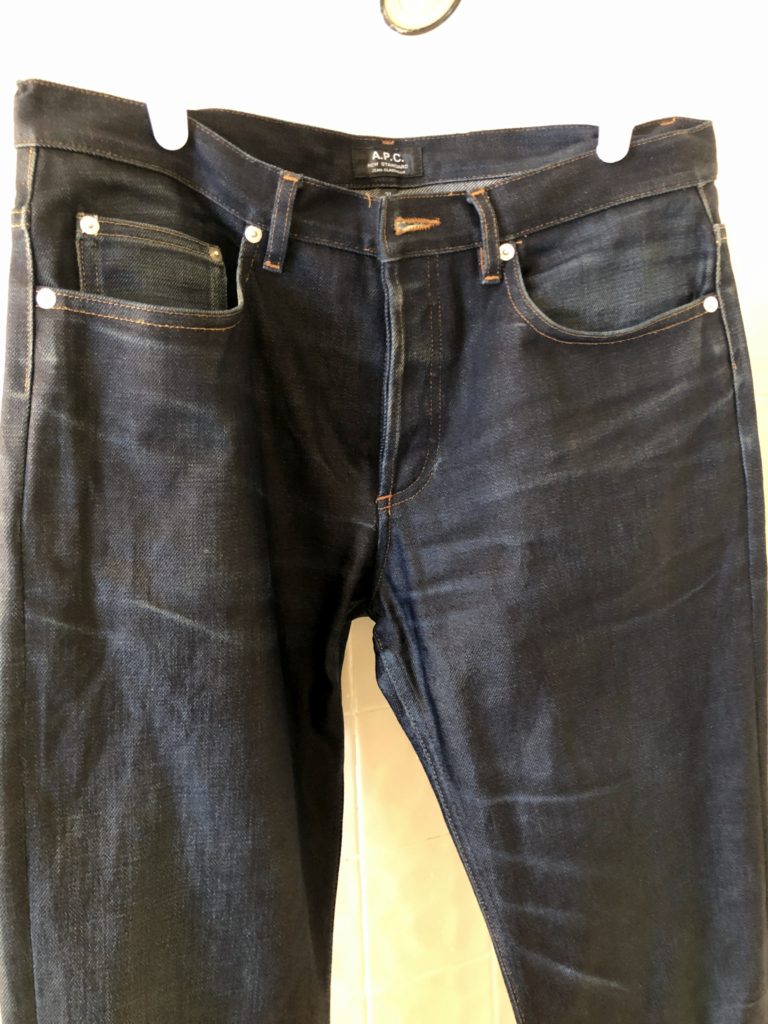 Above are the APCs, below are the Imogene + Willie's and the Levi's STF: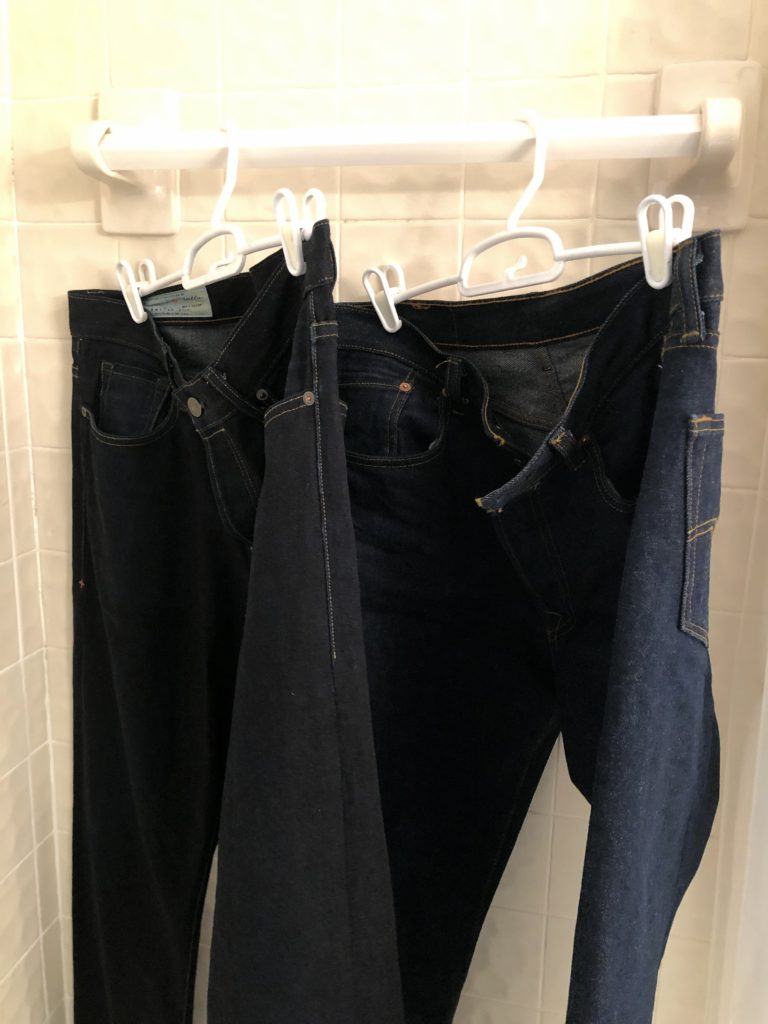 Once they are all done dripping, give each pair a towel sandwich.  Place each pair of jeans between the two old beach towels and walk all over them, allowing the towels to absorb as much water as possible.  They won't be dry, but this helps speed up the process.
Rehang each pair with no creases/etc., and leave them alone for 24 hours.
After a day, they'll be totally dry, and really stiff.  At this point, the jeans are ready to go, and ready to wear.  If the stiffness is annoying, you can throw them in the dryer on ZERO heat for a bit, and this will help.  I've found that wearing them for a couple hours has almost the same result.
For reference, here are all some before and after shots of my jeans (in order: APC, I+W, and Levi's):
APCs Front: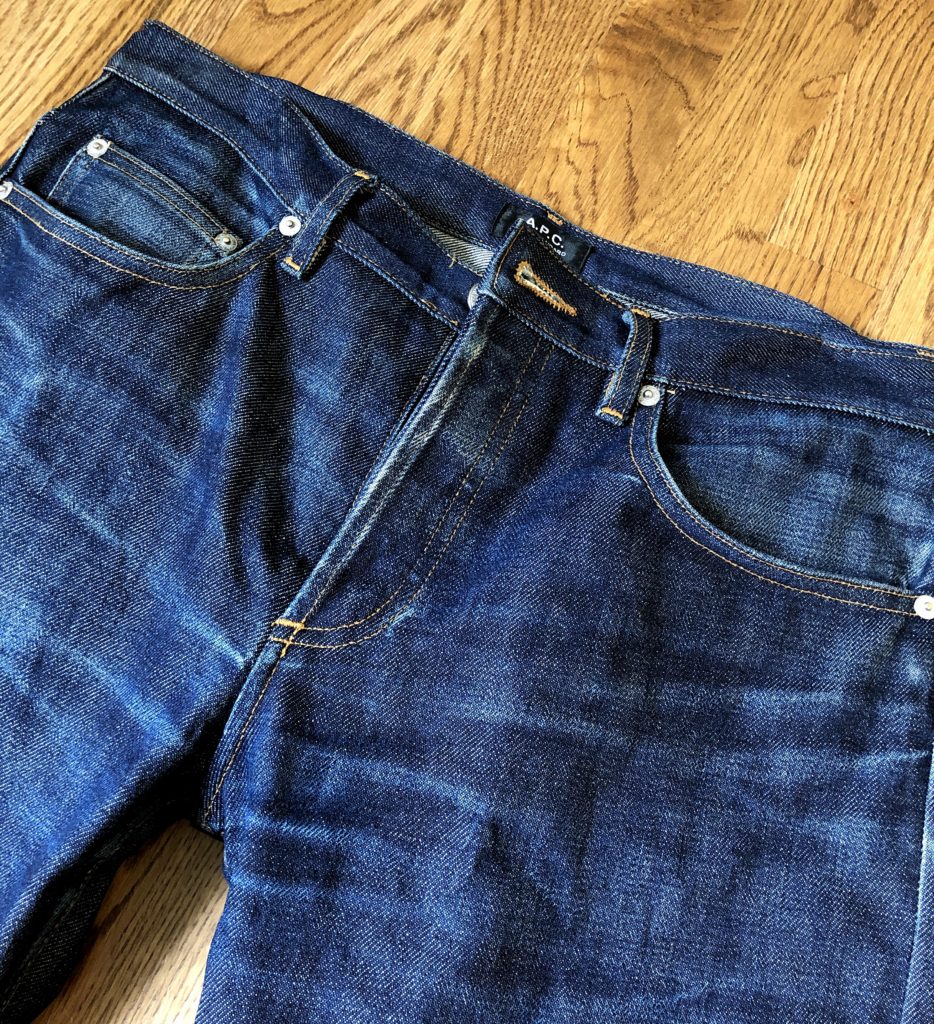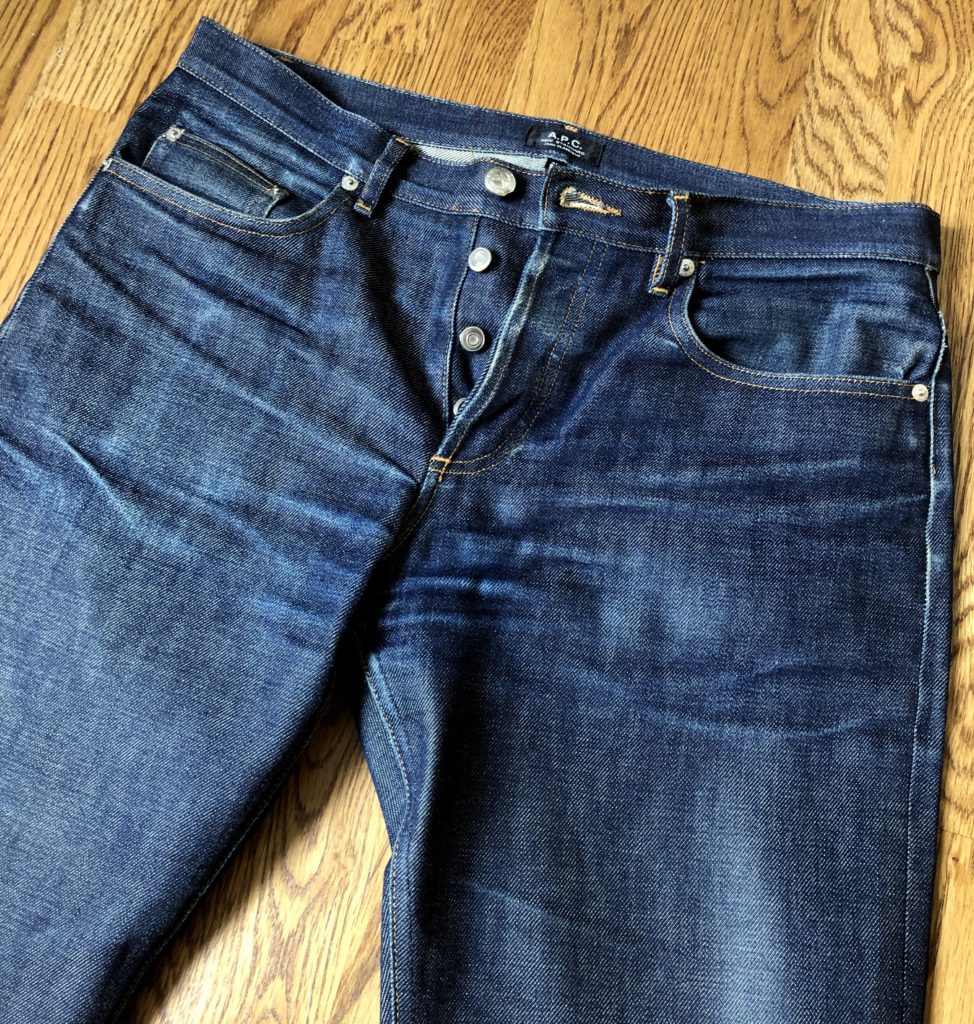 I+W Front: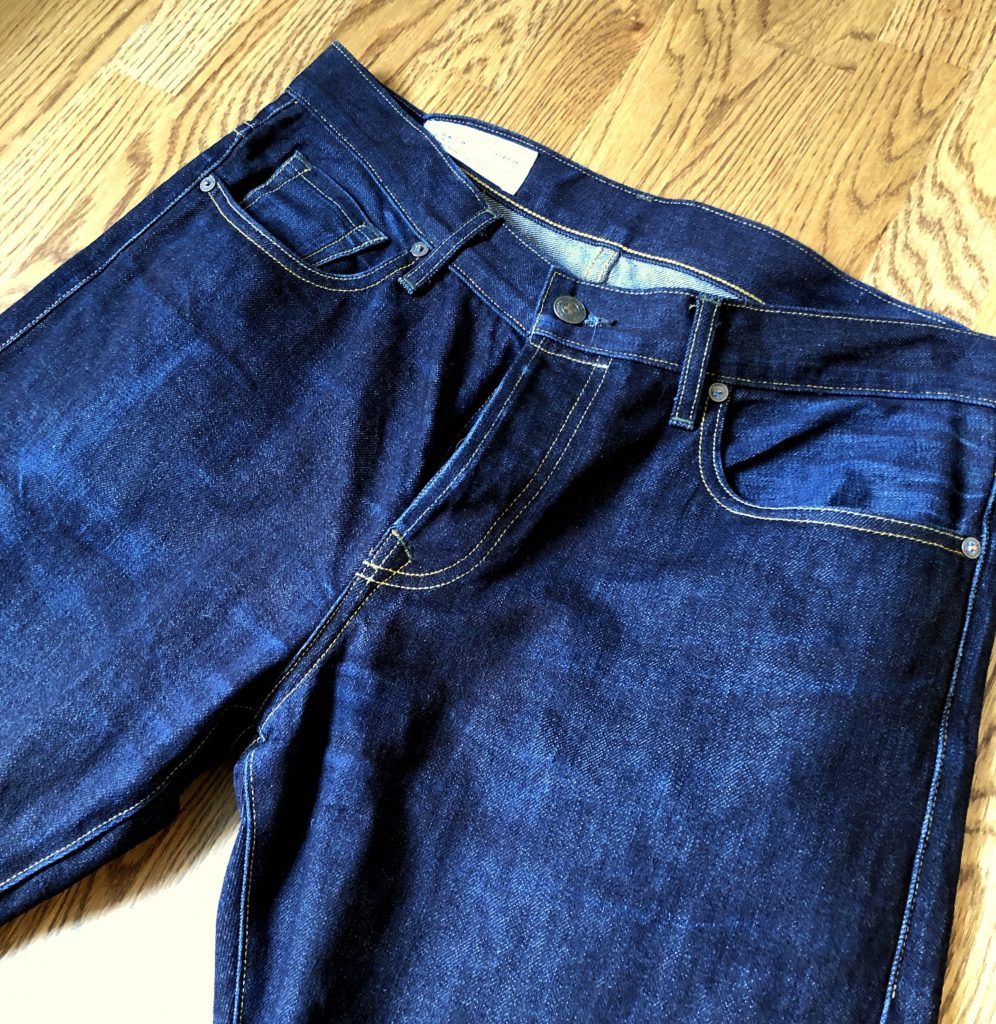 Levi's STF Front: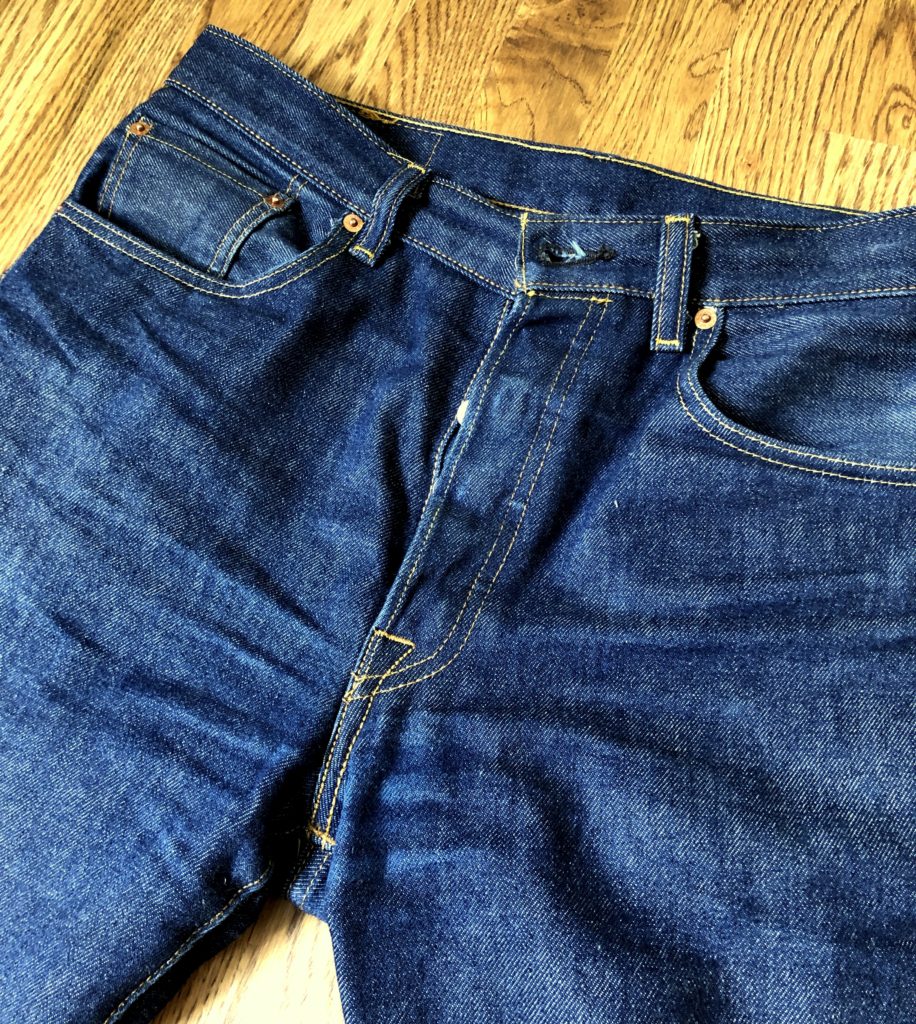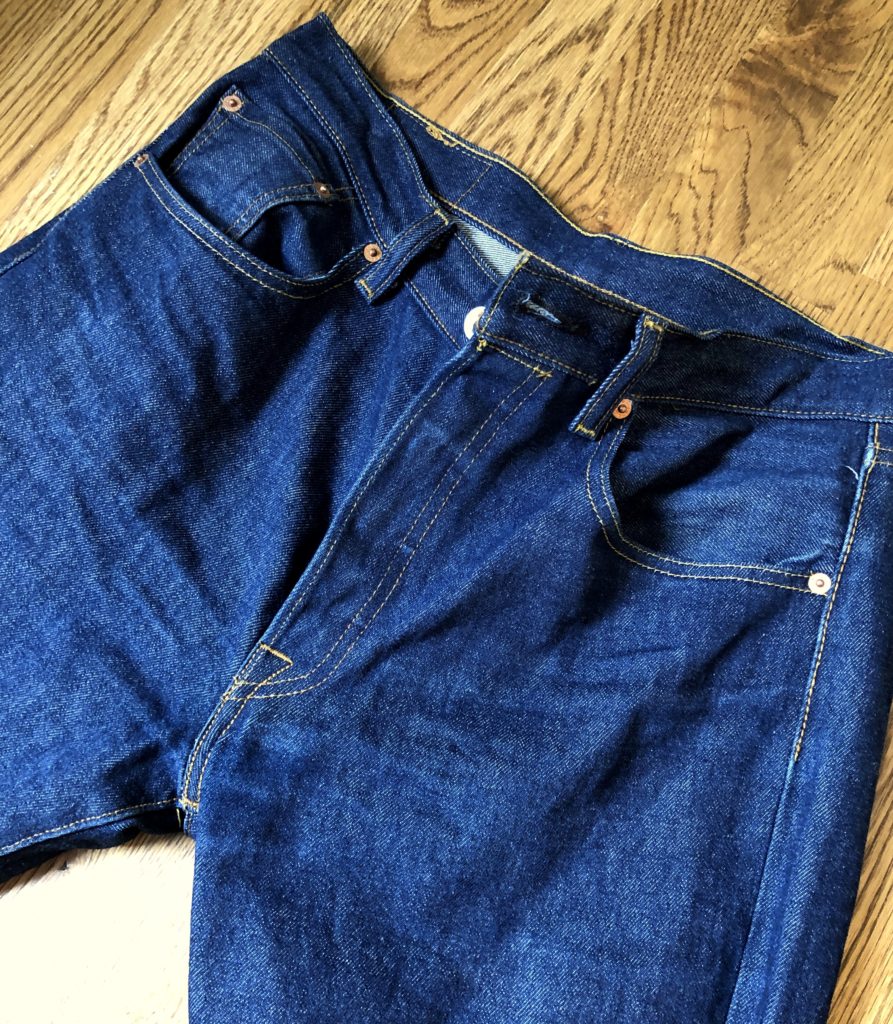 APCs: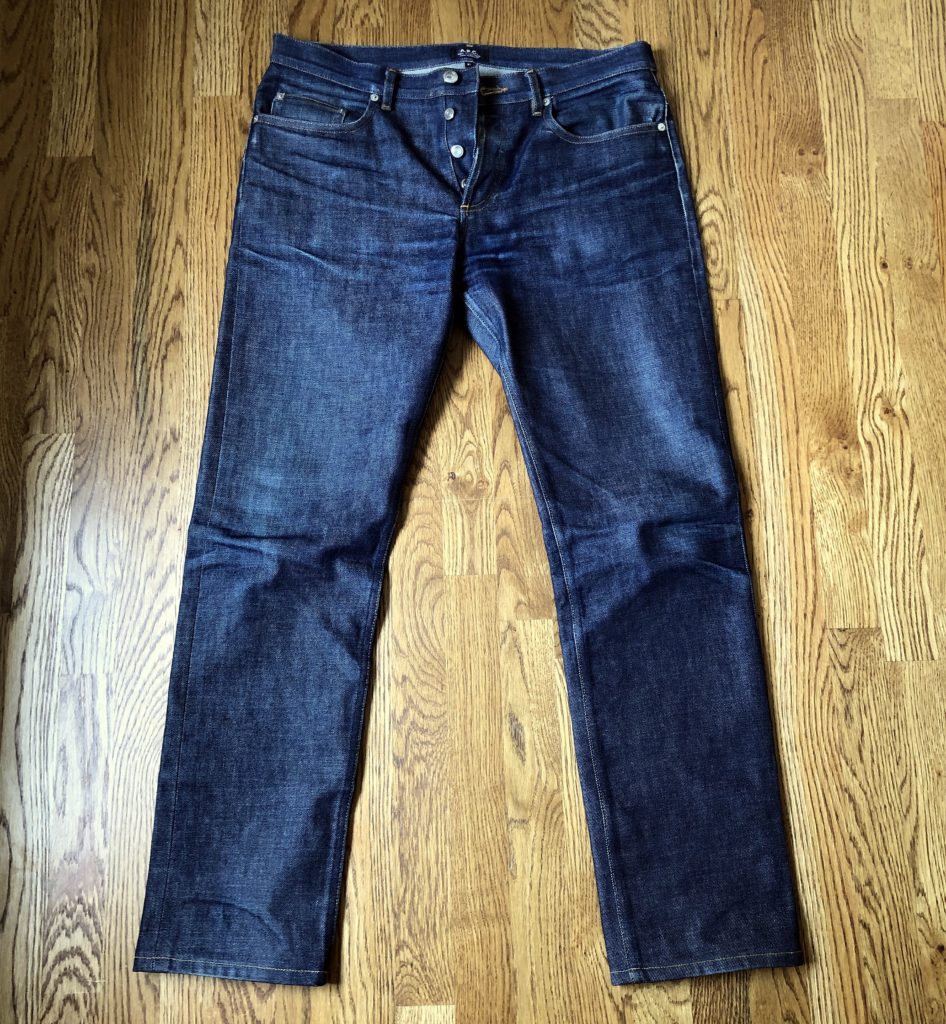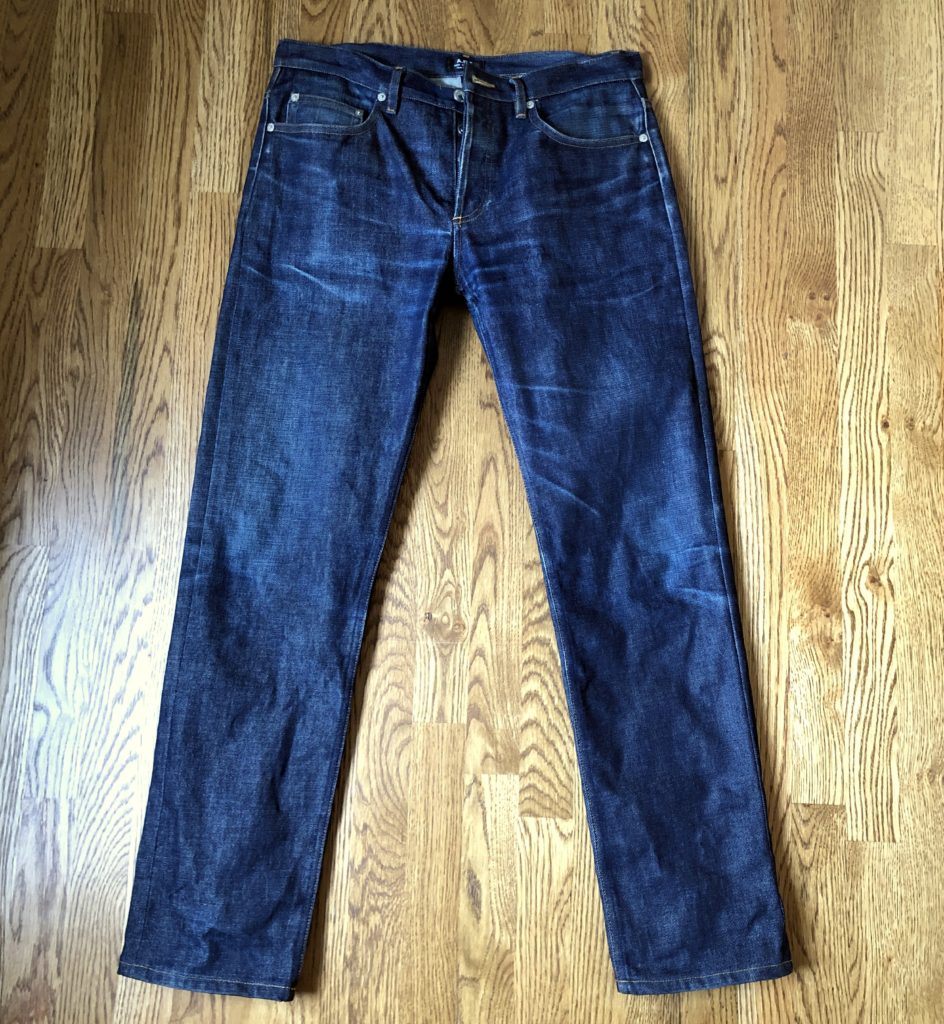 I+Ws: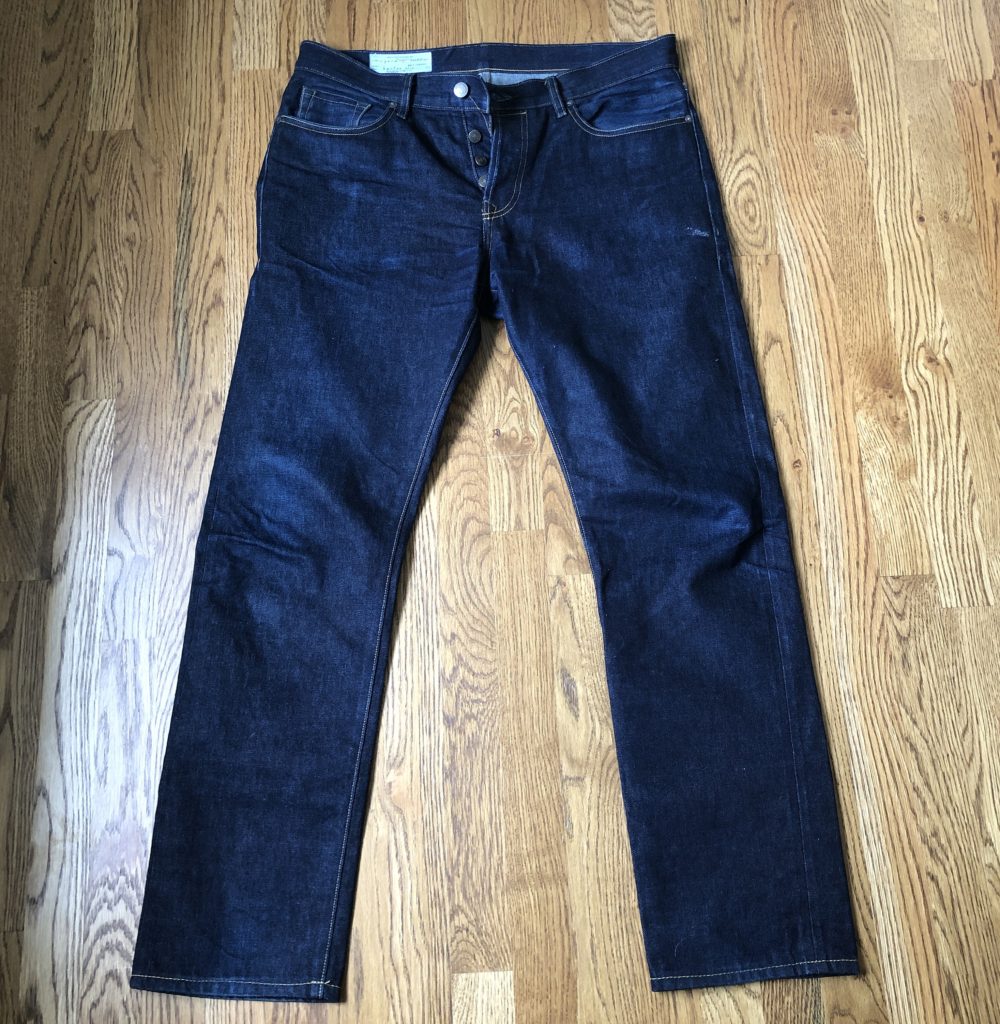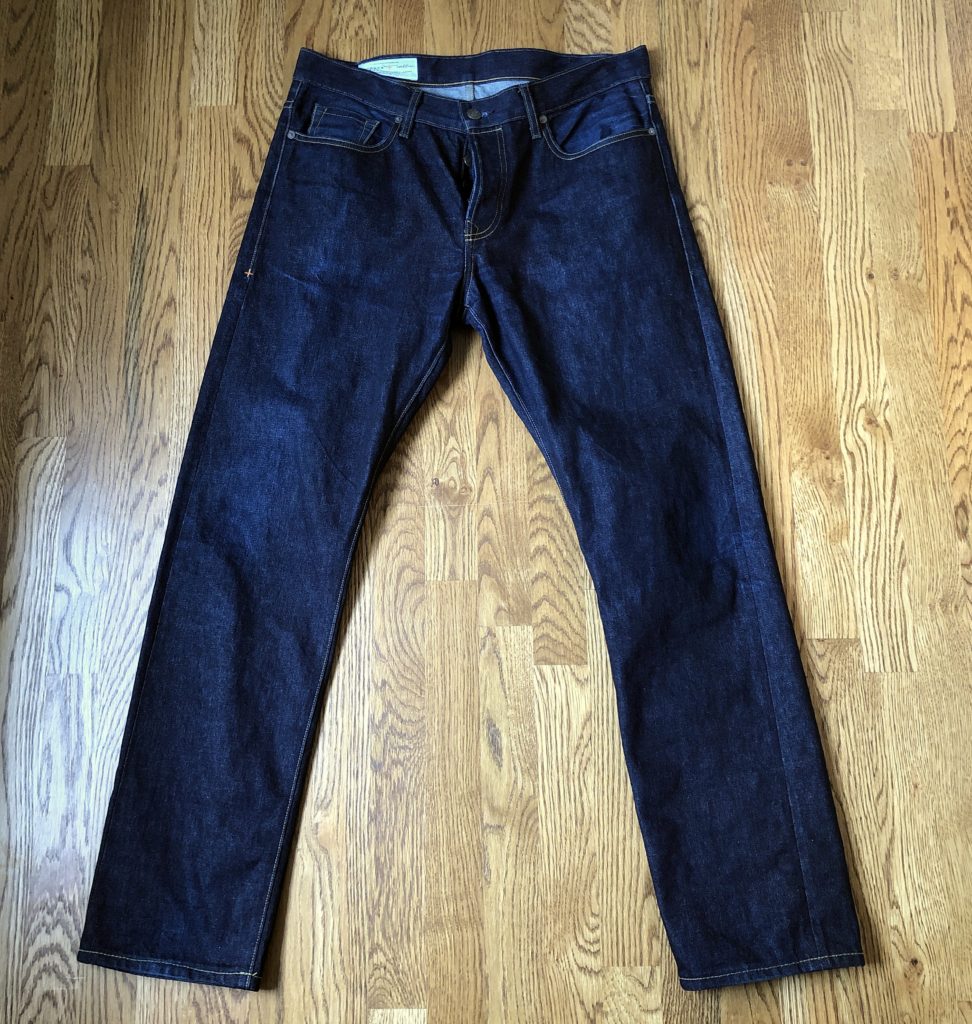 Levis STFs: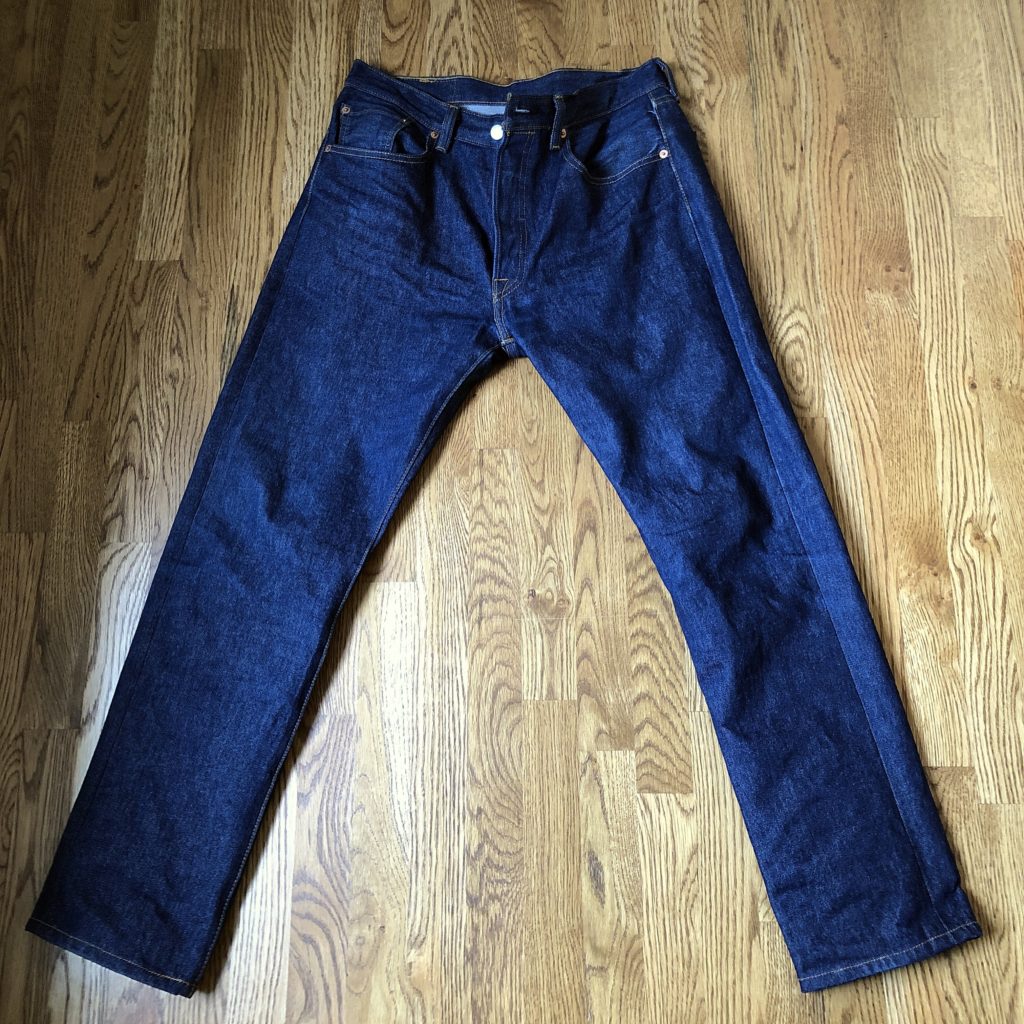 Note: I am super happy with the results.  You'll notice a slight fade, which is acceptable.  I used warm water with all three, as they have all stretched out a bit, and I have dropped a few lbs.  They'll stretch back out, actually quicker than you think, and be right where I want them…they'll all need another soak sometime this Fall, but until then, we're ready to rock.
Let me know your thoughts?  Any other tricks?
P L E A S E    S U P P O R T    O U R    P A R T N E R S :