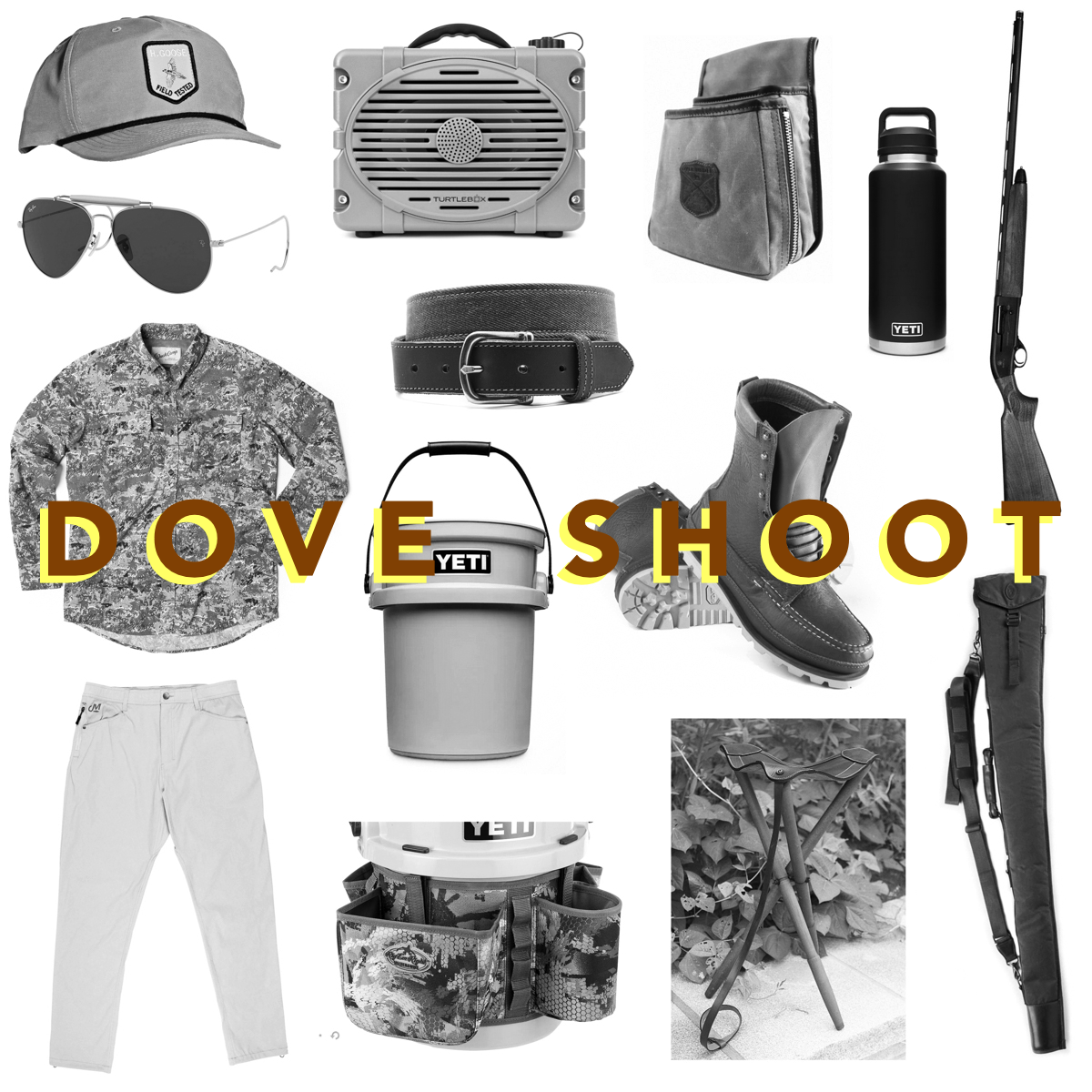 Dove season opens in Georgia on September 4th, and needless to say, I am really excited.  It'll be nice to get out and see some dear friends.  We've celebrated the dove opener the same way…we all meet, have some BBQ, and head out to the field, where we hope they are flying like it's Argentina.  Gunpowder is burned, sh!t is talked, and a good time is had by all.
In terms of hunting, there isn't too much that goes into a dove shoot.  Generally carried out to your field by a tractor or truck, you pick your spot near a fence, hay, or some other structure.  Then you wait.  Then you shoot.  It's also the first time any of us have shot a gun at something in quite a while, so there's usually nice little flex…showing off all that new gear you've accumulated over the fishing months.  I don't have any problem with that…however, you'd better limit out or be ready for some ribbing.
Here's how I do it: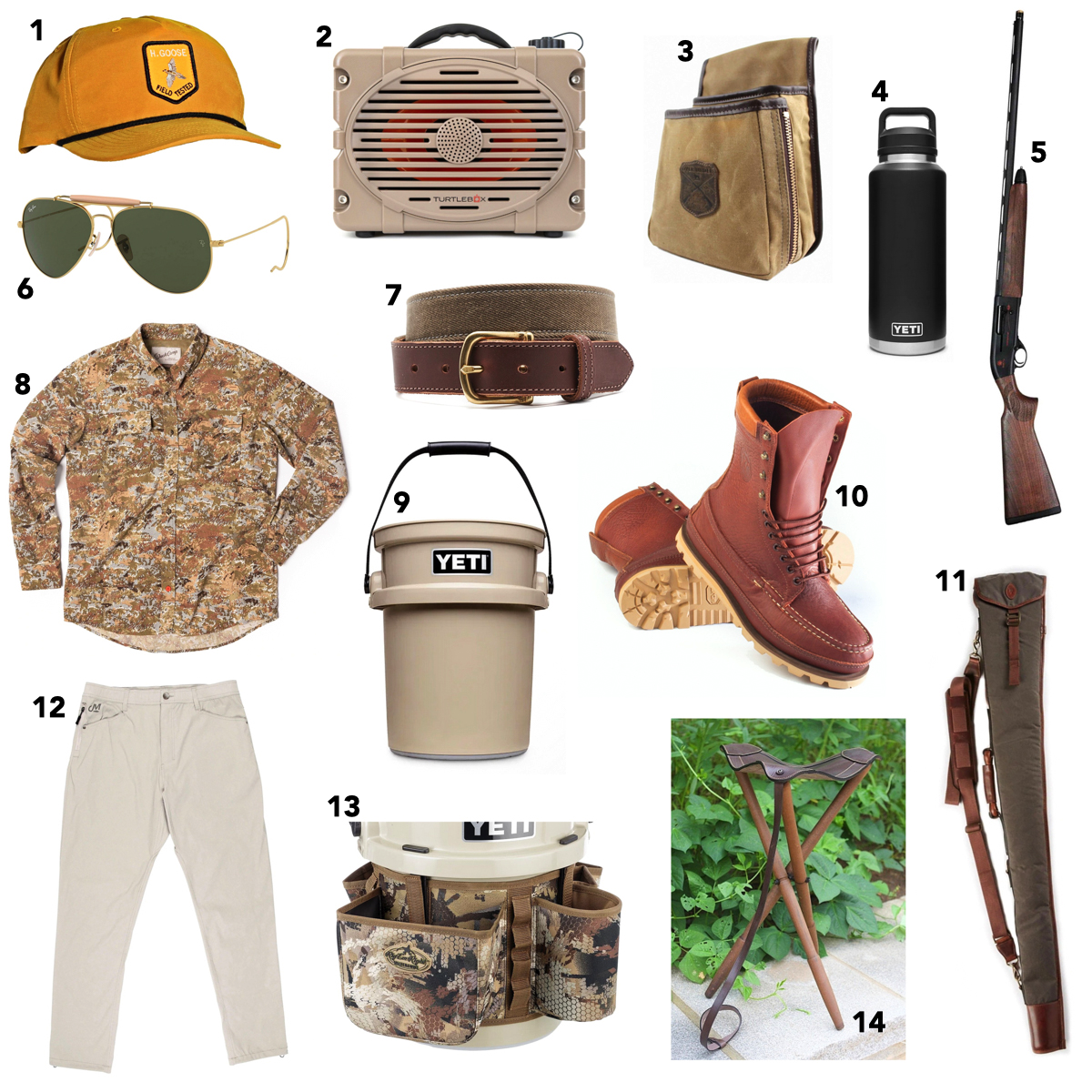 From top left:
1. H. Goose Dove Hat:  Whatever hat you choose, get ready to sweat.  This new addition to the H.Goose lineup is solid.
2. Turtlebox Speaker:  I like to bring this out to the field to listen to the second half of the 3:30 SEC game.  It's loud enough so the whole field can hear it, but we've got a couple of Georgia Tech fans out there that might not appreciate it.  Or understand it.
3. Over Under Large Shell Pouch:  It's a big pouch because there are going to be a LOT of shells.  Be sure to keep a couple of grocery bags handy and clean up after yourself.
4. Yeti 46 oz. Water Bottle:  Ice water.  Tons of ice water.
5. Beretta A300 Outlander 12 ga. Shotgun:  I've been shooting this one for years, and haven't found, nor am I looking for a better 12 ga.  I love this gun.  It flat out performs on every hunt, and the price is very digestible.
6. Ray Ban Outdoorsman Aviators: Aviators are always going to be in style, but the circle bridge design puts these over the top.
7. TSG Waxed Cotton & Leather Field Belt:  Show some team spirit with a shell belt.  The waxed cotton is a nice alternative to the old school Tory or Royden all leather shotshell belts.
8. Duck Camp Midland Lightweight Shirt:  We're hunting in a dead sunflower field with huge round hay bales.  The Duck Camp Midland pattern is perfect for this outing.  And it breathes, so comfort will be key.
9. Yeti Loadout Bucket:  You've got to have a bucket at a dove shoot.  It acts as a carrier, a seat, or a table.  Yeti makes a serious option, and don't forget the Lid and the Caddy.
10. Russell Moccasin Anniversary South 40 Bird Shooter:   Nothing more can be said about having a good pair of boots.  I have the South 40 Bird Shooters, and not only love the style, but I love the fit as well.  The lace-ups are great in the field when you aren't trudging through briar patches.
11. Tom Beckbe Canvas Gun Sleeve:  One of the best-looking gun sleeves on the market.  This will be my third year with mine, and the patina is starting to grow some wings.
12. Marshwear Clothing Escape Pants:  There is a big debate about shorts at a dove shoot, but I can't do it.  I like to wear a pair of thin, breathable fishing pants.  These Escape pants from Marshwear are just what the doctor ordered.
13. Rig'em Right Bucket Belt:  Just came across this one and like it a lot more than what Yeti offers.  Tons of pockets, a bit of a different look, and a GREAT price.
14. LTC Brown Leather Tripod Seat:  You've got to have a place to sit, so why not sit in style?
What did I miss?