Drake's, the brand known world over as one of the finest purveyors and makers of men's sartorial furnishings and clothing, is excited to announce the launch of its capsule collection co-designed with writer, editor and author of the recently published Men and Style, David Coggins.
The idea of the capsule collection originated after a conversations between Coggins and Drake's creative director Michael Hill. "We said how nice it would be to work together when Men and Style came out. Things evolved and we decided to make an entire outfit that represented where my sensibility meets the Drake's sensibility. We share an interest in texture, in pattern, in tweed" said Coggins.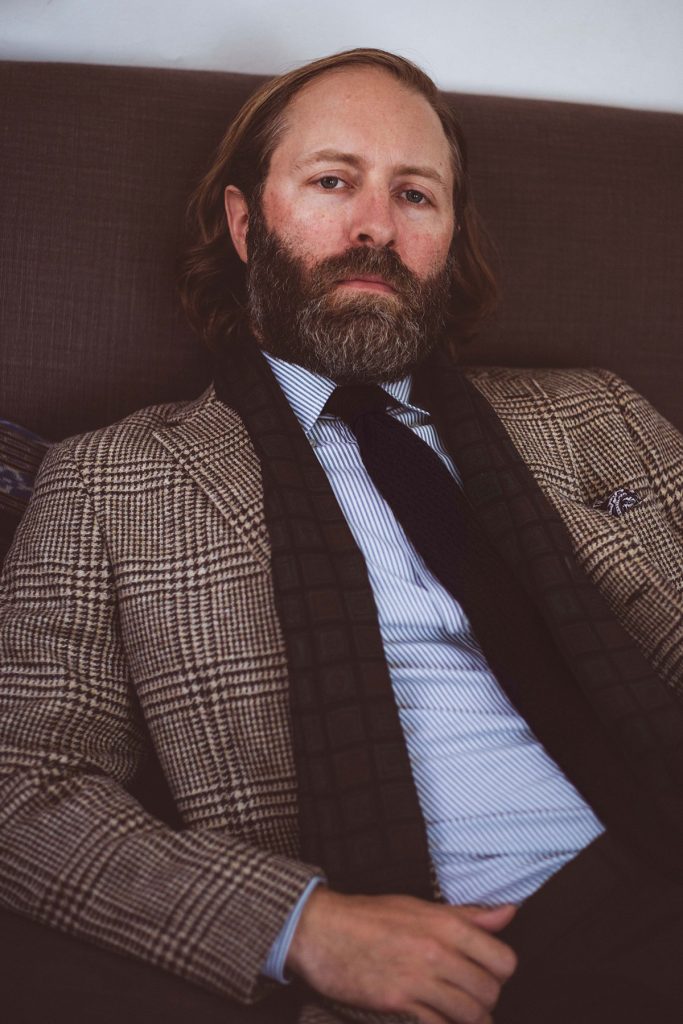 The collection consists of an entire look styled by Coggins: a tweed jacket, a gray wool cardigan, a green and white ticking stripe shirt with button-down collar, and three (brown, green, navy) cashmere knitted ties.
"A tweed jacket was a must. Michael Hill knew of an archival fabric in their factory that I would love —it was just right." Regarding the ties, "Michael and I both love knit ties and we thought it be fun to make some in the heavy fabric I like and in deep navy, which is a color I love" said Coggins.
Rounding out the collection are some special accessories – a bandana patterned pocket-square and a unique 'indoor scarf'. "I like wearing bandanas as a pocket square but they're so bulky you have to rip them in half" said Coggins. "So we came up with one that looks like a bandana, but is made of silk so it fits perfectly into a jacket pocket. The indoor scarf has been my longstanding dream: a scarf that's short enough to wear under a sport coat."
"Hopefully these clothes appeal to the men that respond to Drake's for the same reason I respond to Drake's," Coggins says of the collection. "They're considered, but they have an easygoing sense of formality, there's nothing fussy about them and you can wear them forever."
The David Coggins for Drake's collection is available online and in store, at 3 Clifford Street, London and at 120 Prince Street, NYC.