By now I'm sure you've all seen that Duxbak is back.  Long heralded as a go-to for outdoor gear, they've gone through some management changes, brand acquisitions, and now a rebirth over the past 100+ years.  I have some of their older stuff, and it's great – mostly Goodwill or eBay finds, but their older shirts, canvas pants, and old jackets are built like tanks.  Pro tip: look at their old Field Coats on eBay.  They are a STEAL.
Fast forward to today.  I've gotten to know Scott over the past few months, and am inspired by his commitment and vision for Duxbak.
Duxbak has recommitted themselves to the gear that made them a household name in duck blinds, upland fields, and around campfires: good vests and coats, waxed hats and gear, and their famous canvas shirts.  For good measure, they've added a few more goodies like dry bags and a gun case.
Today, let's talk about the two Duxbak shirt options: the Long Shot Field Shirt, and the Original Sportsman's Shirt
The Long Shot Field Shirt is a GREAT option for hunting or fishing.  It is made with 'Montana Cloth', which is a tightly woven 6 oz. cotton, making it tougher against the elements.  It features a vented back for better air flow, and is reinforced on the shoulders and forearms for tougher terrain.  The cut is by no means boxy, but it isn't slim either.  There isn't much 'vanity' allowed in the cut, so I would suggest ordering your normal size.  If you prefer a baggy fit, then size up.
The Long Shot Field Shirt is available in four color options: two plaids (brown and orange), upland brown with blaze, and old school camo.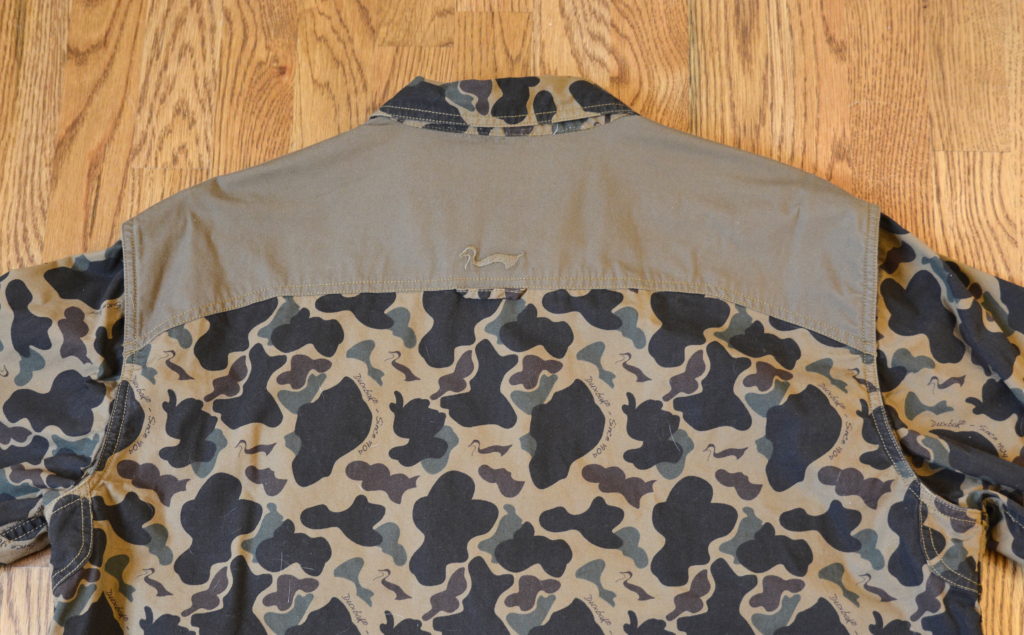 The second shirt option from Duxbak is the Original Sportsman's Shirt.  This is a re-make of their original, with some nice 'modern' touches.  The fabric is a washed canvas that is really soft to the touch.  It's a pretty minimalist shirt, which is on purpose.  The cut is similar to the Long Shot shirt, in that it's cut true to size.  For reference, I wear a size Medium in Brooks Brothers, and a Large in Duxbak.
The Sportsman's shirt is available in a bunch of colors: gold, teal, brown, hunter green, and old school camo.  One note on care: I usually don't dry my shirts, and I don't dry these.  I wash, then run in the dryer for ~5 minutes, then hang.  I haven't had any issues with shrinkage/etc, and quite frankly, I haven't needed to iron them either.
From a pricing perspective, the Duxbak shirts are $89 each, which I believe is a great value proposition,  I would put these on par with the Filson shirts in terms of cut and quality.
If you are into the heritage look, then these Duxbak shirts are a fantastic option.  They don't rely on fancy designs or technical fabric, instead opting to update gear that hunters have relied on for over a hundred years.  They've got my vote.
+++
P L E A S E    S U P P O R T    O U R    P A R T N E R S :