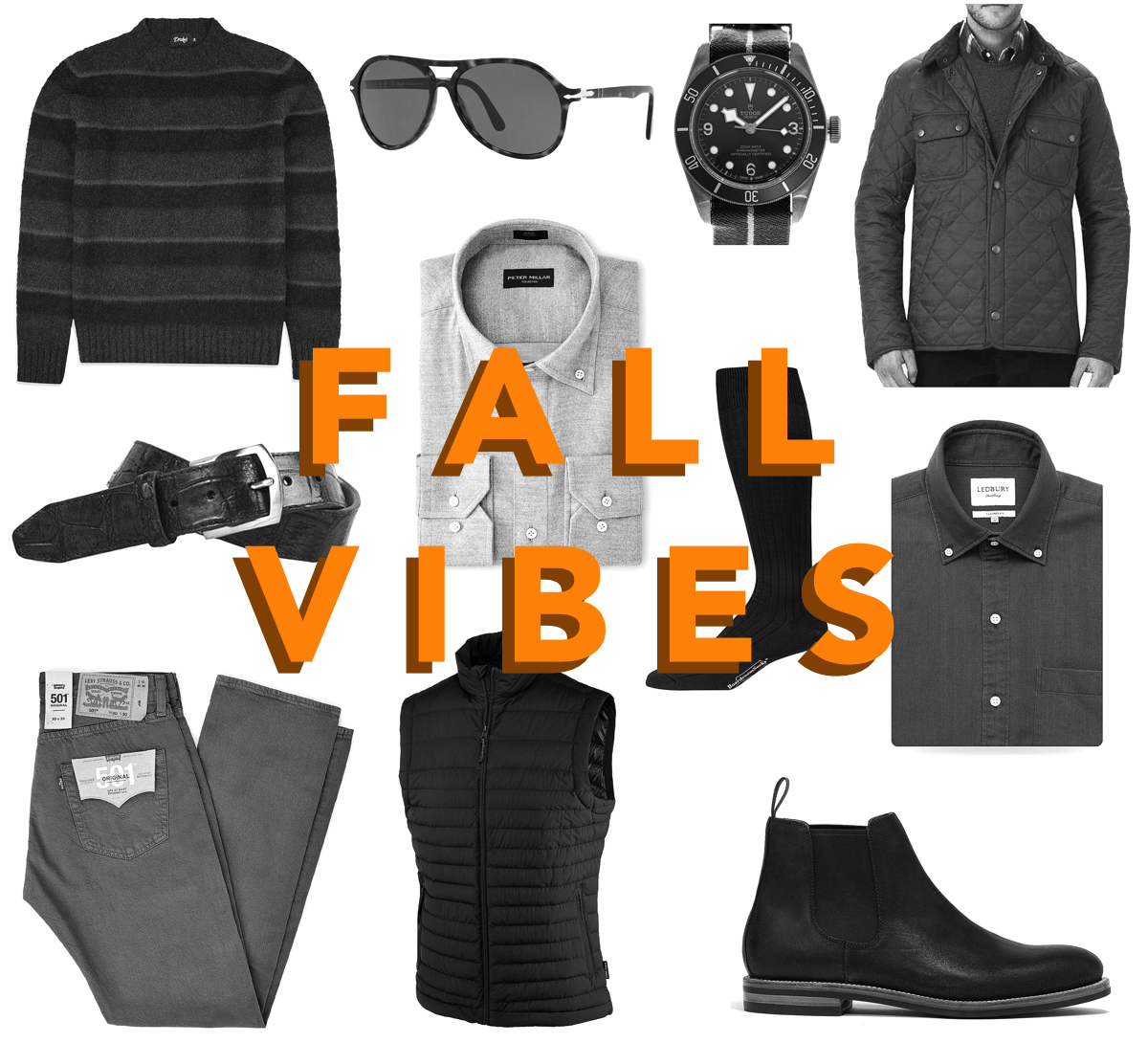 It's October.  It feels like Fall took forever to get here.  2020 has been weird in a lot of ways – including the feeling of ctime.  I think of that scene in True Detective where Matthew McConaughey espouses that 'time is a flat circle'.  Almost overnight, the highs are in the low 70s.  It feels like I was sweating a couple of weeks ago, but no longer.
As I move to change up my closet, it's fun to see how things have changed, and how things have stayed the same.  This year I'm looking forward to a more utilitarian style, opting for boots and texture vs. dress shoes and sport coats.  The darker hues in the Fall palate are by far my favorite.  I'm excited about low-maintenance options this year (read: no dry cleaning) but still high on style.  Here's what I like: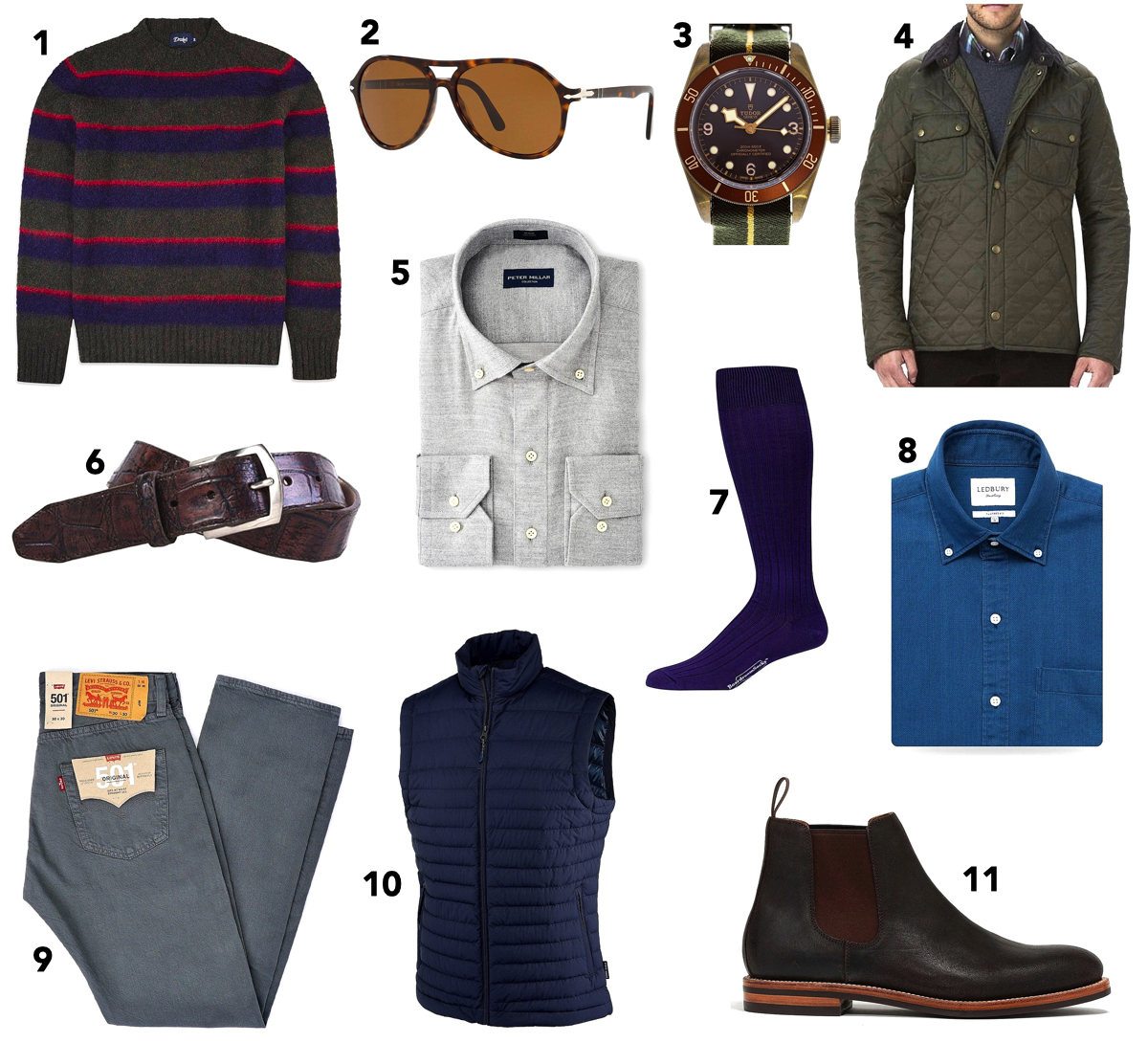 From top left:
1. Drakes Brushed Lambswool Sweater:  Drakes rarely misses, and their sweaters (aka 'jumpers') are top-notch.  The stripes give it a cool vintage feel, and the brushed wool gives it a, well, really comfortable feel.
2. Persol 3194S Sunglasses: There is always room for an updated pair of sunglasses.  Time to put the aviators away, and go with something heavier.  You'll be hard-pressed to beat Persol.
3. Tudor Heritage Black Bay Watch:  Darker, fall tones.  The bronze is a nice touch.
4. Barbour Tinford Jacket:  The 'do everything' jacket.  Barbour has really upped their game in their quilted selection…plenty of options depending on your taste (and a good price point).
5. Peter Millar Butte Cotton Blend Popover:  The fabric of this shirt will perform more like a long sleeve polo than a dress shirt.  No need to dry clean – just wash, hang to dry, and wear.  It'll soften up over time.
6. Martin Dingman Jacob Alligator Belt:  A lot of the exotic belts are shiny – which is very appropriate for a dressy look.  I've really taken a liking to a matte finish.  Still a first-class look, but more versatile.
7. Boardroom Socks Purples:  If you are going to wear socks, have some fun.  These USA-made purples look fantastic.
8. Ledbury Dark Blue Indigo Arnett Shirt:  Great texture, and a cool look.  Think of this shirt as an updated Chambray, and wear it accordingly.  Avoid blue jeans, but everything else is fair game.
9. Levi's 501 Garment Dyed Jeans:  The garment-dyed Levi's get a lot of well-deserved love.  Check out these Charcoals, though – a great addition to the tan/green hues readily available.
10. Fisher & Baker Passage Vest:  The best puffer vest on the market.  Great function, but it's the fabric that sets this one apart.
11. Grant Stone Chelsea Boots:  I have a pair of GS loafers that are some of my favorites.  These Chelseas are seriously awesome.  I love the darker leather color paired with the natural sole.  These look fantastic out of the box, and will only get better with age.
What has your attention?