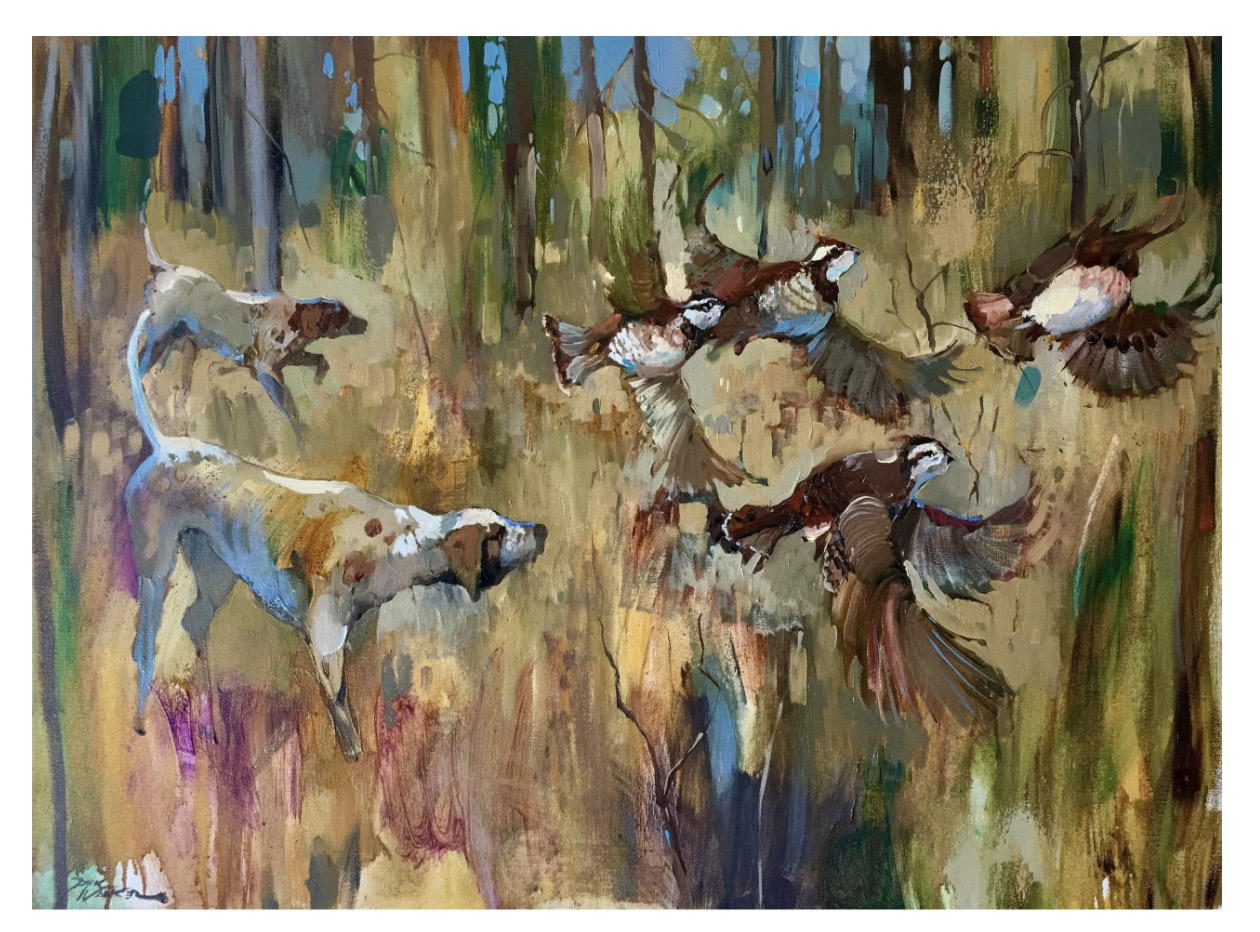 As I look to decorate my office, I'm constantly looking for interesting art and decor that is masculine, but not so much that it would be a complete departure from the rest of our house.  Both my wife and I enjoy an outdoor lifestyle and have bits and pieces of wildlife art throughout our home.
I recently came across Dirk Walker – a fantastic wildlife artist based in Alabama. Not only is he one of the nicest human beings on the planet, but an incredible talent.  His pieces have incredible movement and invoke emotion when viewing.  His portfolio is somewhat broad, but very in line with the Southeast and all that we enjoy down here: hunting, fishing, and leisure-type activities, bourbon, and elevated cityscapes.
Dirk creates the kind of art that you'll see in quite a few places: banks, hunting and country clubs, and offices.  His quail hunting pieces are absolutely top-notch.  It's as if you can hear the explosion of a busted covey and feel the excitement of all the action.  Prints and originals are available at Kevin's and at Dirk Walker's site.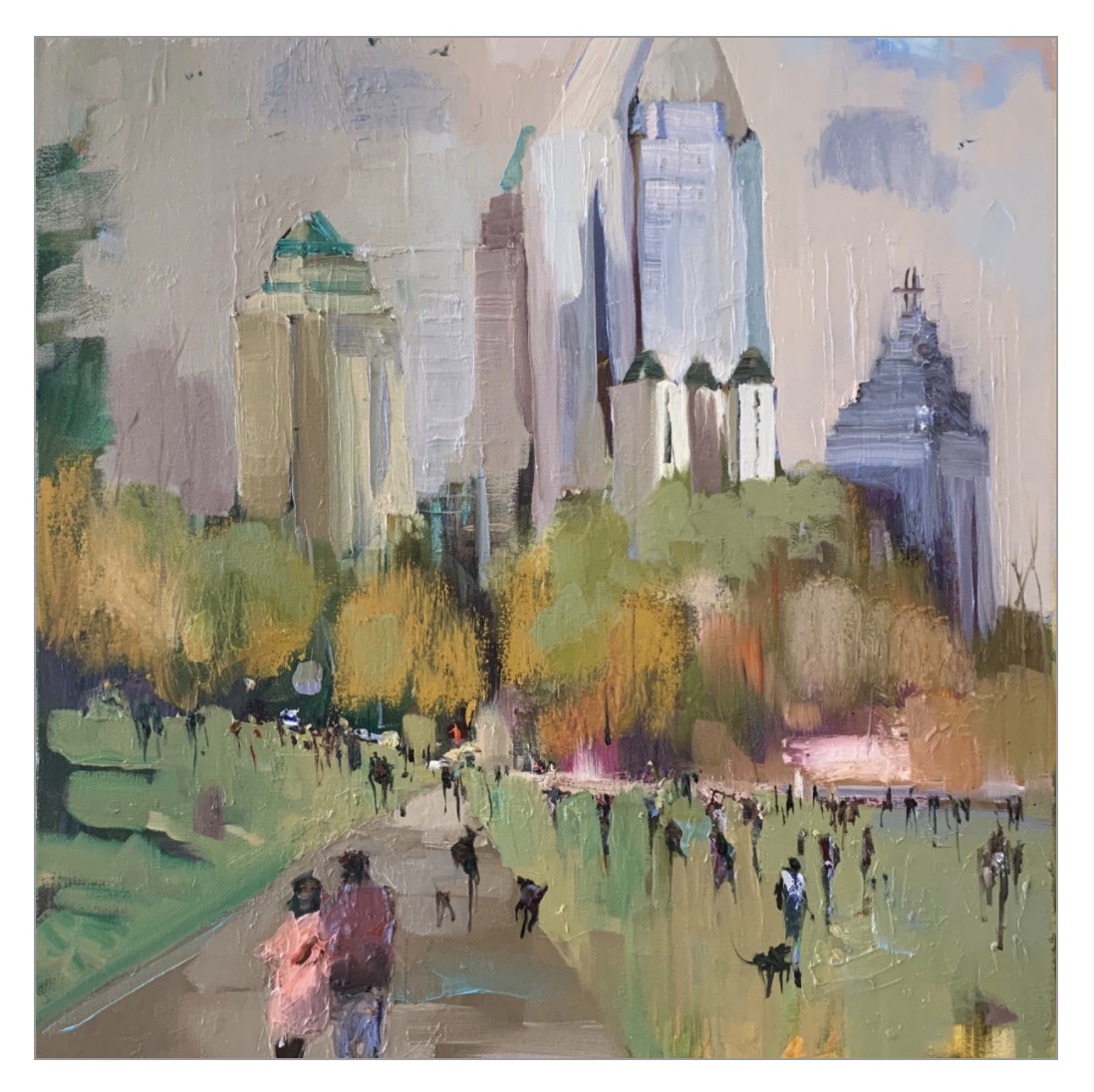 He was nice enough to give a little background…enjoy:
How long have you been painting? When did you start? Around thirty years ago I discovered my life's true path. I was meant to be an artist. Although I believe this path was in place for me since boyhood, I did not find my true calling until I walked into an art gallery as a potential buyer and was overcome with the desire to learn the process of painting.
Years before, I majored in Industrial Design at Auburn University, and while not my true calling, it laid the foundation of concept, composition, perspective, color, and craftsmanship that has been critical to my artistic process.
This is actually a tagline off my Home page on my website (www.dirkwalkerfineart.com) but it's very much true. My dad had been a watercolorist so I can remember from an early age watching him. I was always "artistic" as a child, but never touched a paintbrush much less had any formal training until adulthood. I was raising a family and working in Sales for one of Birmingham's large Regional banks.  When looking for a stress release, I was inspired to try painting.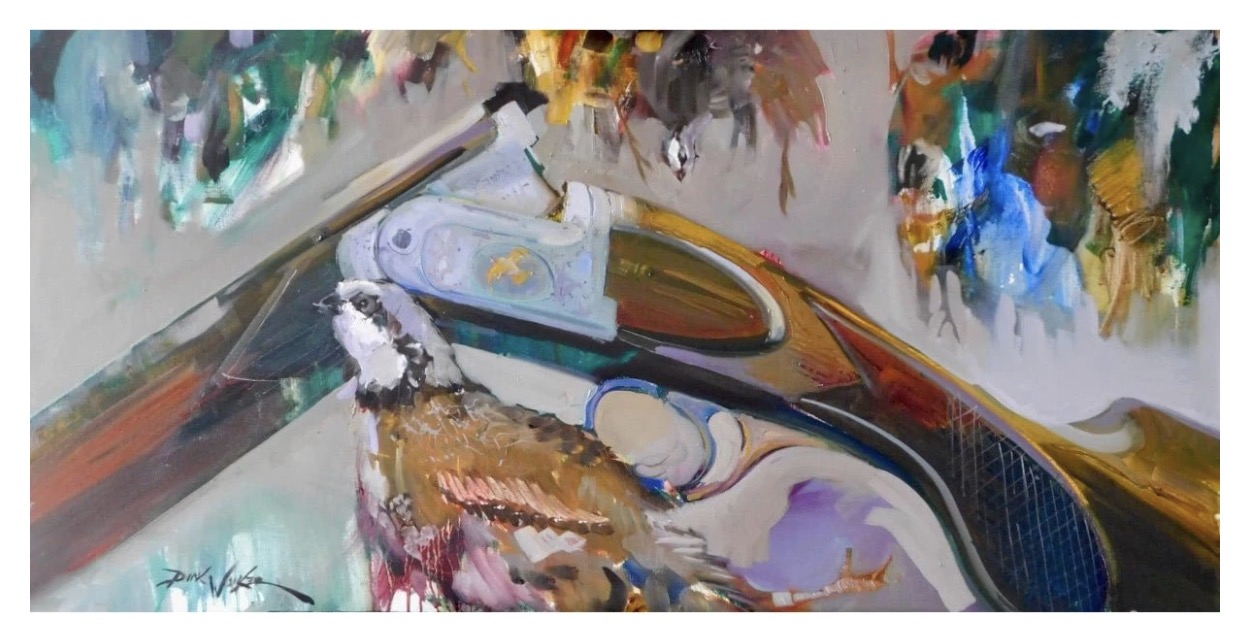 What was your big breakthrough to become a professional artist? I would say my big breakthrough initially as a professional artist was being picked up for representation by The Loretta Goodwin Gallery in Birmingham, AL. Mrs. Goodwin quickly became my mentor and instilled in me not only the love of painting; but also cultivated my interest in the Business of Art. With my Sales and Marketing background, I realized I not only loved the process of painting but also had a knack for the business side. Something that I believe hinders many "creatives"; it has been the thing that has helped me stay in-lined with changing trends and allows me to re-invent myself stylistically. Eventually, I had the opportunity to take ownership of The Loretta Goodwin Gallery which I managed for over 20 years.
Where do you get inspiration from? Gosh, this is a tough one to answer in a brief response. Inspiration I would say comes from " life ". My love of the outdoors certainly inspires my Sporting & Hunting Series. My personal Faith and Spiritual path and struggles feed my Spiritual Series. I firmly believe my "gift" is from God and I try and use it to witness and inspire others. God also gave me a warped sense of humor, that my wife rarely finds funny; but I'm a born Southern Baptist that also likes to drink Bourbon, so that too inspires my Bourbon Series.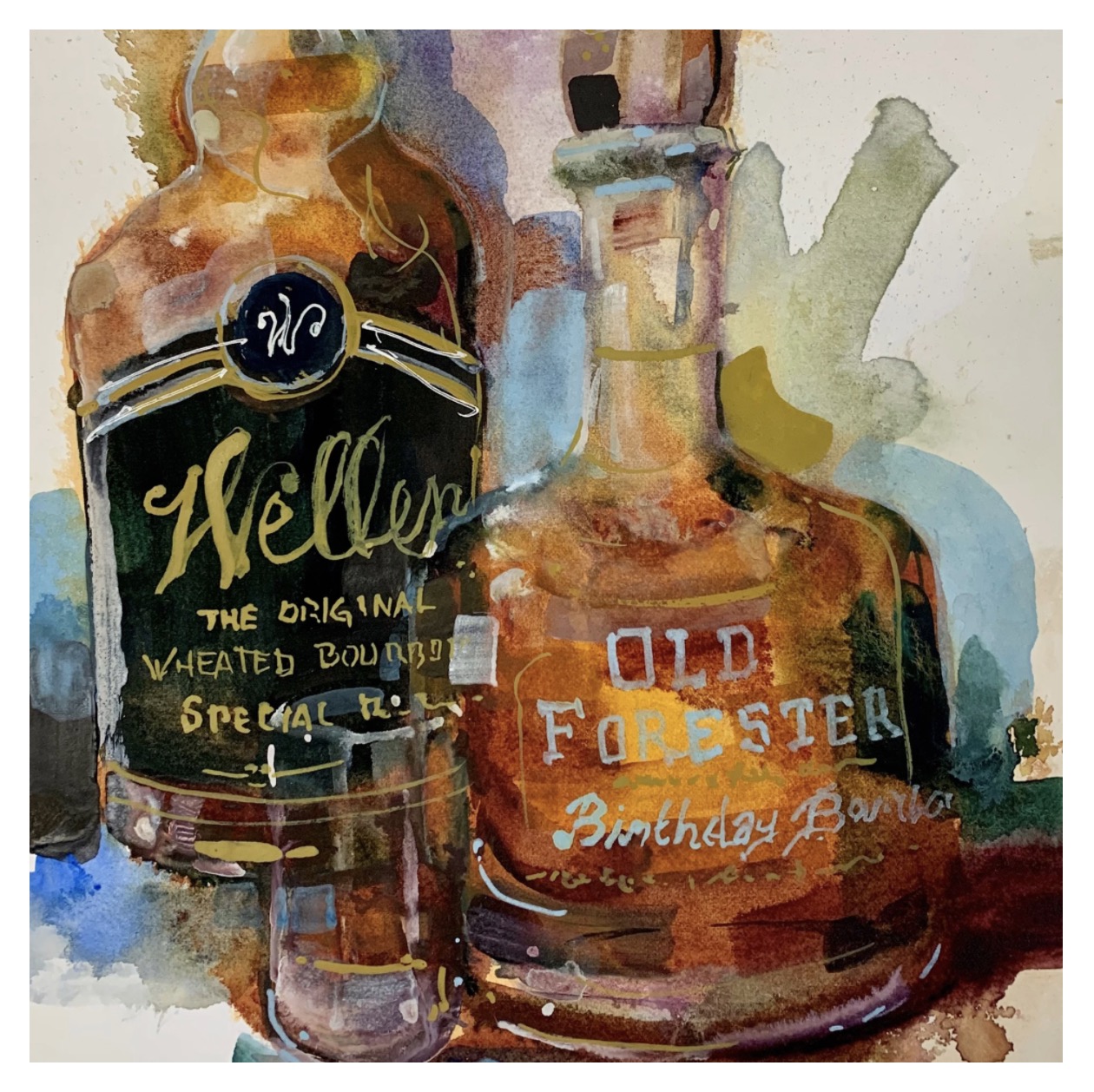 Technically, like most artists, I also pull inspiration from past Masters and Contemporary Artists. I believe there have been few artists throughout history that truly created an Individual authentic style; artists learn from mentors, other artists living and dead. I've been fortunate through the years to have studied some under some of my favorites. Also, being a Gallery Owner as well as an artist, gave me opportunities to represent and form friendships with some of my favorite artists.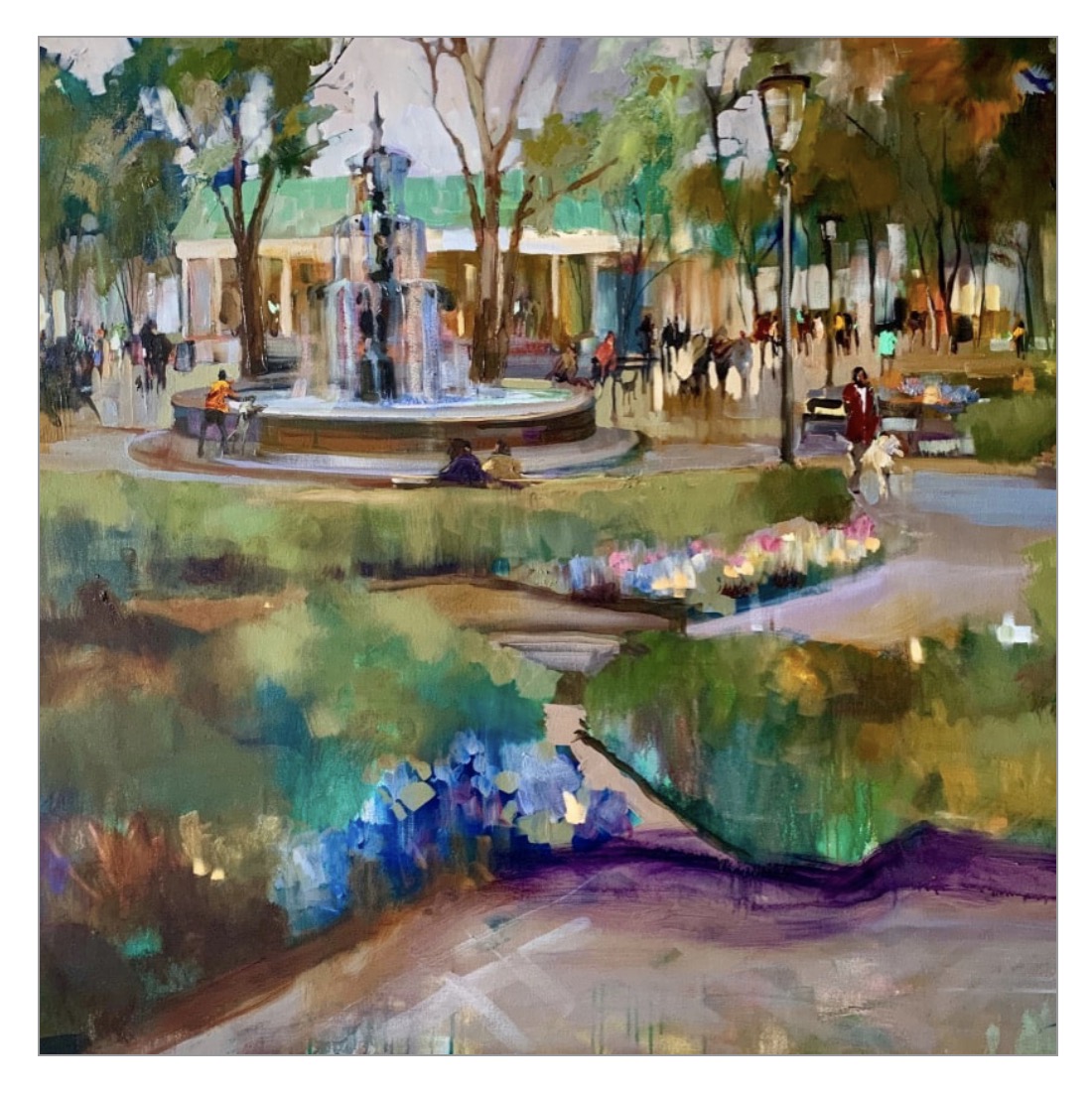 What kind of person is a Dirk Walker customer? Great question. Hopefully, a Dirk Walker customer first and foremost, loves and values original art on an emotional level. That to me was always the "acid-test" when I owned the gallery. I never told a customer to buy art as an investment, or because a decorator says it matches the sofa well; buy art that strikes an emotional chord. So, I think a Dirk Walker client appreciates my use of color, texture and compositions. They feel the emotion or motion in the scene. If it's a hunting scene, and they are an avid outdoorsman, they sense the explosive flush of a covey, or the quietness of a landscape. They are not someone who looks for technical exactness or photographic style. I take a lot of artistic license in the use of color or my backgrounds, etc.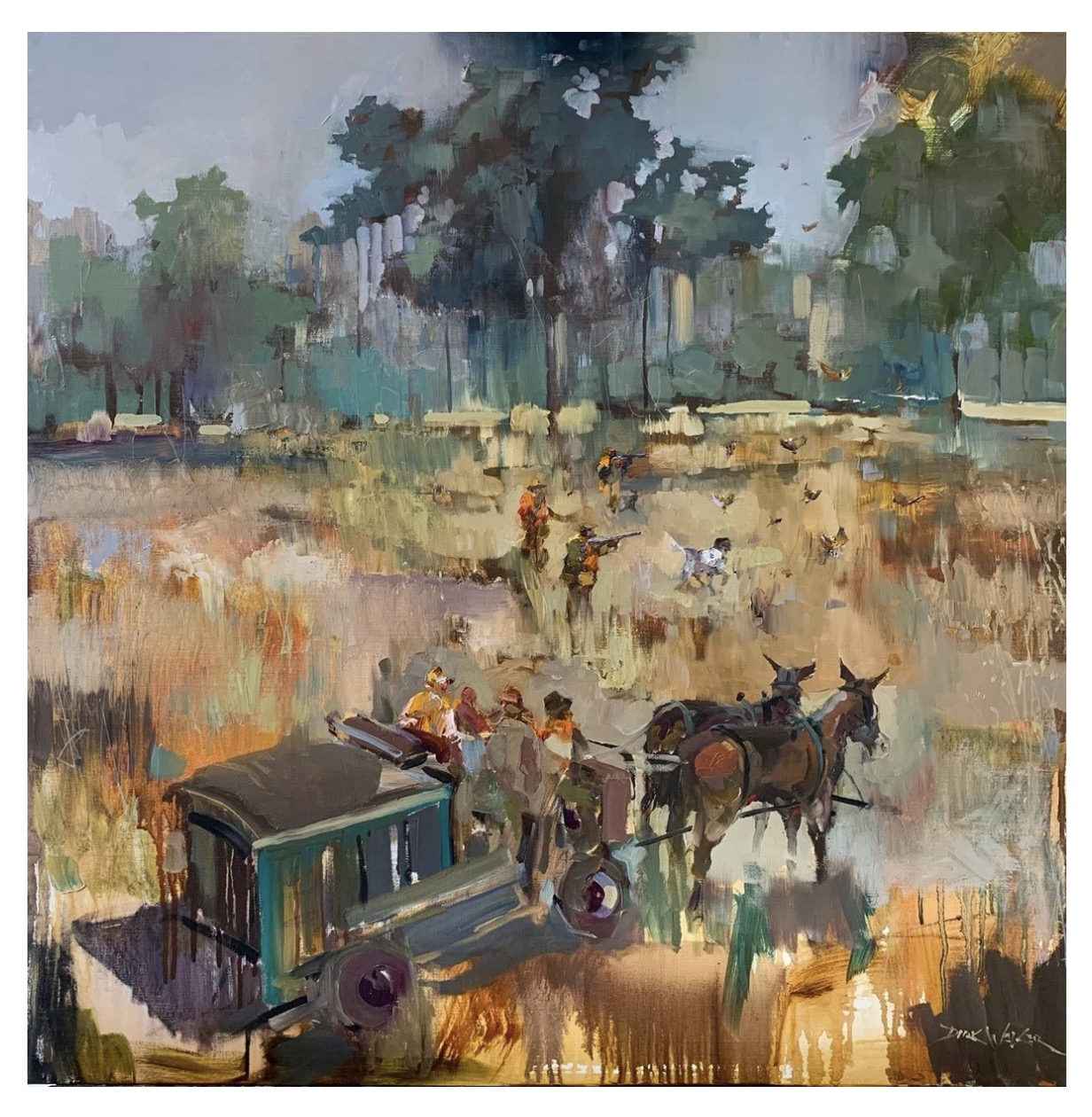 What do you like to do outside of painting? My wife and I have six kids between us, sons-in-law, daughters-in-law, boyfriends, and 9 soon-to-be 10 grandchildren. So the family is very important to us. We lived on a lake for many years, so we love the water and being "river rats". Debbie, my wife, spent most of her earlier years traveling the world, so she is desperately trying to get me to travel in my old age. Hobbies such as fishing, hunting, sporting clays, etc. took a back seat for many years due to the demands of raising a family; so those are things I'm hoping to get back into.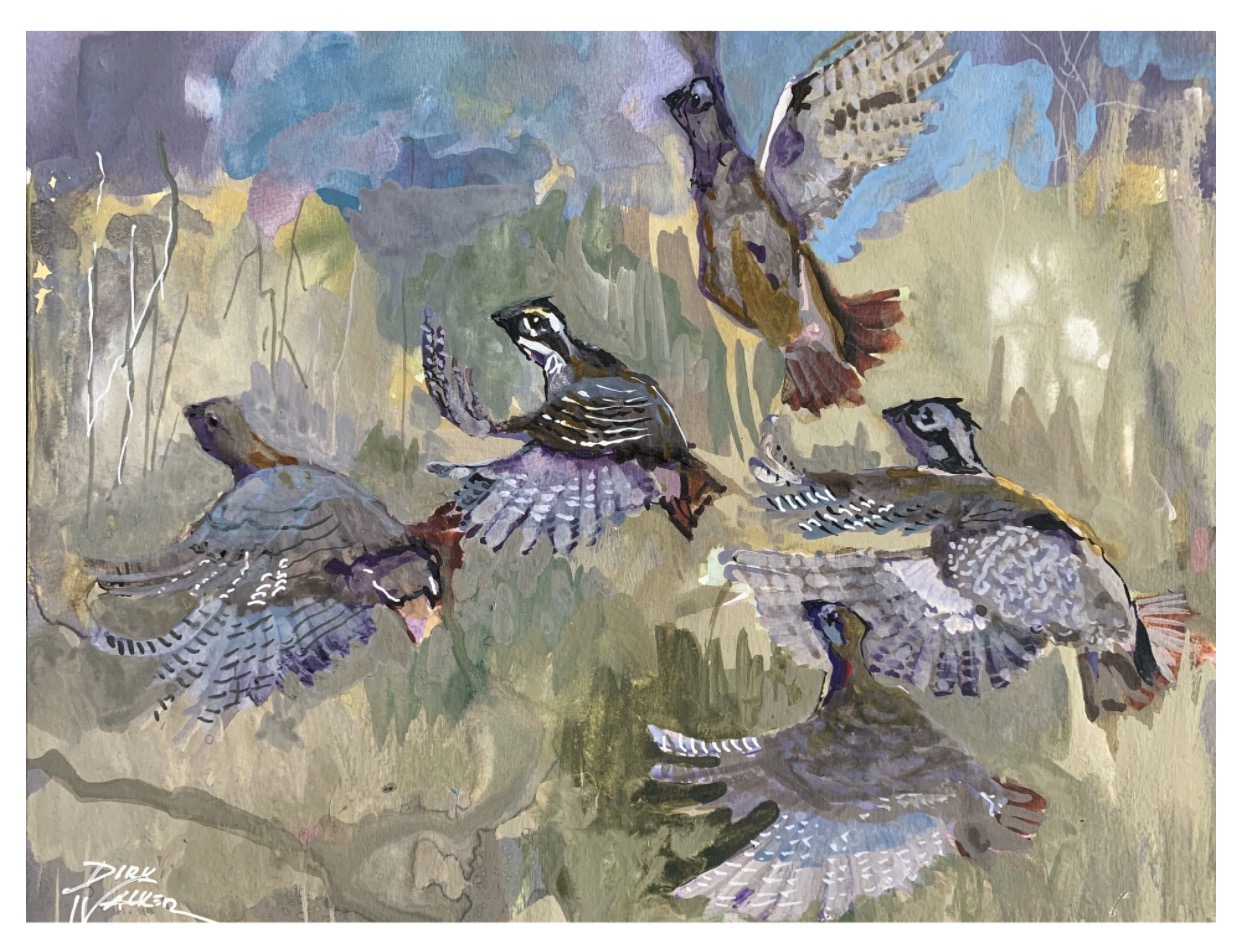 What's on your Spotify playlist? First of all, I'm 66 years old so I have no clue what a "Spotify" is (just kidding). I LOVE music, almost all genres of music, so my Apple Music account is huge. Additionally, my wife's father was a radio legendary DJ and Music Concert Promoter, Dan Brennan, having actually brought the Beatles, Rolling Stones, Beach Boys, and many other famous 60's and 70's bands to concerts in the South. We love listening to his old vinyl albums.
Right now I'd say my favorite albums are "Letter to You" by Bruce Springsteen, " Starting Over" by Chris Stapleton, anything by Lauren Daigle and Johnny Cash.
You can see the whole collection on Dirk Walker's Website.