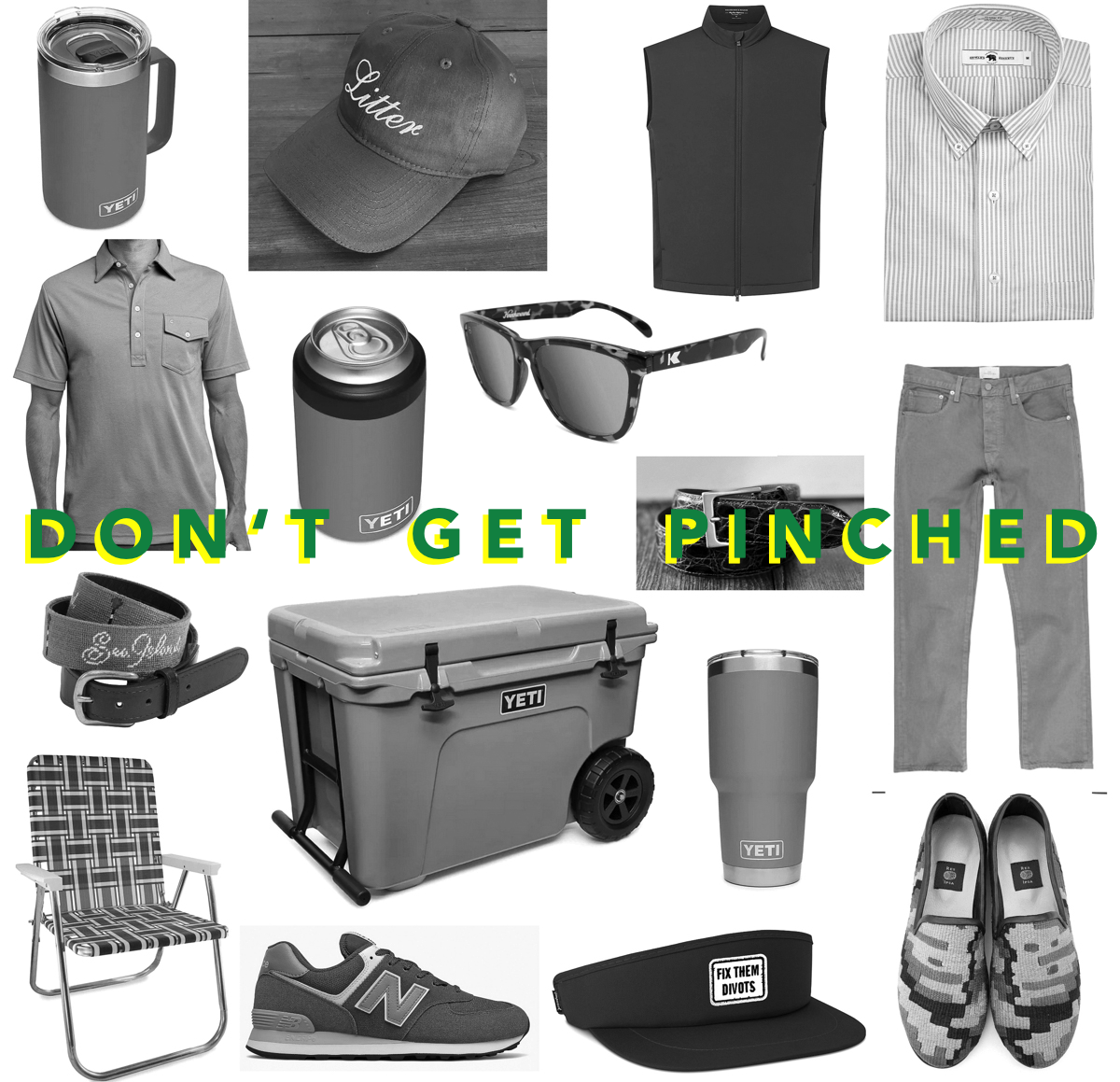 I came across some old images the other day of the St. Patrick's Day trips that we used to take down to Savannah.  Wow – those were the days.  A million people, hardly any bathrooms, and a flood of green beer.  There were always a bunch of good bands playing in town.  I remember seeing Jupiter Coyote one year – they were fantastic.
This year is obviously going to be a little different.  Not only because I'm older, but the majority of St. Patrick's Day celebrations will be a lot more subdued than River Street.  However, you still better wear some green, or you might get pinched.  Here's what I'm liking: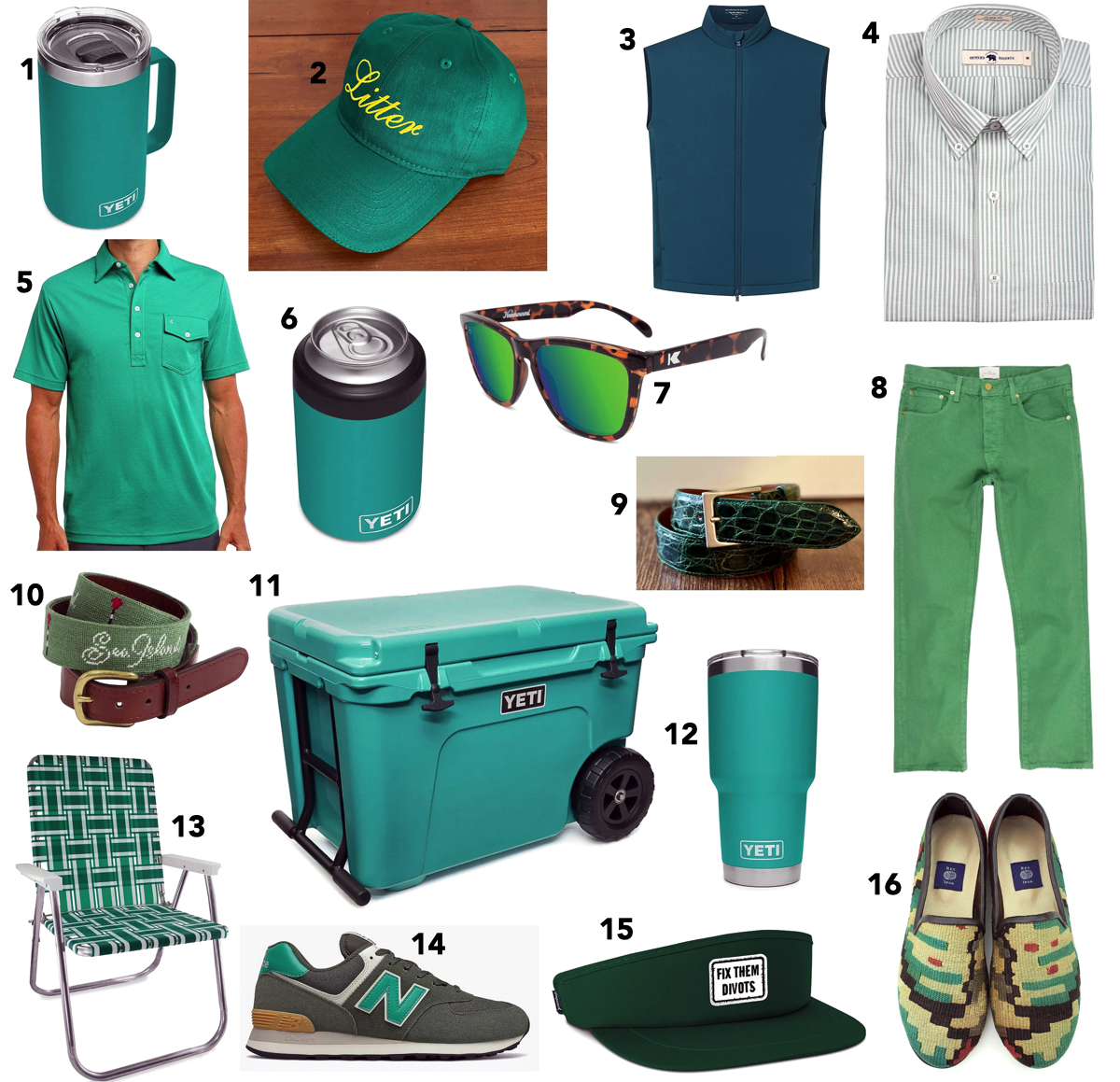 From top left:
1. Yeti 24 Oz Mug:  You've got it handled.
2. "Litter" Hat from Miller Brothers:  Probably the coolest green hat this side of Augusta.  Cheeky, but fun.
3. King Vest from Holderness & Bourne:  A fantastic green vest that isn't too green.  This should do nicely if the weather isn't up to par.
4. Onward Reserve Green U-Stripe Oxford:  Being a lover of any U-stripe OCBD, green is often overlooked.  Take this opportunity to add this bad boy to the rotation.
5. Player's Shirt from Criquet:  The original.  And still the best.  Perfect for an afternoon of boozing in a cul de sac or on a back porch.
6. The Yeti Koozie:  Heavy-duty koozie for the beer drinkers out there.
7. Knockaround Sunglasses:  You will lose your sunglasses.  100%.  These Knockarounds cost nine bucks.  Do the math.
8. Sid Mashburn Green Garment Dyed Denim:  Mean green jeans…I have a feeling you'll get more wear out of these than just on St. Patrick's Day.
9. Candler Green Alligator Belt from Blairs Belts:  Want to dress it up a little bit?  How about some green gator around your waist?  Very appropriate for St. Patrick's Day, as well as on the golf course.
10. Sea Island Smathers & Branson Needlepoint Belt:  Had this one in your closet for a while?  Break it out and break it in…
11. Yeti Haul Cooler:  Wheel this bad boy down to the cul de sac and you should be set for the afternoon/evening/late night.  Doubles as a footrest with #13.
12. Yeti 30-Oz Tumbler:  The ultimate mixed drink vessel.  You can't own too many of these.
13. Folder from Lawn Chair USA:  Comfortable and classic.  I get there are plenty of cheap bagged chairs out there, but none of them touch these classic folders.
14. New Balance 574s:  Kicks that are easily replaceable after a rough weekend.  I ruined a couple of pairs back in my day…
15. 'Fix Them Divots' Green Tour Visor from Imperial:  It's almost tour visor season, folks.  Buy appropriately.
16. Res Ipsa Kilim Loafers:  For those dressy parties, here's a great time to break out your Res Ipsa Kilim loafers.  A little green and you are good to go.
What did I miss?