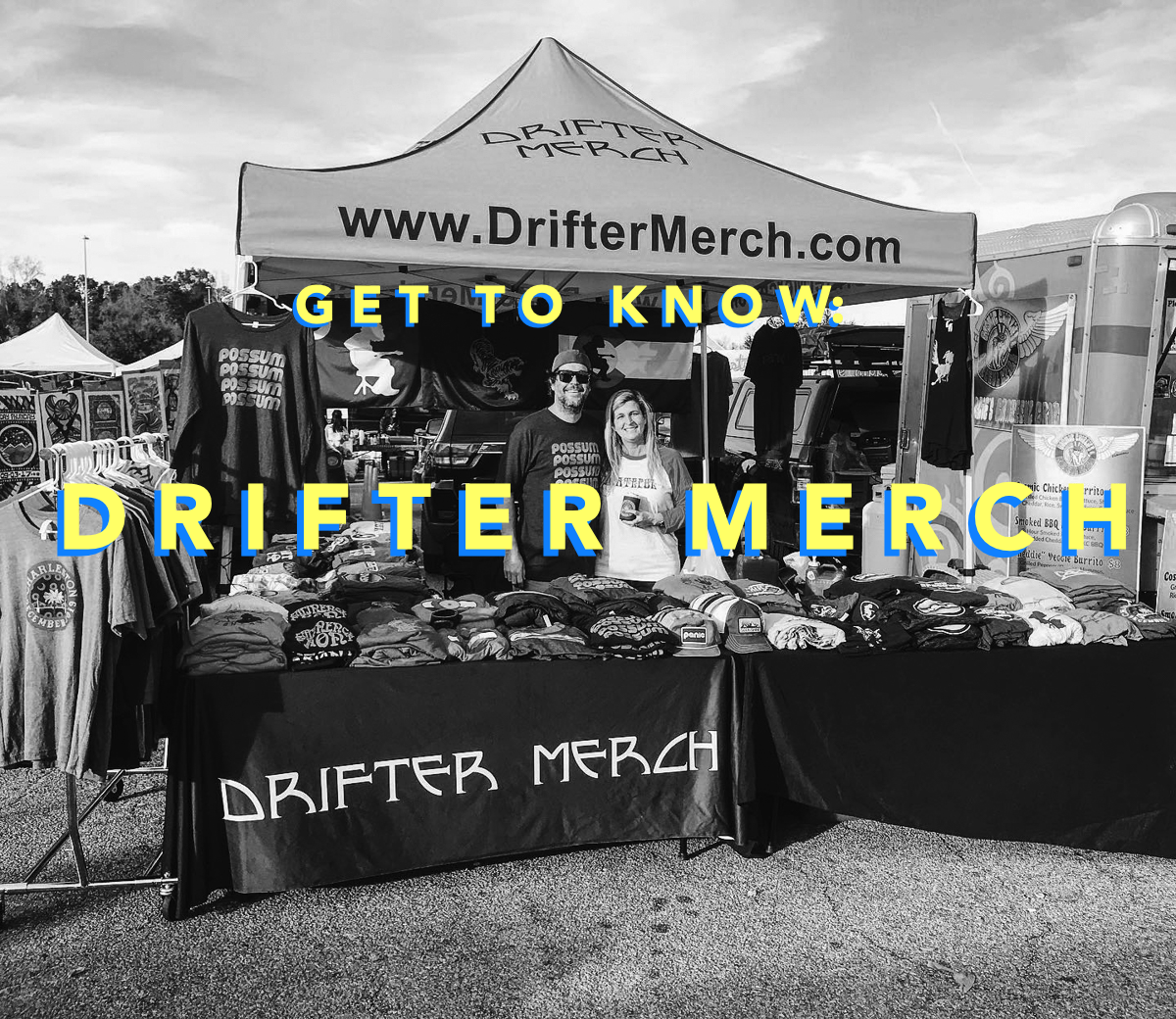 This is a good one, folks.  As you all know, I'm a huge live music guy.  I've been going to shows for as long as I can remember.  Whether it's a Panic run in Oak Mountain, the (old) HORDE Festivals, or a random show at Northside Tavern, I'm all in.  It has been one of the hardest things about the lockdown – not seeing live music.
But all that feels like it's changing…  Panic has released some dates, Dead & Company are playing in Mexico (and I'm hearing rumors about a Fall Tour).  My guess is that all the bands will announce tours around the same time.  No one wants to be first.
One of my favorite parts about those live shows is the merch.  Specifically the lot shirts.  Is there anything better?  I used to have a TON of Panic lot shirts, but they were either thrown away, lost, or recycled.  My favorite was a yellow Fishwater shirt in the Sweetwater Beer theme.  I loved that shirt.
A company that has done a great job of keeping it alive is Drifter Merch.  They are a Charleston-based company that started out as a fun project but turned into so much more.  Drifter creates incredible t-shirts, tanks, hats, stickers, and the like all in the lot shirt vein.  They are fantastic: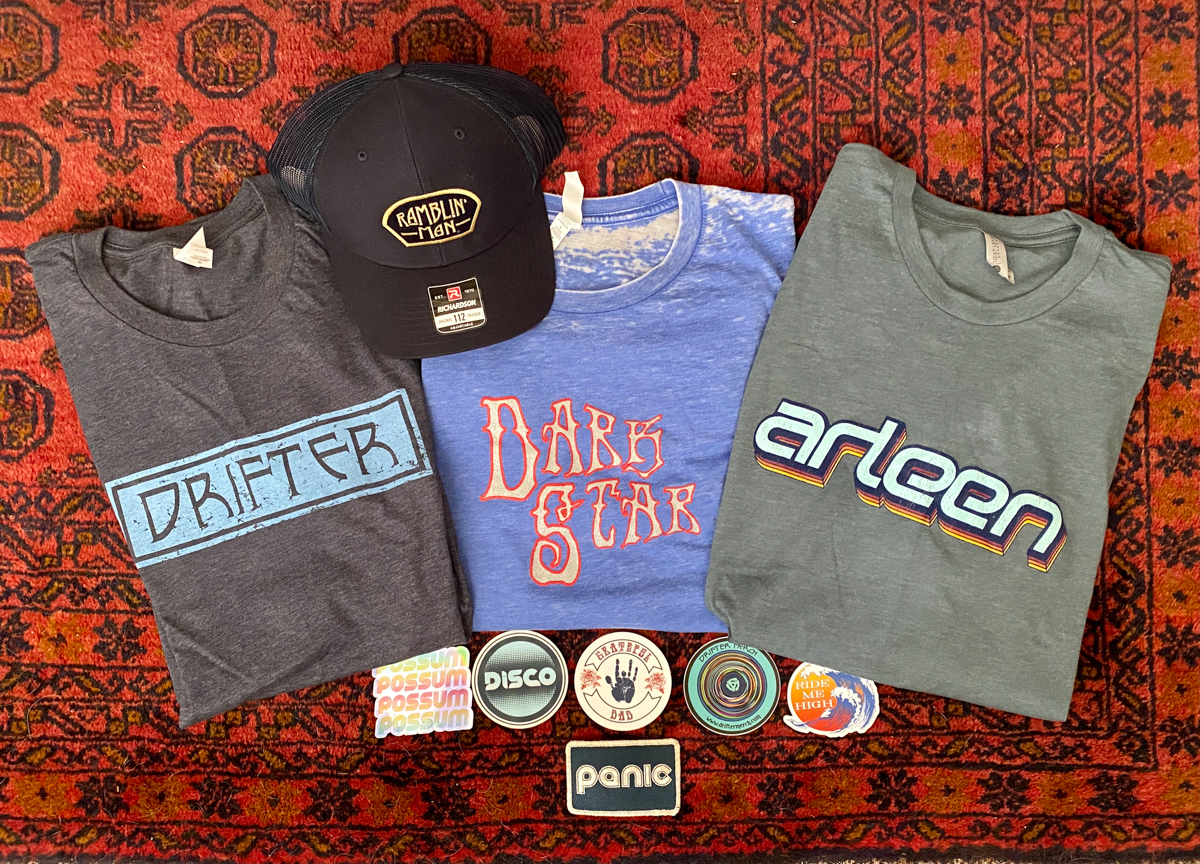 I had a chance to interview the co-founder Lorrie Dixson Griggs, and quite frankly, it's an inspiring story:
What is the history of Drifter? Drifter Merch is a prospering business with high-quality apparel website featuring innovative designs with something for all music lovers. My late husband, Bert Griggs, and I started it for fun as we were passionate about seeing live music and being inspired by our favorite bands. Yet, it ended up being a way to pay homage to him after he died.
How did you name your company? We knew we wanted a name that was easy to remember and spell. The name Drifter came from a Neil Young song. We knew we wanted to use merch with it as it tied into bands since they all sold merch. What we later found out was there were a lot of Drifters out there. People loved our simplistic design of Drifter tees, tanks, and hats as many often told us that they felt they were drifters going between shows, had a friend who was always a drifter or they were a fisherman who always drifted on the water.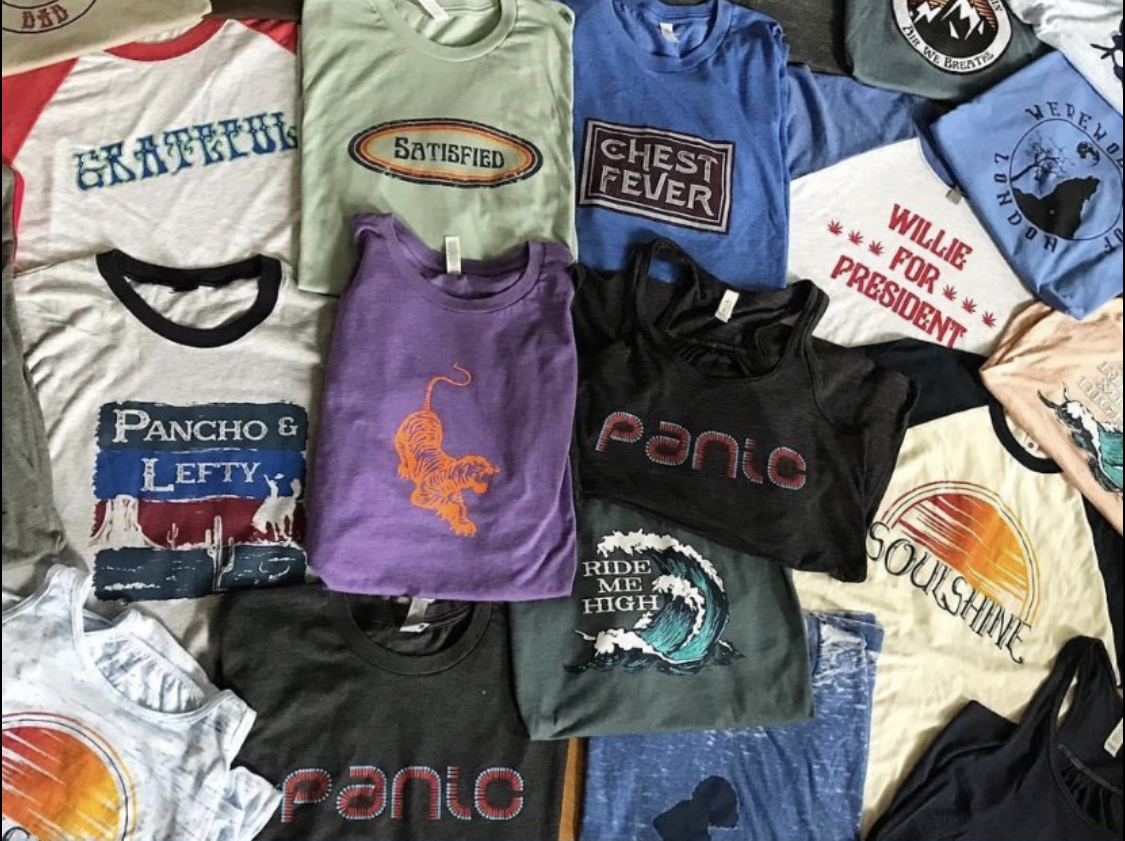 What inspired you to start the company?  While cleaning out Bert's t-shirt drawers when they wouldn't shut, most of my favorites were ones that he created with a hometown best friend who is a screen-printer. At that point, I had owned Eskimo Advertising, a boutique marketing and PR firm, for 15 years. So, the entrepreneur in me saw an opportunity to start a business with my then-boyfriend and suggested that we create a website selling his creations for fun on the side. We started with three t-shirts on our website and five years later, there are now over 60 designs on there as well as we're selling on Amazon and Etsy.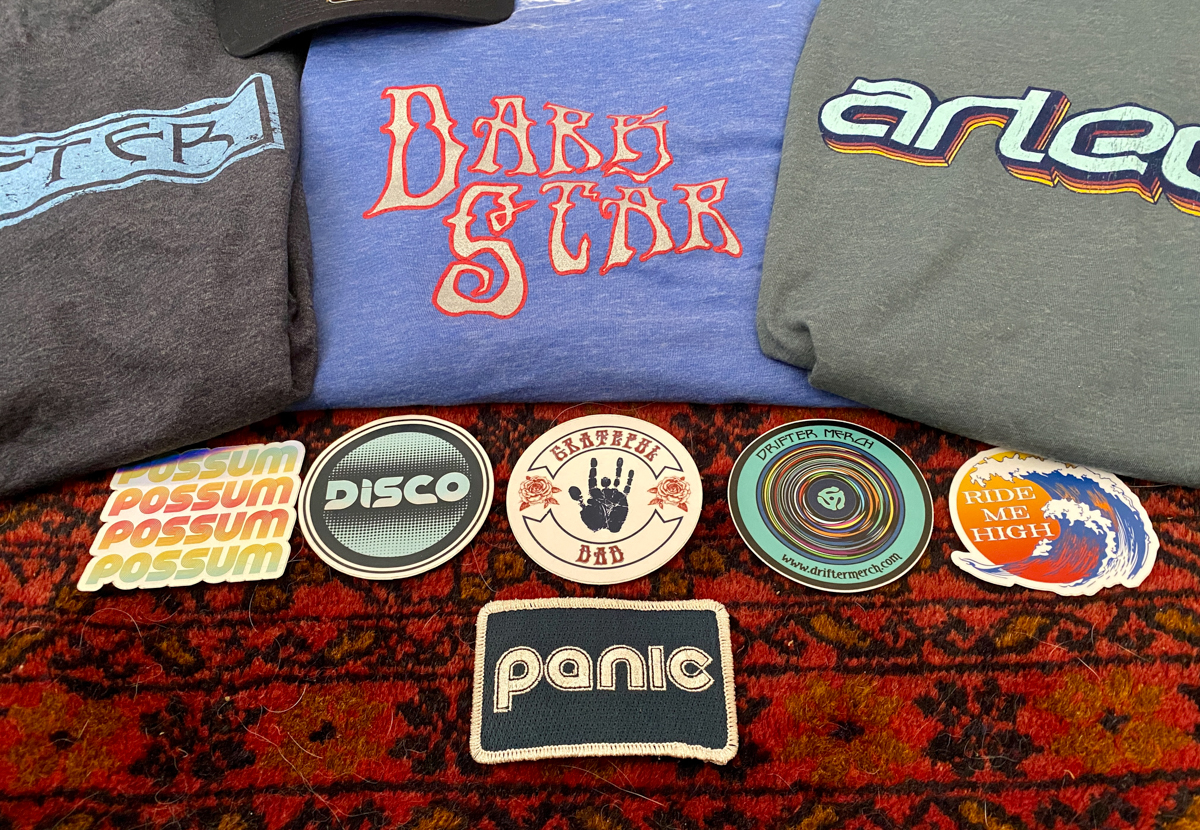 It only made sense to sell our merch in the parking lot at concerts on Shakedown Street like had often been done at all of the Dead shows that we attended. However, for a while, we always had the merch in our car but seemed to always want to hang out with friends before and after the shows so we never pulled it out. That was until Panic first played in St. Augustine in 2017 when I was 8 months pregnant. The setup was very close to the box office and entrance so most of the patrons stopped by Shakedown before or after the shows. We had the best time slingin' merch and making good money while seeing friends and making new ones. We were kicking ourselves that we hadn't been out on the road vending before I got pregnant. However, we made it work after having our daughter and worked as many events as we could after starting a family.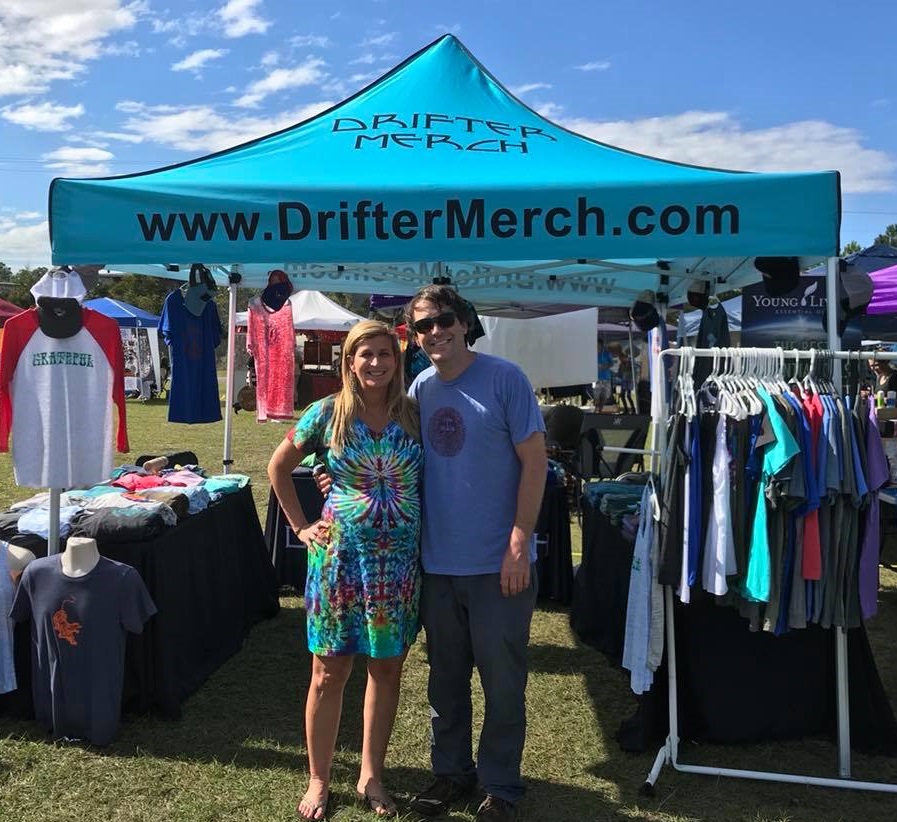 After selling our merch at events, customers often asked if we could do custom orders. So, we started offering promotional screen printing, sublimation, and embroidery for businesses, bands, events, festivals, schools, camps, and fundraisers. In the beginning, my husband handled the designing, ordering, and production end of the business as well as client interaction. He had been in the hospitality industry for years so he made it company policy to offer excellent customer service and always taking extra time to explain the various processes to customers. With my background, it only made sense that I took care of the marketing, publicity, and business end of our business. The promotional marketing aspect was a perfect complement to my agency as well since my clients always needed promotional merch and accessories. Since my husband passed away in late 2019, I am now running the entire business myself with his computer full of designs and inspiration to continue to carry his dream on into the future.
I find peace in knowing that before my husband passed away that he was so happy and proud to turn his combined passion of music and design into a very profitable full-time job that still supports his family after he has been gone for over a year.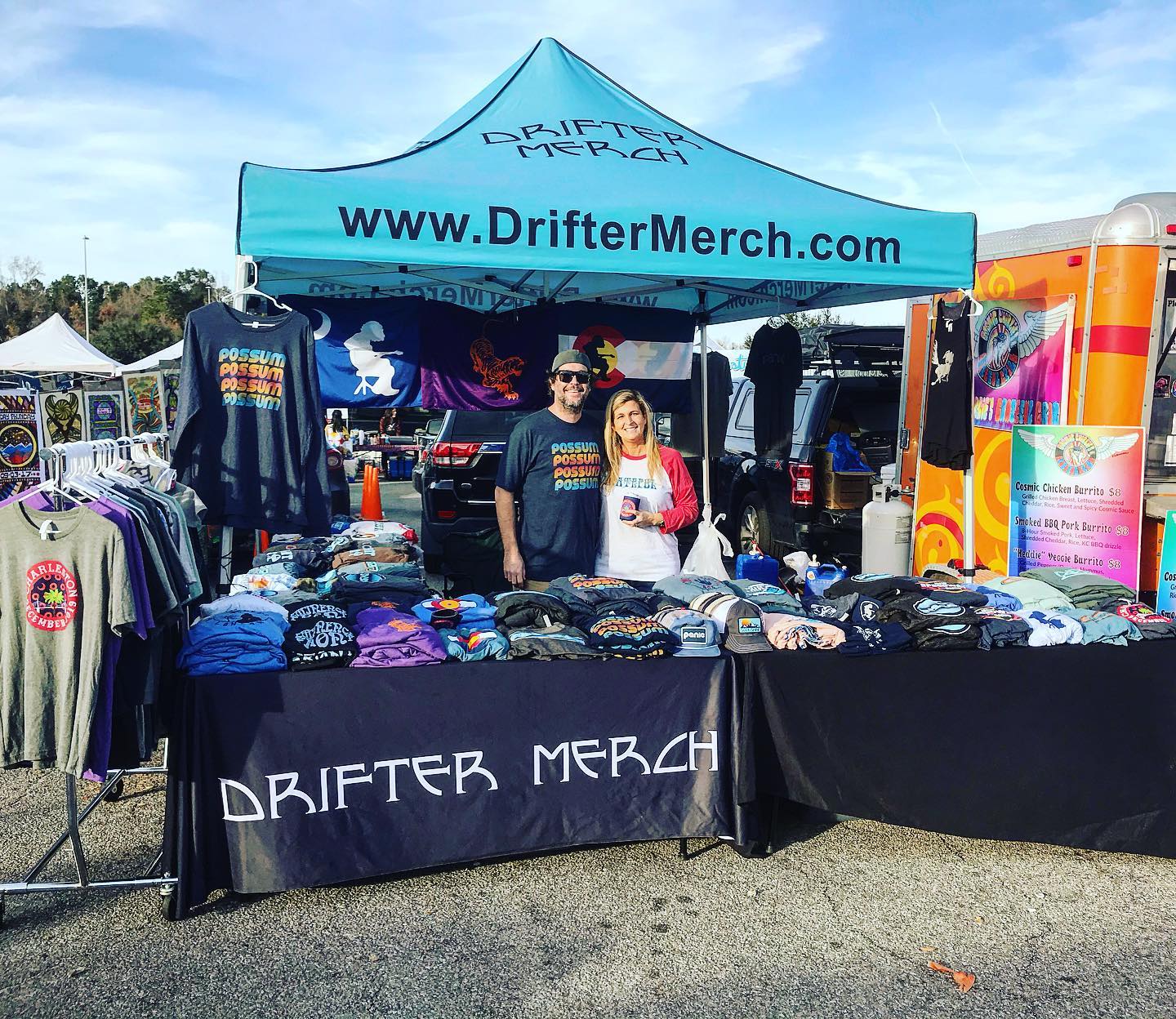 In addition to the company itself, what other way do you celebrate your husband's life?  Three months after he died, I hosted Drifter Fest: The Inaugural Bert Griggs Memorial Jam. It was three days of festivities in Charleston complete with several hundred guests enjoying telling Bert stories, hearing great music by many of his friends in awesome local bands and celebrating his life. The annual event will definitely take place this year once capacity opens a little more as I already have most of the details planned out.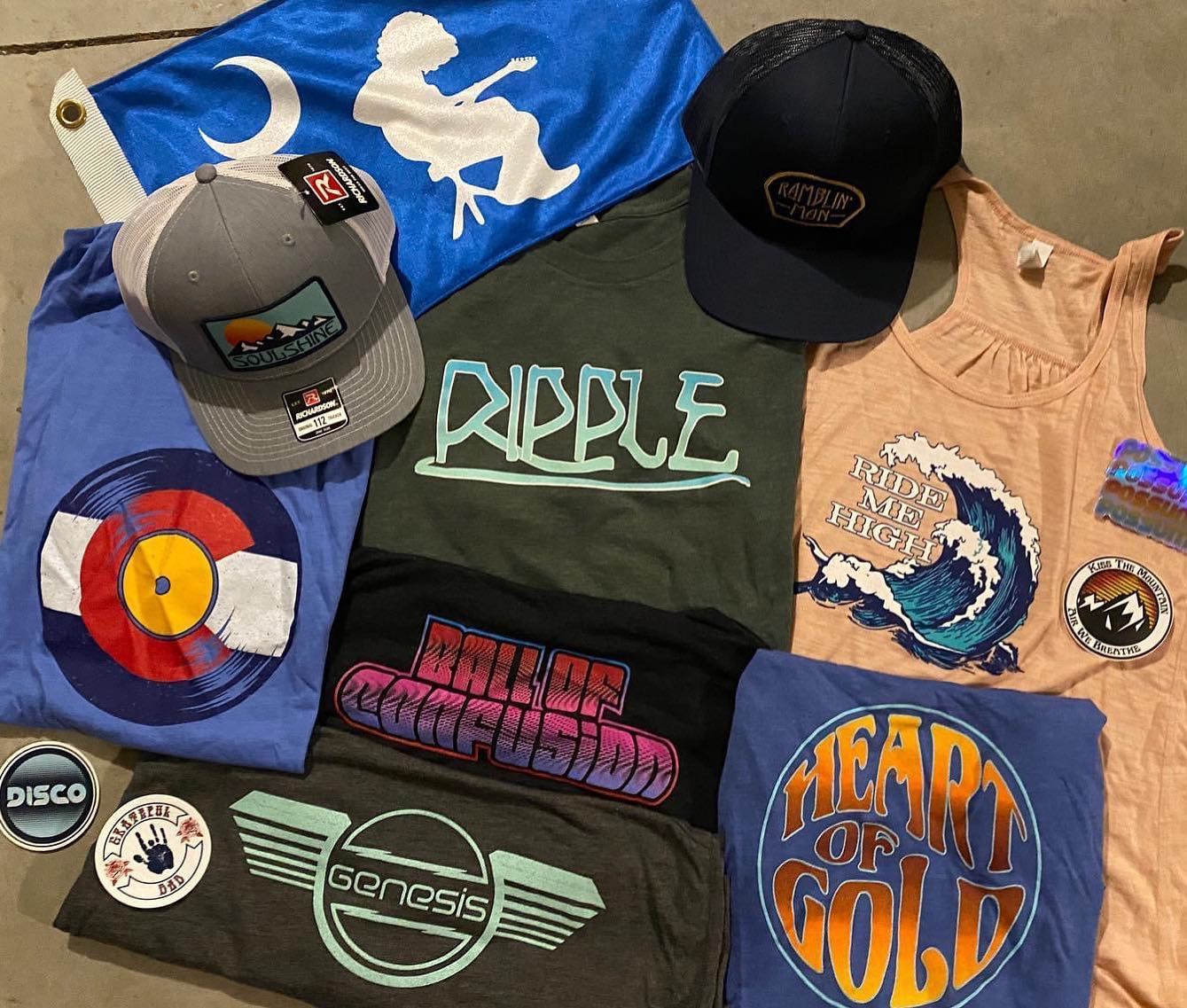 How do you get inspired with new designs/etc.?  As a designer, Bert was always inspired by seeing music, talking to friends and customers at shows, stopping people on the street to look at the detail and craftsmanship of designs. He also was great about following the trends, researching and testing color combinations as well as expanding his knowledge of illustrator and photoshop. Every time he learned a new technique, he added it to his latest design.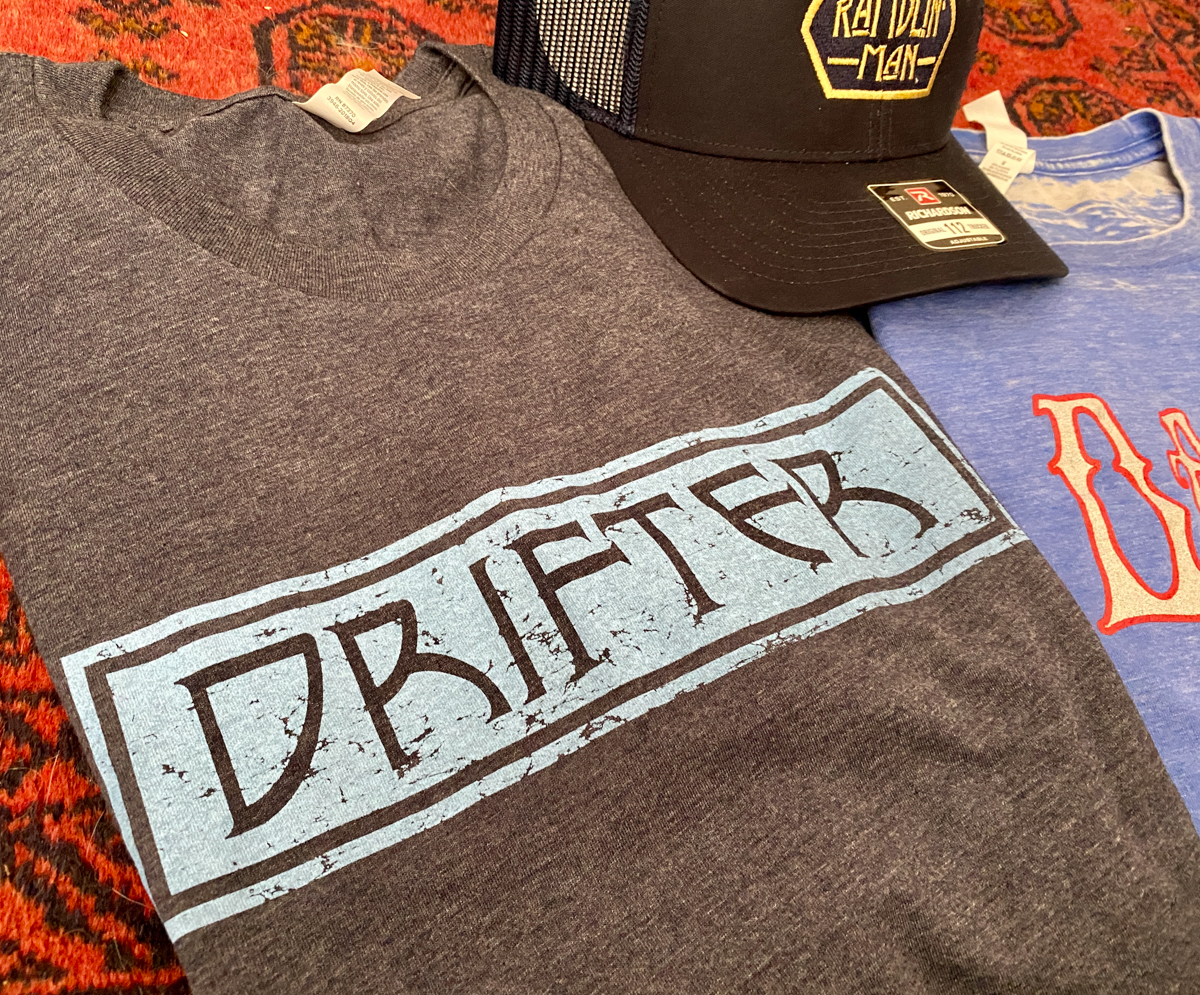 What are some of your favorite pieces?  Bert loved bringing to life the Neil Young and the Allman Brothers designs. For me, I love Soulshine, Ride Me High, Superstition, Ball of Confusion, and New Speedway Boogie. Some of our newer designs, Run Like an Antelope, Going Out West, and Fire on the Mountain are favs too. I always admired that Bert had the knack for taking his designs and complementing them with the perfect texture and color combinations.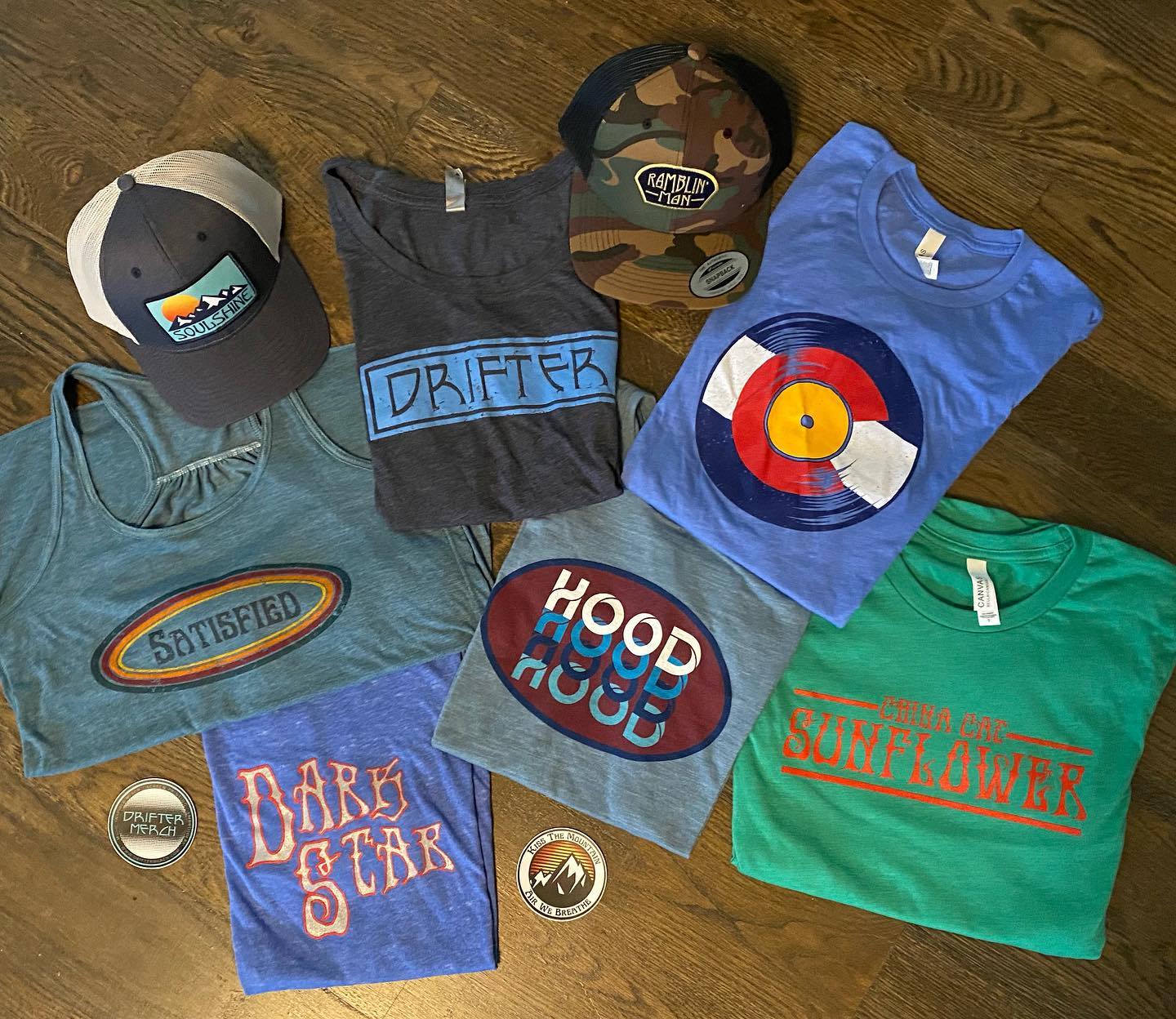 What's the best show you've ever seen?  Depends on which band as there are many. One highlight for me was the final Allman Brothers shows at the Beacon Theatre in 2014. I had been seeing the Allman Brothers since the 90s. My college boyfriend was from Atlanta and turned me onto them (back when a young Derek Trucks was a teenager playing in his hightops). So when I first met Bert and we started talking music, he asked if I wanted to go to the final ABB shows as he had tickets for them all. It was our first trip together and we caught the last three. It was definitely a memorable trip for many reasons!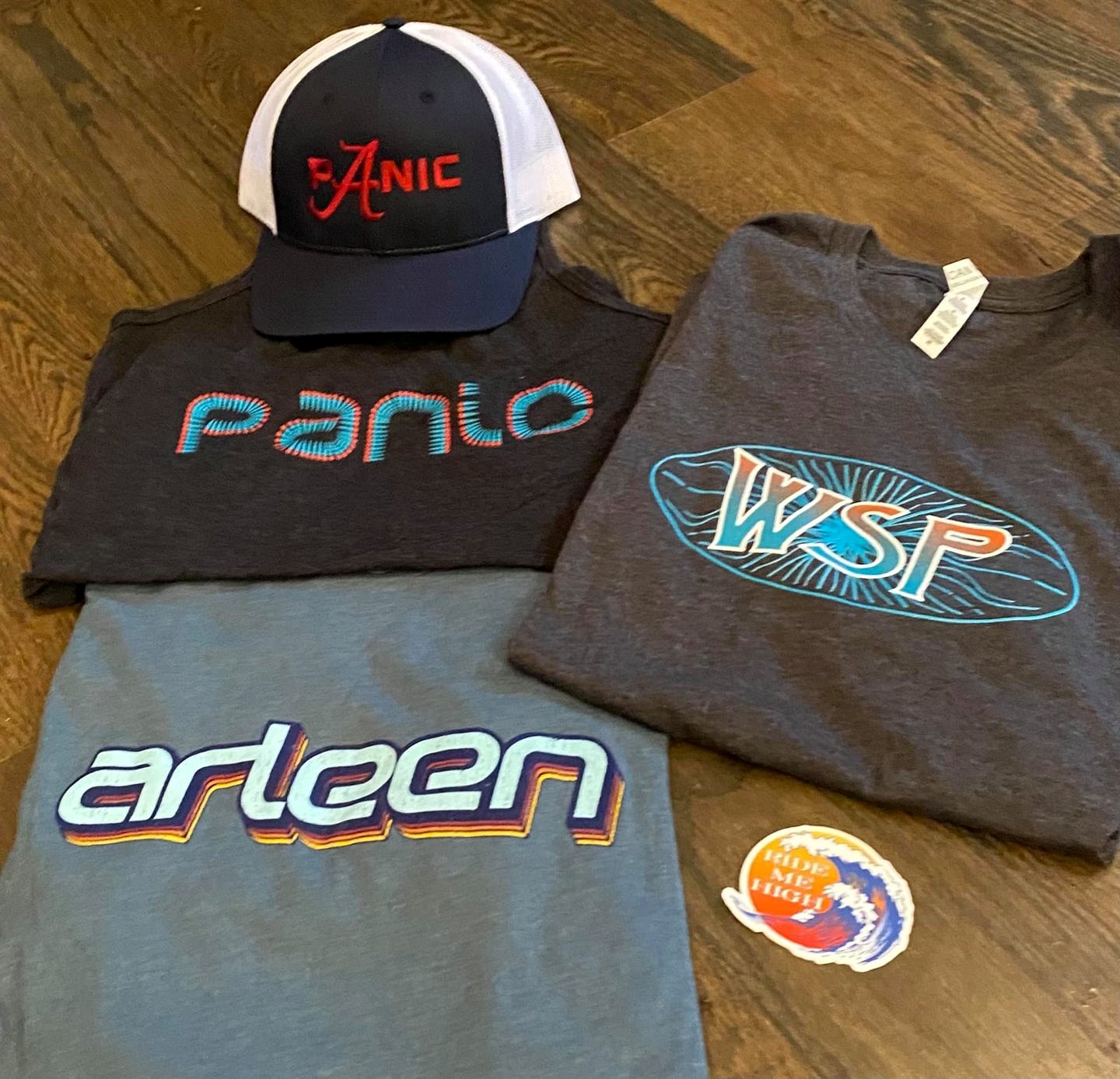 What do you like to do outside of running Drifter?  I enjoy traveling, being on the boat or beach, seeing live music with friends, and hanging with my family, especially our 3-year-old daughter Harper.
All good, folks.  You can see the full Drifter Merch collection here on their website.