The Internet is an awesome place.  Since I've gotten into upland hunting, my Instagram feed has followed suit.  I've found a bunch of great upland photographers, and I've also come across some new brands.  One that stuck out is Fifth & Fields.  What I liked about them was the honesty.  They weren't trying to be everything to everyone.  They have a limited product line, but it's a good product line.  While they aren't producing their own goods (yet), they have labeled some great products out there.  And, they are based in Georgia.  Nothing like supporting the home team.
I had the pleasure of speaking with Edward Puckett, the owner of Fifth & Fields, and he gave me his history and his vision for the brand.  It's looking up!  He was nice enough to give us a little insight:
What made you want to start Fifth and Fields?
EP: Born and raised in Georgia I've always loved the tradition and heritage of good design, good food, good company, and the great outdoors. When I had the vision for Fifth & Fields I wanted to translate these aspects into the pieces and collections that we carry. I lost my job in late 2015 and was at a cross roads to either get another job or go after a dream. I chose to "jump", to pursue something that would allow me to pour my passion of hunting into a business that I could pass down to my children. The business is named after our two boys "Fifth" (3) and "Fields"(10 months). It's a career I can be proud of, a legacy I can leave to them, another vessel to teach them about the outdoors, about being humble and grateful for what God has given us.
How do you define 'quality' when thinking about upland/wing shooting?
EP: I think of wild coveys or at least these days, good flying "pen" birds. Great dog work, there's nothing finer than watching a good bird dog working cover and lock up on point. And probably the greatest aspect of wing shooting is the social side, the camaraderie and fellowship spent afield with long time friends or like minded individuals you may have just met that day.
What are some of your favorite pieces you carry?
EP: The Fifth & Fields Pelican Hook Leather Belt, Waxed Cotton Strap Quail Vest, Tripleloc Fleece Vest, Fifth&Fields Leather Duck Strap, Plaid Shooting Shirt w/Suede Trim, Gaston Custom Calls Hedge Timber Hybrid, and the Fifth&Fields Waxed Cotton Hat.
Describe a perfect hunt.
EP: A perfect hunt will be the first hunts of my children. To see their eyes light up as a group of ducks work or watch our bird dog on point, that will truly be the perfect hunt for me.
As an outdoorsman, how do you approach conservation?
EP: I approach conservation as a duty as every outdoorsman should. Whether its planting food, prescribe burning, deer management, predator control, or teaching our children the ways of the woods, God gave us his creation to be stewards of and as hunters if we want to enjoy the sport we love and pass it on to our children we have to do our part to conserve our resources.
What do you do in the offseason?
EP: There's not much of an offseason. After quail season we start prescribe burns, then we transition into turkey season. During the summer I spend a lot of time at the pool with my family. Towards late summer it's time to plant food plots, hang stands, and train the dogs. Then hunting season kicks off with dove shoots and early teal and goose seasons. I usually bow hunt during October and the early part of November and wait for duck season to get started. I hunt ducks and geese up until the end of the season and then start hunting quail. I love to go, go , go, so hunting has always been up my alley since there's always something to do.
What's playing on your Spotify playlist?
EP: Sturgill Simpson, Widespread Panic, and Need to Breathe
A little hands-on action…given that I am new to the game, Edward is BIG on the waxed cotton strap Quail Vest.  Off the bus, I'm super impressed.  This is the Boyt model, and I'm almost convinced that I want to go waxed cotton on almost all outwear (jacket, vest, etc.).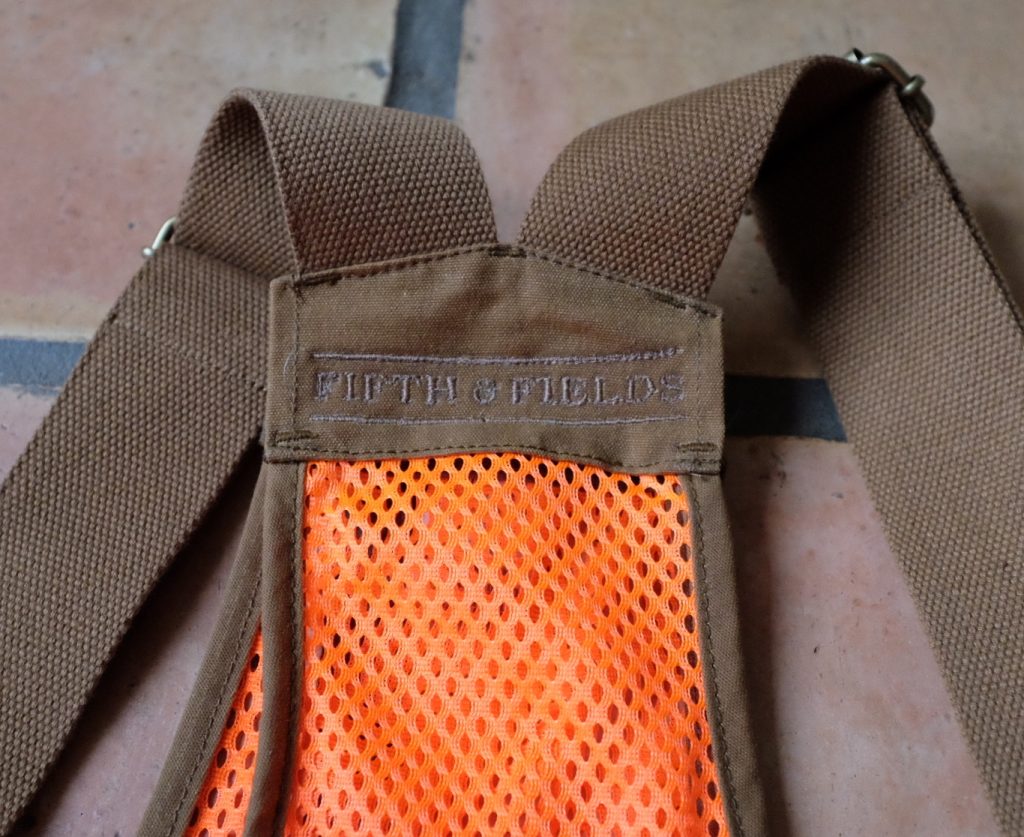 I like the piggy back front pockets.  Lots of storage.  There's room for my X100T in case I want to take a few shots while following the dogs. The water bottle holders are a nice touch as well.
The High Prairie shirt is great – a low-cost option with a nice Fifth & Fields logo.  It'll be nice to show off a little Georgia pride when out in the field.
I've got one more hunt scheduled before the end of March…I'll definitely be putting these goods to work.