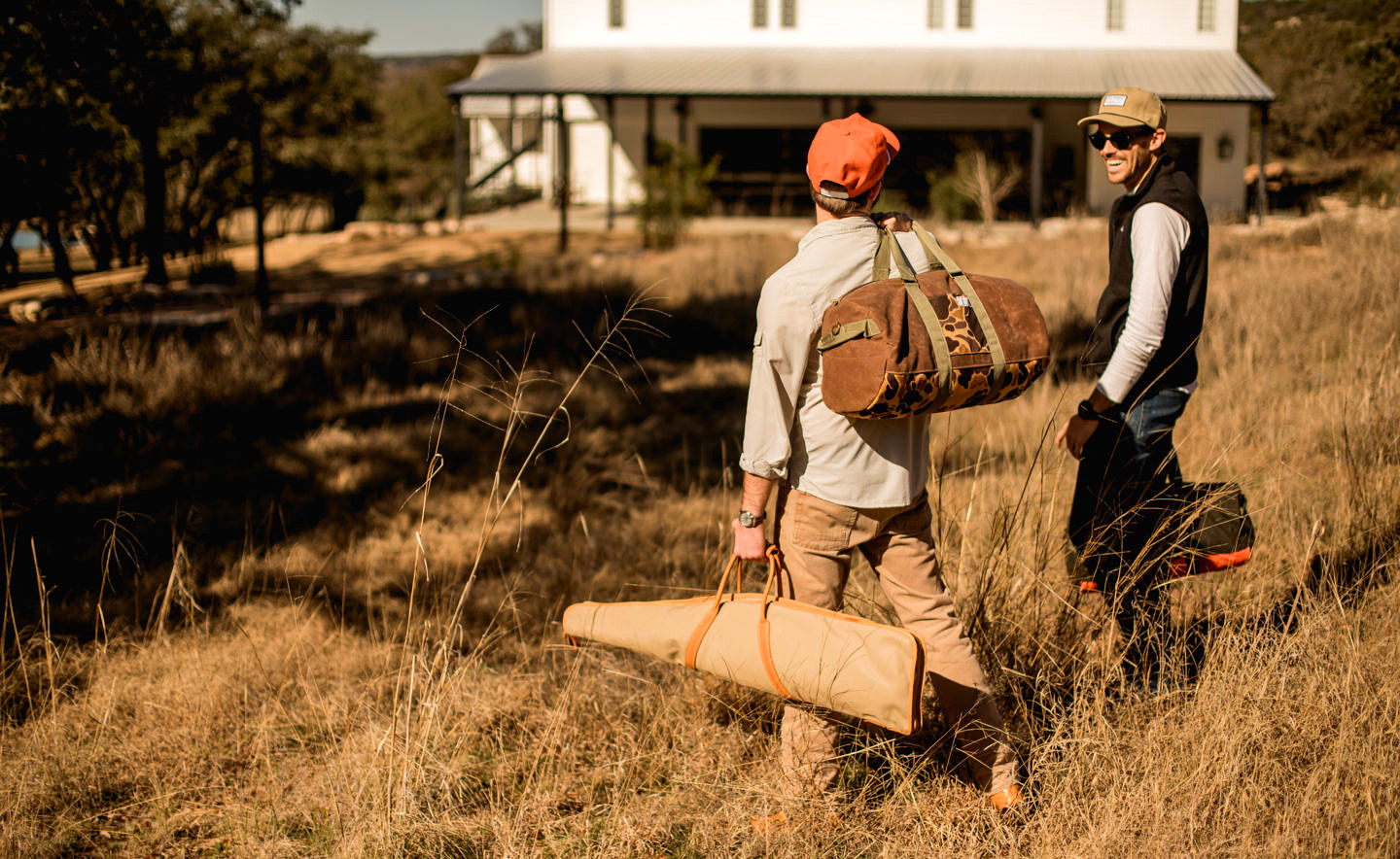 I love learning about new companies like Old Enfield Supply.  As you all know, I take my luggage very seriously.  Based out of Austin, TX, founder Elliott Weeks started sewing these bags back in 2015.  To say he started from scratch is a bit of an understatement, but at this point, the duffle bags are extremely high quality and tough as nails.  What's even cooler: Elliott is a veteran, and his bags are as tough he is.  Elliott has done is time as a Marine in Afghanistan and Iraq, and knows what 'tough' is.
He was nice enough to give us some insight to his company:
What is the history of Old Enfield Supply Co.?  In 2015 I had an idea to create a new kind of hunting and fishing vest. I wanted to be able to design and create the vest prototypes myself, so I decided I needed to learn how to sew. I invited my mom and grandmother over, who both grew up sewing most of their own clothes. I asked them to teach me the basics of sewing, then I went to YouTube to learn the rest. Eventually I moved on from designing the hunting and fishing vest and started making backpacks and duffel bags. After a while, I started asking friends for feedback, and that ultimately became my current 48-Hour duffel bag. Eventually I was getting a lot of requests, so I started producing the bags through a manufacturer to make the whole thing official. I picked the name Old Enfield Supply Co. because it is a neighborhood here in Austin, and it has an old-school British feel to it.
What kind of guy is an OESC customer?  It's hard to categorize a typical customer, especially because I try to make my products appealing to all types of people. However, I would say that the OESC customer is outdoorsy but also has an appreciation for the finer things in life. Additionally, they're usually someone who loves to tell stories about how badass their grandad was back in the day and considers their dog a member of the family. Let's just say that if they have a hunting cabin, you'd probably find a scotch decanter in it.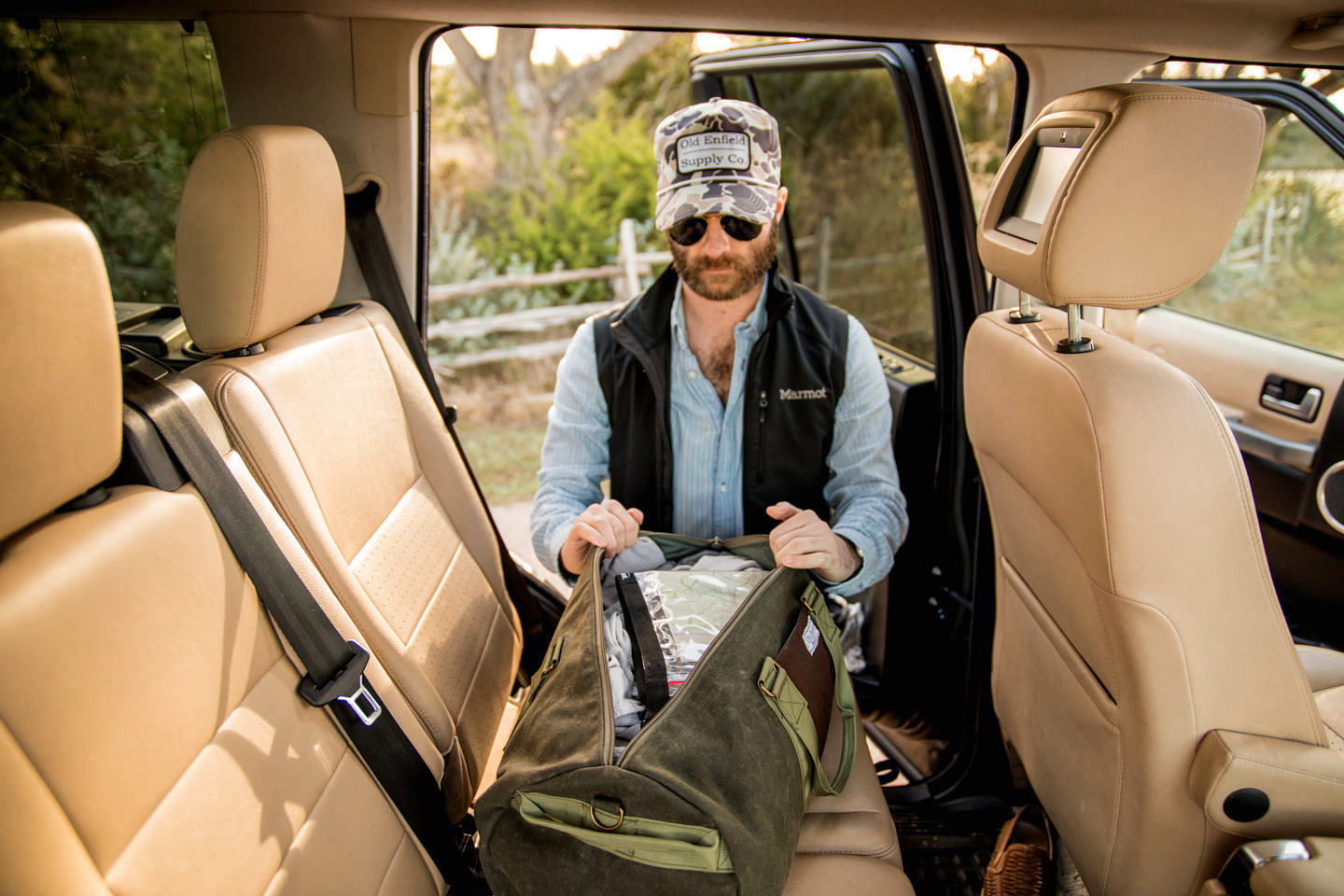 What makes your bags unique?  Other than being water-resistant, well-made, and rugged-as-hell, Old Enfield bags are designed to look sharp wherever you go. When I was approaching the look and colors of the bag my goal was for them to have a heritage feel, but also subtle hints of style. I like to think Old Enfield bags also speak to the person using them. There are a lot of wax canvas duffel bags on the market, and they all look the same. Someone carrying an Old Enfield bag wants a wax canvas duffel that stands out a bit more than all the other ones out there.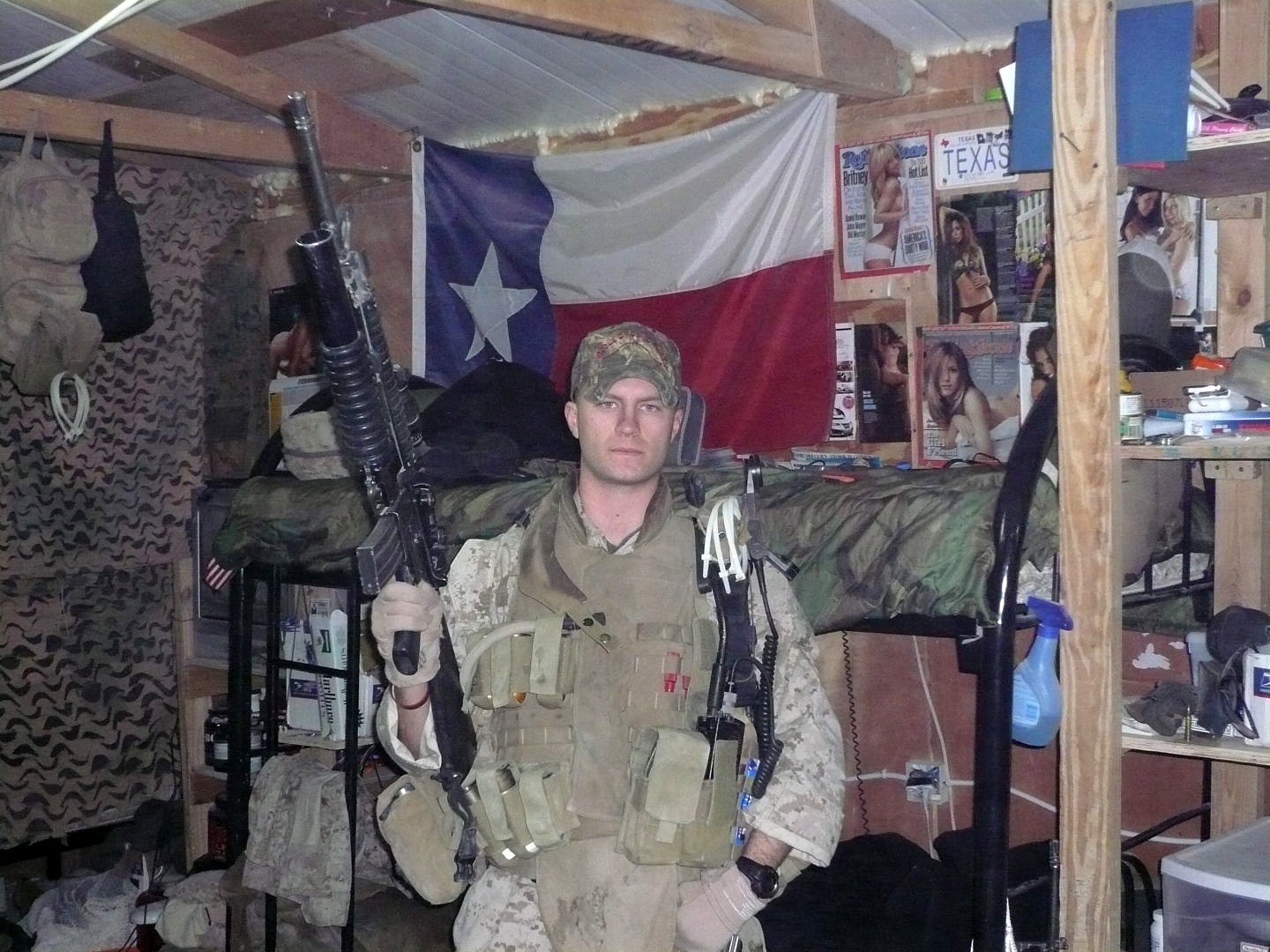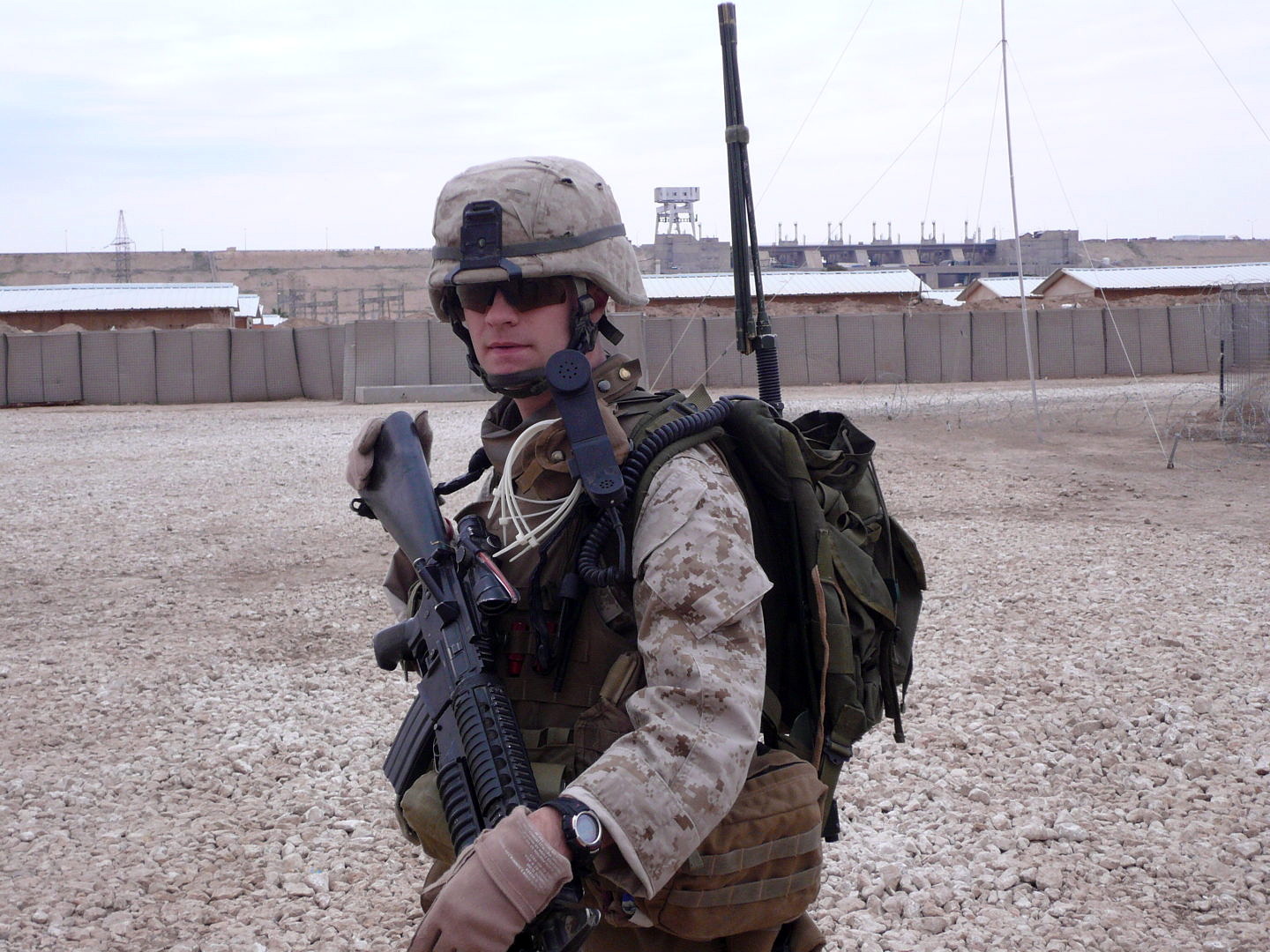 Your company is Veteran-owned. First, thank you for your service! Second, why is it important to support veteran-owned businesses?  I feel that Veterans make for great entrepreneurs and small business owners. Veterans understand the mission, task, and purpose at hand, as well as the ability to take risk and handle stressful situations. These attributes were learned during a time that that Veteran decided to make a selfless commitment to serve their country, which is an act that should be recognized. For those reasons, many Veterans find it easier to start their own company than to be employed by someone else. Like all small businesses they require the support of customers, patrons, and or clients to keep their dream alive. Supporting Veteran-owned businesses is important not only to help keep that dream alive but also to recognize the path that the Veteran entrepreneur took to get where they are today. Also, Veterans feel a sense of commitment to support other Veterans. Whether it's donating proceeds to a charity or employing other Veterans, supporting one Veteran-owned business usually means you are supporting additional Veterans as well. At Old Enfield I have my bags made by a Veteran-owned and operated manufacturer in North Carolina, and I am always on the look-out for Veteran charities to partner with or donate to.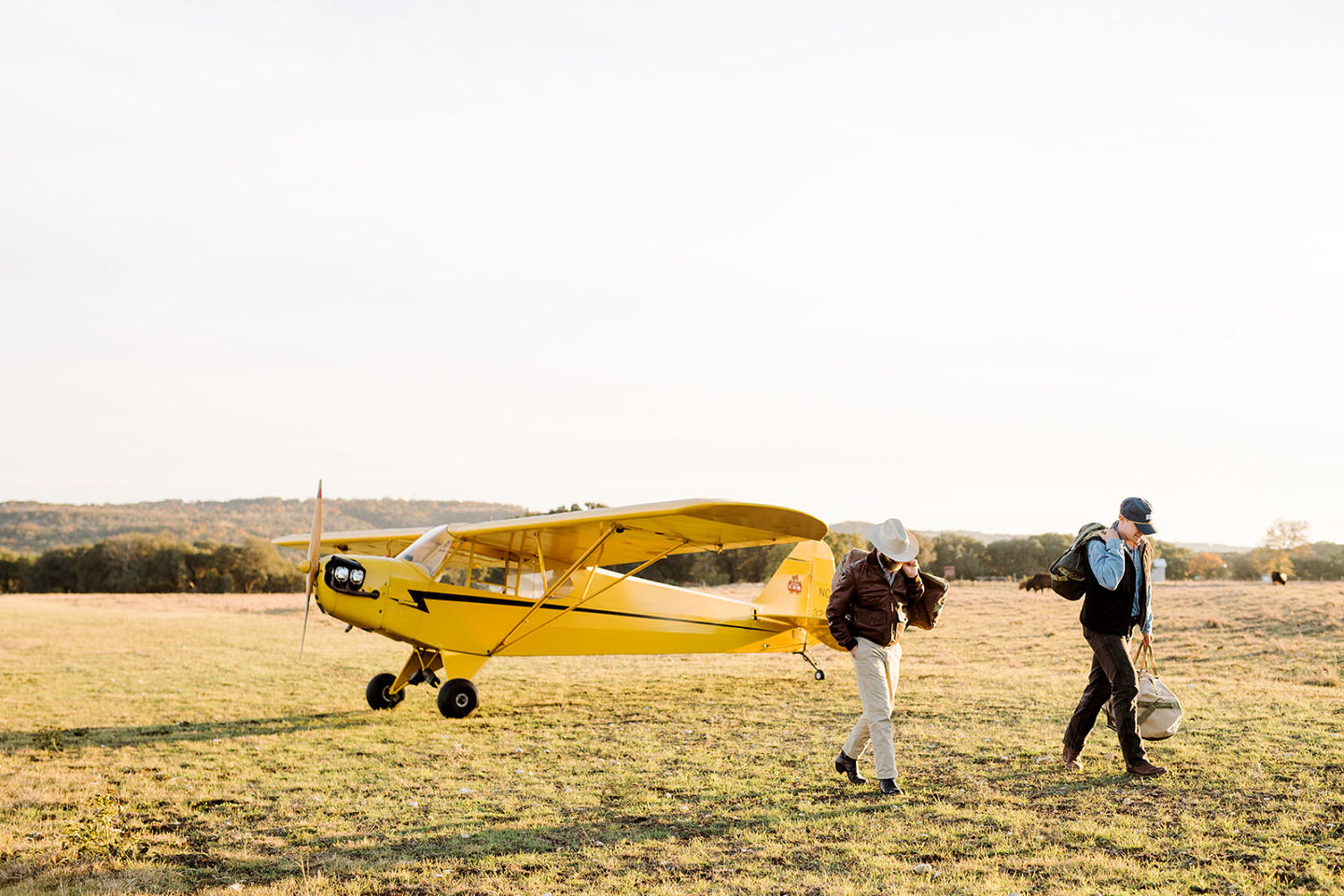 What's the best trip you've taken with one of your bags?  Last summer I went to Big Sky, Montana with my girlfriend Katie's family. I got to spend a good amount of time fishing on both the Gallatin and Maddison rivers as well as hiking a few trails. Then in the evenings we would fire up the grill and play some yard games. It's hard to beat that combination of fun! Also, Big Sky is an amazing place!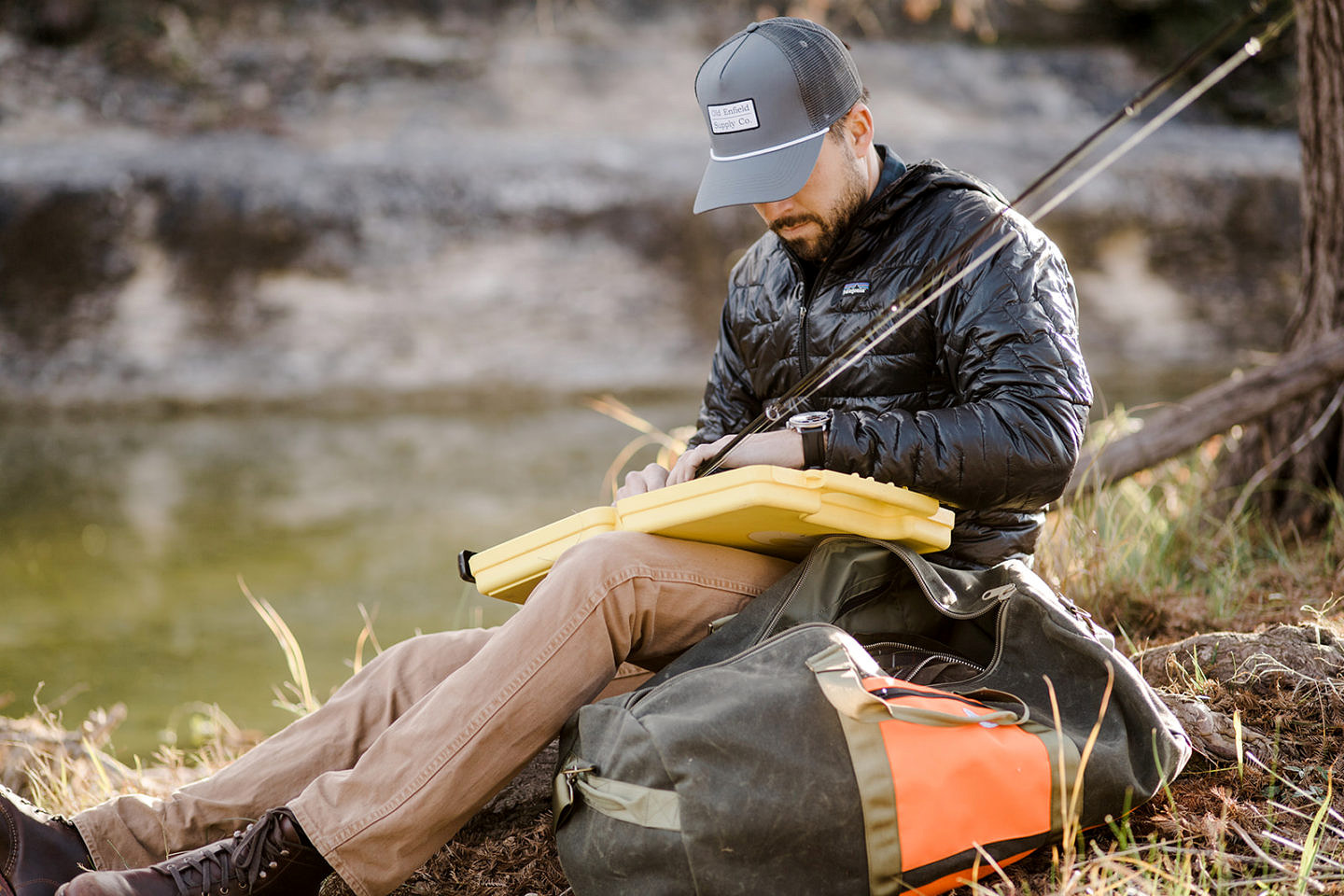 What do you like to do outside of running OESC?  Although I don't get out as much as I'd like too, I love being outdoors and on the water. I like to travel, read and occasionally binge watch shows on Netflix. I'm an avid fan of all University of Texas sports, especially football (and yes, my golden retriever Mack is named after Mack Brown). However, my favorite activity is exploring my hometown of Austin, Texas with Katie!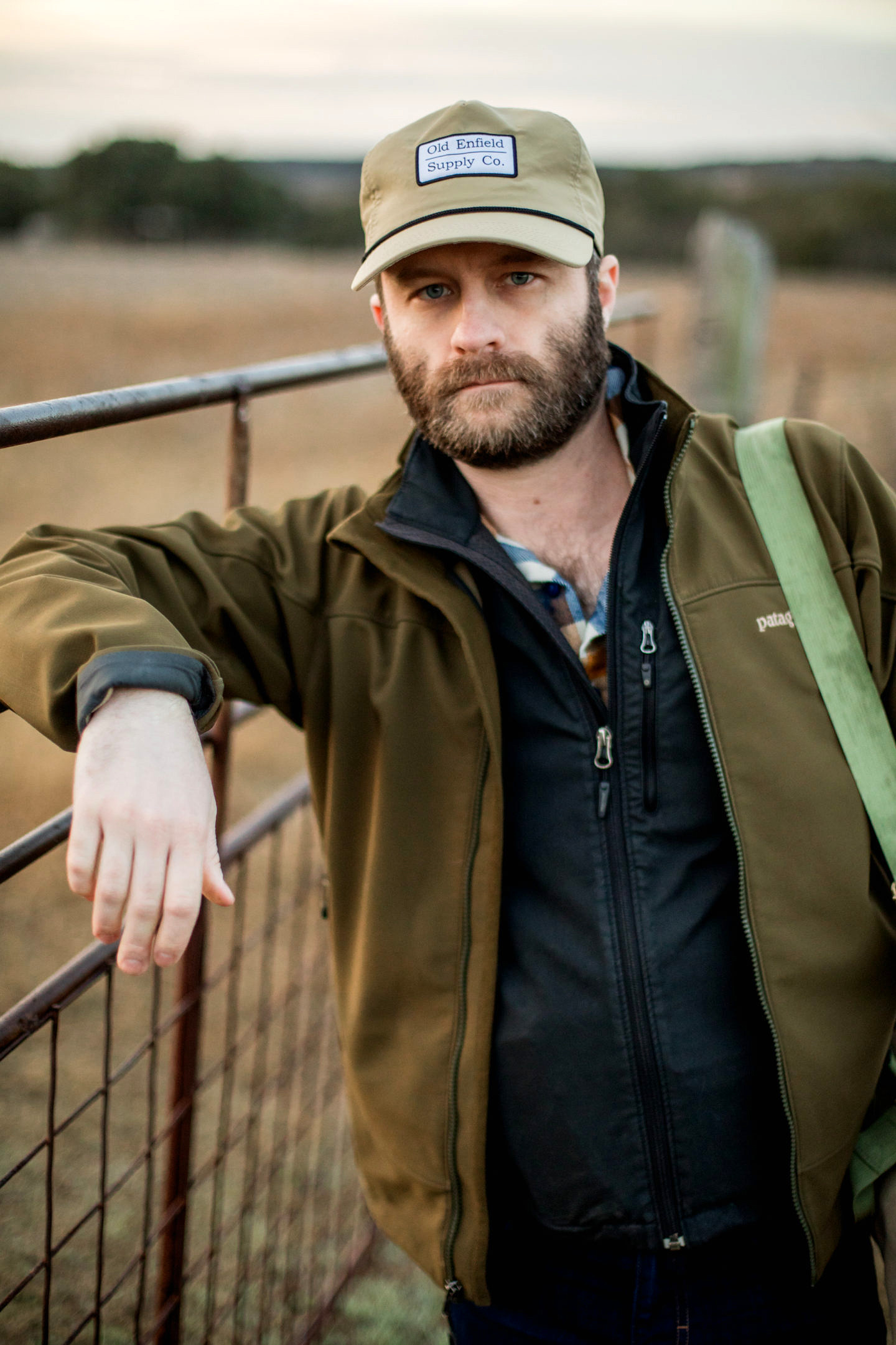 What's on your Spotify playlist? It can be a mixed bag. It's mostly comprised of country and bluegrass. I like bands that can do a bit of all-of-the-above like Sturgill Simpson and Lukas Nelson. However, don't be surprised if a Jurassic 5 or Elton John song starts playing.
Out of the box, the OESC 48-hour duffle is really impressive.  Elliott sent me a Brown Brush + Vintage Camo option to try out.  The waxed cotton and the old-school camo fabric are really sturdy, and the handles and strap are pliable but strong.  I really like the look: it's like a vintage Barbour jacket that just won't quit.  The kind of Barbour that is a unicorn: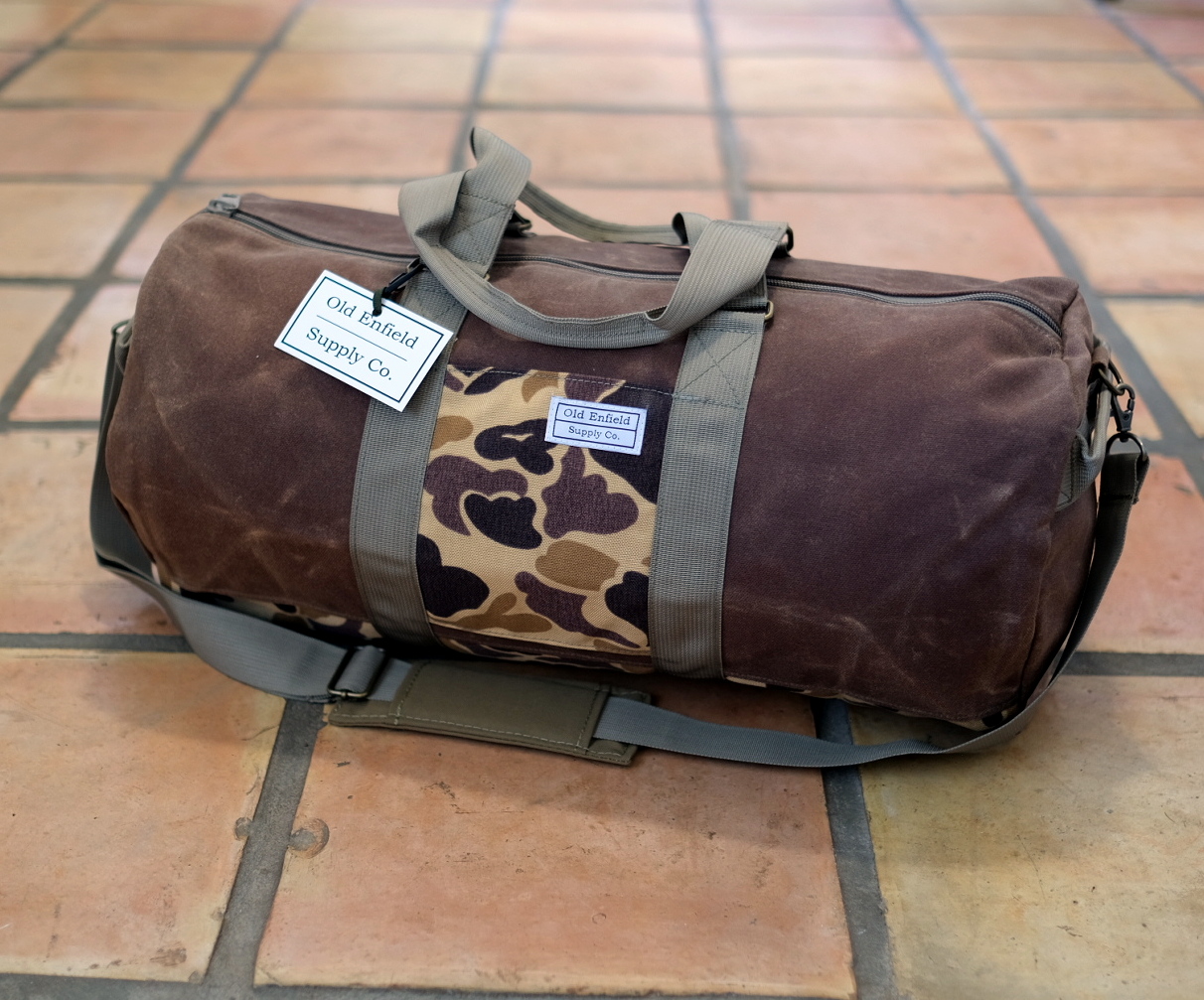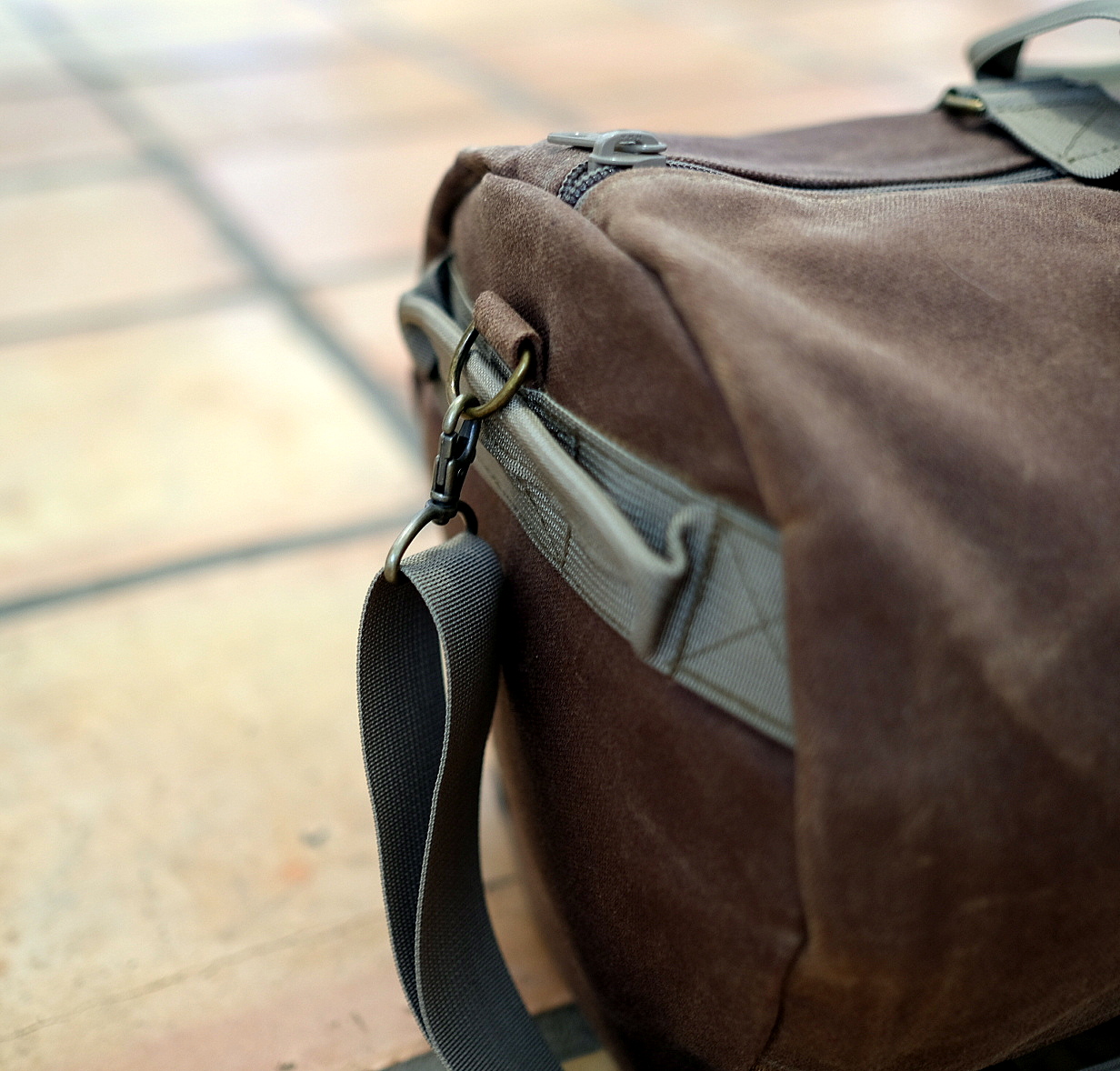 Pictured here is the 48-hour bag, which is a great as a weekender.  The 21″ x 10″ x 10″ is a true duffle design, and a great option as a carry-on or a shotgun rider for a short jaunt.  The interior of the bag is lined, which is helpful in making it a great outdoor bag, so don't be afraid to test this bag against the elements.  The grab and go handles on either end are a nice touch for packing.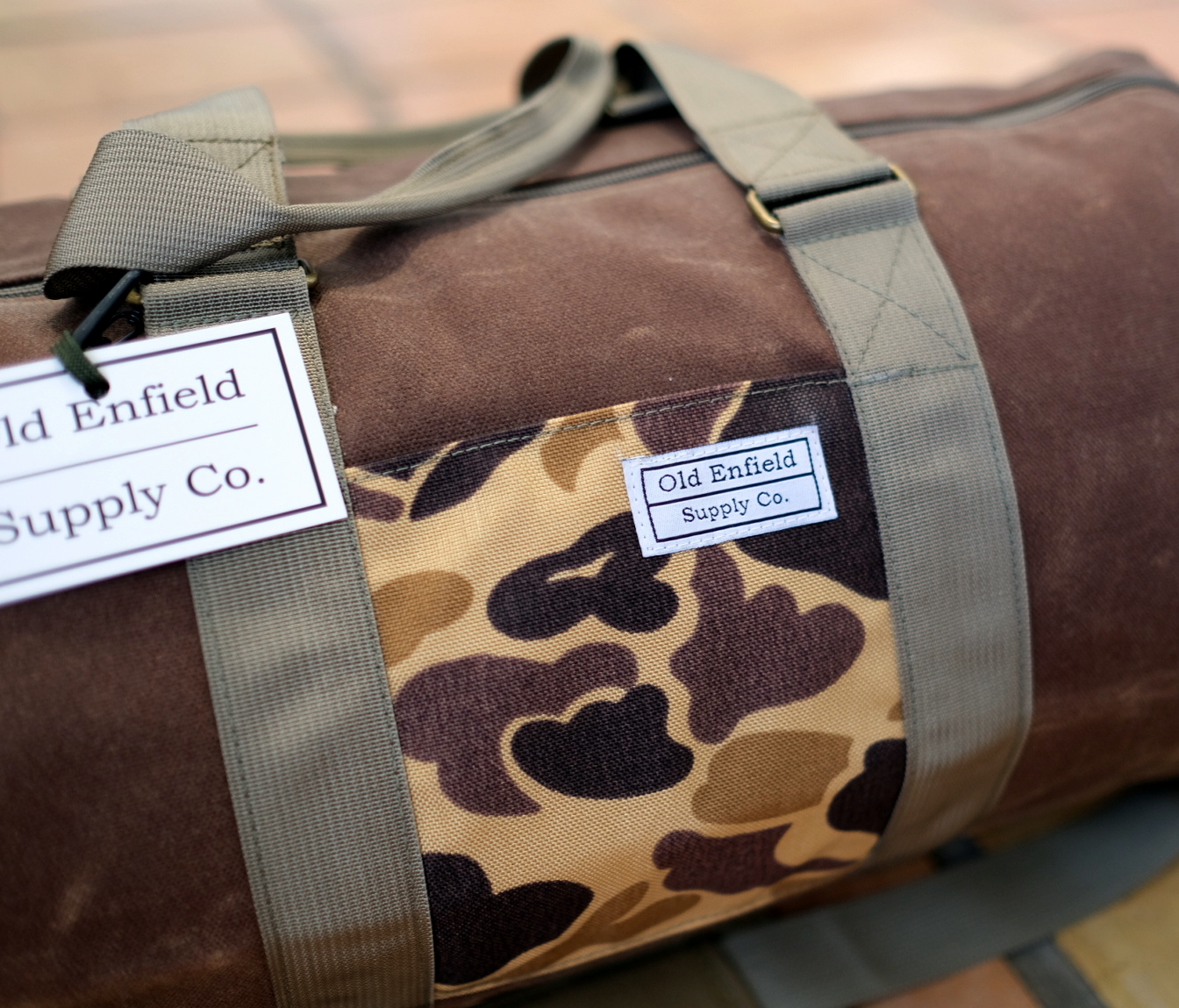 Old. School. Camo.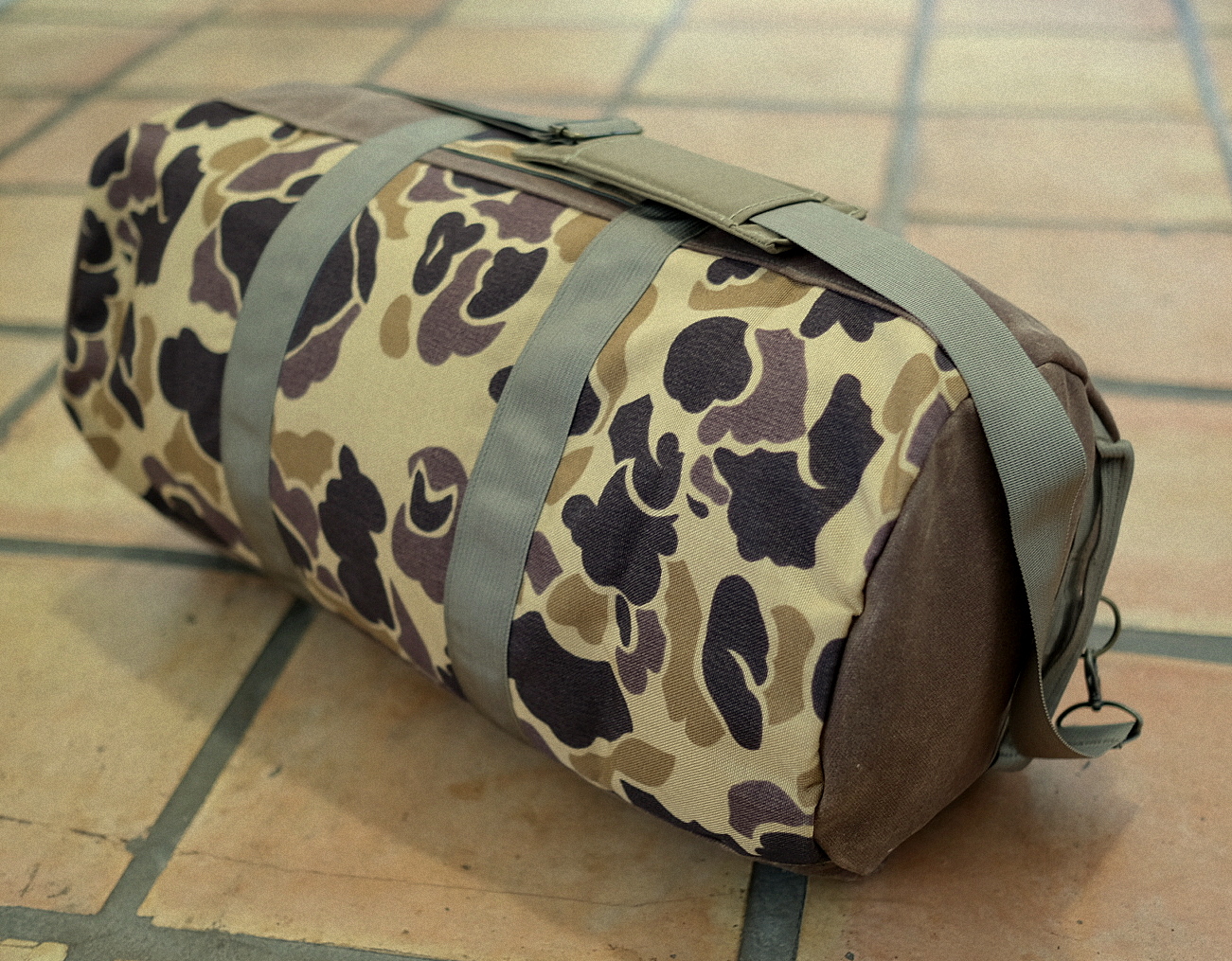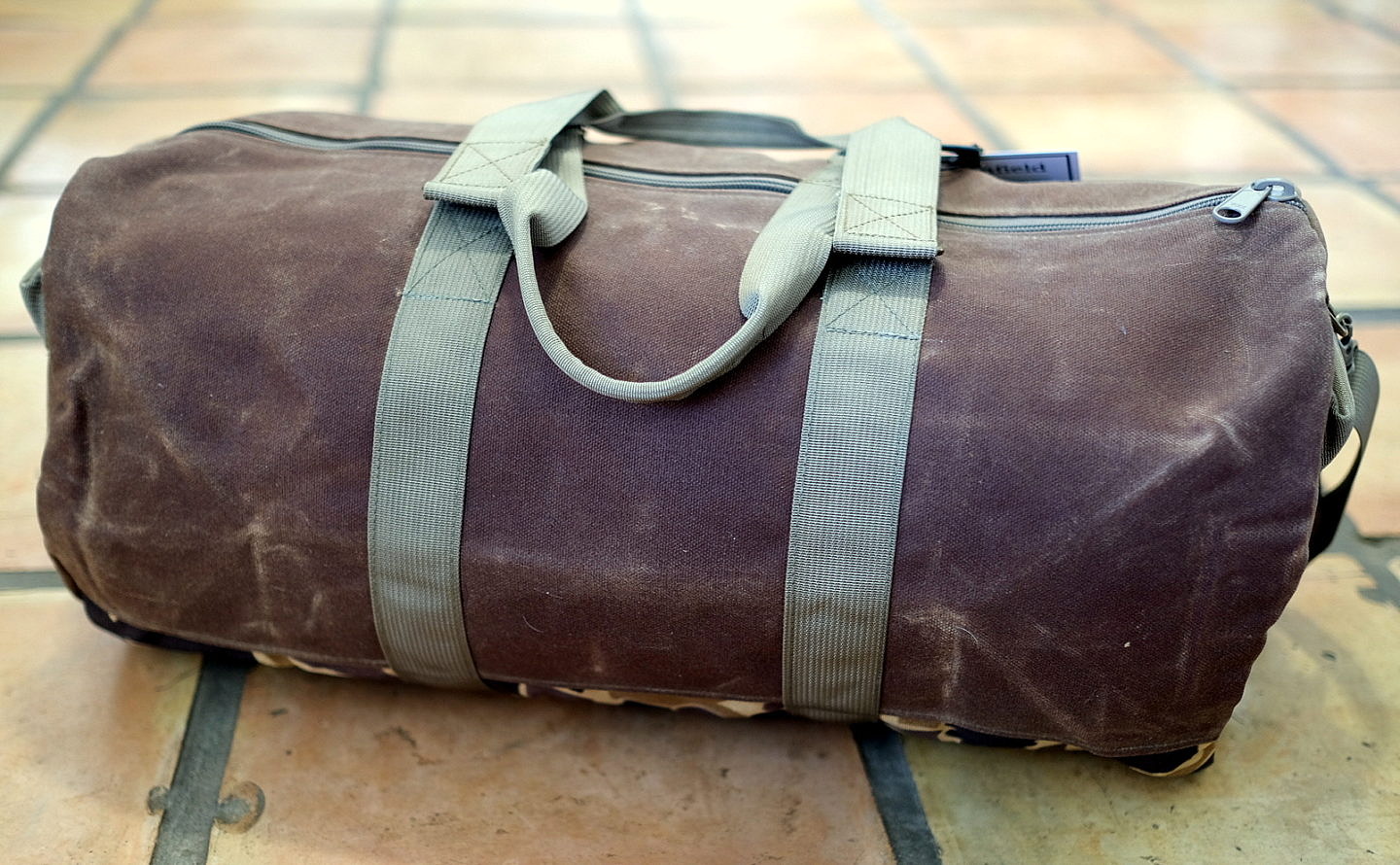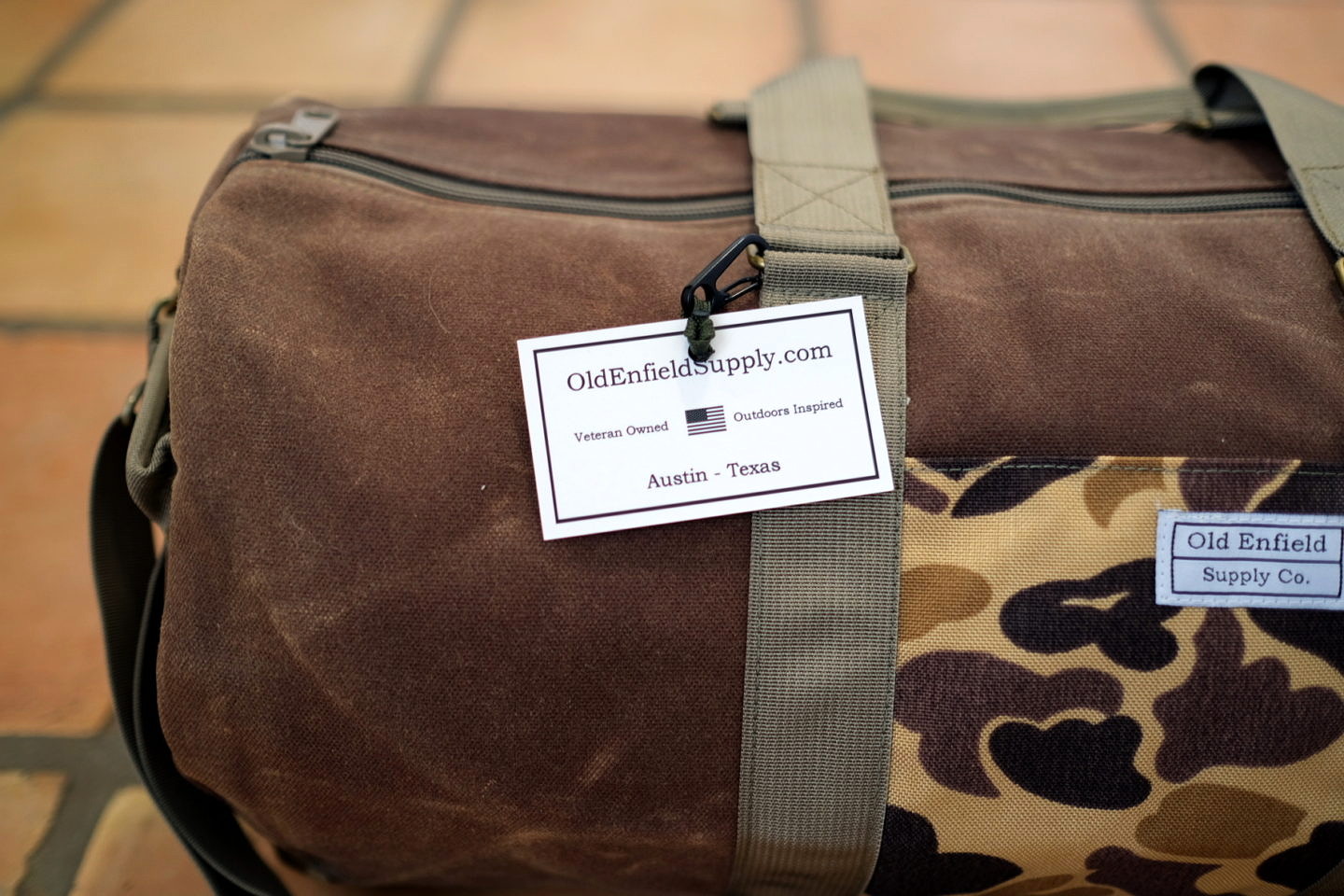 All in all, the $175 price tag is justifiable for a bag like this.  It's tough, well designed, and has a timeless style that will serve you well.  And similar to an old Barbour, this bag will patina well, and have some good stories to tell.
See the whole collection on the Old Enfield Supply Company Co. website.