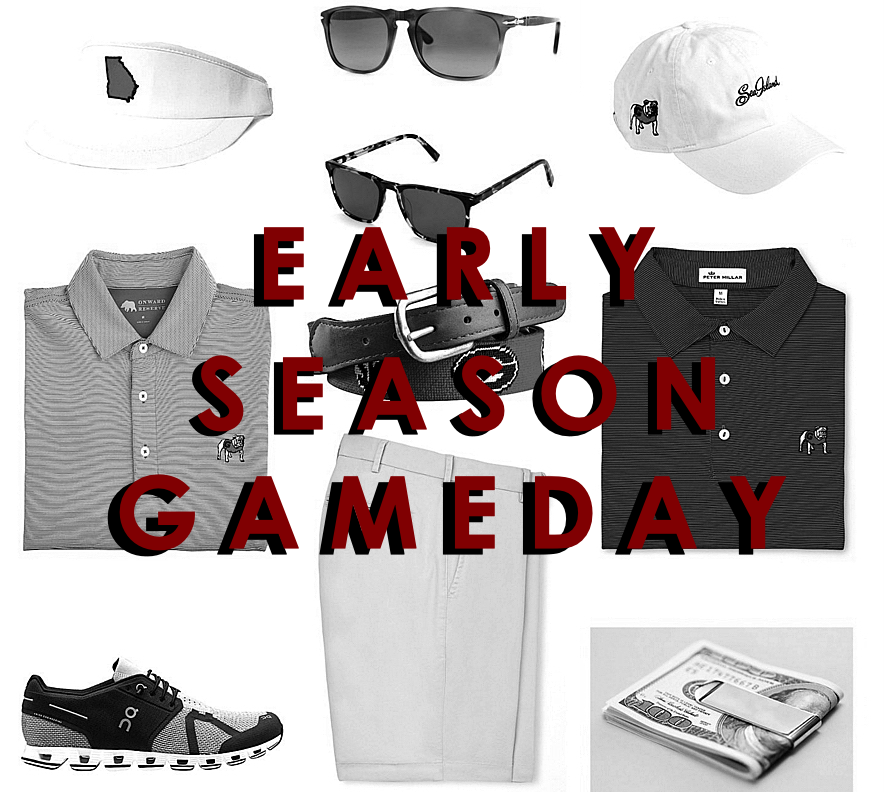 College Football season kicks off this weekend.  Thank the Lord, right?  It is fun watching the Braves dominate, but I can tell some certainties: my Saturdays are going to be a lot brighter, yours are too, and Notre Dame is still overrated.
Given that this weekend has been circled on everyone's calendars for the last nine months, let's talk about how to dress for the early season games.  As an adult, it's important to look like one.  Please forego the embroidered pants, the weird Kenny Chesney-esque beat up hats, and especially dressing like you are a coach.  Please avoid the Nike-themed 'sideline' shoes.  You are better than that.
Instead, opt for team color comfort, without trying too hard.  There are plenty of great options out there, and a little team spirit can be incorporated into your day to day attire.  It's going to be hot, so approach this like a tee time in the summer.  Here's how I'm doing it: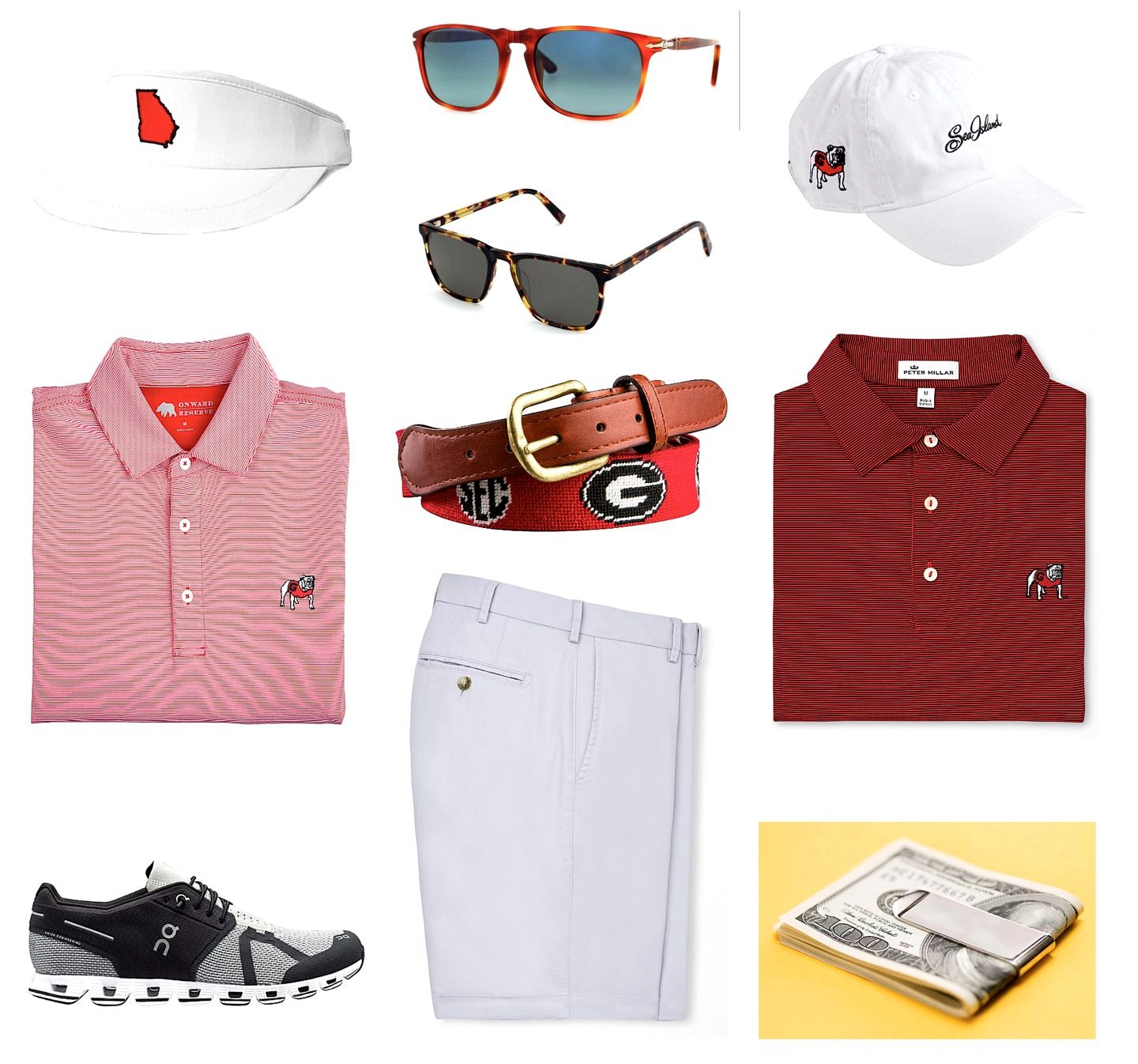 From Top Left:
1. State Traditions Athens Gameday Tour Visor:  Don't ever sleep on the #tourvisor.  It's the perfect time of year to sport the lid.  The Gameday visor is great, but one from your favorite club will suffice.
2. Persol Sunglasses:  You are an adult.  Wear appropriate sunglasses.  Try to set yourself apart from the fraternity pledges or the suburban "boat captains".
3. Sea Island UGA Cap:  Goes without saying.  If you can find a themed club hat, buy it.  Wear it.
4. Warby Parker RX Sunglasses:  The go-to sunglasses for the guys that need a prescription.  Excellent price and high style.
5. Onward Reserve UGA Polo:  You'll notice a theme in my suggestions: I like the older, vintage logos.  In UGA's case, I try to avoid the G as they are too easily accessible at Dick's and Target.  The older logos are tougher to find, and available at the nicer stores.
6. Smathers & Branson UGA/SEC Belt:  It includes the SEC logo, which is only available at Onward Reserve.  Get some.
7. Peter Millar UGA Polo:  Don't ever sleep on Peter Millar polos, especially on gameday.
8. On Cloud Sneakers:  Of course I'm a New Balance fan, but these On Clouds are legit.  They are popping up everywhere, and for good reason.  There's a lot of walking on gameday, so take care of your feet.
9. Peter Millar Soft Touch Twill Shorts:  As adults, we should wear good shorts.  Shorts that fit well.  Shorts that don't look like skinny culottes. Buy accordingly.
10. A Stack of Cash:  I know it's been a while, but the bars at college bars are stacked deep with undergrads and fake IDs.  Don't ever run a tab.  Cash is king.
What did I miss?