Raleigh Denim has always been an aspirational experience for those of us in the 'menswear' world (for lack of a better term).  While some of the other small-batch denim makers choose to be seen on social media and other marketing ventures, Raleigh Denim has largely operated in an organic way.
Born as an American art project, and a pretty cool romantic adventure between founders Victor Lytvinenko and Sarah Yarborough, their mission was simple: make the ideal pair of jeans.  They did a lot of research – deconstructing and constructing a lot of jeans, repairing old machines, and listening to old artisans, they've met that goal and then some.
Today, Raleigh offers a complete line of American-made clothing for both men and women.  Based in Raleigh (get it?), they are as obsessed with their community as they are with the fit of their garments.  It's real for them.  They obsess over every aspect…including the cut of the pockets so that your butt looks the best that it possibly can.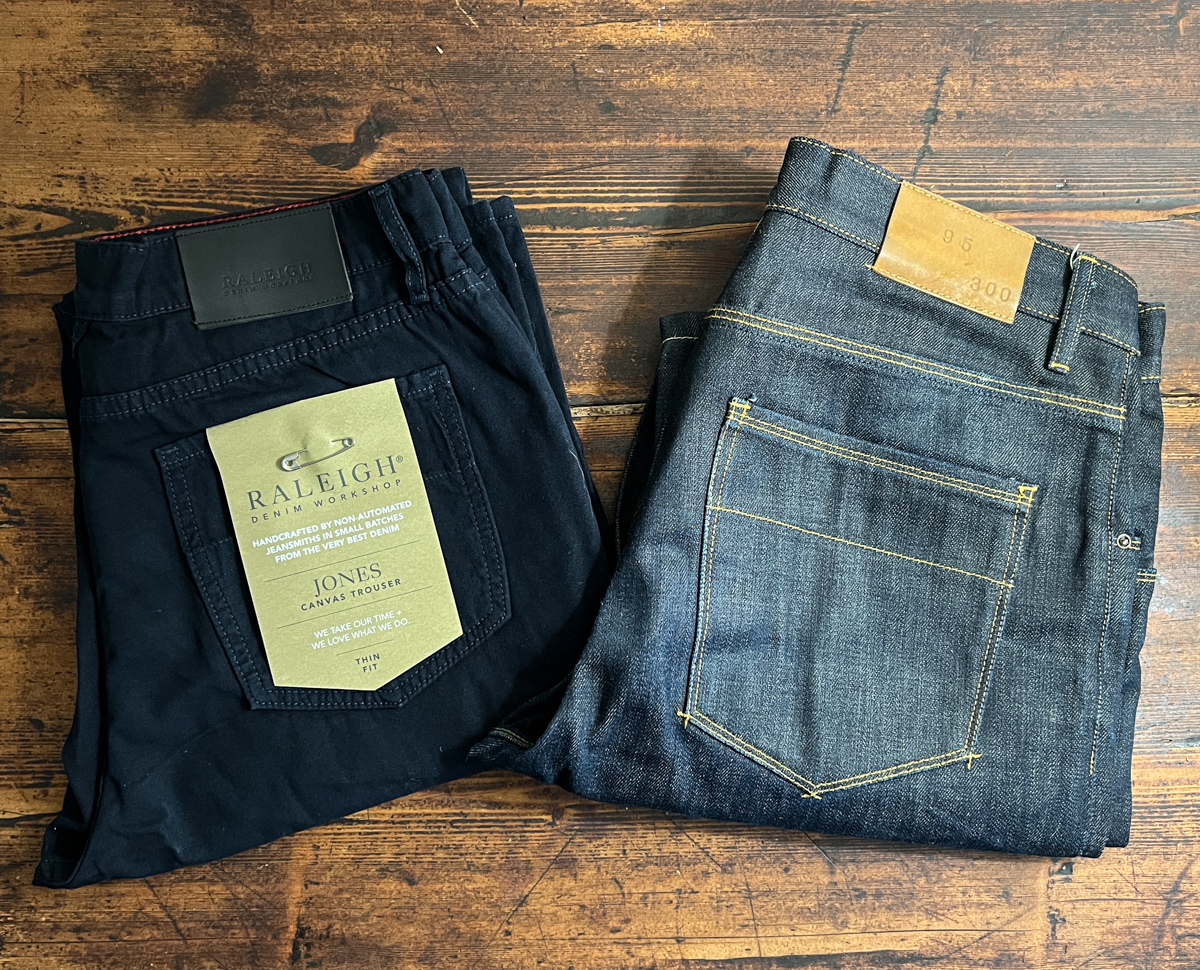 Founder Victor Lytvinenko was nice enough to give some deeper insights:
What is the history of Raleigh Denim? Raleigh Denim Workshop is an American enterprise / art project / romantic adventure started by Sarah Yarborough and Victor Lytvinenko in 2008. It started with an obsession to make the ideal pair of jeans. We traveled up and down the Southeast searching for old sewing machines and chatting with retired textile workers and built our own workshop here in downtown Raleigh. Though tenacity and borrowing my uncle's van, we got into Barney's and then thinks took off from there.
Raleigh Denim is seen as a leader in higher-end selvedge denim and pants. How did you get there? We went deep on 'grade rules' (what we use for fit patterns) and embraced the kind of non-automated sewing skills that let us create the kind of fit that you rarely see in selvage jeans. Early on we were able to hire Chris Ellsberg, former master pattern maker with Levi's, to mentor us in the art of patterns. The end result is jeans that fit and feel super well, and that's something you notice immediately when you put them on.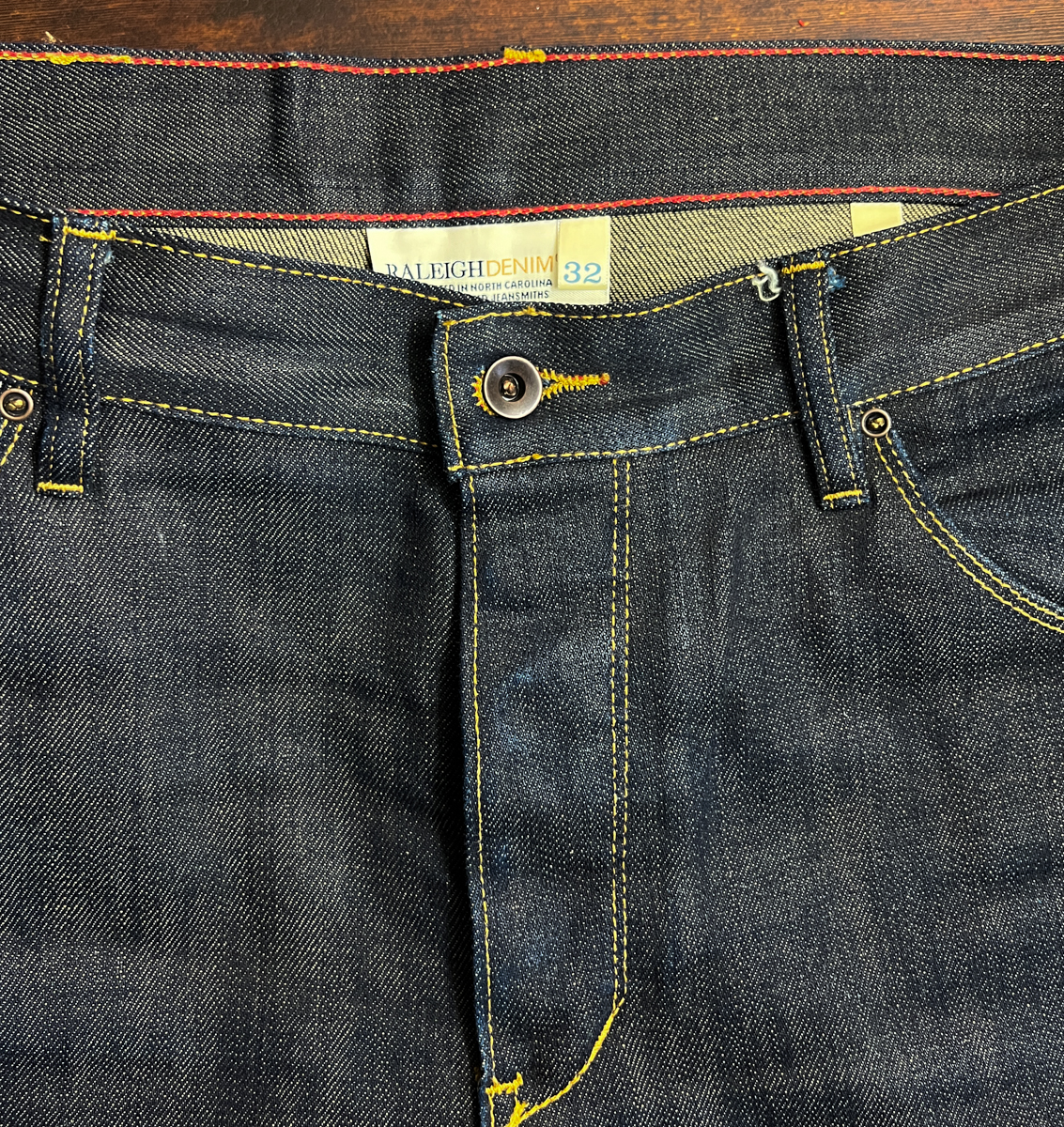 Quality and Fit are very important when buying a pair of your pants. How would you advise new customers? We recommend starting with a raw denim jean. It will beautifully over time and will shape and mold to your body.
What kind of person is a Raleigh customer? We've always said we make clothes for people who love what they do and get shit done.
Selvedge denim is a religion. It has to be a fun ride, right?  The beauty of our trade is that we're constantly on the search for new selvage and denim fabrics. We always try to find innovative, delicious, rare fabrics — and we're insane when it comes to details.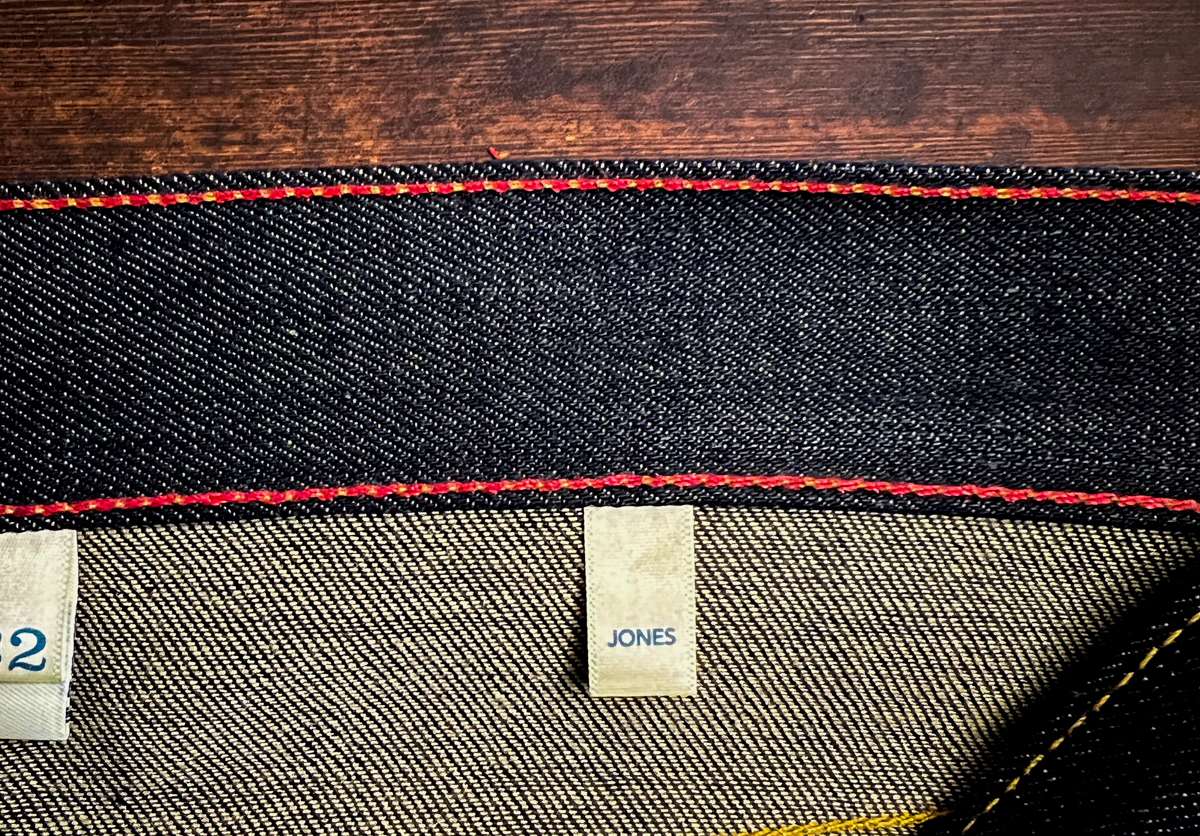 What does the Raleigh team like to do outside of running the brand? I grow grapes and am making my own wine. Sarah is growing incredible flowers. We're deeply involved in the art scene here and elsewhere. And many nights, I'm at the workshop making clothes with friends and creatives.
What is on your Spotify Playlist? A lot…
Frank Ocean
Bobby James
Ace Henderson
Sylvan esso
FKA Twiggs
Warpaint
Thao and the get down
Francis Bebey
MC Fioti
Bigflo + Oli
Sons of Kemet
Kendrick Lamar
Youssoupha
Sudan Archives
Balla et ses Ballandins
the Roots
Sam Island
While they got their name with jeans (which are amazing), their pants, in general, are some of the best in the market.  I would put them up against some of the finest pants makers in the world (Incotex, etc).  I have had a pair of their Jones selvedge jeans for a couple years, and can absolutely attest to the fit, quality, style, and design.  They are world-class.  I recently got a pair of their canvas trousers, and they are along the same lines: world-class.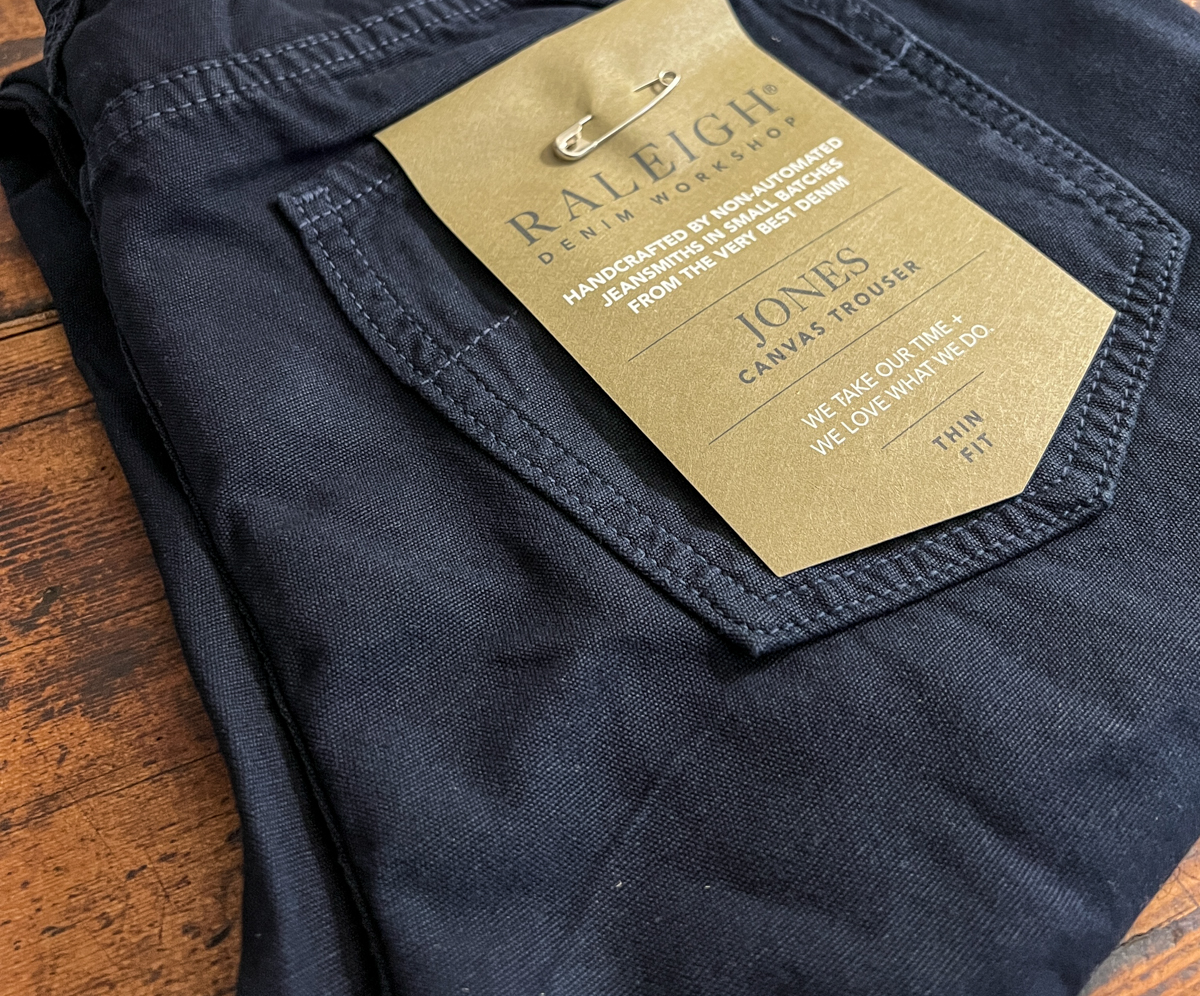 The fabric is what helps these stand out.  It's a 100% cotton canvas with NO stretch.  They are the iconic Jones fit, which look great with loafers or Chelsea boots, and feature trouser-cut pockets.  I fully expect these to mold to my body just like their denim does.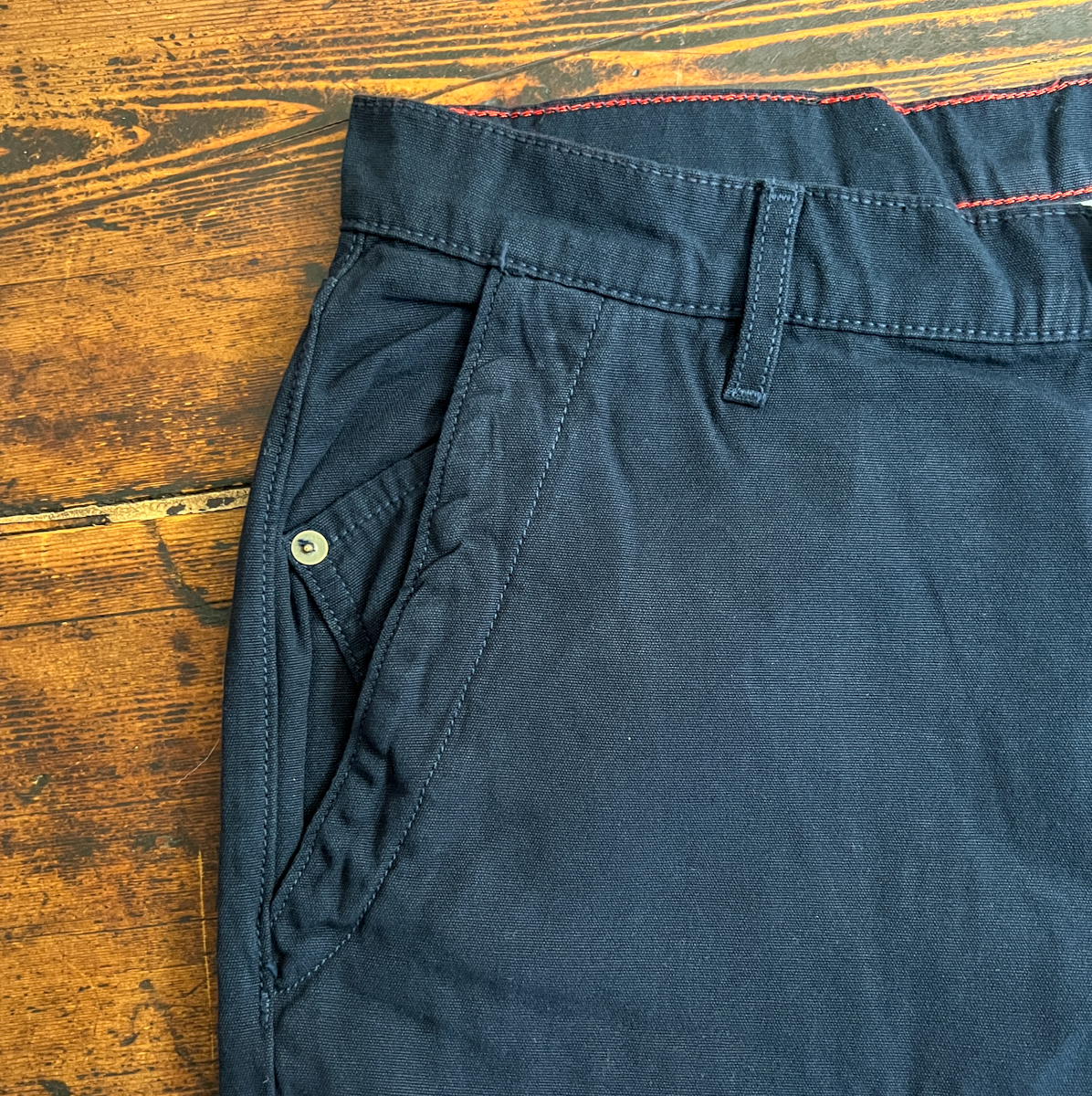 Think of Raleigh as an investment.  You are buying a piece of American art that has been painstakingly designed and developed to the highest standards.