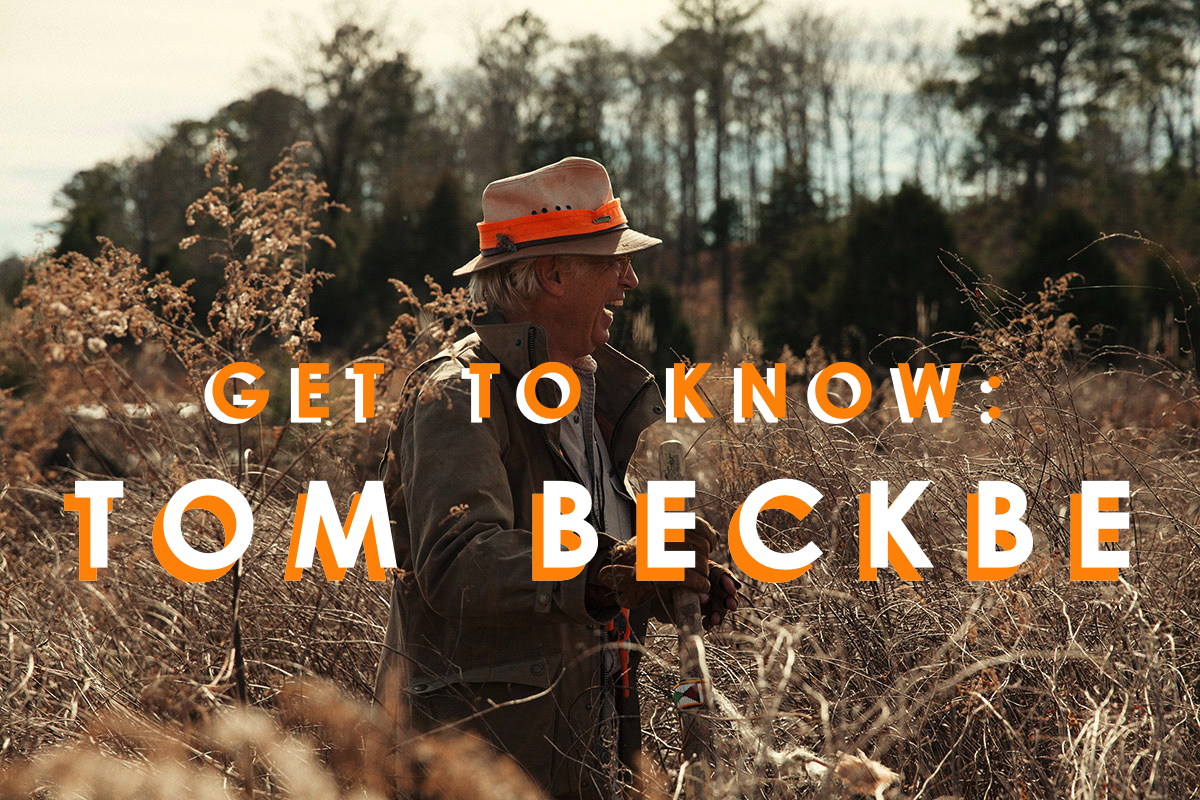 A while back, a good buddy of mine over in Birmingham shot me a text: "Check these guys out- www.tombeckbe.com".  What I saw was a great looking waxed jacket (the Tensaw) that had a different look than most waxed field coats.  This Birmingham, AL based company is creating high quality, classic, rugged gear for the sportsman.  After speaking with Radcliff Menge, the founder of Tom Beckbe, it's clear that no detail has been overlooked.  I have seen the Tensaw in person a couple times, and by all means is it a tough jacket.  It is built to be out and about.  Built to work.
The industry has taken notice: they were just named a finalist in the Garden & Gun's Made in the South awards for their Kinsman Vest, and they are popping up all over the place.  To say that business is good is an understatement.  Getting to know Radcliff has been such a pleasure.  He's just like the majority of us: a sportsman who really enjoys bourbon (his knowledge is very deep), who took it into his own hands to make his vision a reality.  It's great to speak with a company that is going through explosive growth.
Radcliff was nice enough to give us a look inside the Tom Beckbe world:
What is the history of Tom Beckbe?  Tom Beckbe started off with one jacket. As a lifelong outdoorsman, I had either owned or tried every jacket you can imagine. And I simply wanted something different from the crowd of jackets already out there. But I didn't just want a unique jacket, I needed one that was both field-ready and stylish enough to wear during the week. So I set off to make my own. I worked closely with a patternmaker on several different iterations before landing on the first Tensaw Jacket.
That was really supposed to be it, but folks liked the jacket and expressed interest in buying one, so I decided to make a few more. Along the way, we adopted the colonial name of the Tombigbee River—Tombecbe—and here we are.
What inspired you to create the Tensaw Jacket?  The Tensaw Jacket draws inspiration from the American outdoors. The name itself is a reflection of the Tensaw Delta, where the Tombigbee River ends and where I learned to hunt and fish with my grandfather. And of course the liner dyed in Alabama clay is another direct connection.
I would add that the design of the jacket itself is very much an American look. Softly structured shoulders provide a flattering silhouette, while gusseted underarms and a bi-swing back allow for a full range of motion. These same design hallmarks have been incorporated into our latest jacket, the Blakeley.
What sets your outerwear apart from the rest of the market?  A relentless (perhaps obsessive) dedication to using fine materials and quality craftsmen right here in the U.S.
Who is a Tom Beckbe customer?  Our customers enjoy the sporting lifestyle and the adventure that accompanies a life outside.
Why is the Southeast a good backdrop for Tom Beckbe?  The American South has a long tradition of enjoying and conserving the outdoors. The one thing missing from that history is a homegrown outfitter designing and producing gear specifically for the South.
What new products do we have to look forward to?  We just rolled out a new jacket, the Blakeley, that we are very excited about. And we'll have new warm weather items and field-ready gear in 2018. It should be a fun year.
What's your drink of choice?  Manhattan, although I'll drink whiskey pretty much any way. I'm not going to tell folks my go-to rye for a Manhattan, but anyone who follows us on Instagram already knows.
Describe a perfect Saturday… I think I might have had it last weekend. An early morning chasing quail in tall pines, followed by a long lunch with good friends. And then a little college football for a chaser.
What's playing on your Spotify playlist? I'm headed over to Memphis and then Arkansas next week for a three-day duck hunting marathon. In anticipation I've been listening to a lot of John Lee Hooker, Albert King, Junior Kimbrough, Muddy Waters, Cedric Burnside, and other great blues musicians.
~~~
The Blakeley Jacket is Tom Beckbe's latest release, and they were nice enough to send one down to give it a good once-over.
Out of the box, I was surprised at the weight.  It is by no means a bulky jacket.  While the shell is waxed, it's not as heavy as other waxed jacket.  It has a sturdiness that confirms that this is a jacket that will work in the field, but it has a sport coat cut that is perfect for the office. In keeping with the sport coat theme, the four button closure dresses it up.
I particularly like the cut.  The core fits close to the body, but not too close – it would be fine over a lambswool sweater.  The armholes are just a touch higher, giving full range of motion.  The sleeve length is easily alterable.  From a sizing perspective, I wear a 40R or 41R coat, and a Medium fits perfectly.
The construction is outstanding.  Nothing was missed.  The jacket is covered up with pockets, and all serve a function.  The front pockets are deep and full – perfect for a box of shells.  The chest hand warmer pockets are a nice touch, and the inside features a flask pocket, as well as a zippered cell phone pocket.  Their attention to detail is outstanding.
The lining is unique.  It is a very soft, weathered cotton that has been dyed with Alabama red clay (this isn't lost on me).  It's a nice touch that works well with the Tobacco colored outer shell.  The red clay flash of color brings it all home.
All in all, the Tom Beckbe Blakeley jacket is a dressy version of a waxed cotton coat.  It's cut for the office, but rugged enough for the field.  The price point ($425) is more than appropriate for a jacket of this quality and with these features.  It's never going to go out of style, and just like most waxed cotton, it will only get better with age.
Visit www.tombeckbe.com to see the whole collection.