"I wish I played more golf" is a statement that most of us say all the time.  In my case, having our second boy a year ago really put a crimp in my round count.  I was a 2-3 times a month guy before then, but that has gone down quite a bit since #JSS's arrival.  No biggie – I love being a dad, and now that I have two boys who are extremely active, I know that we'll all be on the course together soon and for many years to come.
I haven't done much with my golf setup in years.  I have been a Ping Hoofer guy for a long time, and have been playing the same clubs/etc. for at least the last 3-4 years.  I'm comfortable with my clubs – everything from the driver to the putter.  This post isn't about the clubs, but everything else.
This was my old setup: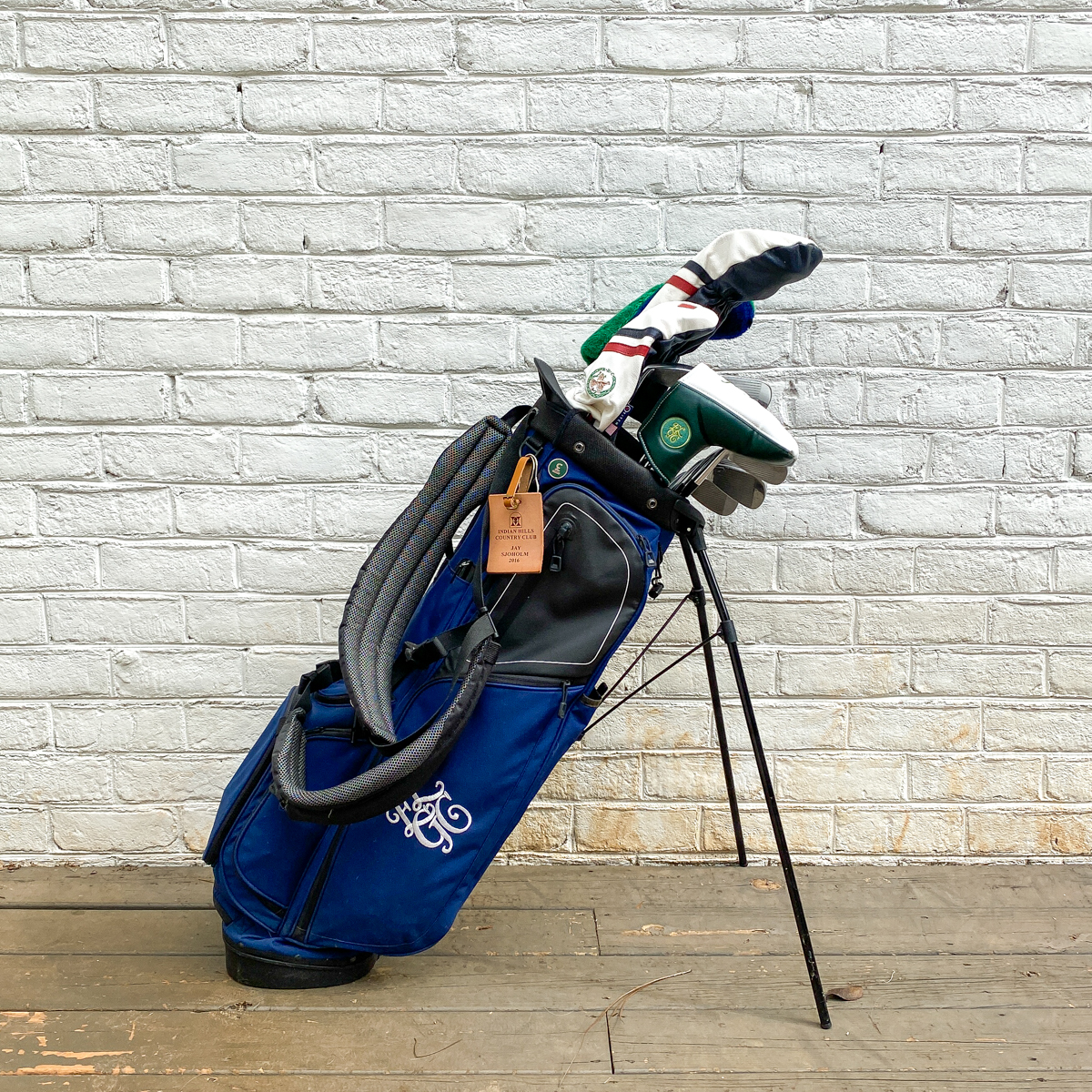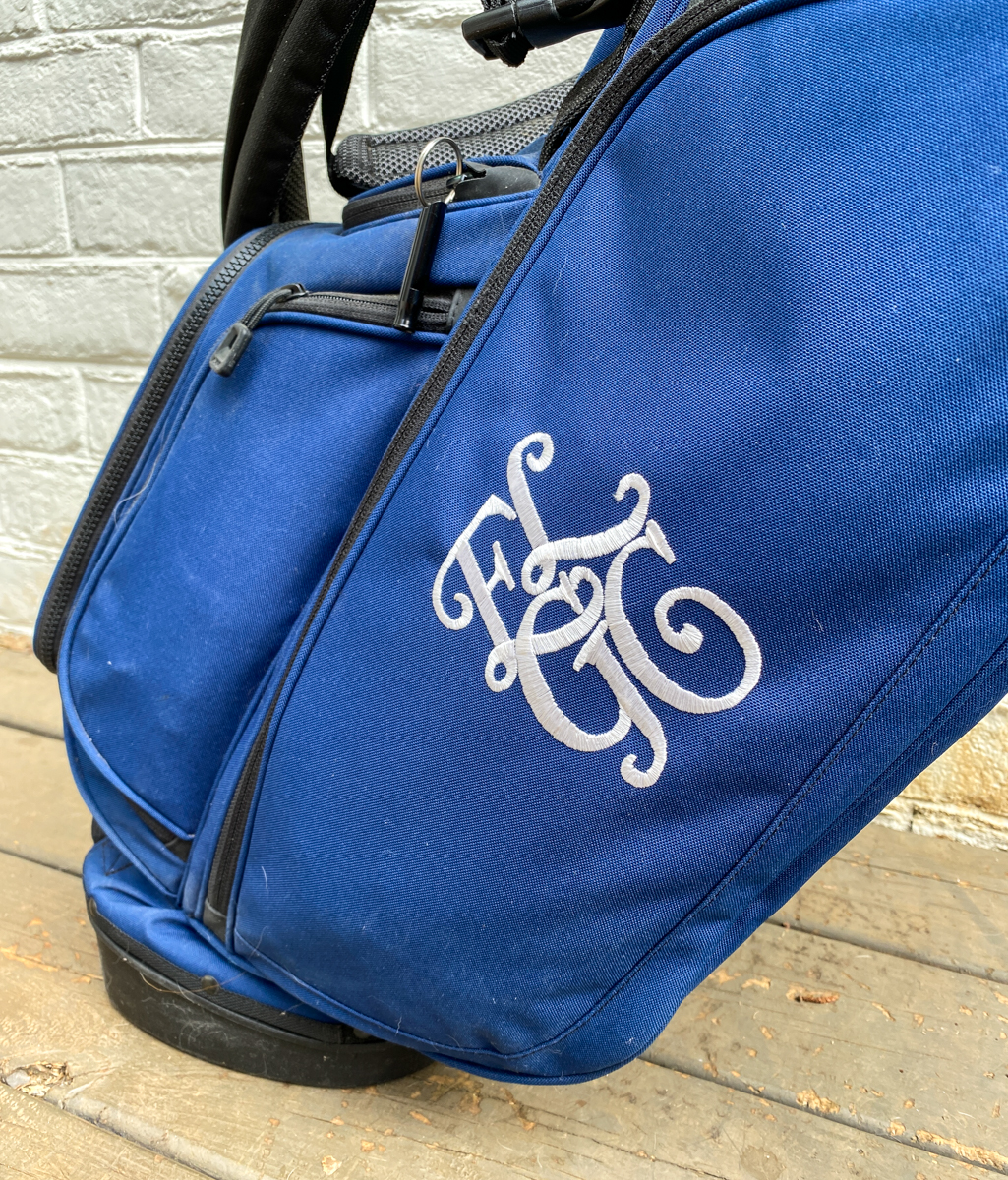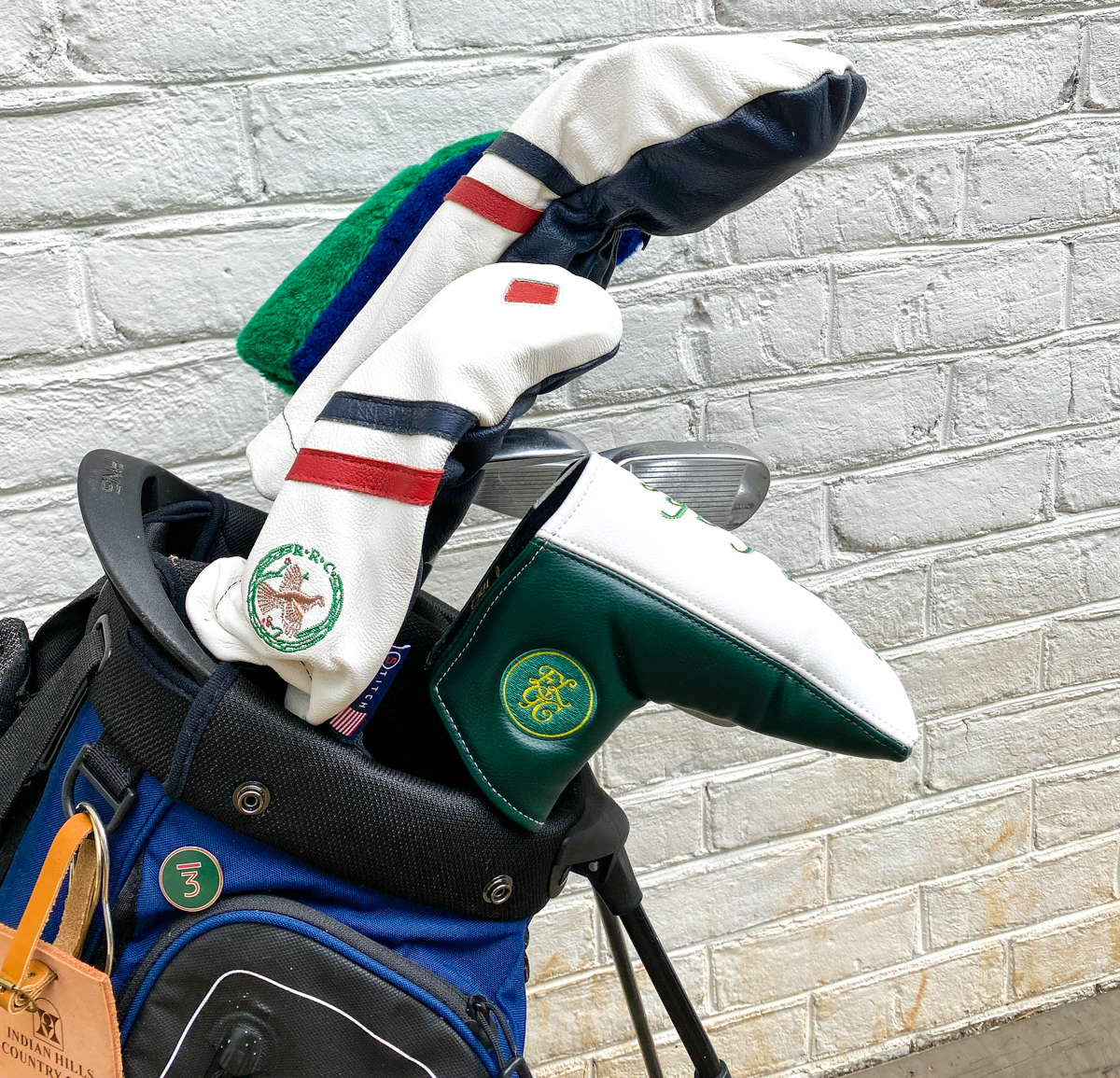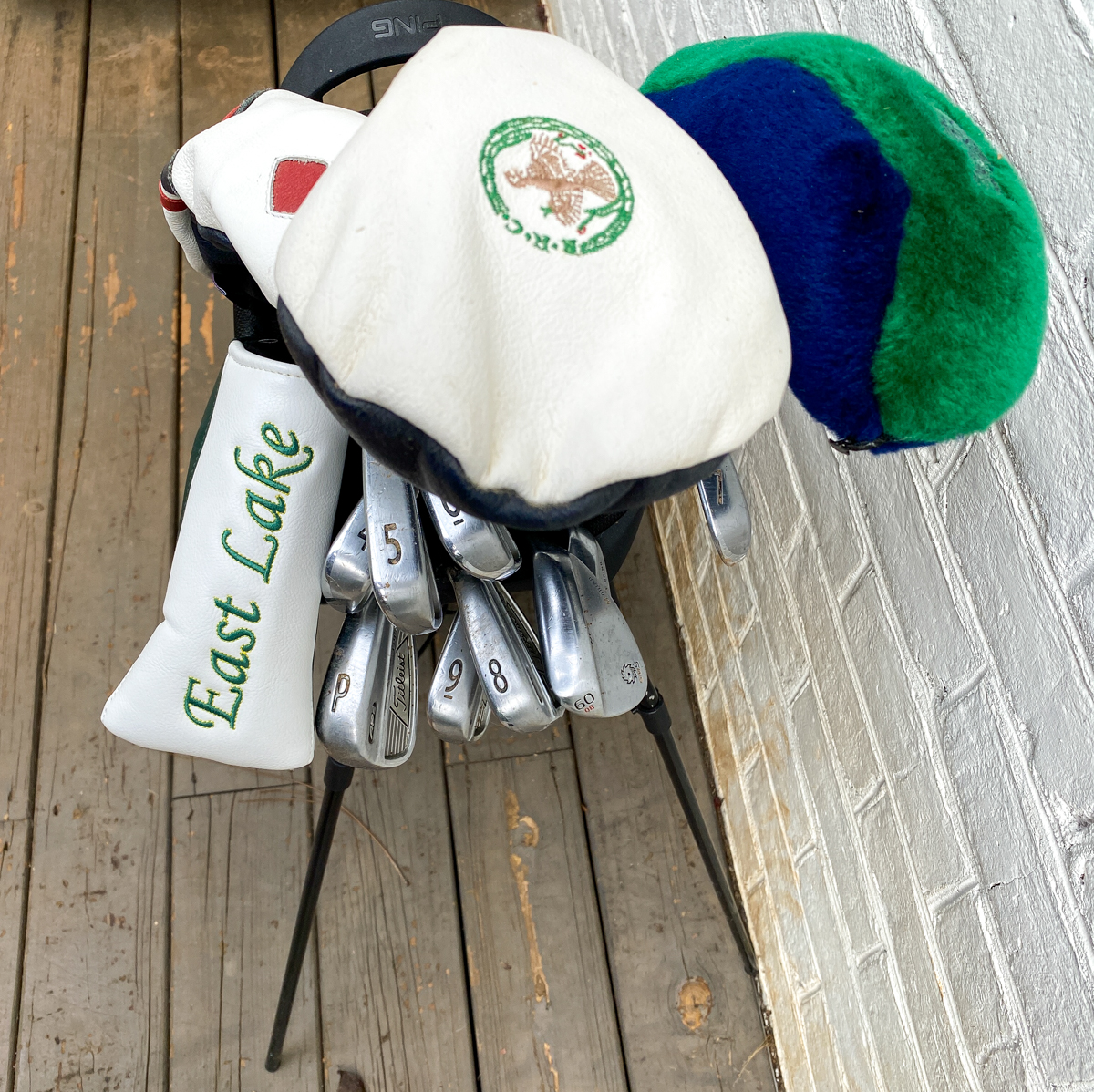 I carried a Ping Hoofer bag from East Lake, and a mish-mash of head covers from all over the place.  Lots of logos…  The worst part about all this was the weight.  In similar fashion to my closet, if there is room, I filled it with something.  I knew I wanted to upgrade my bag, and pulled the trigger on this Stitch SL1 Lux when it went on sale.  From a color perspective, I wanted to go with a classic look.  Very Polo Ralph Lauren 80's vibe (more on that later), so I went with the khaki: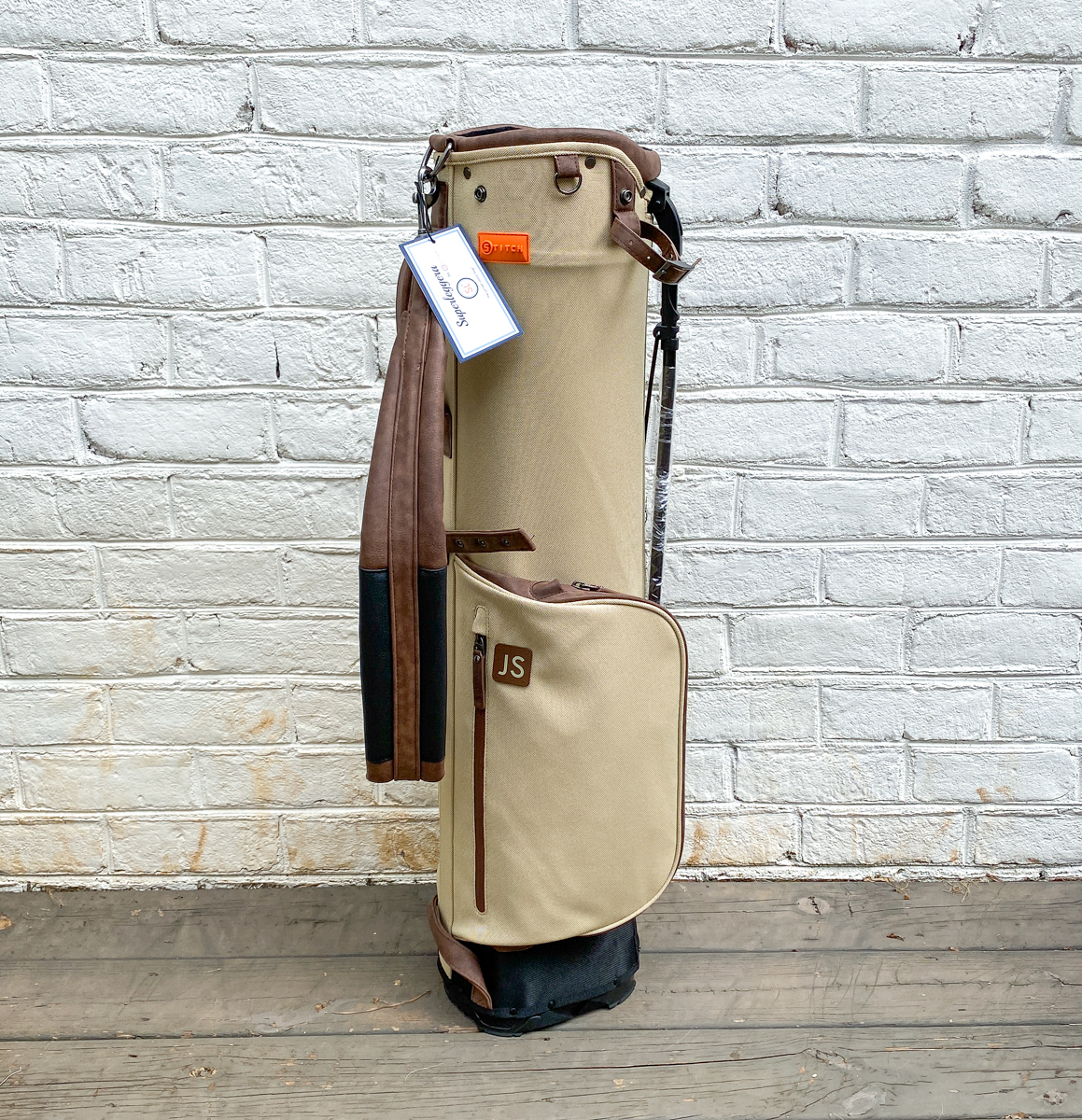 This bag is fantastic.  I was hesitant about the single strap, as I do like to walk every now and then, but it works.  The bag isn't that big, and it is extremely light.  I like the leather touches on the straps and handles, as well as around all the zippers.  The customized initials are right up my ally…it feels like I got a made-to-order OCBD.
In terms of golf 'stuff', I have been accumulating a few odds and ends over the past year or so.  You'll see a new goodie bag from both Topo Designs and The Masters (a vintage Ping jewel I found on Ebay for $10!).  A Sugarloaf double logo towel, a putter headcover from Settindown (I won this in a putting contest), my new Jan Craig head covers, and the tube for some Bubba Whips alignment sticks.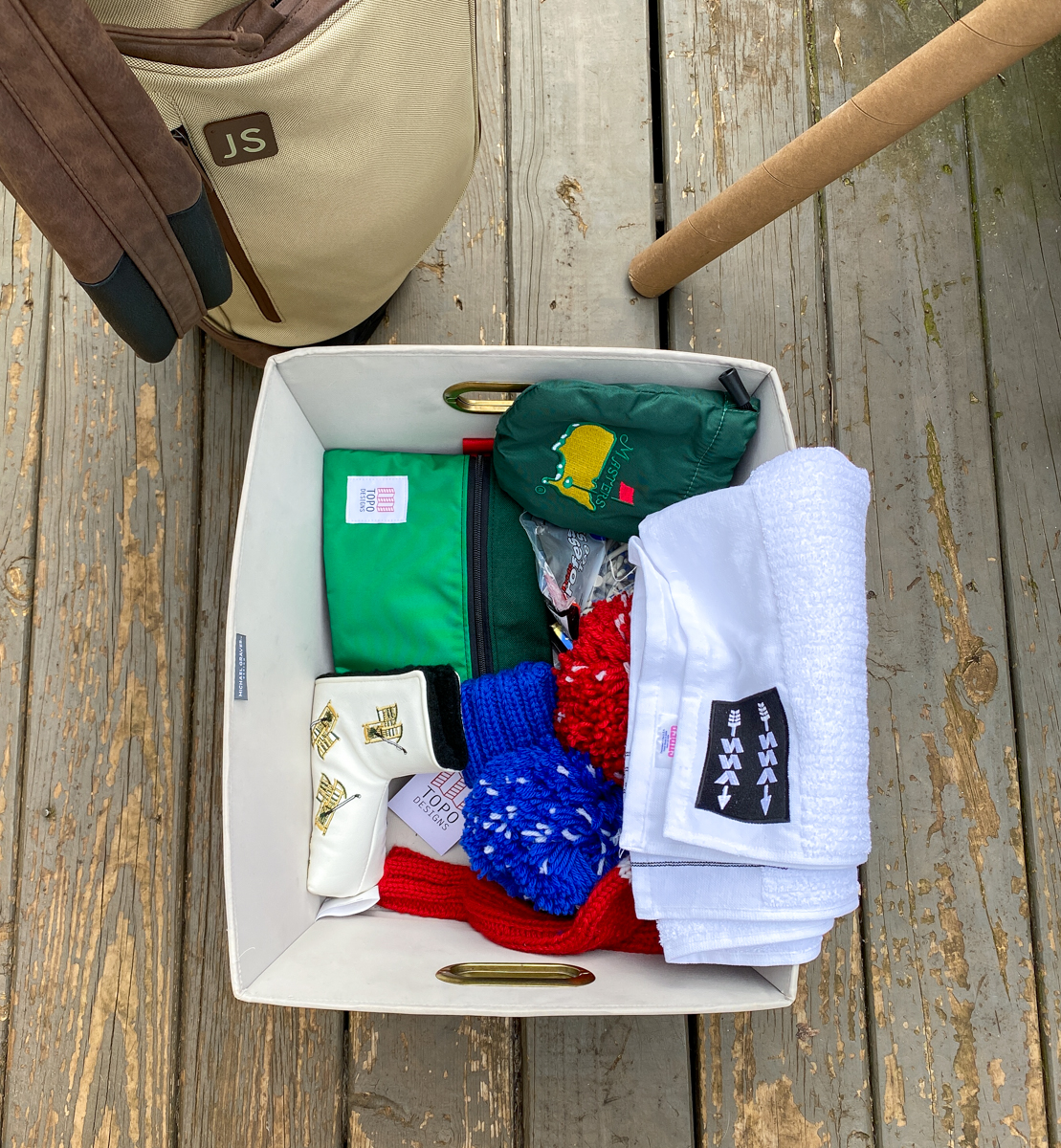 The next step was to clean out my old bag.  I grabbed a couple tupperware bowls and started emptying all the pockets.  It was immediately clear that I qualified for an episode of Hoarders: Golf Bag Edition.  I had more crap in my golf bag…anything you can think of, it was in there.  I must have had 25 ball markers, two dozen balls (most of them crap), sunscreens, pencils, old gloves, and on and on.  It was actually pretty eye opening.  It confirmed my initiative to downsize.
I did get a chance to see my old putter.  I had forgotten how much I love this stick: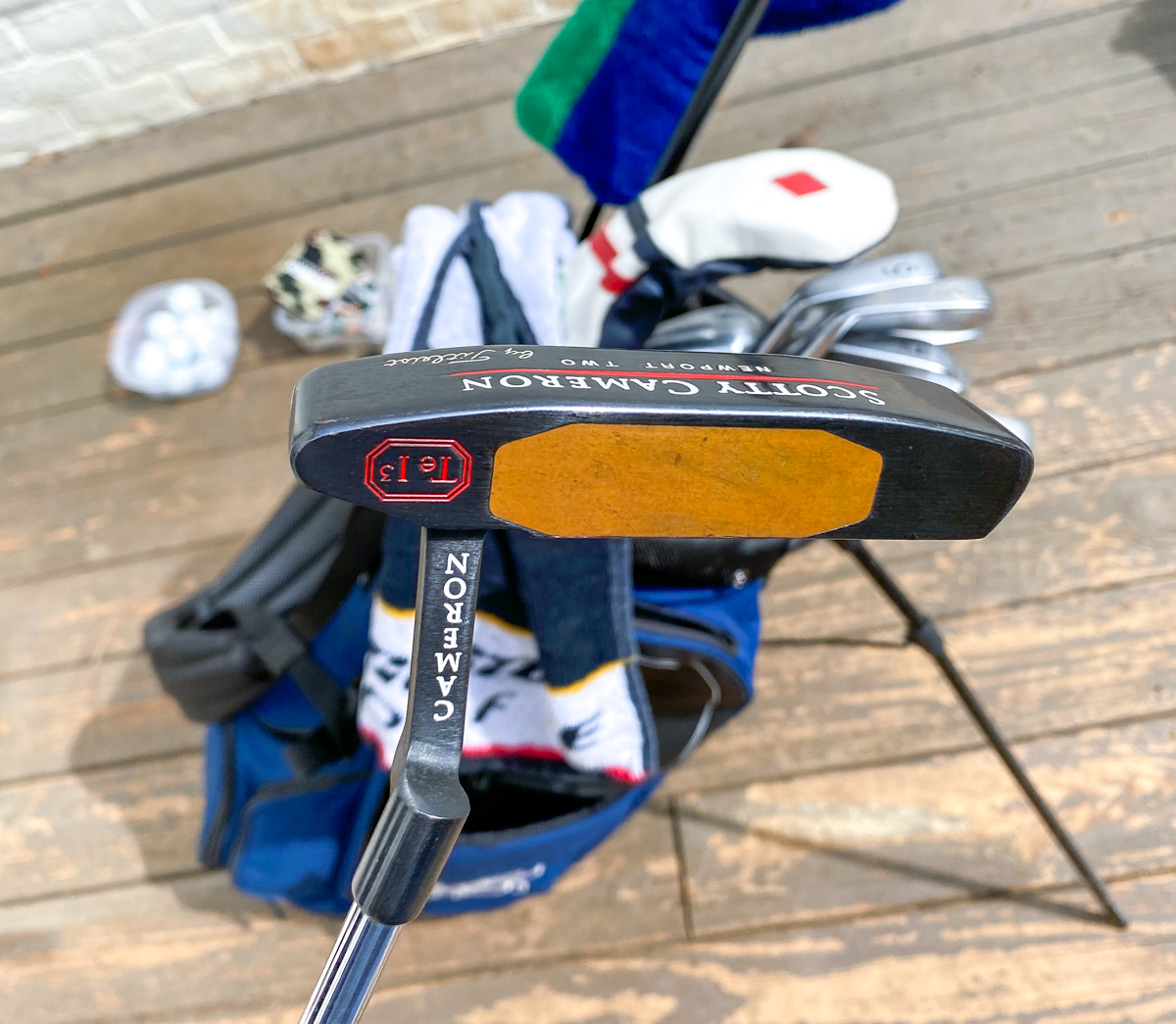 The new rig.  I like to think of the look as an 80's Ralph Lauren ad…khakis and a royal/red v-neck sweater: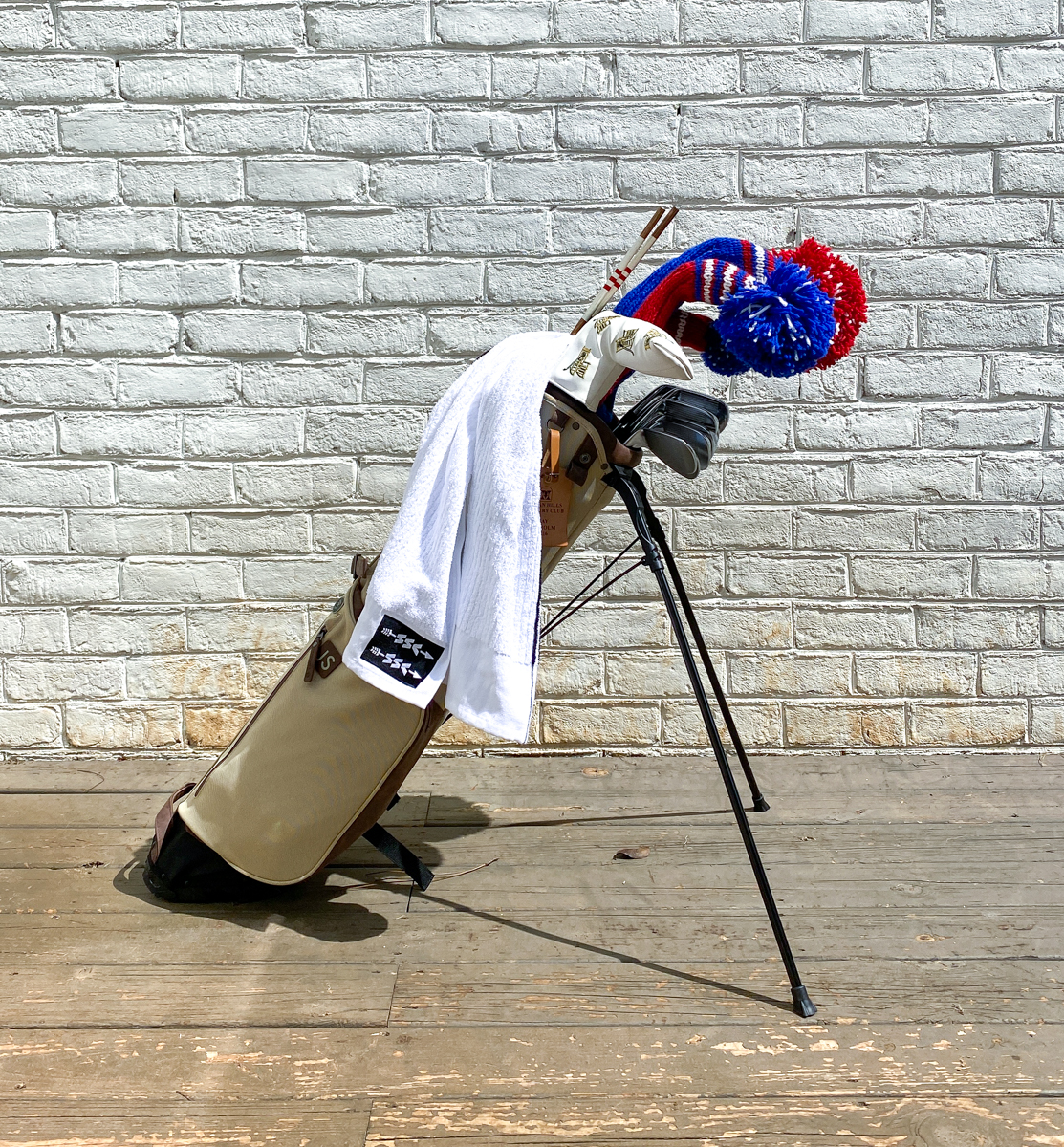 The Stitch bag has four pockets.  Two long saddle pockets, with a smaller pocket on the top of each saddle.  One of the saddles now holds golf balls and gloves, the other saddle holds an extra small towel, my range finder, and the Topo Designs goodie bag.  The top pockets hold tees, repair tools, ball markers, and a couple extra cleats.  The other holds Chap Stick and some sunscreen.  That's it.  Roughly one third of what I was carrying in the Hoofer.
Some close ups: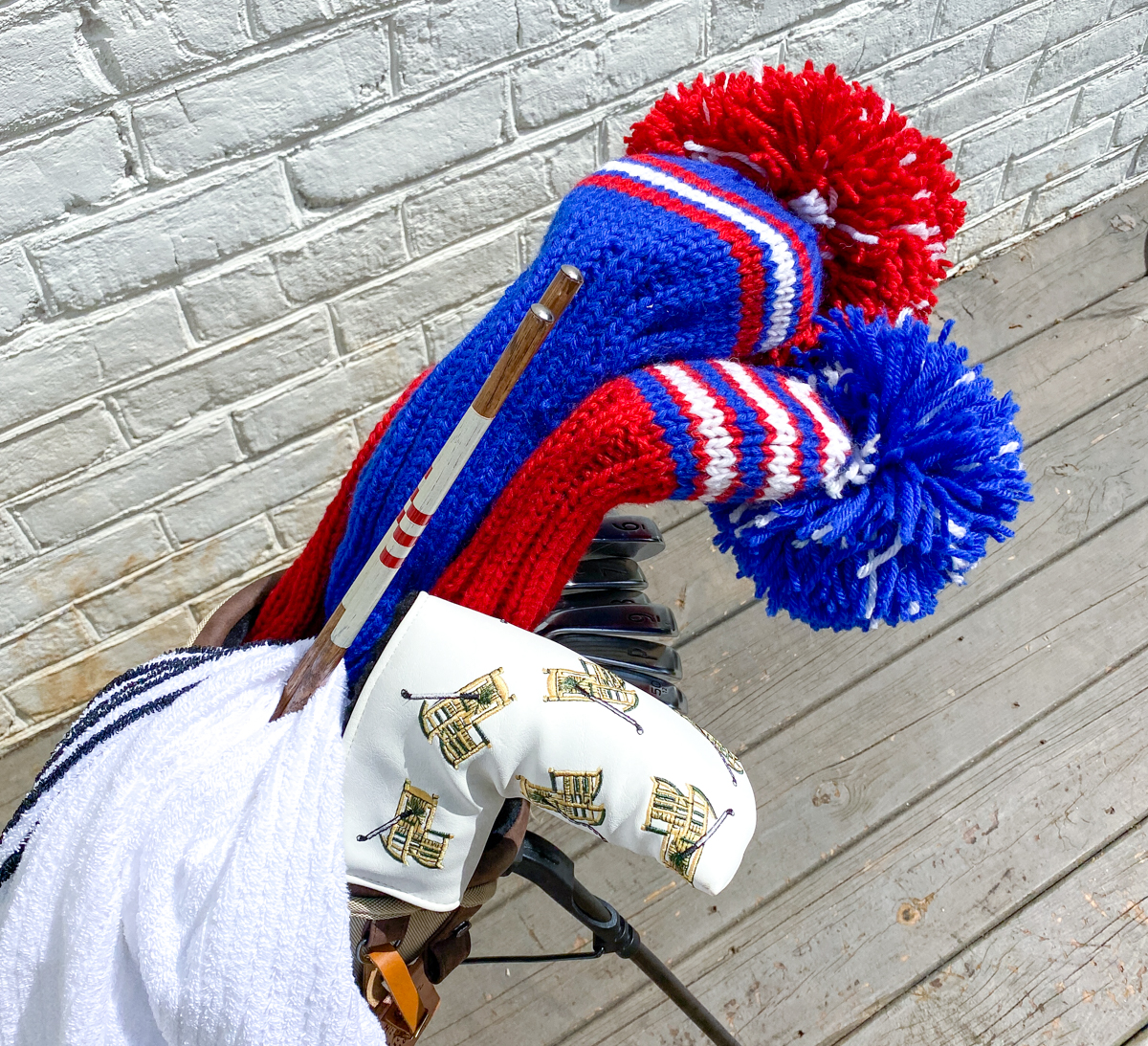 I really dig the Bubba Whips alignment sticks.  More on those later, but after using them in a couple sessions on the range, I can tell an improvement.  I'm still iffy about the Settindown head cover, as it's an Atlanta club where I'm not a member.  I'm going to replace this soon.  Hopefully with one from Burning Tree, since that was a seriously memorable trip (anyone have a hook up?).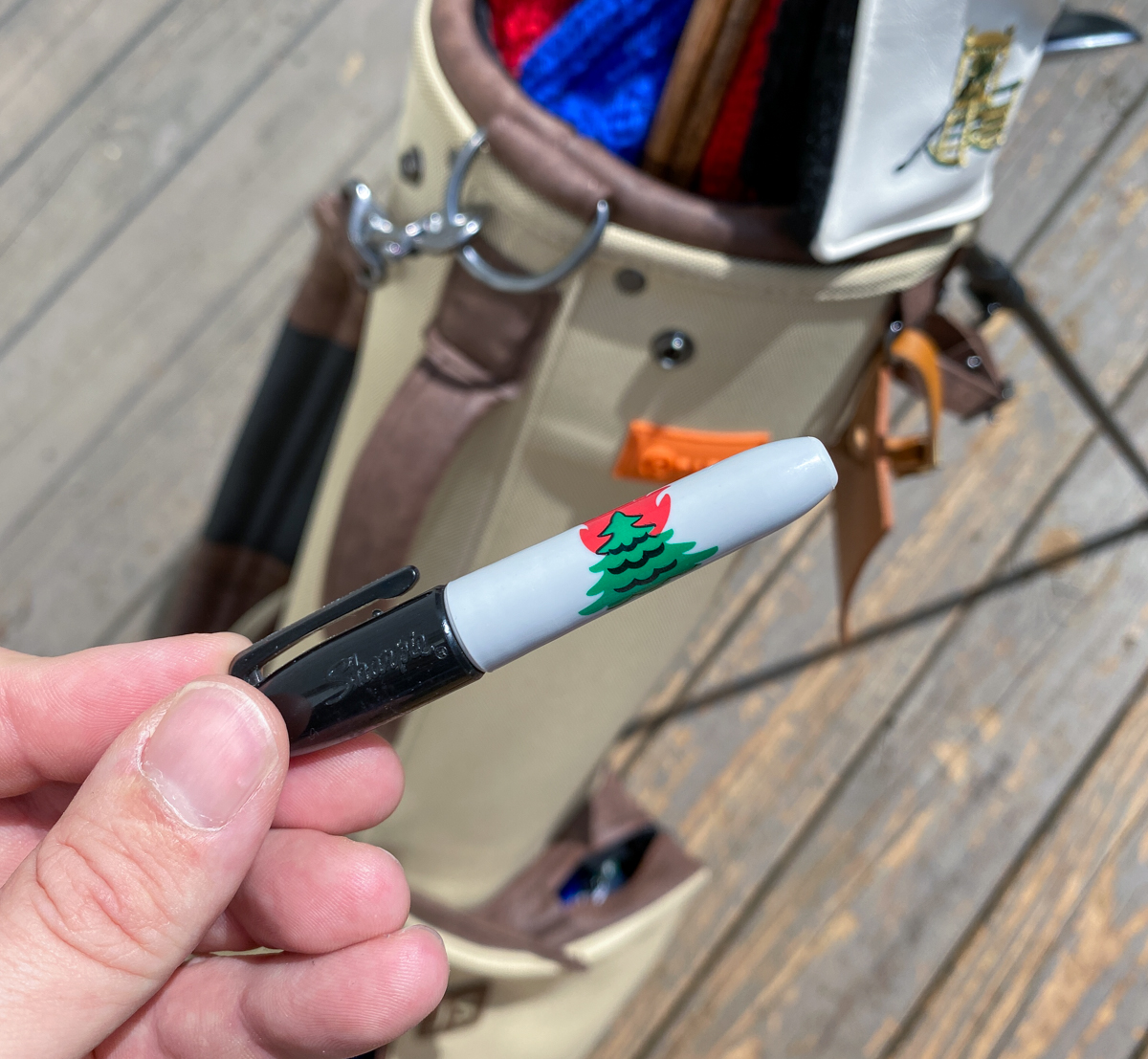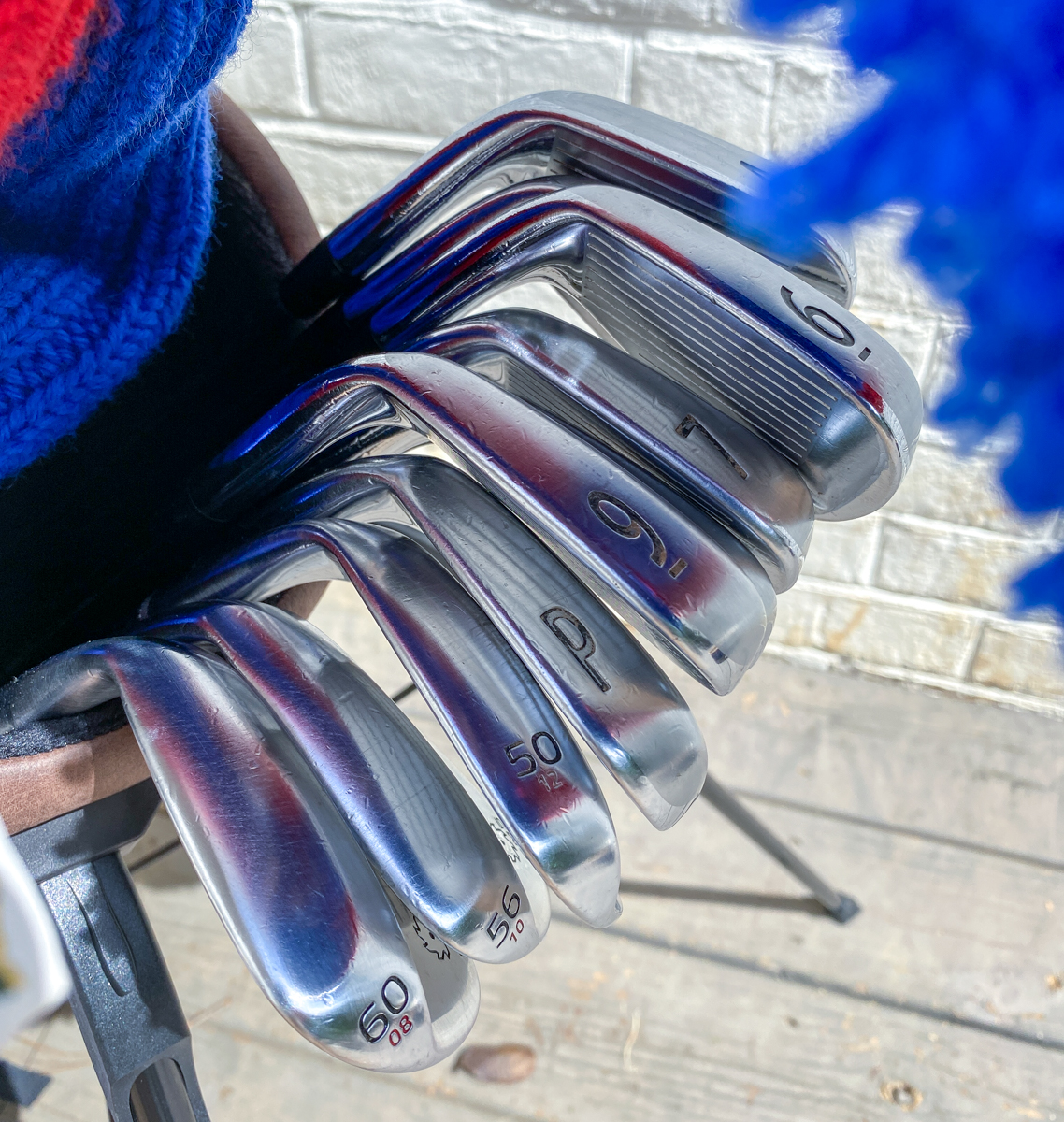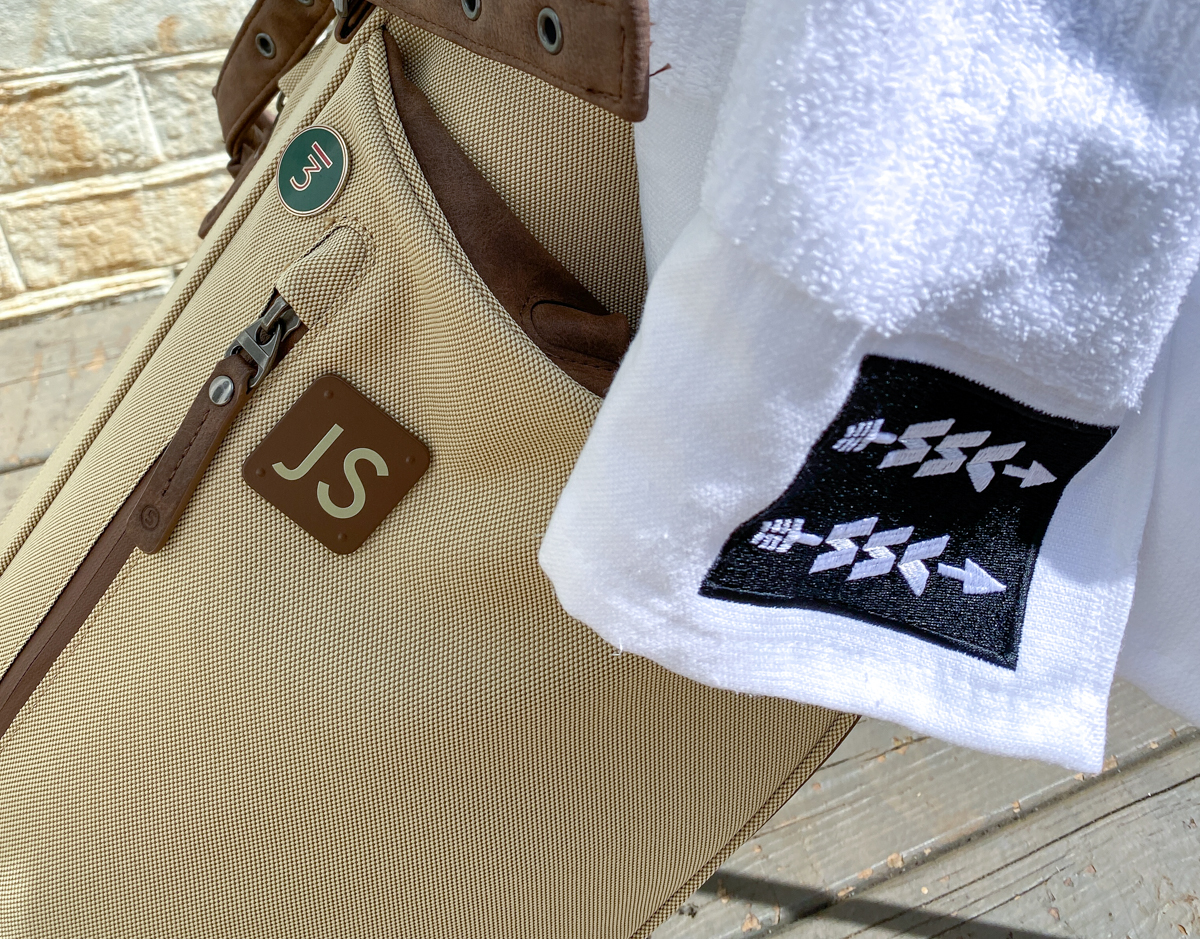 Changing bags and downsizing was a very cleansing experience.  I feel good with everything I have, and after taking this on it's maiden voyage, I wasn't missing anything.  There is a lot of talk about how club technology improves year over year.  I can say the same about bags.  This one from Stitch is a game changer.  I'm sold.  It's a really nice product, and fits my *new* minimalist style.
Now to get out and play more…that's what it's all about.