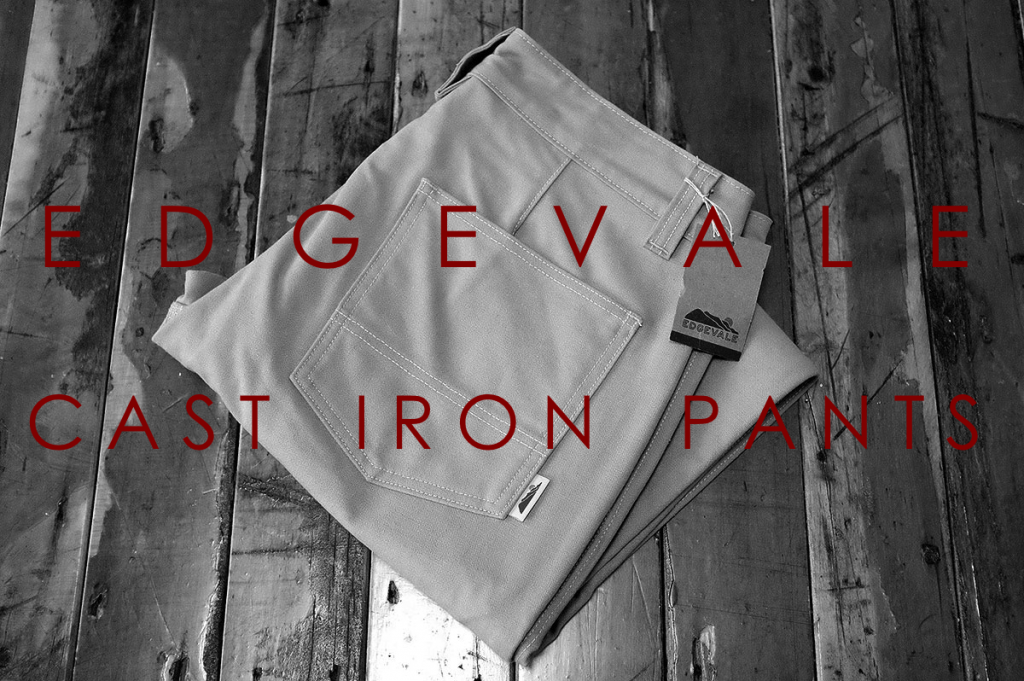 My quest for tough-as-nail pants may have reached Narnia.  Edgevale's Cast Iron Pants may be the answer.
Edgevale is an outfit based in Oakland, CA, and has a line of tough-wearing clothes that are designed to take a beating.  Owner Tony Vontz was brutally honest when telling me about these pants: "Give 'em all you want.  They'll hold up".  So far, so good.
The pants are made of made in conjunction with Cordura.  According to Tony: "The Cast Iron Fabric is our proprietary, American made duck cotton and nylon blend.  Cast Iron Fabric feature exceptional abrasion resistance – 4 times that of traditional workwear duck cotton – without sacrificing comfort.  Our Cast Iron Fabric brings with it the heritage of the Cordura brand which has proven performance in many of the world's toughest environments and over 45 years of proven military performance".
I've washed and worn these a few times.  Here's what I like:  The knive slot.  This is a nice touch for carrying a clipped lock blade.  Nylon is much tougher than cotton, so this won't wear as quickly.
I would call the fit 'straight'.  They have a good rise that isn't too low, but by no means too high.  The fabric wears nicely – it will begin to form to you body, much like a pair of shrink-to-fit jeans.
The leg opening is a great 8.5″, so they fit over my work boots perfectly, but also work with my New Balance 1300s.
The best part?  Made in the USA, and they have a lifetime guarantee.  That makes the $119 price tag much more digestible.   Find another pair of pants that are built like these that have as good a value proposition.
I've worn these quite a few times, and so far I'm really impressed.  They are tough enough that I don't worry about them, and really like the look.  They don't look like a pair of work pants, but I'd have no issue wearing these working in the yard, walking a sorghum field chasing quail, or out for tacos with Mrs. RCS.
More info on the Cast Iron Fabric:
From a company perspective, the Edgevale folks know what's up.  Tony and I had a good chat about music and Panic shows.  You can sense the influence in the Edgevale feel:
To celebrate, how about a Dead moon rising: