You've seen Redfish Brand on RCS for some time now.  They are a Hilton Head-based company that creates niche clothing that's designed for outdoorsmen, and built to last through the long haul.  They don't rely on frills and technology, instead focusing on what has worked in the past, and replicating the sorts of standards that liken the phrase 'they don't make 'em like they used to'.  For Redfish Brand, it all started with the Low Country Coat.
From owner and founder C. Curtis Hart:
"In the late 1960's I acquired an original cotton canvas duck coat made in the 1930's, by Duxbak.  It quickly became my favorite garment. Many referred to it as "my uniform"– if I went, it went!  In 2007, while attempting to replace my coat, I learned of the disappearance of these great canvas coats, their history, and in the process, the memories and stories from many about their grandfather's and great-grandfather's canvas "bird hunting" coats.
Having enjoyed mine for so many years and not wanting to see this small part of "Southern Outdoors" lost, I am now proud to offer as Red Fish Brand Marsh & Field Clothing Outfitters these same high durability and quality garments. My pattern is from my actual, "taken apart", coat dating back to the early 1930's.  I use the same primary and secondary materials as the original coats.  I sew in and on the same extra large double-shell pockets, expandable double-entry game pouches and I cut a generous American-gentleman's comfort fit.  I pre-wash, pad batch color dye and finish all materials, as well as cut and sew each garment in the Carolina's, USA.
From early-season quail hunts on St. Helena Island to cold November mornings, winter trout fishing on the Coosaw River Bridge to oyster roasts with friends in the low country, my 1930's coat filled every need and seemed to get better with every passing season."
Curtis was nice enough to send me a coat to get my impressions.
My first impression of the coat is the weight.  It is not a heavy coat, nor is it a lightweight layer.  It is a substantial canvas coat that will provide warmth, but could also be worn above 50 degrees.  The look of the coat is traditional.  There are pockets, but the coat isn't adorned with buttons, zippers, and straps.  The pockets are all covered with flaps, with keeps the look very refined: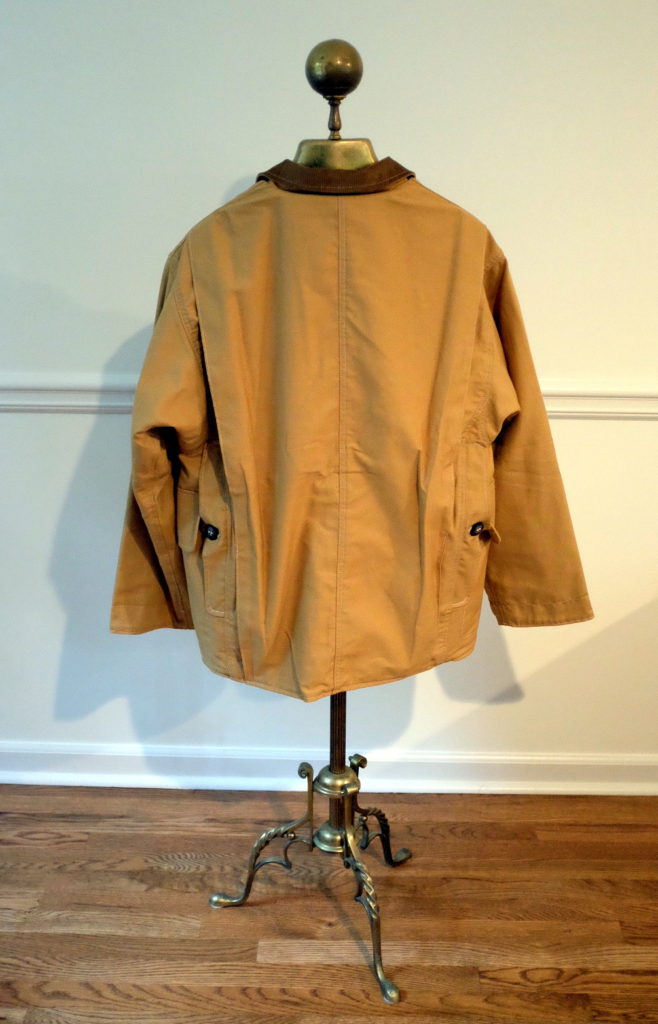 An interesting touch is the compass.  It is pinned on the front chest for easy viewing.  Talk about old school…
Access to the back game pocket is easily accessible from the oversized front entry pockets:
The oversized front pockets are separated into two pockets, for better shell organization, or whatever cargo you are carrying.  The flaps are a little longer than what would be considered the 'standard' size, and have rounded edges to prevent turning up.  A nice touch:
The sleeve bottoms were created for easy alterations, should they need to be shortened.  I wear a 34/35″ sleeve, and it fits me just fine. There is no elastic to ensure no restrictions while casting or shooting.
The interior game pocket is constructed as it was years ago, supported by straps and easily unbuttoned for access to the contents.
So let's talk about the elephant in the room: the price tag.  Yes, $675 is a lot for a coat.  Any coat.  From a value proposition perspective, this isn't a piece for everyone.  There are $100 field coats that will meet the needs of a hunt, but these don't hold a candle to the quality and construction of the Low Country Coat.  The Port Royal Cotton Duck cloth is specifically made in Maulden, South Carolina at the Mt. Vernon Mills Company, and these guys make the finest textile products on the market.  The fabric is prepared, batch dyed, and finished at Carlisle Finishing Company in Carlisle, South Carolina.
Because of the details, complexity, and number of pattern pieces in each coat, the Low Country Coat cannot be sewn in a production line factory or assembly line.  The coats are produced 15 per size, at a time in North Carolina.  Finally, Curtis inspects, rigs and tags each coat personally in his shop on Hilton Head Island, South Carolina.
This is not a mass produced coat from Bass Pro Shop.  This is a nearly bespoke garment created to meet the highest standards, Curtis's standards.  Does it justify the price tag?  If you can appreciate this level of craftsmanship, then the answer is yes.
A few months ago, I found this lapel pin at the Orvis facility at Pursell Farms.
…and the price was just right.  I knew I'd find a home for this bad boy one day…
And here we go…looks sharp, no?
You can get the Low Country Coat, as well as the rest of the Redfish Brand collection on their website.