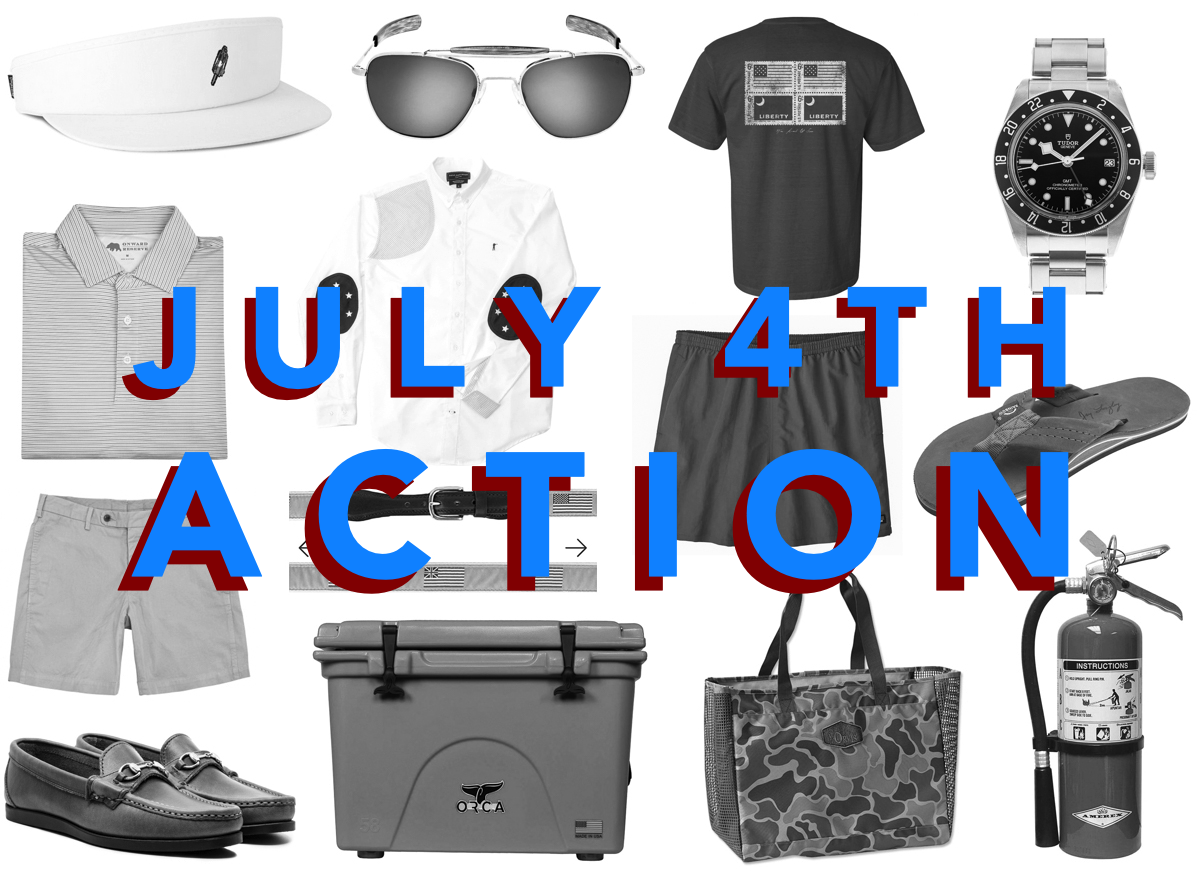 Wow – July 4th really snuck up on us here at the Fort.  We just got back from the beach, and here we are…Independence Day weekend.  It's nice that the 4th falls on a Saturday this year.  We've got today off, so we're taking full advantage of the long, hot weekend.  Lots of pool time, cooking out, cul-de-sac parties, and fireworks.  It's going to be a blast (/pun).
I love the 4th of July.  It's great to celebrate the founding of our country with family and friends.  In celebrating the red, white, and blue, I like to be a little subdued in how I approach it.  I don't douse myself in the flag, rather stick to the color theme.  Here are the things I like: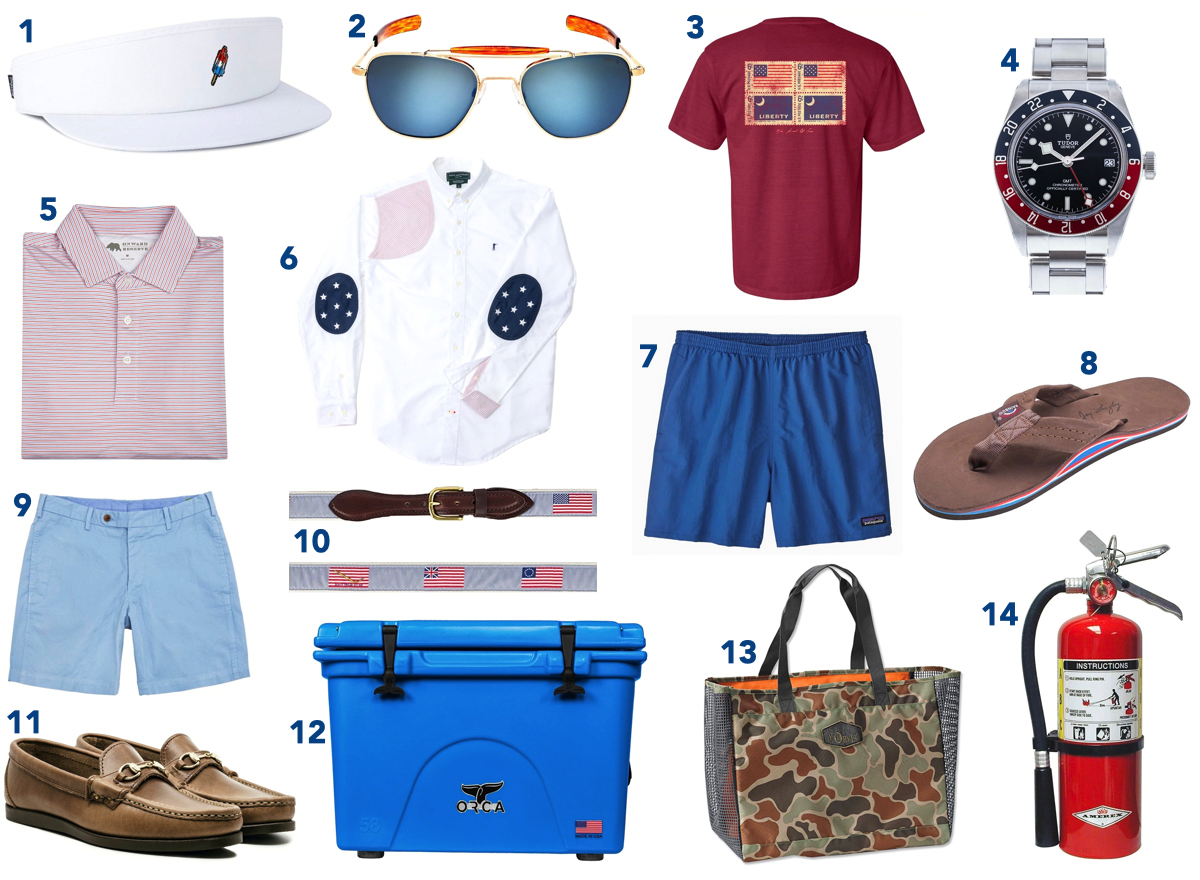 From top left:
1. Summer Snack USA Visor from Imperial:  Seriously.  A red, white, and blue popcicle on a tour visor.  Try to do better.
2. Aviator II Sunglasses from Randolph:  I'm sure you have a pair of Aviators, but do you have a pair with blue lenses?  I didn't think so…
3. Wm. Lamb & Son T-shirt:  The Artist has been releasing some outstanding new designs lately, and I love the Liberty flag.  This one is a must have.
4. Tudor Black Bay Heritage GMT Pepsi:  For those serious about the red, white, and blue.  By all means…  Fantastic watch from Tudor.
5. Onward Reserve Tour Stripe Polo:  The Onward Reserve tech polos are really great.  Lots of good designs, and a good fit.  Sort of a 'go everywhere' polo…and the red and blue tour stripe is just what the doctor ordered.
6. Ball and Buck America Edition Hunter's Shirt:  Seriously hardcore.  The re-release has been a long time coming, and a welcomed addition to the stellar line up at Ball and Buck.
7. Patagonia Baggies:  These will get a ton of play this weekend.  Post-pool, cookout, and early morning (at the very least).  I usually have a pair packed in #13 no matter where we go in case I get thrown in the pool or have a mustard accident.  It happens.
8. Rainbow Americana Sandals:  As if you need a reason to upgrade your current Rainbows…these are the ones.
9. Sid Mashburn Garment Dyed Shorts:  Dusty blue is a great alternative to Navy blue.  Goes with everything…a must have for your short pants drawer.
10. Over Under Progression of Freedom Belt:  I love history, and this belt tells the story of our great flag.
11. Oak Street Bootmakers Bit Mocs:  If you were lucky enough to get a pair, this is a great weekend to break them out and start on that patina.
12. Orca 58QT Cooler:  While a 58 quart cooler may be overkill, you'll get a tip of the hat when your wife's rose bottle stand up tall inside.  Score.
13. Orvis Camo Wader Tote:  A fantastic weekend tote bag.  It's nylon and webbed, so it's perfect for the pool, the car, the park, or a cookout.  And at $39, it's a STEAL.  Oh – and it's vintage camo.  Sold.
14: Fire Extinguisher:  No explanation necessary.  Be careful, team.
What are you sporting this weekend?