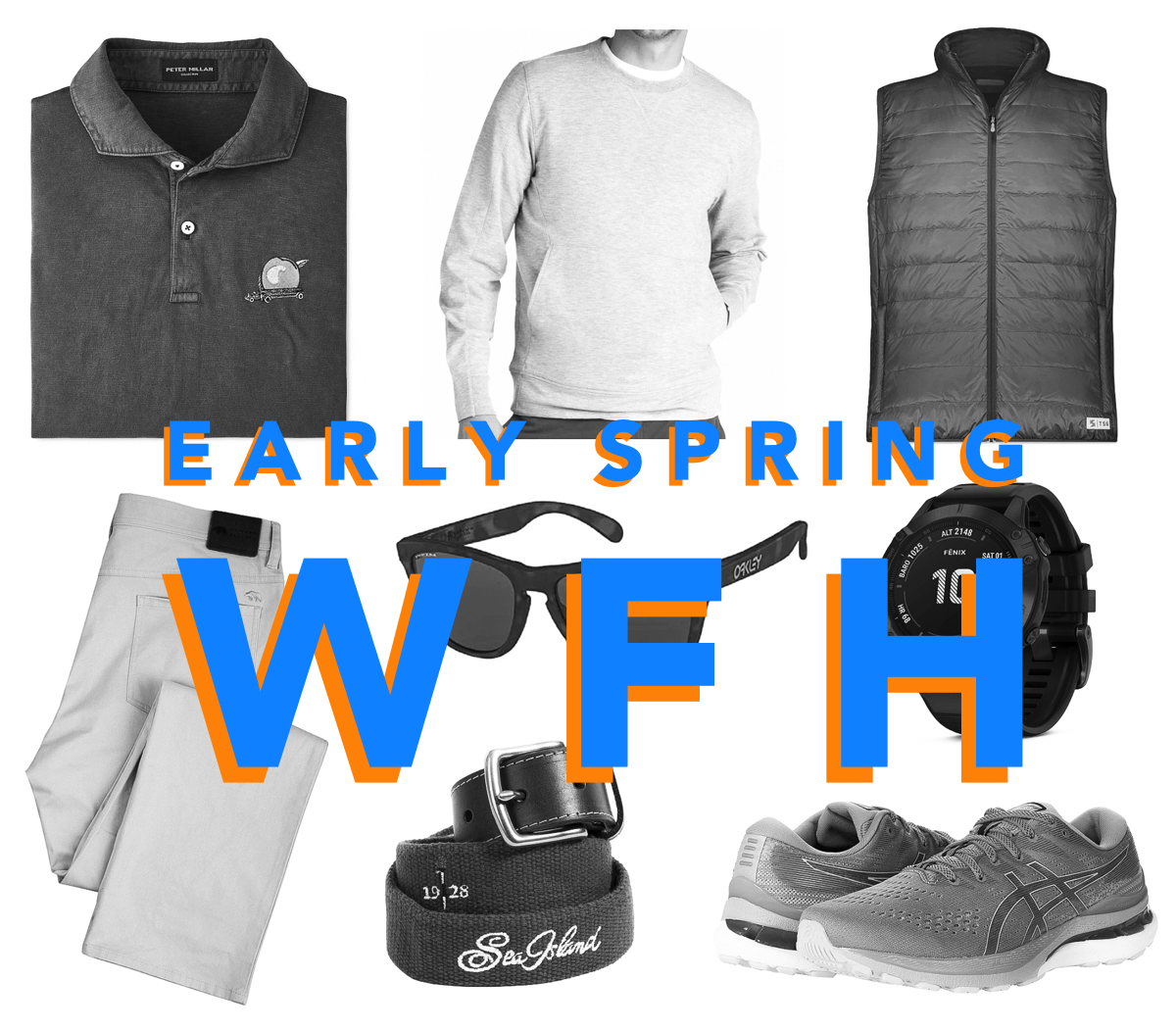 With most offices settling into some sort of hybrid environment, working from home is going to be a reality for the foreseeable future.  As most of us have experienced over the last two years, being at home and working a professional job is a tough transition.  Managing the DMARC between home and work is tough, as they tend to blend.  Let's not go down that rabbit hole…I've got some thoughts that I'll share later.
For me, working from home has become an exercise of 'elevated comfort'.  I have been good about maintaining a stylish 'minimum' by wearing a collared shirt every day.  On the days that I'm at home, I like to dress in a utility fashion.  Comfortable, but very presentable.  Prepared to go take a walk without changing clothes.  Pieces that don't require dry cleaning.  An outfit that looks appropriate for running errands or sitting on video calls.
Here's what I'm usually sporting: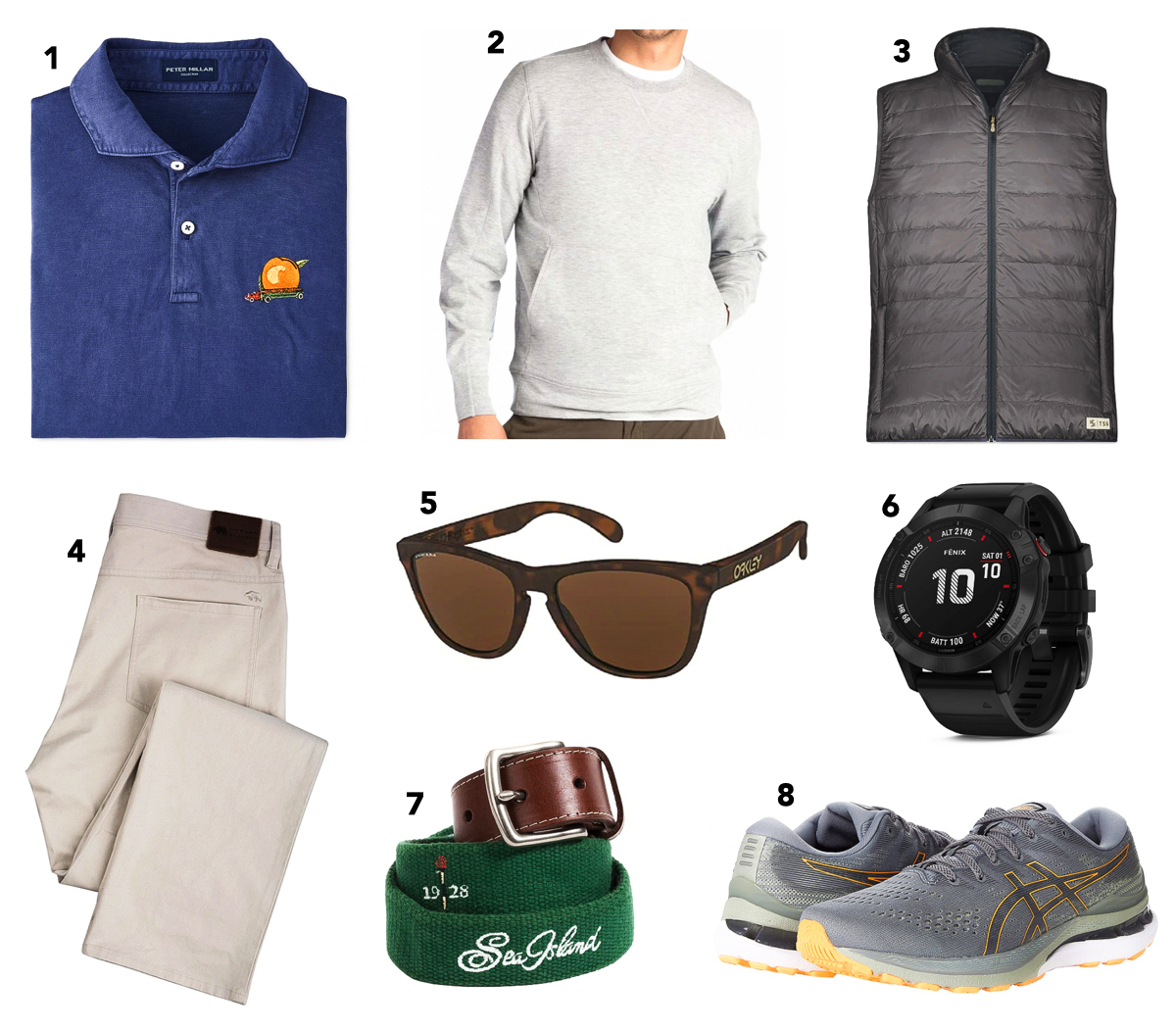 From Top Left:
1. Peter Millar X Miller Brothers Eat A Peach Polo:  Enjoy all those smooth cotton polos before the humidity sucks the sweat out of us all.  These softies from Peter Millar are great.  Don't sleep on Criquet or B.Draddy either.
2. B.Draddy Russ Crewneck:  Look at your weather app and you'll see that Mother Nature can't make up her mind.  It'll be in the low 40s in the morning and high 70s in the afternoon.  It's all about layers, folks.  This is a great, stylish sweatshirt with a kangaroo front pocket.  Utility with a purpose (I should trademark that…).
3. TSG Reeldown Vest:  See above.  This is a GREAT vest that actually packs away.
4. Onward Reserve Flex Five Pocket Pants:  I like the Onward Reserve Flex 5-pockets – they have these dialed in.  They are what I call the 'middle 80%' pants where they work in almost every situation.  They are comfortable enough for a FULL day at home, including a quick walk while listening to a conference call, chasing kids around after school, or looking like a human being while taking video calls all day.  Make sure you size down…an inch in the waist.
5. Oakley Frogskins:  There's always a good reason to add another pair of shades to the arsenal.  You'll wear these more than you think…
6. Garmin Fenix 6 Pro Multisport Watch:  I realize that this is a departure from my usual wristwear, but I've been doing a lot of research on multisport watches, and want some help in getting my health tracked and in check.  Heart rate, steps, etc, along with all the normal watch functionality.  I like the GPS functions, but don't care about music or texts.   This one seems good…right?
7. Sea Island Belt:  These are the perfect situations for all those belts I've encouraged you to get from pro shops vs. golf shirts.  Perfect.
8. Asics Gel Kayano 28 Running Shoes:  Arguably some of the best running shoes on the planet.  I've been wearing Kayanos for a long time, and usually sport them on these work-from-home days.  Note: If I'm meeting someone for lunch or have any sort of professional face-to-face, I don't wear tennis shoes.  These are the utility shoes.
What did I miss?