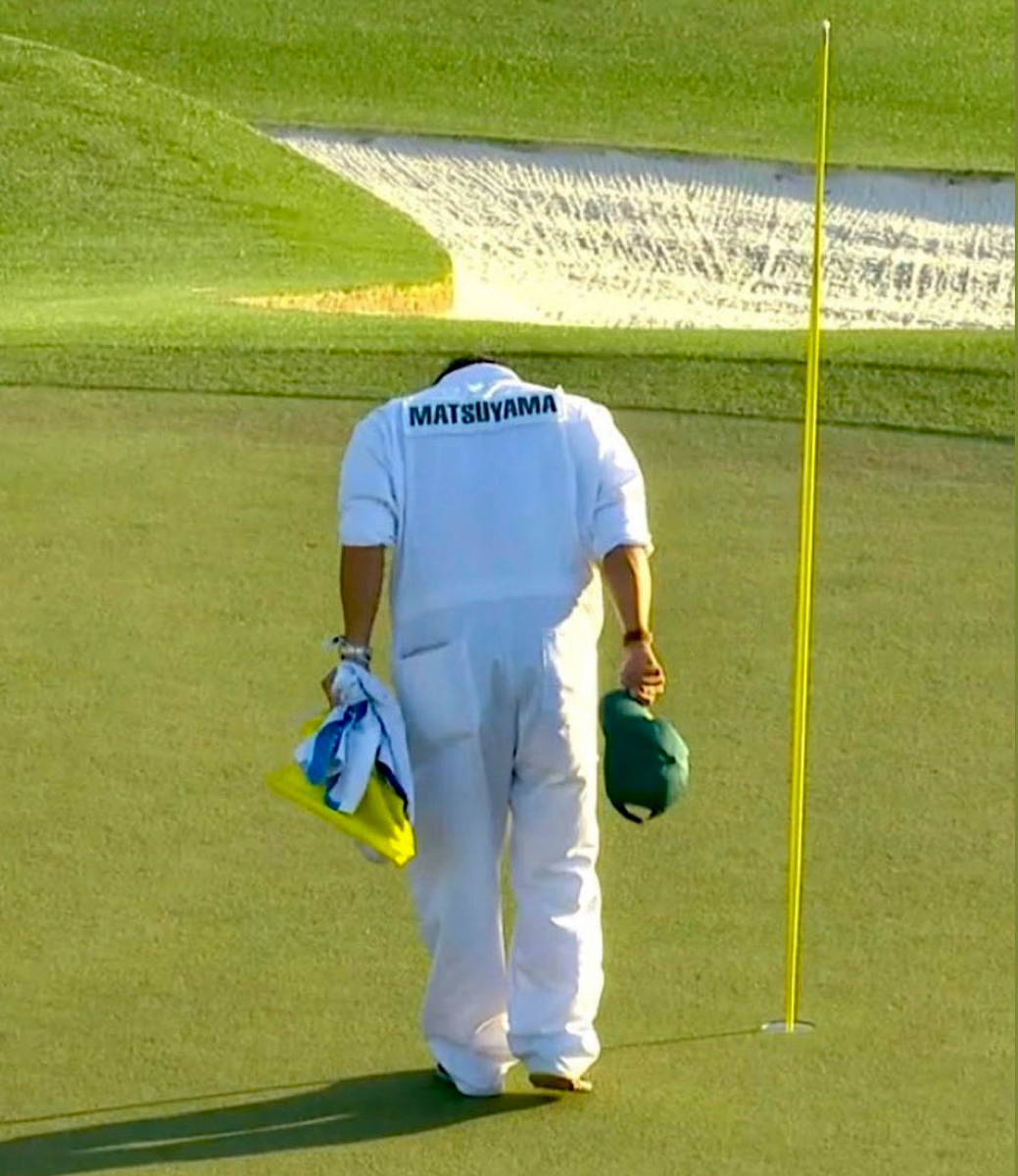 Mrs. RCS and I were lucky enough to score badges for the Sunday round at The Masters.  Being that I'm not usually a tournament-round guy, I couldn't pass up the opportunity to head over to Augusta to see those hallowed grounds.
Driving I-20 East to Augusta was an absolute BREEZE.  Nothing like what we've experienced in the past.  The traffic usually starts back at Bobby Jones Parkway and is a slow crawl to a parking space.  Not this year.  We got off at Washington Road, took a right to Berkman, took a right, and parked (for free) like it was nothing.  It's about a 10-15 acre field, and it was about half full when we arrived at 12:30PM.
We applied our sunscreen and walked into the North Gate, where there were maybe 20 other patrons mingling around.  There was no line at security, and essentially no crowd walking down the path next to the driving range.  The feeling was a little weird, knowing that this is the most watch sporting event in Golf, and probably the world.  It felt like a DIII football game.
Our first stop was at the putting green to meet a friend and his wife.  It was actually very easy to spot them, as there were ~100 people hanging around the clubhouse.  Players/Caddies/Members included.  We had a couple of beers catching up, watched a few guys tee off on one, and then watched a few guys putt on 9.  We saw Nick Saban, who was stalking the course like the sideline.
Our next stop was to the concession stand for lunch and a beer.  Mrs. RCS went with a BBQ sandwich (underrated), some chips, a cookie, and a Crow's Nest beer.  It wasn't bad – strong on the lemon, but refreshing on an 80-degree day.  I got a BBQ sandwich as well, and one of the new menu items: a chicken salad sandwich on a Brioche bun.  It was delicious…seriously delicious.  True to form, I opted for the domestic light beer.  If I'm spending that kind of money on a beer that comes with a souvenir cup, you better believe I'm going to enjoy it.  We were easily able to find a table and enjoy lunch.
After lunch, we went into the Merchandise building, right there next to the driving range.  Normally there is a line of about 200 people waiting to get in.  This year, we strolled right in, and there were maybe 40-50 people inside.  It felt empty.  Since it was a tournament day, cameras weren't allowed, so I can't give a full rundown.  However, here's what I saw that I liked:
There is a 'Clubhouse' section that has some of the upper-end merch.  Martin Dingman did some green croc-print wallets and cardholders that are beautiful.  The Masters Made in Italy cotton blend shirts are as good as you'll find anywhere.
Peter Millar had a TON of stuff.  They've effectively taken over as the defacto Masters shirt/vest/quarter zip provider.  Well deserved.
There was a bigger than usual women's selection.
I was told that these have been around for a while, but they carry Tilley Airflow hats.  I didn't get one but am kicking myself for not pulling the trigger.
The hat and visor selection was huge.  So many options.  By Sunday they had sold out of a few (rope hats, canvas trucker hat, etc.), but there were still plenty to choose from.
Smathers & Branson had their own section, and it was pretty much what you'd expect.  Five different belt styles, key fobs, luggage tags, coasters, and wallets.
We spent $1200 in the tent and only got a couple of things for us and our boys.  We had a pretty long list from friends, which we were able to fill.  Here is what we kept: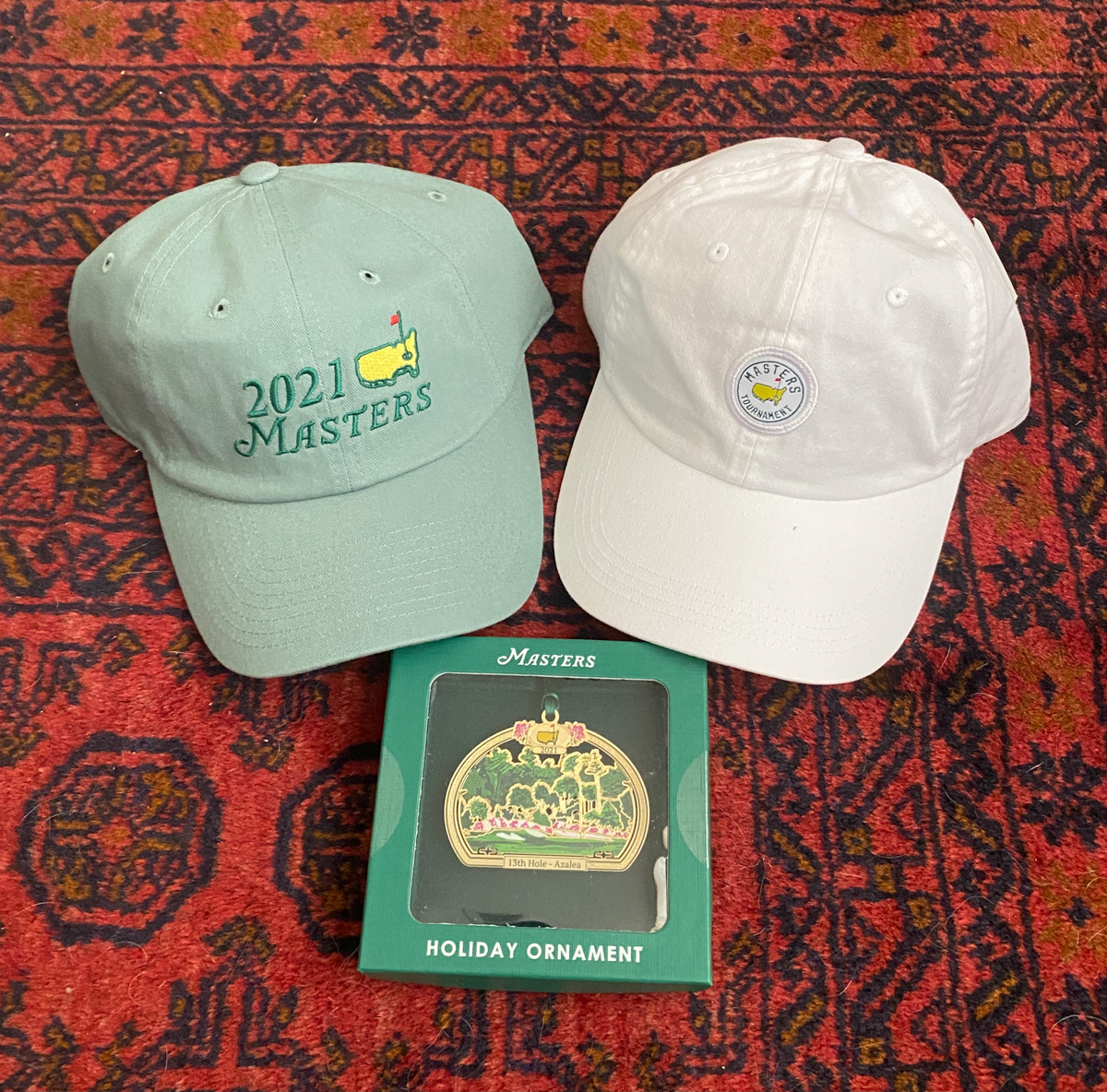 I always get a dated hat, and really liked the dusty blue.  I also got the simple white hat (that Mrs. RCS will steal), and our usual Christmas ornament.
I heard that Berkmans had some really great stuff, but we weren't allowed there…
After shopping, we grabbed another beer and headed to the walk the course.  We took our normal route down the hill to 16, and it felt like we were in another world.  Rumor was there were only a few thousand badges (vs. ~40K), and it was obvious.  It was a bit of an eery feeling, the course being so empty.  We could see everything at any time.  We were never out of view of a shot, a putt, or a player.  We could hear their conversations with their caddies.  Cheers were still there, but it was muted (back to my DIII football game analogy).  We saw 16, watched a few players play their second shots on 15, and then saw Amen Corner.  No grandstands.  After a couple of hours, we made our way back up the hill, watching a few groups on 18, and got in the car around 5:30 to head home.  By the time we turned on the radio, the last group was on 14, right when all the action started.  Golf coverage on the radio has to be the most difficult thing in the world…
I'm extremely excited for Hideki Matsuyama.  He earned the green jacket, getting over a few errant shots on the back nine on Sunday.  Xander pushed a little but would have had to play out of his mind to beat or tie Hideki.  Do I wish that there would have been a logjam at the top?  Sure!  Just like every other golf fan.  I like high drama at the end of any tournament, especially The Masters.
However, what Matsuyama's win will mean for International golf is immeasurable.  I heard somewhere that the impact will be in the 100's of millions of dollars a year for the next twenty years.  Huge impact.  He's the first major winner from Japan, a place that is as fanatical about golf as we are here in the states.  I think it's great, and will raise the bar yet again for the greatest sporting event in the world.  AND, next year's Champions Dinner menu should be insanely good.
A shout out to Matsuyama's caddie.  What a CLASS move at the end of the tournament.  I couldn't imagine a greater show of respect for the course and the tournament.  I'll never forget it – I'd argue this is one of the best Masters moments in the last 20 years.
Looking back, I am really glad Mrs. RCS and I were able to experience The Masters in this strange year.  It was an intimate feeling that will never be duplicated.  I expect everything will be back at full tilt next year, as we are all used to.  Which is a good thing…as good as experiencing such a unique Masters last Sunday.