Head's up, folks – the good people over at Hudson Sutler have expanded their already stellar lineup to include a collection of three garment bags.  These bags are available in three of their most popular colorways: the Yorktown, in Navy blue and red, the Lowell, in grey and Navy blue, and the Hatteras, in khaki and Navy blue.
What's great about garment bags?  They are the perfect compliment to a weekender.  Whether you are driving or flying, these are essential for carrying your hanging clothes to ensure a wrinkle-free delivery.  Fold them up and they fit in an overhead compartment, or lay them flat in your trunk…either way, your goods will be good when you get there.
Features of the Garment Bags:
18 oz canvas exteriors
Fold-able for easy carry
Silver nickel hardware
Thick rust-proof, resin zipper prevents those infuriating "stuck zipper" moments
Specs:  Garment Bag: 41''H x 24''W
Check 'em out: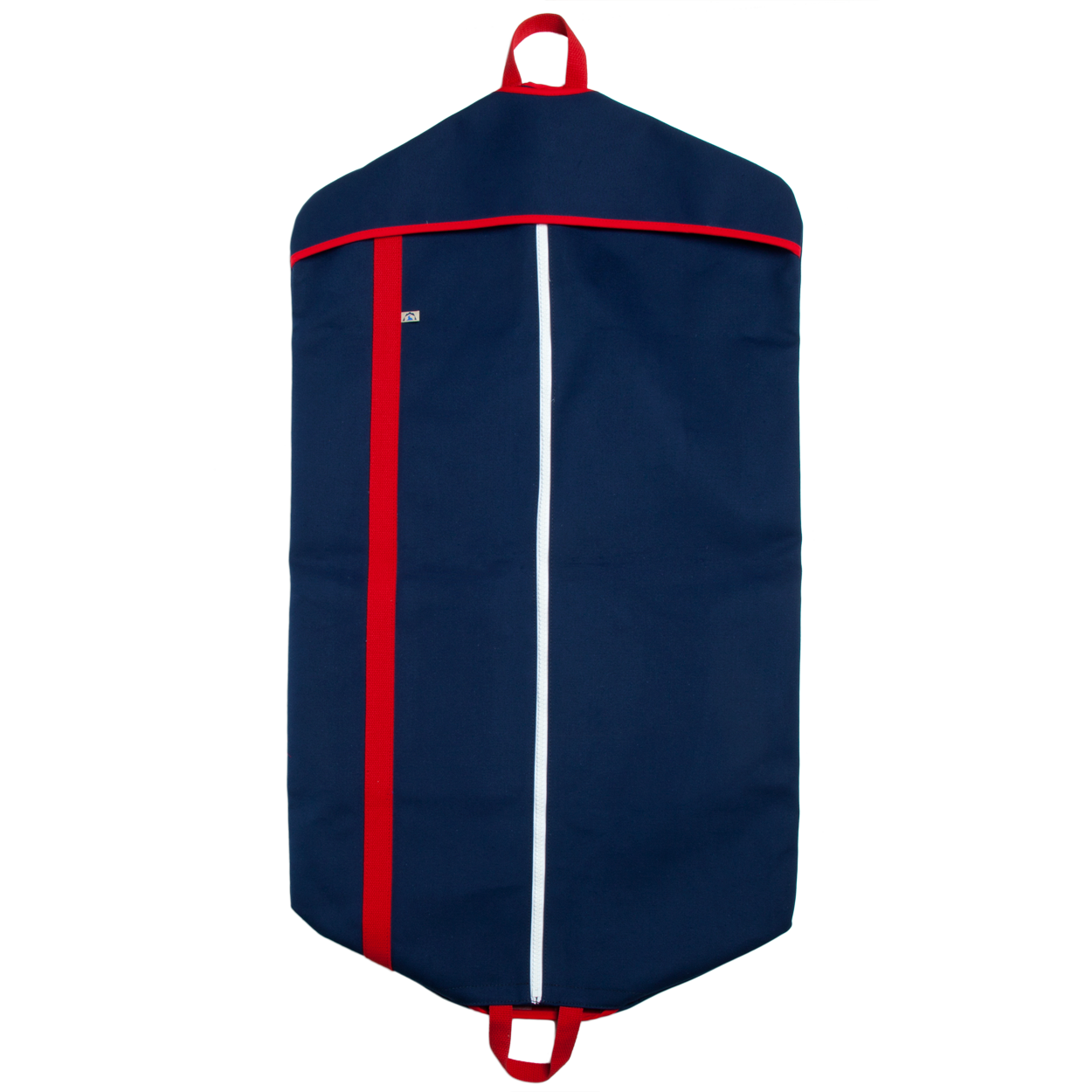 The Yorktown ('Merican')
The Lowell ('James Bond')
The Hatteras ('The Dude')
Named after civilian merchants who sold provisions to armies during the Civil and Revolutionary Wars, HudsonSutler is a New York-based line of travel gear that prides itself on offering durable products with eye-catching aesthetics. After seeing a void in the marketplace for stylish, yet resilient, duffel bags that function from daily commuting to long weekend traveling, former Wall Street trader, Grant Hewit, founded the brand in 2011.
Hudson Sutler's repertoire includes an assortment of high quality, hard-wearing duffel bags (available in two sizes: Commuter and Weekender), dopp kits and iPad cases for both men and women. Made with washable, heavy duty 18oz canvas, Hudson Sutler products are available in vibrant colors, with handsome printed linings, rustproof resin zippers and durable nickel hardware.
With names such as Yorktown, Savannah, 'Sconset, Lake Placid and Hatteras, these heritage-inspired products are born to travel, bred with history and are ready to be lived in. Here's to the next escape.
For more information, please visit: www.hudsonsutler.com, Facebook, Twitter, Pinterest, or Instagram @HudsonSutler.