Over the past year, I have committed to getting in shape, which has resulted in losing some weight.  Red Clay Soul Twitter followers (all 11 of you) have seen some of my comments about covering my tailor's rent…my dress pants and khakis have had to be nipped and tucked.  Jeans are another story.  Jeans can be tapered and hemmed, but not too much (if anything) can be done at the waist and hips.  Therefore, I have had to dump quite a few pairs of really good jeans (much to my chagrin).  On a recent trip to Orlando, I stopped by their famed outlet mall and actually had some good luck at the Barney's outlet as well as the Levi's outlet.  Not only were the prices good, but they were all an additional % off because of off-season sales.  Here are the details:
First: Levi's rigid 501s.
These don't specify STF, but the denim is stiff.  It has some light whiskering (which isn't my favorite), but it is subtle and looks somewhat natural.  As you can see – at $19.98 minus another 30%, I couldn't pass these up.  I did have to get them hemmed for $7, but they are still a good deal for under $25.
Next, these Levi's Made & Crafted Selvedge jeans.
These ended up right at $70 after all the bells and whistles from the Barney's outlet.  I had never tried on the LMC jeans, but was extremely impressed.  These are the 'Ruler' straight fit jeans, and I would say they are a touch slimmer than the regular Levi's 514s.
These tan Levi's 501 STFs were an unexpected find – they were at the bottom of a 50% off stack of jeans, and they happened to be my size.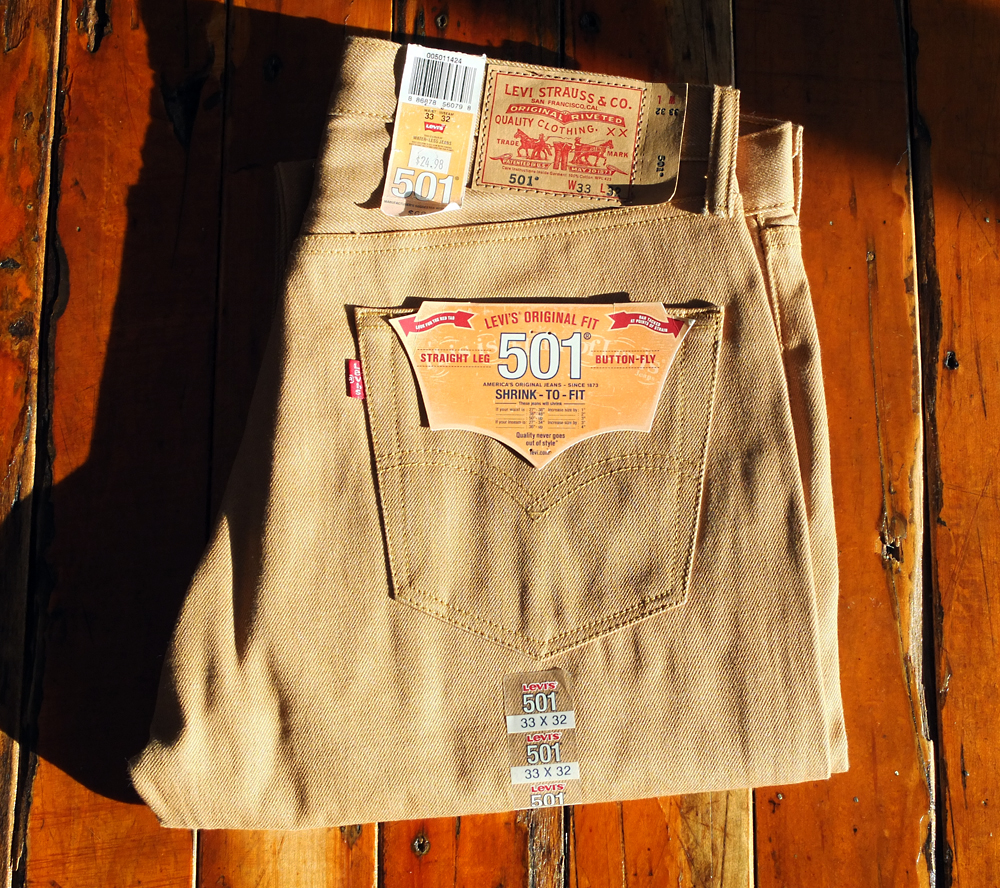 I had to get rid of a great pair of tan Levi's that I grew out of, so finding these was very timely.  I put them through the STF process and now they fit like a glove.
Another Barney's find: these Naked & Famous 'Skinny Guy' jeans:
I'm a big Levi's guy, and do have a pair of APCs that I like, so this was a stretch for me.  I really like the denim – it's called 'Hemp Blend Selvedge', and the fit is on par with the APC New Standards.  At $75, I decided to take the plunge.  There was some RCS Facebook discussion about cuffing denim (these were the stars of the show), and after giving it a whirl, I have decide that the cuff isn't for me.  These are off to the tailor to get hemmed.
Finally, and probably the best find of the day, is these Selvedge Levi's 505s.
I saw these on a rounder in the Levi's outlet, and didn't think there was a chance they would fit because of their 30″ waist (I'm a 32 in most Levi's).  Committed, I tried them on and they actually fit – they had that good 'a little tight' feel that you should feel from a pair of selvedge jeans.  They should stretch nicely.  The smaller waist also comes with somewhat slimmer legs, so the fit is great.  Not too baggy, but not too skinny, with a good 8″ leg opening.  These will have to be hemmed, but it's worth it.  Oh – I got them for $40.  They were  listed at $79.99 in the store, but that rounder was 50% of the lowest price.  Score.
Now I shouldn't need jeans for about five years.  Or until Thanksgiving.