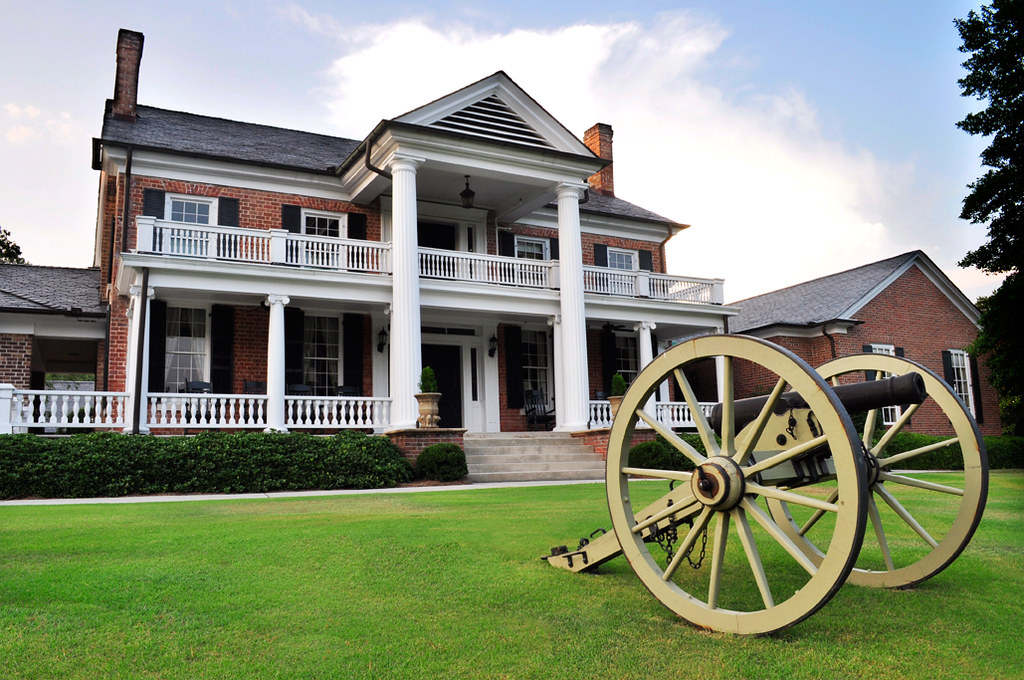 It seems like everyone in the golf community is acutely aware of two clubs in Georgia: Augusta National and East Lake – both for obvious reasons. In third place would be the Atlanta Athletic Club for its history with hosting majors (81', 01', 11' PGA Championship, 76' U.S. Open, 14' U.S. Amateur) and the Bobby Jones connection. When I talk to friends in other parts of the country about playing in Atlanta they usually request a round at East Lake, but those in the know ALWAYS ask for Peachtree Golf Club.
I was playing Seminole with some gentlemen from the mid-west last spring and knowing I'm from Atlanta, they asked about Peachtree; as in, "What's up with Peachtree?" I knew exactly what they were getting at.
My experience is there is a select group of guys who play the big time courses with a regularity that'll make any duffer envious. They wax poetic about sticking sixteen on a windy day at Cypress, lunch in Shinnecock's clubhouse, and leaving a ball behind at Pine Valley's halfway house. Or the adventure of trying to find the entrance to SFGC, the ambiance at National Golf Links, and punching out of Oakmont's infamous pews. As big time as Augusta National is, and no doubt they've played it (more than once), these guys really dig tee times at the likes of Myopia, Fisher Island, and Chicago G.C.
If one were to pour over the resumes of these gentlemen they'd find several similarities; they usually reside north of the Mason-Dixon Line and work south of 59th street in Manhattan – which makes sense. New York alone calls 14 of Americas Top 100 courses home. Of the Top 50 clubs in America, only 6 are in the Deep South (Augusta #2, Kiawah #24, Wade Hampton #25, The Honors Course #28, Pinehurst No.2 #29, and Peachtree at #30). And that's what brings us to Peachtree Golf Club.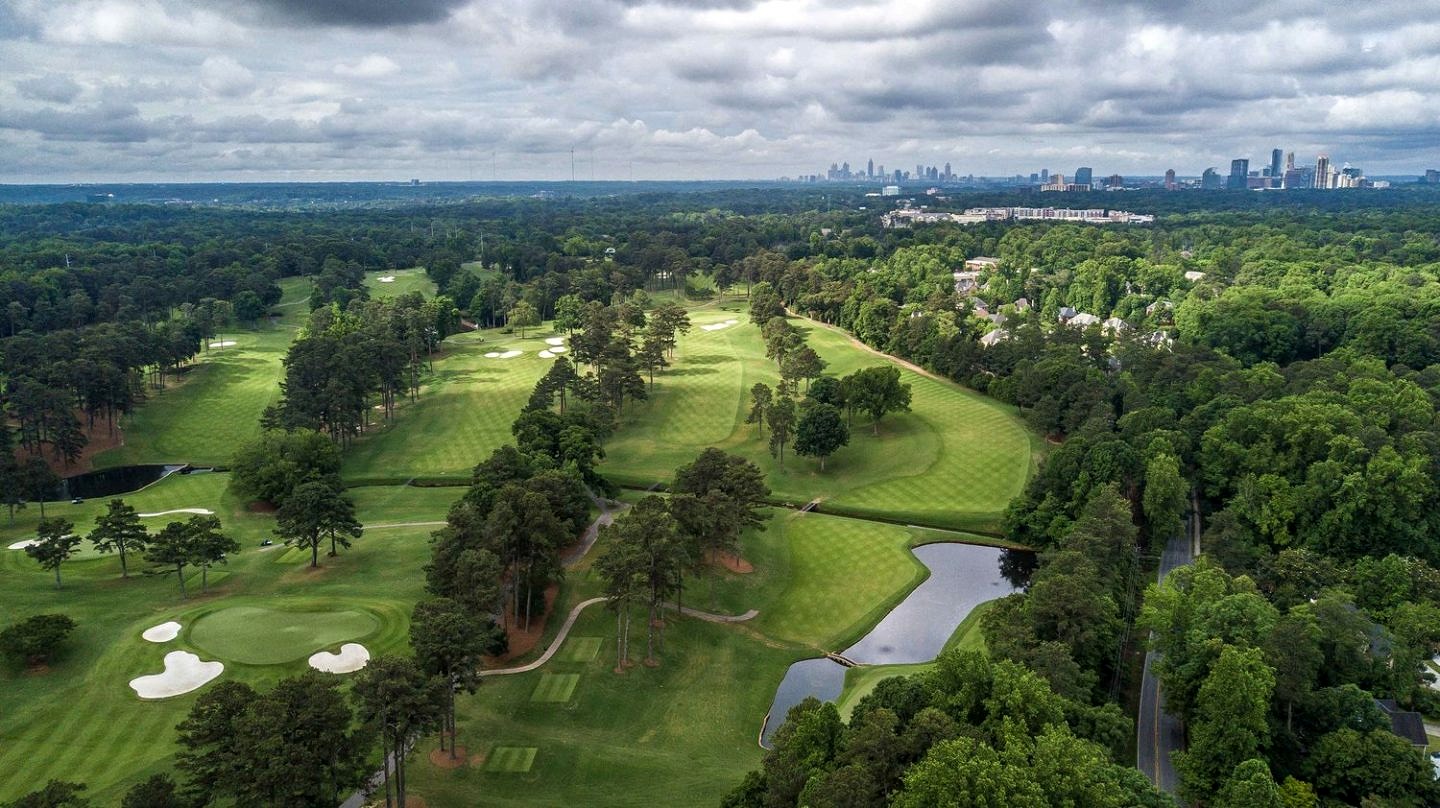 Peachtree is damn near impossible for these guys to play – and they want to all the more because of it. Why? Because its members aren't from the island of Manhattan. It's quietly exclusive. It's a private affair that's passed down from one generation to the next. I've heard plenty of guys say a tee time at Augusta is easier than Peachtree.
Every part of Peachtree is an experience to be remembered. It starts with entering a nondescript entrance and rounding a bend to an antebellum clubhouse so handsome in design that Neel Reid would be impressed. And then there's the perfectly manicured grounds – and by perfect I mean there isn't a blade of glass or piece of pine straw out of place. The piece de resistance is a Civil War cannon that sits stoically in front of the clubhouse; a reminder that this house played an important role in our country's history (but thanks to General Sherman, it wasn't in Atlanta's favor).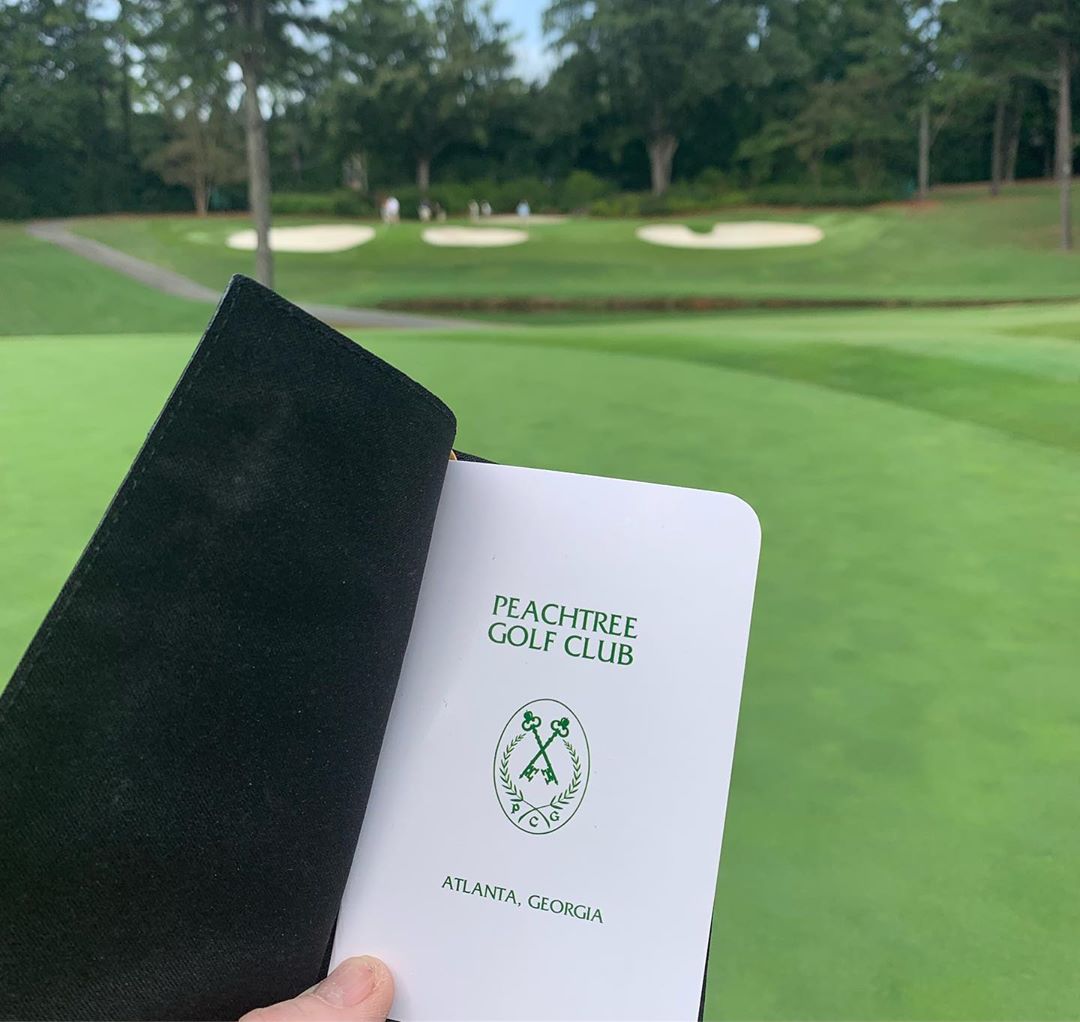 After leaving the locker room it's a short walk to the driving range; an intimate setting in and of itself, where caddies quietly shoot the bull, as they have for decades, while you try your best to keep your composure; as you don't need reminding that you're playing Bobby's course and some of the caddies knew him personally. This is where Peachtree starts to court you. The proverbial dance started earlier; this is where you know you're falling in love. To take a few paces from the range to the tee box is so intuitive it leaves you wondering why every course doesn't do it.
I won't get into a hole by hole analysis, but from start to finish it's an experience you'll never forget. The course is always in tip top condition. And by "tip top" I mean it's one of a kind as far as Atlanta is concerned. East Lake is similar, but there are differences. The tee boxes would make any 17th century French horticulturist jealous; checkerboard fairways are impossibly manicured, stunningly green, and void of divots; and the greens require the expertise of a seasoned caddie.
If I had to pick favorites, they'd be these: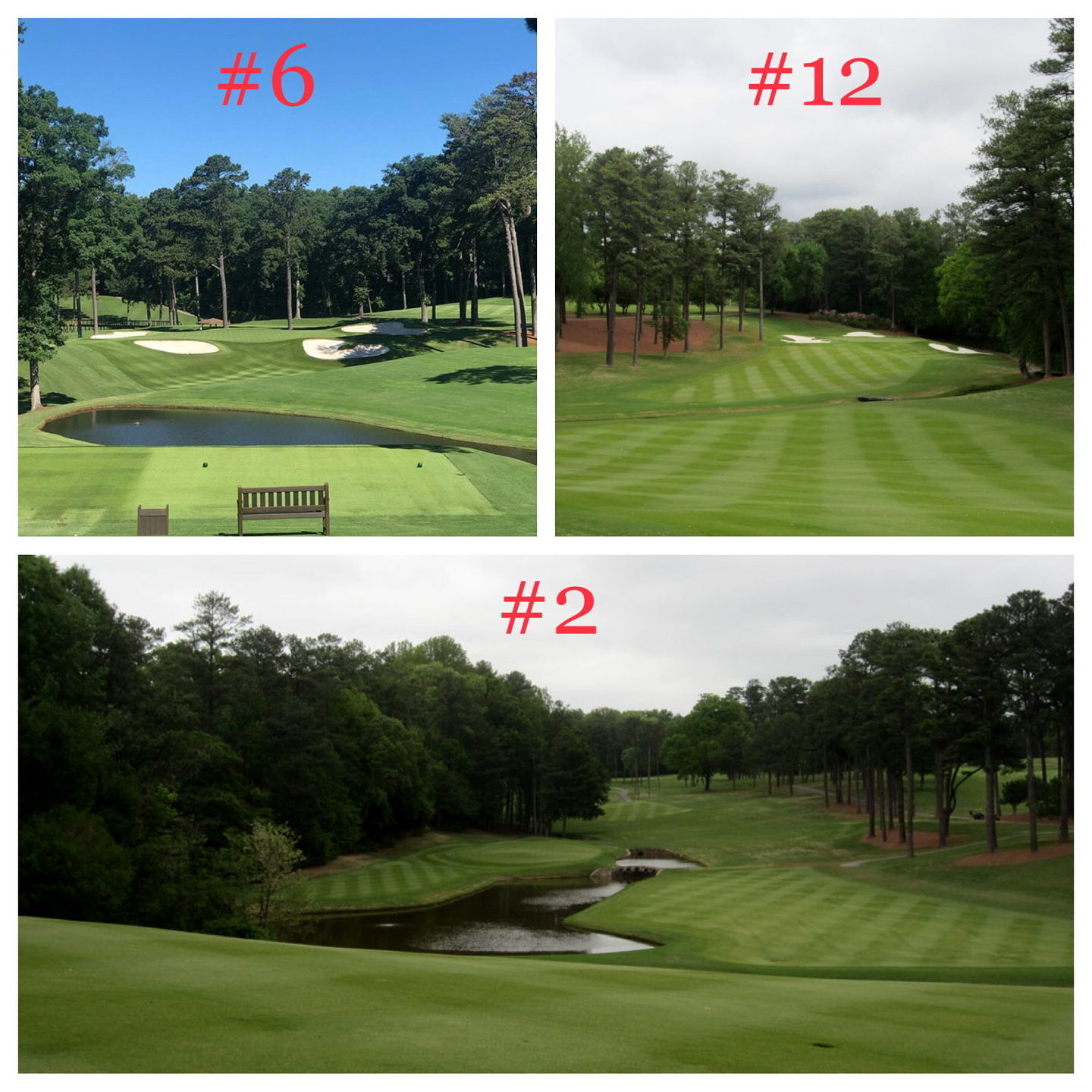 Par 5 – #2. Widely considered one of the best holes in America. Brilliant risk/reward situation with two fairways separated by a pond. Studs go for it on the left while the rest of us lay up on the larger right side, but even then you still have a challenging chip over water to the green.
Par 4 – #12. Elevated blind tee shot down to a dog leg right with a creek to contend with. The green is tucked away and elevated. The entire hole is surrounded with natural beauty.
Par 3 – #6. Most guys choose #4 because of its similarities to #12 at Augusta. It too plays over water, but the expansive views of the course and the massive undulations make for better aesthetics.
The halfway house at the turn is one of the great joys in golf. It's a little brick clubhouse with seating inside and out. The view down the 10th fairway is magnificent, the staff makes you feel like you're a member of the family, and the level of comfort is like listening to "Little Martha" by the Allman Brothers on repeat. Similar to the shower situation at Seminole, you can't find a reason to leave. Life is ideal; you know it and so do your buddies. And the best part is when you finally get up you have nine more holes of world class golf to play.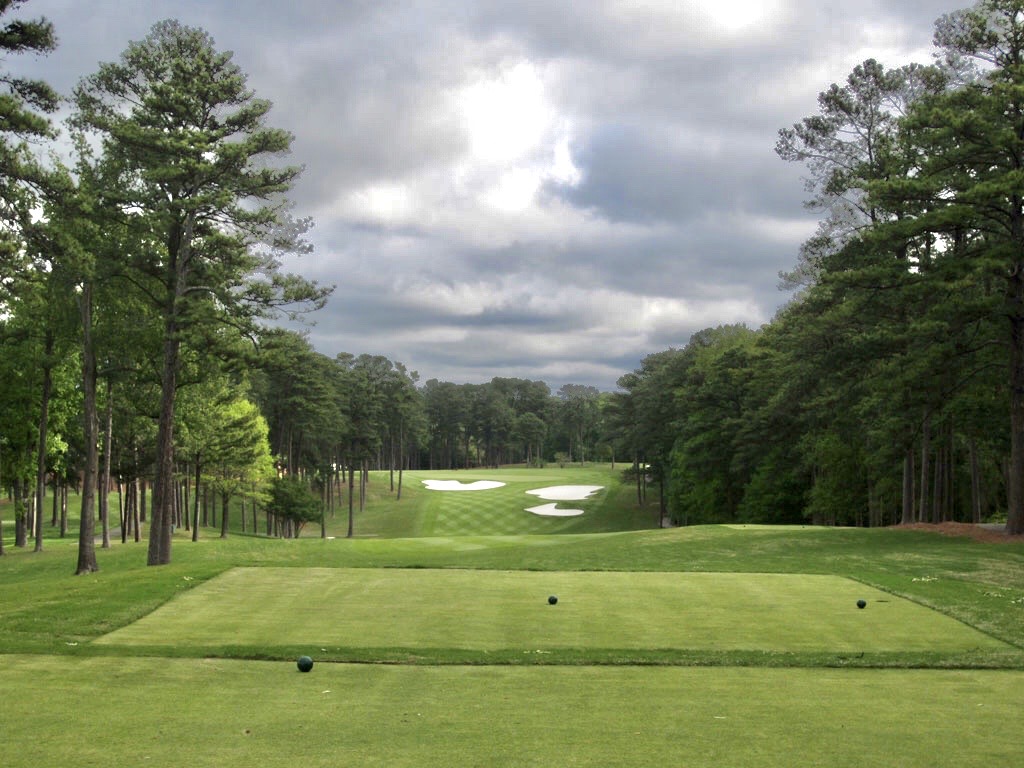 The course is unique in that if you're not familiar with it you probably won't figure out where to go at times. Cart paths start and stop with no intuitive sense of direction. When asked why it's because a member requested it back in the day, so it was built for him and left alone. But if you're walking, greens and tee boxes are typically next to one another. All of this makes you dependent on your caddie – as you should at a club of this stature. I've been blessed in that I've played a few exclusive clubs and the common denominator is the caddie program. Every time I've played Peachtree I've had the pleasure of spending an afternoon with a caddie who I'd love to sit next to at Five Paces. It goes without saying they know the course, but the stories and jokes they bring to the table are second to none.
After walking eighteen the experience comes down to the locker room, attendants, and the clubhouse. Out of respect for the privacy of the club and its members, I won't get into the details of the locker room, but trust me when I say it's timeless. Nothing fancy – just comfortable and quiet. The staff and attendants are the nicest and warmest you'll find. Nothing is cooler than walking into a locker room as a guest and everyone knowing your name.
So that leaves us with the clubhouse. Peachtree is known to all, including the Yankee bankers on Wall Street who can't get a tee time, to have a clubhouse that all clubs aspire to have. It's old (built in 1857, it's 163 years old) and it's historic (Sherman spent the night there before lighting a match in Atlanta). But above all else, it's Southern elegance at its finest. I can't think of a better place to enjoy a cigar than beneath its ionic columns on the front porch.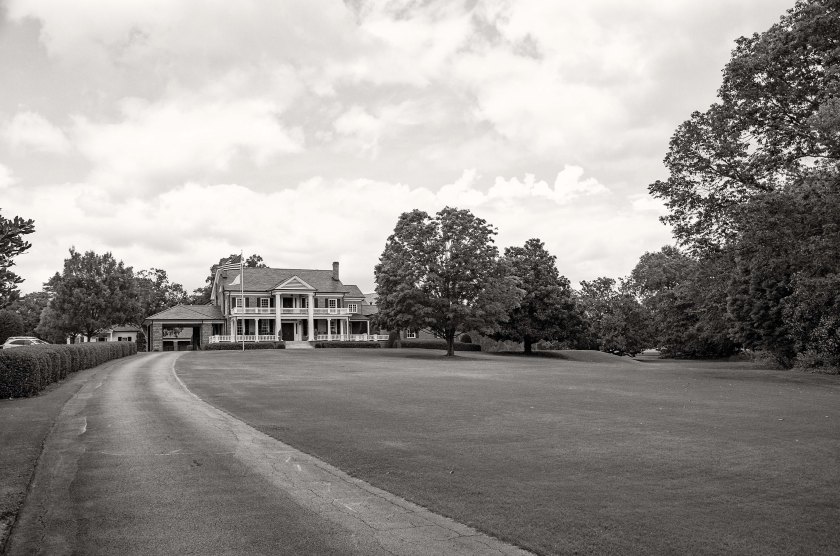 After an afternoon that starts with a simple lunch, a round of golf, and wraps up with drinks and a cigar, it's a treat to take a relaxing shower, grab a book of matches for the collection, and visit the pro shop; which isn't much bigger than a college dorm room, but full of great stuff and manned by a young buck who's in the prime of his life and doesn't know it (aren't they all?).
Last time I played Peachtree it was with the gentlemen who I played Seminole with. These guys have played all the aforementioned courses and belong to several clubs, but Peachtree was elusive; enough so they were willing to fly to Atlanta on a weekday to get a round in. I know I can speak on behalf of them when I say Peachtree is everything that is good with golf. Bobby Jones grew up playing at the Atlanta Athletic Club, he created Augusta National with Mr. Roberts, but I believe his crown jewel is Peachtree Golf Club.
Contributor Brad Evans is a good buddy, a UGA grad, and an idea guy. We're lucky to have his thoughts here at RCS…more to come.