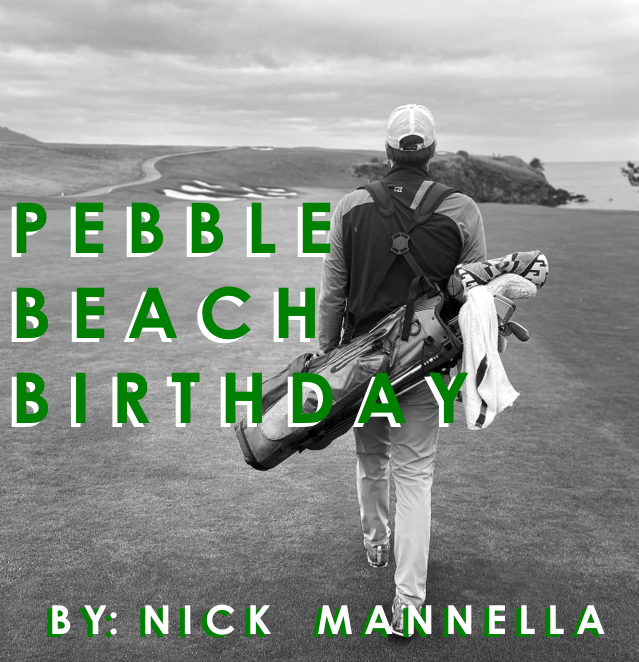 My wife, Marlaina had this weekend planned for quite some time. It was to be my birthday present and a chance for us to get away for a long weekend. I can still picture the excitement on her face when she told me the surprise: "I got you a tee time at Pebble Beach!" My eyes lit up when the words came out of her mouth and all I could say was, "holy sh*t!" I must admit that I have been lucky and have played some amazing courses in my day, but never Pebble Beach.
I currently work for Cutter & Buck, a lifestyle apparel company rooted in golf since its inception back in the 90s, and had the privilege to be on the Pebble Beach grounds all week for the 2019 US Open. So, leading up to my birthday round Pebble, I thought about it a lot and thought about the layout of the course. I tapped into my memories from walking that tournament to remember where players hit the ball, the penalty areas on each hole, where misses should be, which side of the hole to try and be on even if it meant being short of the green, and especially trying to avoid bunkers which all seemed massively deep. Not to mention the thick rough. I wanted to post a good score so each round and each shot I played in the Bay Area leading up to yesterday, I visualized myself at Pebble all before even setting foot on the first tee there.
As everyone knows, the past couple weeks have been extremely difficult due to the Coronavirus outbreak. Marlaina and I have been watching businesses in our neighborhood close up, we haven't been able to see friends in person and with the current Shelter in Place covering our state like a blanket, our adventure to Pebble Beach was becoming a weekly and then a day to day check in routine. We truly thought it would be cancelled. So we read updates on their website – staff was disinfecting, social distancing and cleaning often. We called a couple times and learned they received an exemption from the county and would remain open. We also messaged with friends in the golf industry and heard Pebble was closing on Monday 3/23. Hopes were high until we read one last update on Friday night 3/20 – the resort was now officially closed. Minutes after reading that we called Pebble Beach and had our final answer – the course would remain open only Saturday 3/21, my birthday, but be closing in the afternoon. Yes! With our health and the health of others in mind, Marlaina and I decided to cancel our lodging reservations in Carmel Valley for the weekend but keep the tee time.
Without traffic, it took us a little over two hours to arrive at Pebble Beach from San Francisco. It was raining upon arrival and there were only a handful of vehicles in the parking lot. We got a spot directly across from the bag drop. Suited up in our rain gear, Marlaina and I walked through those magical gates and into the pro shop. We were greeted with a giant "hello welcome to Pebble Beach!" from the pro shop staff. There were a couple guys humming and hawing around the merchandise area but other than that, not a soul was around. "So, you guys are closing up today?" I said. "We sure are. This afternoon." The gentlemen said. "You're pretty lucky." His smile was as big as the Cheshire Cat's. "Very." I said and looked at Marlaina with a smile just as big.
We were then told that I could (and should) head out right then, an hour ahead of my scheduled tee time. The course was empty and there was no time for hitting balls or rolling putts to warm up. This place was prepping to close down. Marlaina's spectator fee was also waived, an umbrella was provided with reassurance the rain would clear in an hour, and we sanitized our hands and headed to the first tee. I took a couple practice swings, teed up one of my Phish "hotdog" logoed Pro-V1x's and ripped one down the right side of the fairway. We were off and I was playing Pebble Beach by myself with only my wife keeping me company.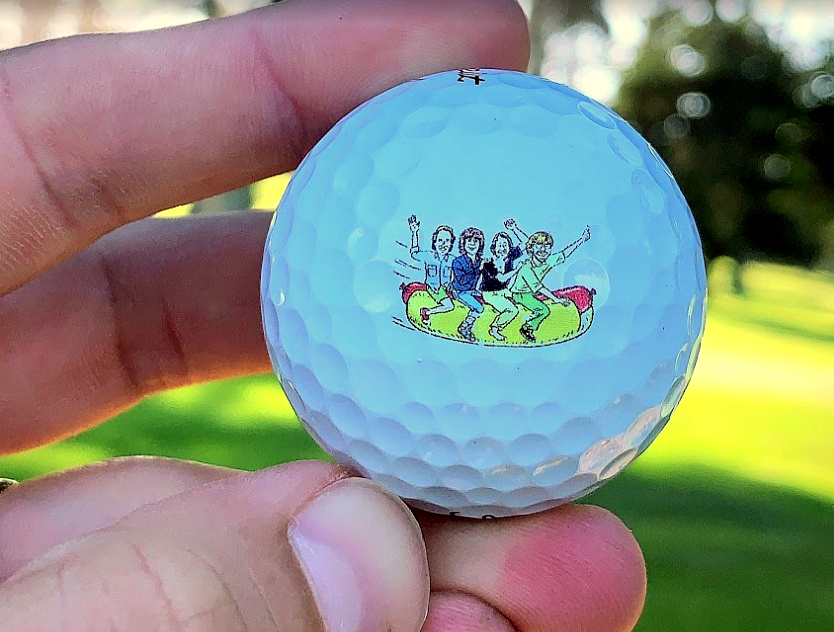 The walk down the first fairway I realized I had forgotten to take my wallet out of my back pocket, my car keys were also still on me and I didn't have all of my "golf trinkets" – ball markers, tees, a divot tool etc. – that I normally keep in my pocket when playing. I guess I was just too excited to get on the course to remember to get situated. During the first holes, Marlaina and I just keep looking at each other and smiling and saying "this is crazy…there's nobody out here…this is so cool…so fun!" The further away from the clubhouse we got, the more the real world seemed to dissipate into the surrounding fog and mist. It was surreal.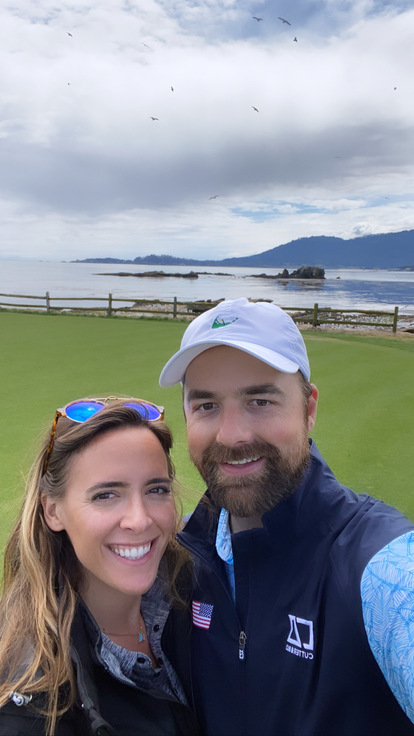 On number three the rain began to let up. The walk from the third green to the fourth hole takes you across a small road to a tee box shared by the par three 17th and the par four 4th hole. Donning a full rain suit, an older man on the 17th tee box looked over at us and said "how about this!" I replied with "Unreal!" and we both smiled, told one another to stay healthy and continued on without another soul in sight.
By the 6th hole I was feeling really good about my game. I was swinging easy, rolling putts and making good contact with the golf ball. The sun was peeking through the clouds and on the green I decided to FaceTime my brother, Tommy, back in upstate New York. My nephews popped into the screen, wished me Happy Birthdays, and I showed them where I was and did some 360 degree spin arounds. Marlaina held the camera while I hit a couple shots for them to see. Might as well get a little practice in, right? I showed Tommy the par three 7th and he was blown away at how short it looked from my vantage point compared to what he had seen on TV and in pictures. I think he was even more impressed with my 104yd gap wedge to the center of the green ending with a two putt par.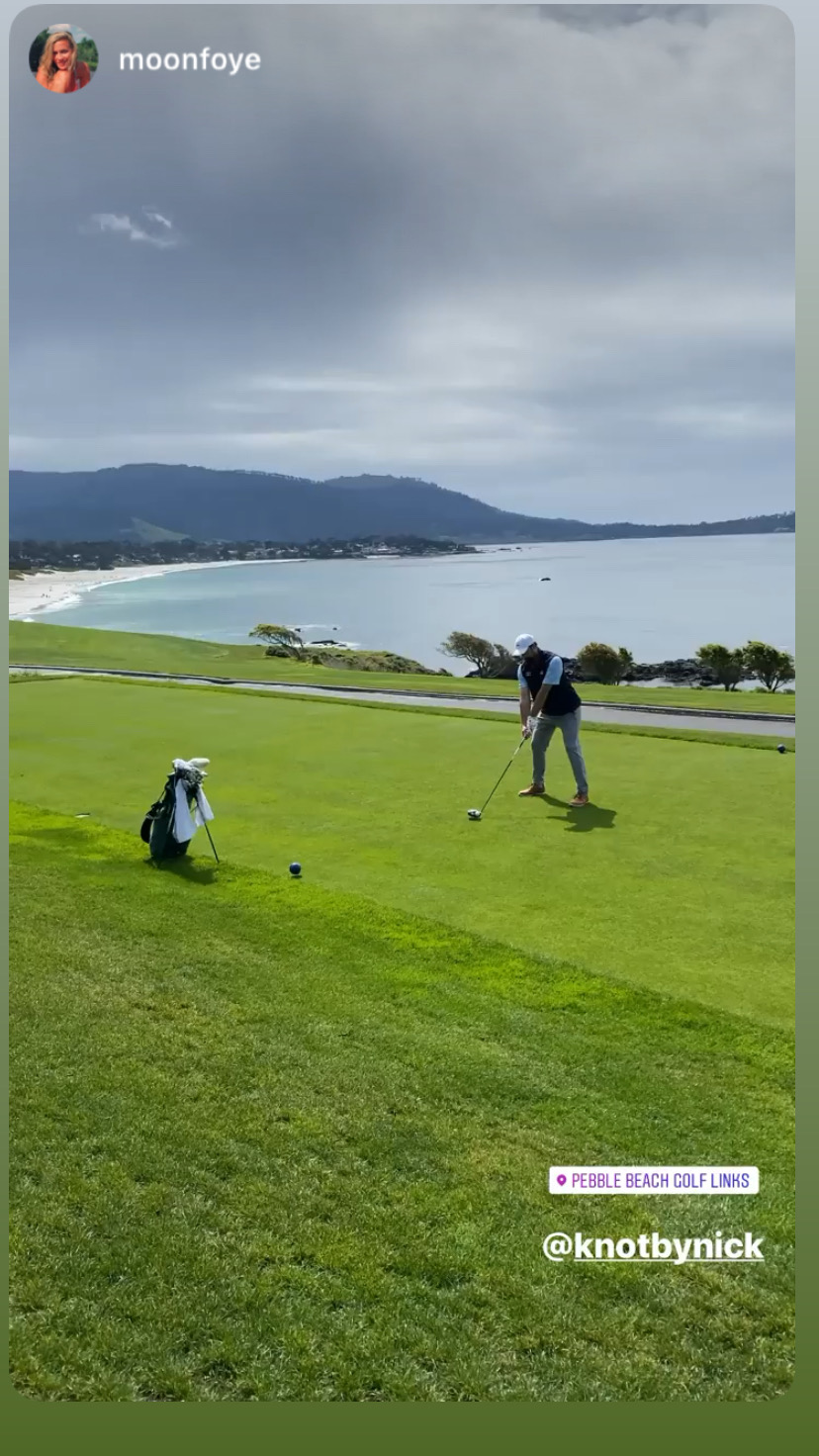 The only time we encountered anyone on the course was on the 10th tee box. Four guys, all walking with grins from ear to ear, had just grabbed adult beverages at the halfway hut. One of them looked at me and said "how fu*king good is this, man!" "So good," I replied, "we're like only a handful of the 60 million golfers in the world to be playing." "Let alone playing a Top 10 course," another chimed in. They watched me rip one down the right side, kick right and gracefully trickle down onto the beach below the cliffs. My only lost ball of the day. The guys chuckled and told me to hit another, they had plenty of time. Once safely on the green and after a slippery downhill holed bogey putt, I met Marlaina on the 11th. There, we popped a bottle of birthday champagne she had gotten at the turn while I played through.
The sun was now full on beaming down and we were shedding layers by the minute and basking in the blue skies overhead. Several 17 mile drive residents stopped from their walks and bike rides and even came out of their houses to watch as I played through. I didn't really think anything of this at the time, but then it dawned on me – I was probably the only form of a live sport they had seen in weeks. I don't think I disappointed anyone but if I did, maybe my thinned 9-iron approach on the #1 handicap hole 14th, I apologize. Arm in arm and sipping on bubbles, Marlaina and I continued on our day date, still without another golfer in sight.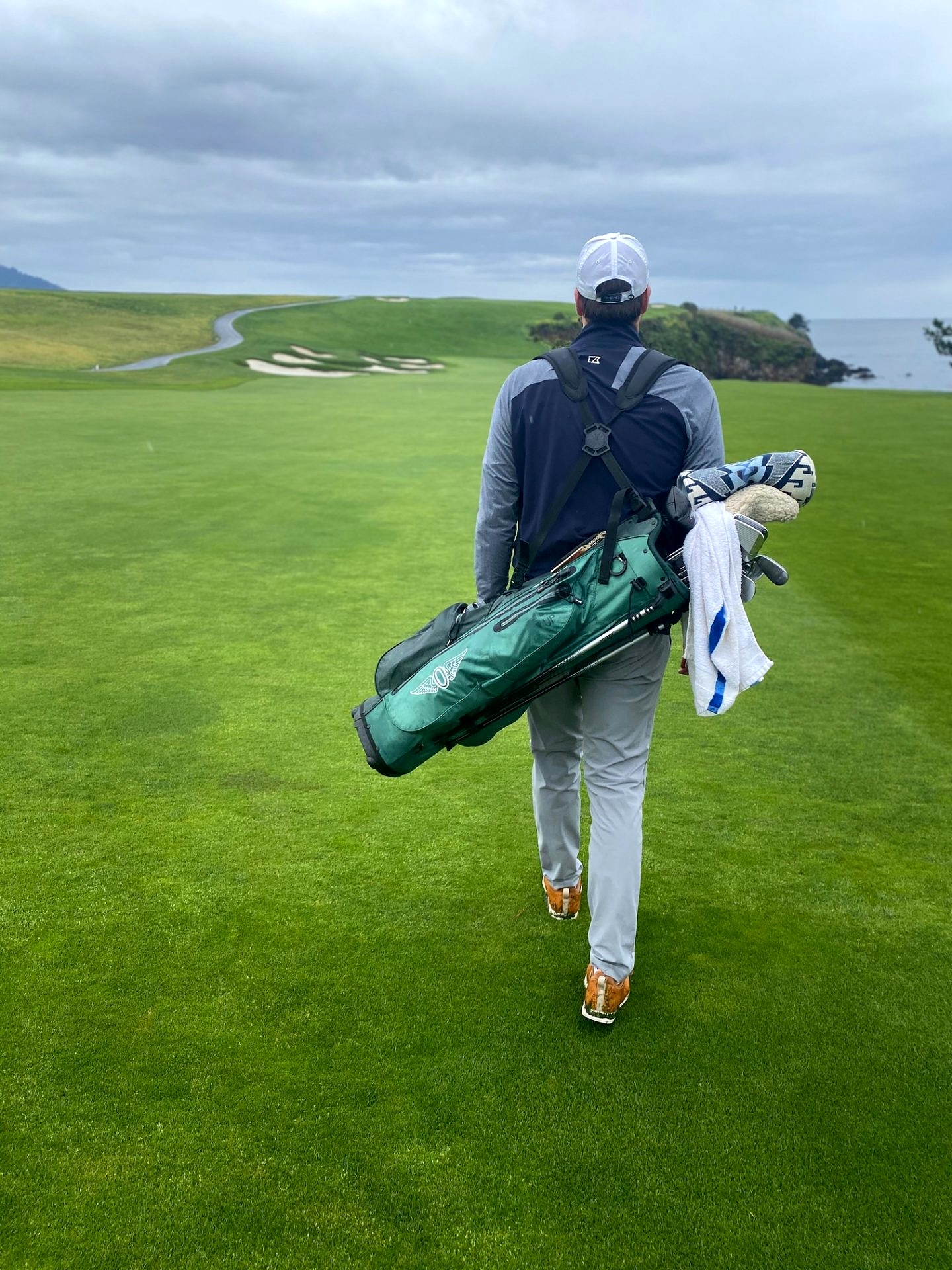 Crossing the shared tee box of 4 and 17 again, a Marshall stopped his cart and hopped out to ask how everything was. After enlightening him on our magical walk around the course, he said "You know you have to hit a shot from the Sunday tee markers from the 2019 US Open way back there. Hell, nobody's here, hit a few!" After hitting my 173yd shot – a no wind 5-iron to middle right pin, I walked back to the marker and gunned it at 210. With wind in my face I hit a sweeping draw 3-wood and landed it 20ft behind the flag. I received a lone golf clap from the Marshall and as we walked by, Marlaina told him it was my birthday. He told us his birthday was on Wednesday and wished us good luck on 18.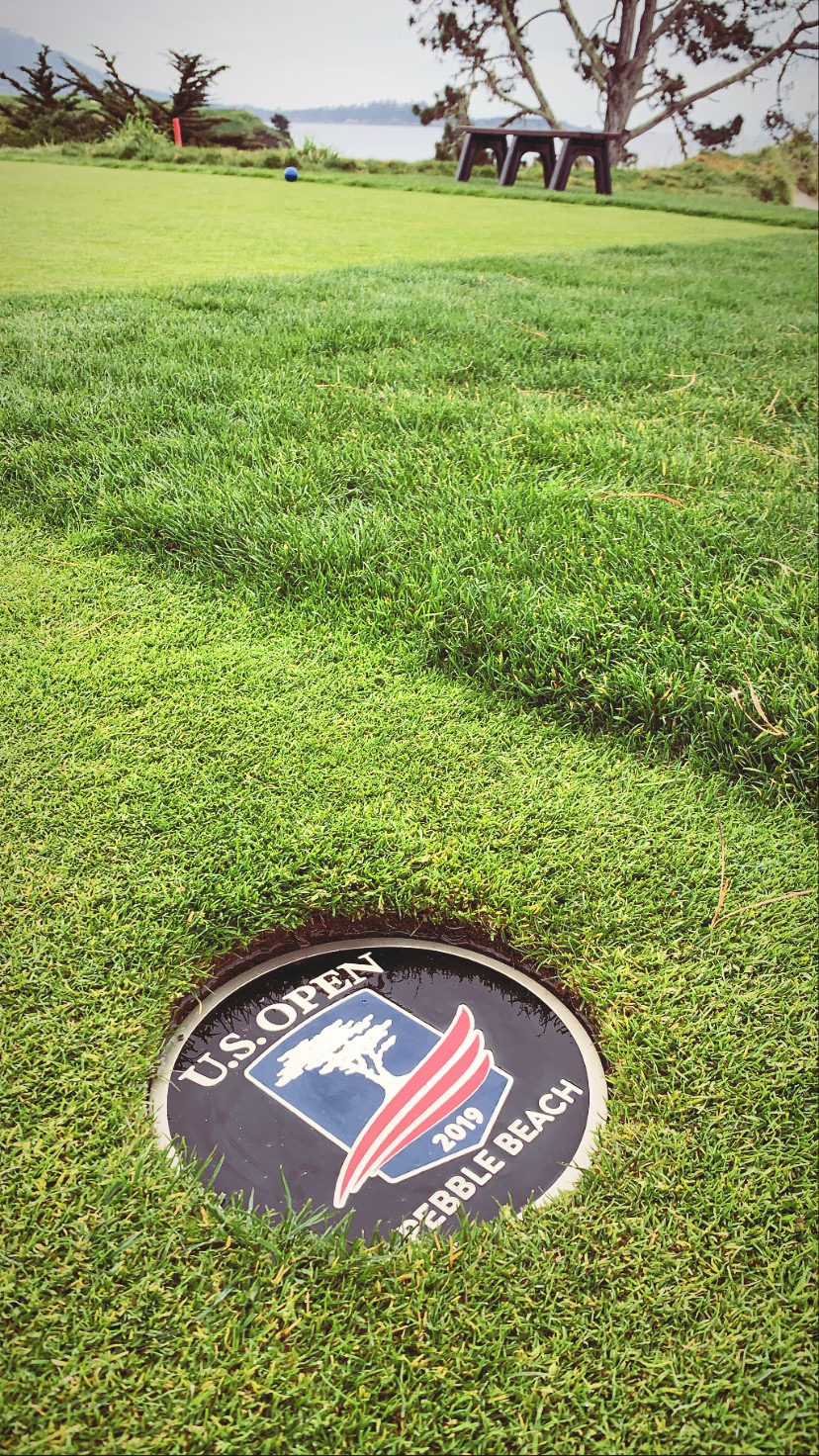 Throughout the entire day, as a non-golfer, Marlaina asked lots of questions and was interested in all aspects of the game. "Is it okay if I stand here?" "How do you know where to go?" "How do you know what club to hit?" "Is that a good shot?" "Why do you mark your ball on the green?" and even got into real caddie mode – "You need to hit your putts harder." "Just blast it out of the sand, babe, it'll get close to the hole I know it." "Look where you're aiming." Towards the end of the round she said something that really warmed my golfing heart – "I get it. I want to learn how to play." To solidify her feeling of wanting to play, I let her hit some putts – I too had been hitting more than one ball on some holes so it was a no-brainer to let her in on the action – and on the 18th she ripped a couple drives off the tee because when else would we be able to share this experience together again at Pebble Beach? Marlaina did hit one down the center and judging by her excitement I think that is all it will take to get her to play again.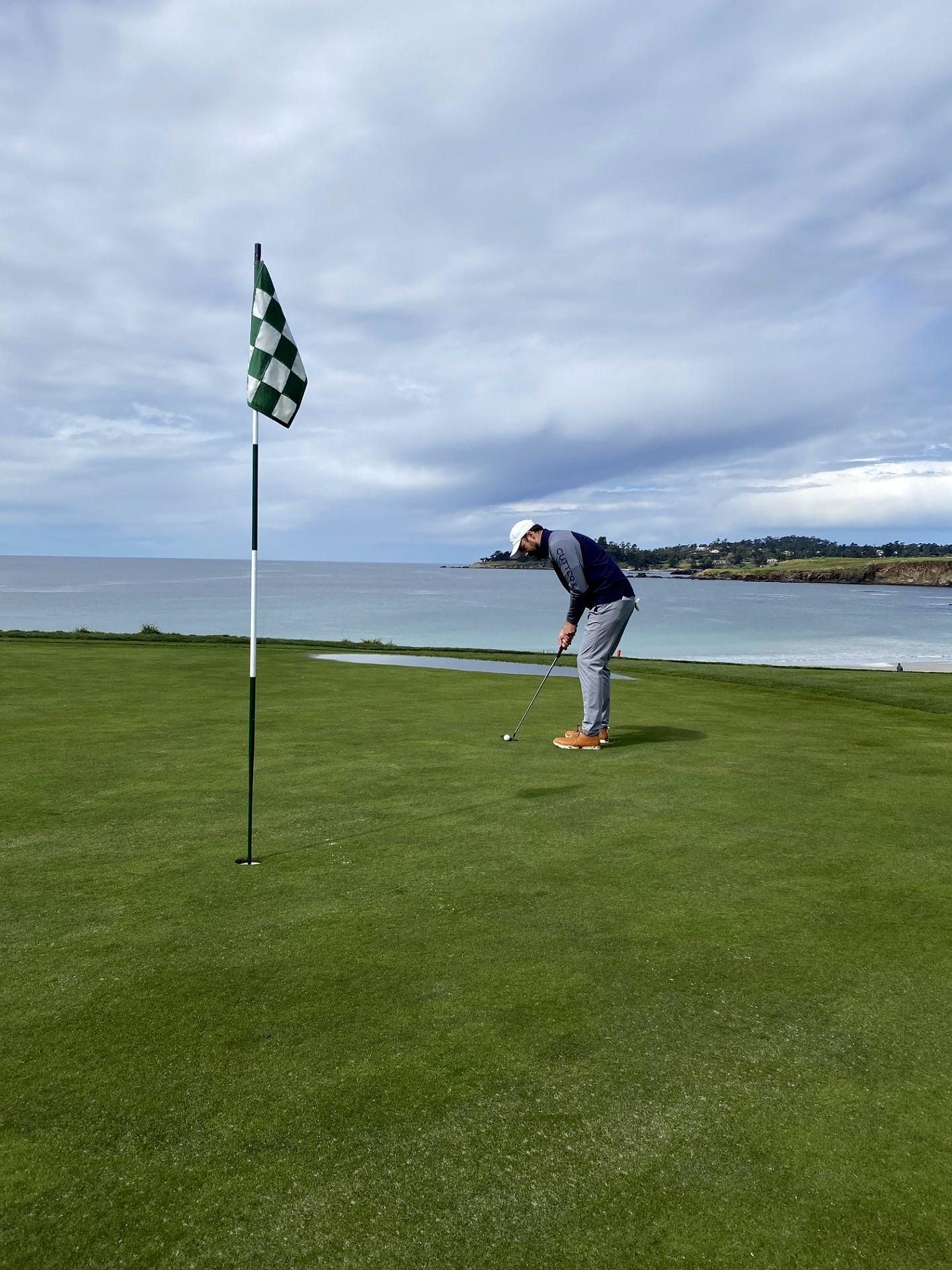 For my drive on 18, I launched it to behind the right side of the tree in the center of the fairway. I decided to hit a 3-iron around the tree, which unfortunately clipped a branch, and then yanked my third shot into the sand on the right side of the green. While my plugged sand shot out of the bunker was incredible, I ended up with a two putts and settled for bogey. A fun finish no matter what the scorecard total says (80 from the blues, 6900 yards, for those wondering). Marlaina and I snagged a few selfies on the green, took one last look across Stillwater Cove and headed towards the clubhouse.
When we reached the pro shop, the registers had been emptied, the TVs were off, no merchandise was available to purchase, the Lone Cypress Shop was closed, no carts were out and the remaining staff was cleaning and sanitizing counters, golf displays and door handles. We were wished a happy and healthy rest of our day with just as much cheer as when we arrived, and headed to the bar for some to-go sandwiches and adult beverages. The place was empty so we opted to enjoy our meal outside in the sunshine in two pristine white Adirondack chairs overlooking the 18th green and the bay.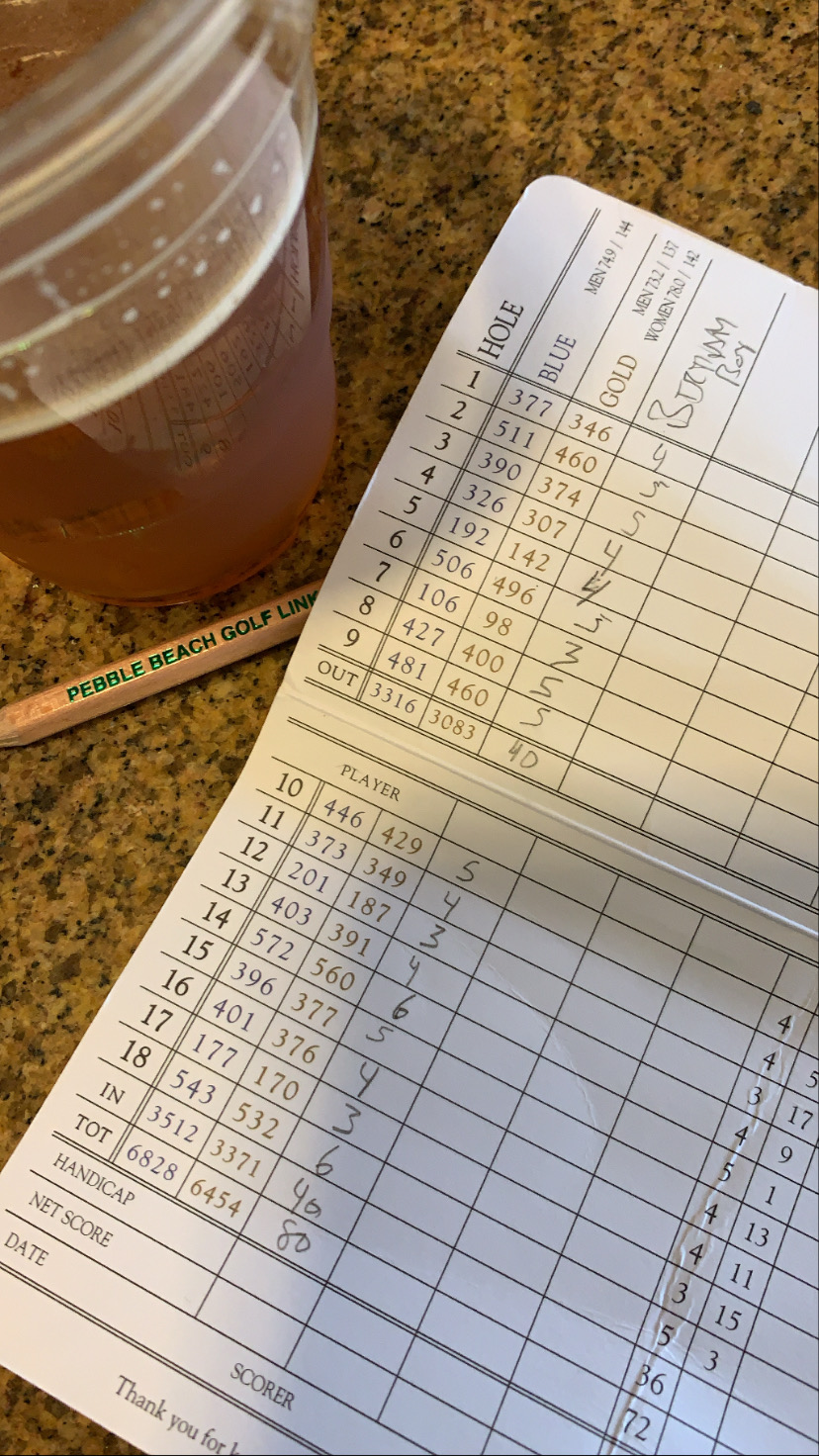 During our post-round picnic, the day really hit me. I was one of the last few people to play Pebble Beach for the unforeseeable future. My plan of attack about the course layout from walking it during the US Open hadn't entered my mind at all since those first few holes. My wife and I were bonding on a level we hadn't been before. As the round went on it became less about my score (I actually lost my scorecard somewhere along the way) and more about just being in the moment. In between shots Marlaina and I chatted with family members and FaceTimed friends. We were trying to share our adventure with them and give a people a distraction. Everyone on the other end of the line was in the real world and we seemed to exist in this strange, highly energetic and positive fantasy world. The news headlines weren't there. We could breathe and recharge. Life slowed down and the day became increasingly all about the laughter and conversations about golf and life with my wife. For me, this was truly the best birthday I have ever had.
Nick is a long time buddy and a super cool guy.  I'm really glad he shared his birthday story with us.