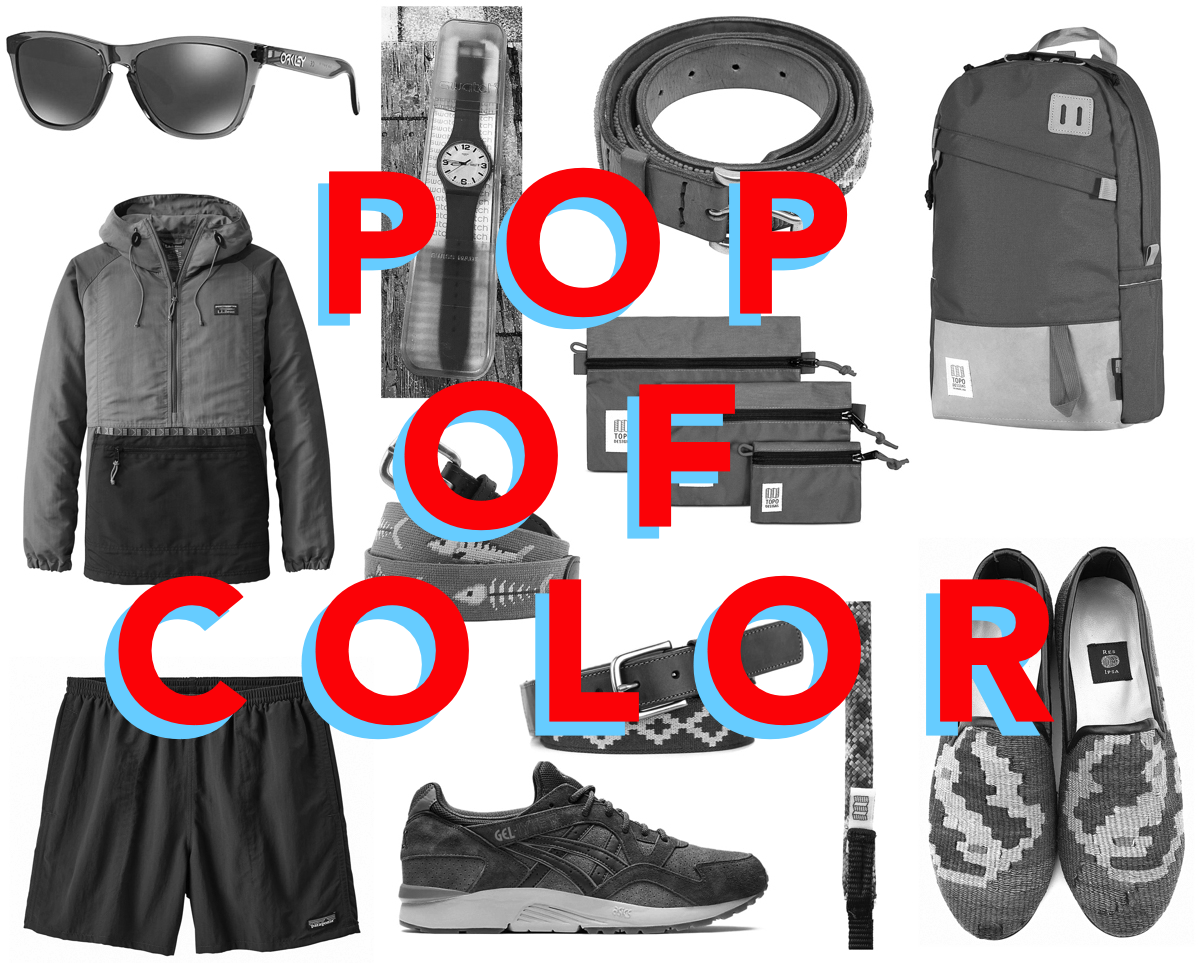 I'm glad we've gotten over the last cycle of 'preppy', in that bright colors paired with seersucker and neon argyle socks are a thing of the past.  We are in a traditional cycle now, with more of a focus on quality and fit.  I hope this cycle lasts for a LONG time.  And if it doesn't, I'll still wear it.
Adding a pop of color to a traditional look is not that hard.  In fact, it's a nice way to show a little character to a normally muted palette. I've found a few ways to spice it up, but keep in mind that these pieces should be the focus of the outfit.  Let it be the cleanup hitter, as it were.
Here are some options that I like: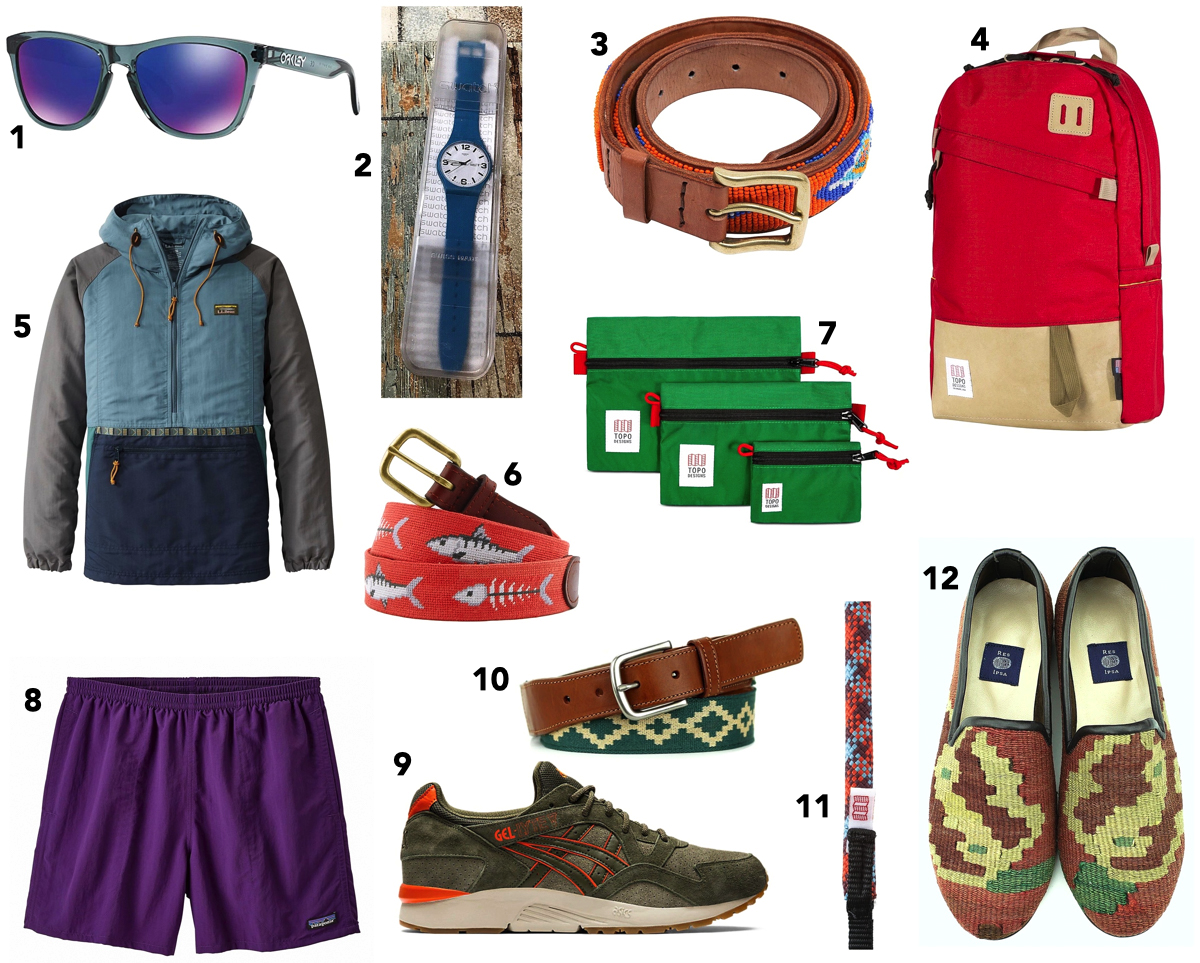 From top left:
1. Oakley Frogskin Sunglasses:  The first pair of 'real' sunglasses I ever owned.  And it's great that they revived them.  You can get some GREAT deals on these (click the link).  The fit is good, and the style is cool.  Purple iridium.  Don't sleep on it.
2. Vintage Swatch Watch:  You'll be pleased to know that there are a bunch of these on eBay at very attractive prices (Timex-esque).  A cool look.
3. Sid Mashburn African Beaded Belt:  You'll see a lot of belt options here, but consider the source.  I'm 100% in on waist flair.  I have the white beaded version of this belt and wear it all the time.  The orange is super cool – pair it with a pair fo jeans, a blue OCBD, and some loafers and you'll look like the coolest guy in the room.
4. Topo Designs Daypack:  This roundup has a few items from Topo Designs, but honestly, they do it right.  This Daypack is a perfect size – great for a dad bag, a work bag, or a bum around bag.  Not too big or bulky, and the colorways are excellent.
5. LL Bean Mountain Classic Anorak:  Maybe not neon, but the throwback color block vibe is strong with this one.
6. Smathers & Branson Bonefish Belt:  Same as #3.  Caught a special fish?  Member of a club?  Opt for the brighter color base option and have a little fun.
7. Topo Designs Accessory Bags:  I use the hell out of these when traveling.  Great to stash 'stuff' – one as a dopp kit, one to carry cords/chargers, and one for (fill in the blank).
8. Patagonia Baggies:  Yes, these shorts are amazing.  But venture out from the navy/red/black choices.  Purples, yellows, and some Jams-esque options make a great bottom to a white polo and Rainbows.
9. Asics Gel Lyte Vs:  I have these and love them.  A nice break from the Allbirds/OnClouds/etc. that everyone has.
10. La Matera Bariloche Belt:  Not only are La Matera belts available in some great colorways, but the polo belts are also super cool.  They add an element of toughness to any wardrobe.
11. Topo Designs Camera Strap:  Tired of the leather straps, or the branded straps?  Check out some climbing rope options.  I've added them to a couple of my cameras and really like the look.
12. Res Ipsa Kilim Loafers:  These are the creme de la creme of adding a pop of color to any look.  They are cool, they are unique, and they tell a story.  I have way too many to count, and NEVER regret wearing them.
What are your color pop options?