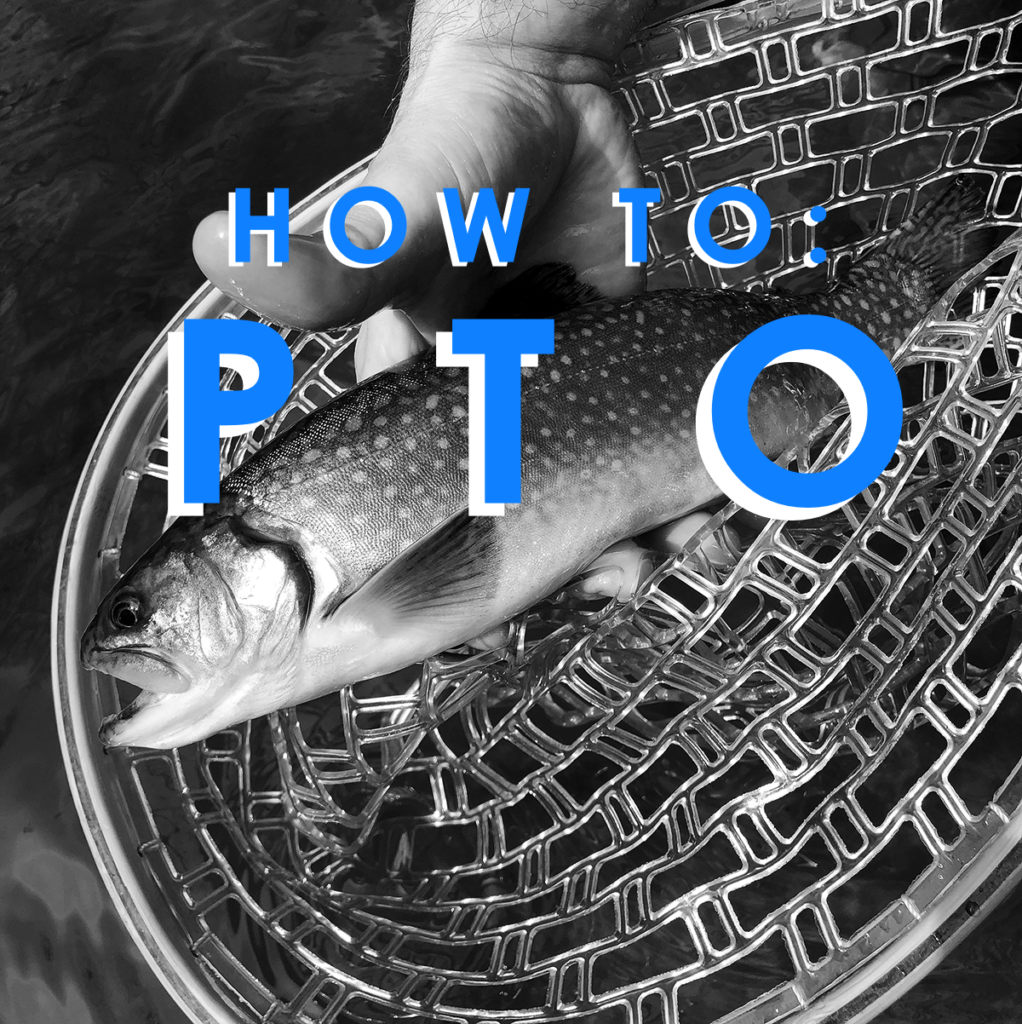 I've been a fisherman all my life. As early as I can remember, I've pulled in catfish on the end of my Zebco 33, while watching dad fly fish bass beds with top water poppers. My brother joined a few years later, and the three of us have always looked for an excuse to get a line in the water. Any water.
Fishing is an interesting hobby. It's a lot like golf, in that you never conquer the sport, but different in that there is so much variety, and so many approaches to landing a catch. Whether it's offshore hunting for big game, or on a farm pond trying to find that monster largemouth, fishing is a tempting mistress.
Over the past few years, I've gotten into fly fishing. Given my home base of Atlanta, there are plenty of opportunities to chase bass on poppers, stripers on streamers, or head over to the Low Country and chase redfish. I brought my heavy gear down to Harbour Island and landed a few bonefish… I've caught quite the variety using fly gear, but there was one box that hadn't been checked: trout.
After a long lunch with a couple buddies at work, we decided that we would take a PTO day and head to North Carolina. Of the three of us, Andrew has been trout fishing quite a bit, and acted as our Sherpa through the planning phases and guided once we got on the water.
The lunch conversation went something like this:
Andrew: "Do you want to catch some fish?"
Neil and me: nodding
Andrew: "then we are going to the East Fork."
The East Fork of the French Broad runs between Gladys Fork Road and the main stem of the French Broad river, and is roughly 4.5 miles of moving water with several gravel parking spots and easy river access for public fishing. It's a 2.5-3 hour drive from Atlanta. 85 North to Lake Hartwell, then take a left for an hour or so. It's a relatively popular spot, so getting there early is key.
We all took a PTO day on a Friday, and met at 5AM. We loaded all our gear into Neil's Tahoe, and headed north. The conversation in the truck largely revolved around building a fly box, casting tricks, and how not to slip and fall in the water. Given that Neil nor I had been in this kind of moving water, we were all ears.
Once we arrived, we geared up in our waders and layers, tied on our flies, and made our way into the river. My first impression was how fast the water moves. It's 40-50 lbs of pressure at all times. I decided really quickly that a sturdy foothold was paramount to any other activity that day.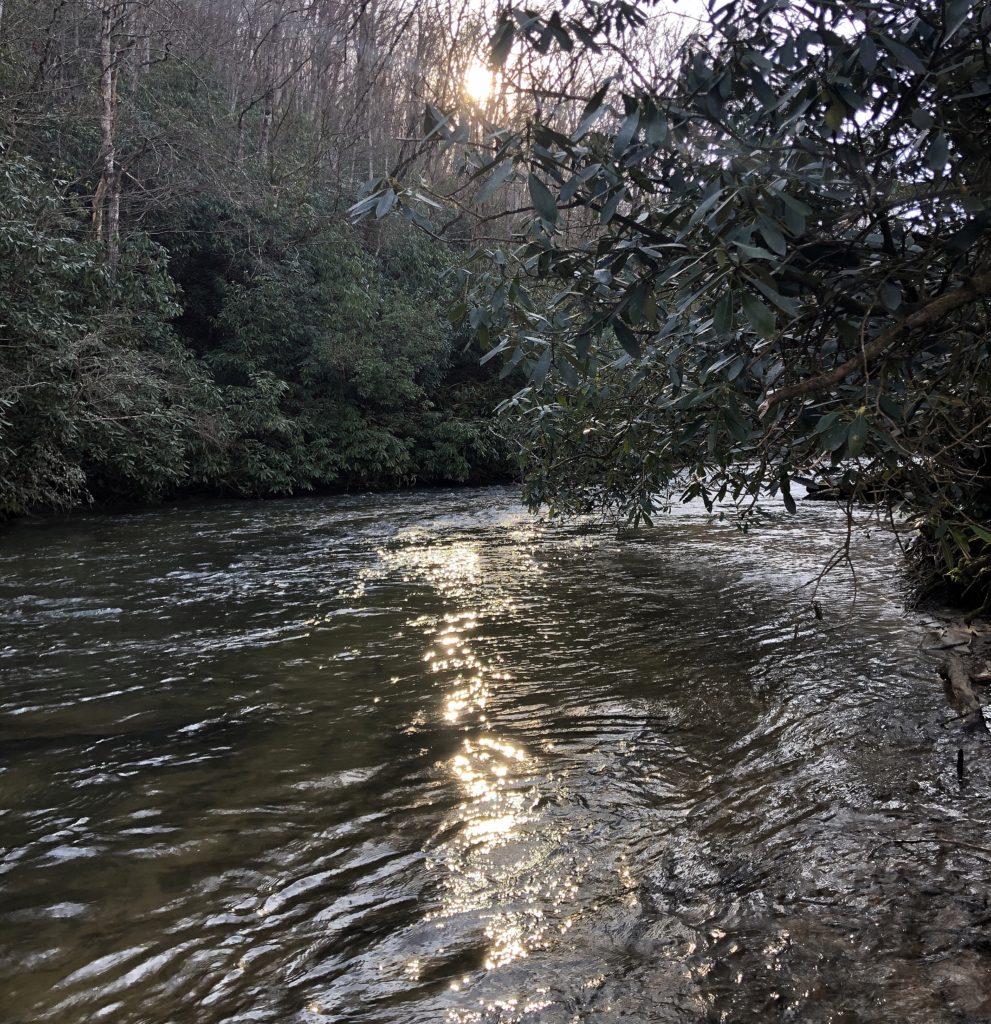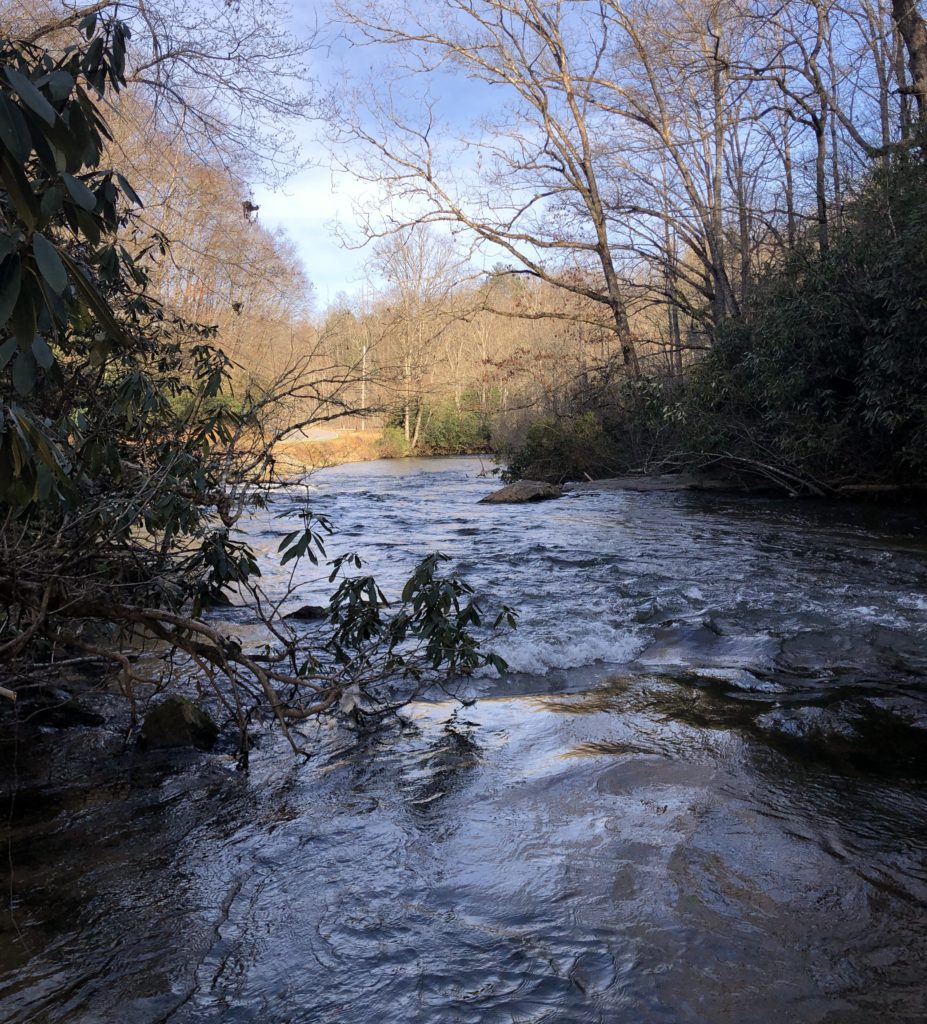 Andrew put in the right spot, pointed to where I needed to cast, and how I should watch the indicator. I'm very comfortable with a fly rod, but hadn't operated light tackle before. Well, all it took was one cast to get it, because I surprised myself and caught my first Rainbow on the second. While it wasn't a monster, I caught one and I was thrilled. I stayed in that spot for about 45 minutes, and ended up catching another really nice rainbow that ultimately gave me the 'bug'.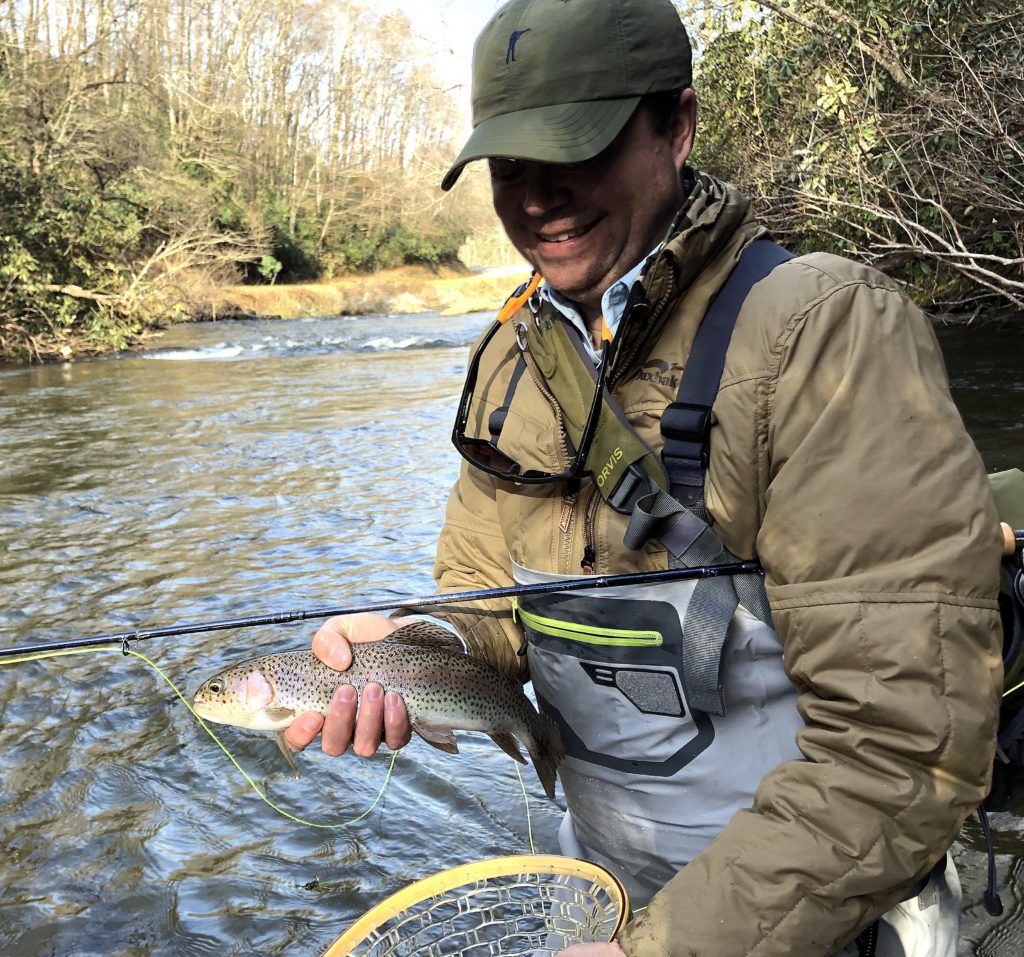 We moved around up and down the river all morning, looking for more rainbows, brookies, and browns. We had a really productive morning, finding a few honey holes that each produced a few fish. I learned a lot about fishing that day. Trout are very finicky fish. If the line and fly setup isn't just right, they wont be interested. I also learned patience, as I spent quite a bit of time fighting with my line. Wind knots and careless casting have quite an impact on a 6x tippet. I figure experience will help there, but I did get really good at tying knots. I also learned that trout are some of the most beautiful fish on earth. It's as if each are their own canvas- unique and stunning.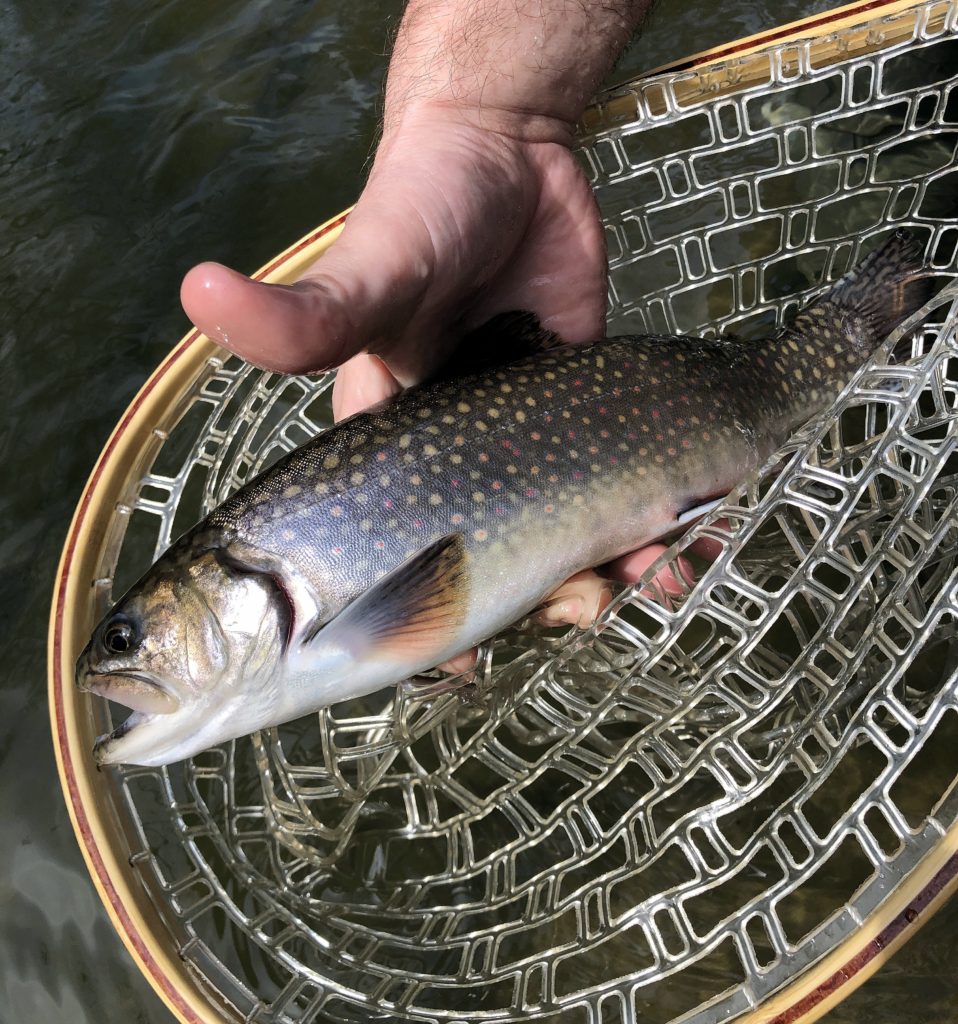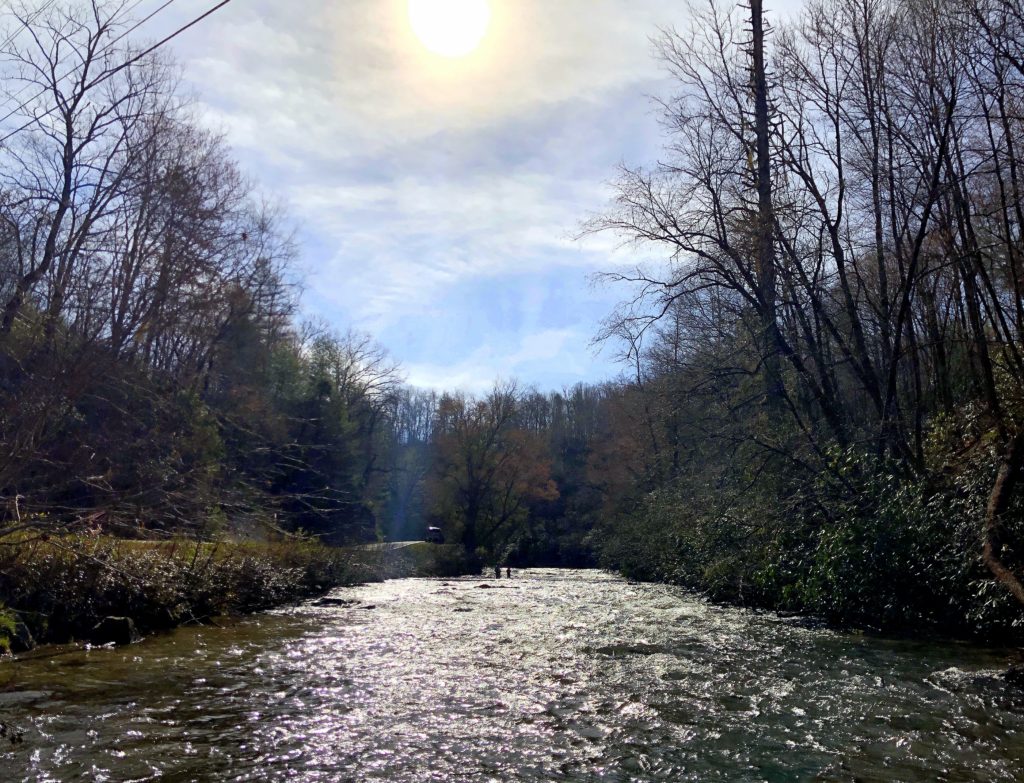 We enjoyed lunch with a couple Miller Lites around 11:30, and got back into the water as quickly as possible. The afternoon wasn't as productive, as there were several other fisherman making their way into the water, but it didn't matter. We decided to pack it in about 2:30 and head back south to Atlanta. We were tired, but all three of us had grins from ear to ear.
What a day. It's the best use of PTO I can remember…
**This was also posted over on The Sporting Gent's blog…go give those guys a look – they've got it going on.  See something you like?  Use code RCS15% for 15% off at checkout**