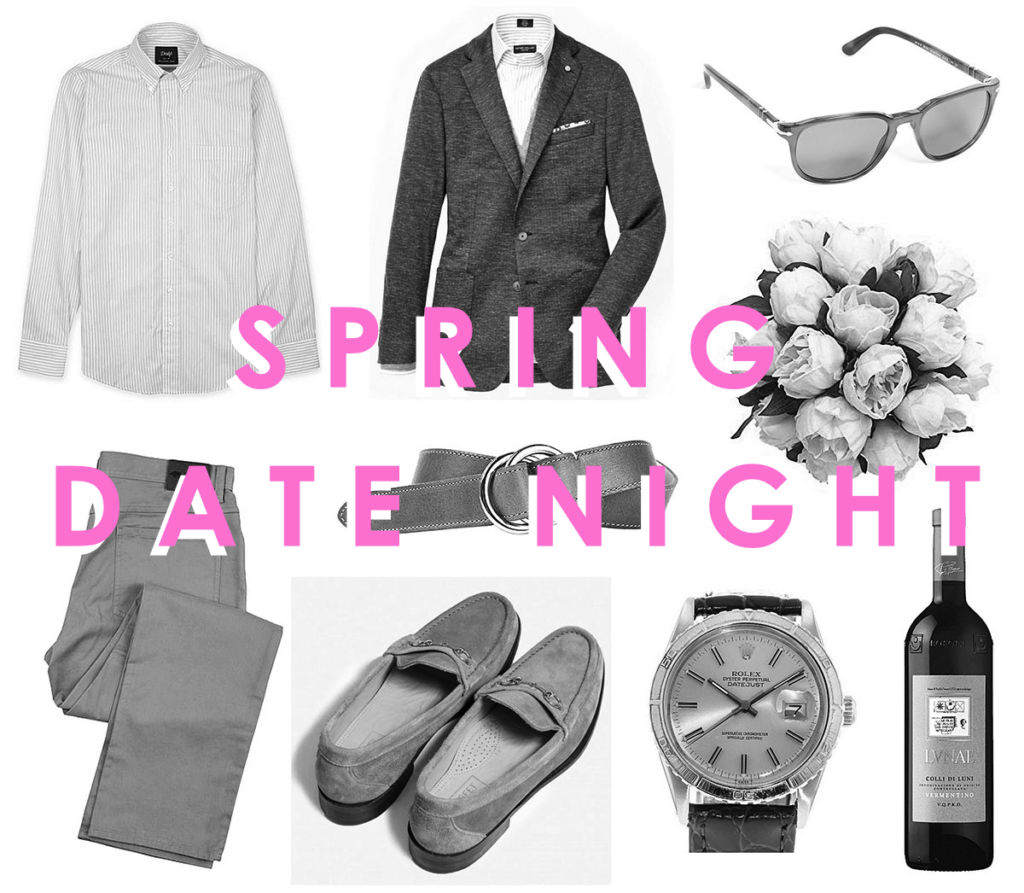 Winter came and went.  Finally.  And in true Georgia fashion, it's already hot outside.  Wardrobes are changing faster than the weather forecasts, so let's plan accordingly.  Got a hot date?  Before the humidity sets in and prevents any of us from spending longer than 15 minutes outside for fear of massive sweat rings, enjoy the warm evenings with your significant other.  There's a way to dress like a man and still be comfortable…she'll appreciate it.
Here's how I like to do it this time of year: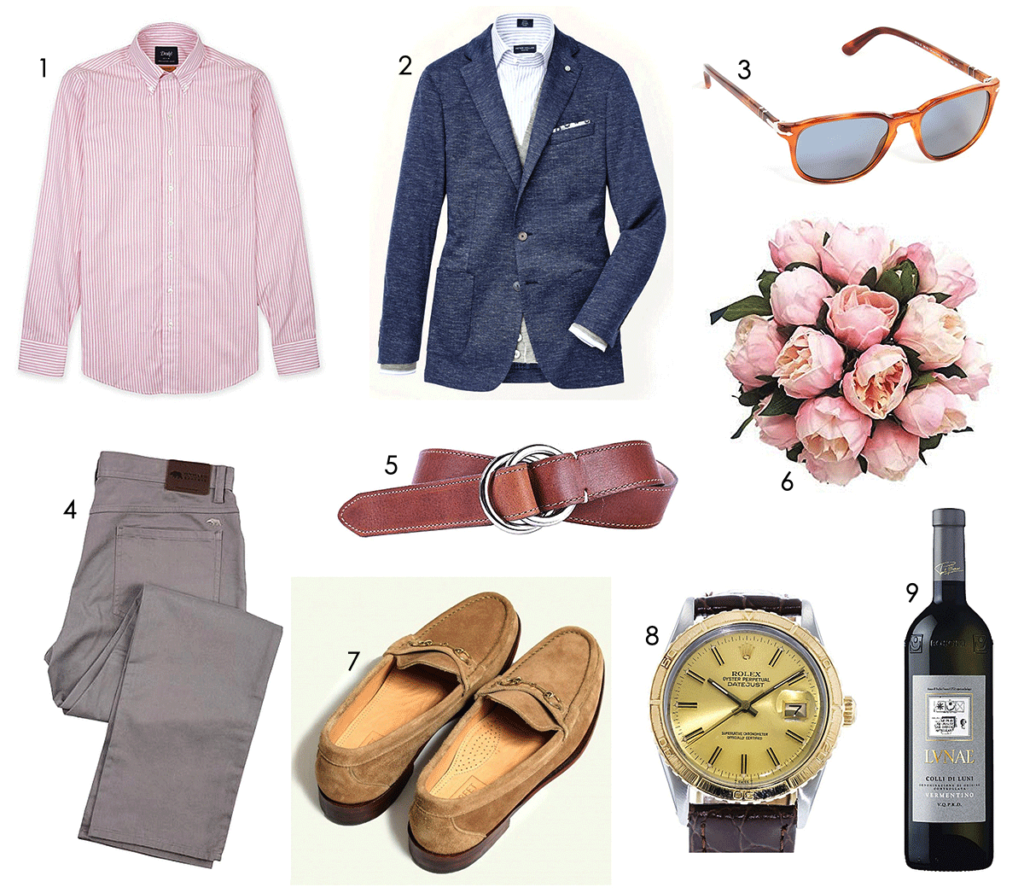 From top left:
1. Drake's Pink Bengal Stripe Button Down Shirt:  I wish bengal stripe shirts got more play. They are a bit bold, but that's what I like about them.  Pair them with some softer pants and jacket, and it shows that you know how to have a good time.
2. Peter Millar Two Oceans Jersey Soft Jacket:  Now, by "soft" I mean in fabric AND in structure.  An unstructured jacket is a great option, because it's not as stuffy as it's more formal cousins, but still dresses up your look nicely.  Stick with cotton or cotton/linen blends, and you'll be just fine.
3. Persol Terra Sunglasses:  It doesn't get dark until almost 9PM…get the goods.
4. Onward Reserve Five Pocket Pants:  Good 5-pockets are a great substitute for trousers and jeans, just give them quick ironing to get the wrinkles out.  And go grey!  There's nothing cooler than a pink shirt (#1) paired with medium grey pants…
5. Martin Dingman Christophe Belt:  A well-done d-ring belt is a fantastic dressy-casual option.  Mr. Dingman knows this, and makes these great 1″ wide belts that add some flare to your waist.
6. It's Spring.  Everything is in bloom…get the girl some flowers.
7. Oak Street Bootmakers Suede Bit Loafers:  Please, wear suede whenever you like.  You have my permission.
8. Rolex Datejust Turn-O-Graph Watch:  I love a nice watch on a slick leather band.  Very cool…
9. A nice Italian white wine.  Be original – avoid Rose…no one else will.  You can find a GREAT bottle for about twenty bucks, and they are surprisingly tasty.  She'll be impressed.  I like a 2017 Lunae Colli di Luni Vermentin.
What did I miss?  What are you digging this Spring?
P L E A S E    S U P P O R T    O U R    P A R T N E R S :