In the spirit of refinement, I accepted an invitation from a very close friend to join him for a quail hunt.  Full disclosure, this was my first quail hunt.  My excitement outweighed my anxiety exponentially.  I knew that an invitation like this was coming, so I had been studying up: reading as much as I could, watching YouTube videos, shooting clays, and talking to my friends who are experienced upland hunters.
We had a morning hunt scheduled at Piney Creek Plantation in Dawson, GA, about an hour south of Columbus.  It happened to be the Saturday morning after a big ice storm was scheduled to hit Atlanta.  The forecast for Saturday was cold, but dry, so Mrs. RCS and I agreed that I'd leave on Friday afternoon and get a hotel room below the freeze line in Columbus.  My friend was already in southeast Alabama, so the hunt was on.  I arrived in Columbus on Friday evening, stopped by Momma Goldberg's for a Momma's Love sandwich, and checked into the hotel.  I fell asleep watching the Rhode Island vs. Dayton basketball game.  5:30AM couldn't come soon enough.
The alarm rang, and I was packed, dressed, and on the road with an Egg McMuffin and a large coffee within 45 minutes.
I got to Dawson, and headed down a dirt road to the plantation.  How appropriate.
After an hour, the sunrise came, as did this sign for Piney Creek:
The approach is a long gravel drive to a very homey lodge.  The front porch was as welcoming as the staff.  They were all very happy to see us.
The inside of the lodge was is nicely and appropriately appointed.  Tons of taxidermy, and a rustic decor.  The lodge has three bedrooms for those that are making a weekend of it.  We were down for a half-day hunt, so they didn't apply to us.  I will say that the bedrooms were nice enough to bring down Mrs. RCS for a night.  Pardon the images, it was still early morning, so the light wasn't great:
Ready to jam: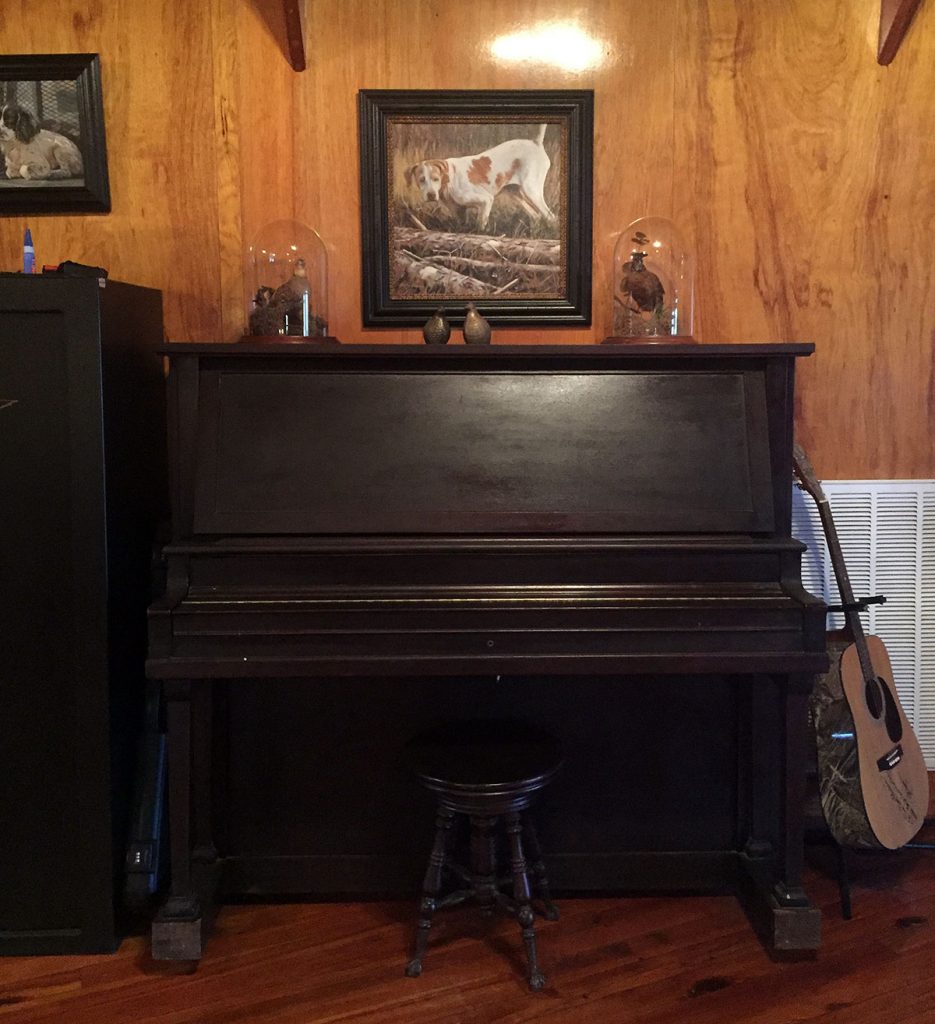 Yep, add this to my list of taxidermy.  You'll understand why in a bit.
I'm on the hunt for one of these prints:
The back dining room had a great view of the lake and the back property, and is where they keep the logo'ed goodies: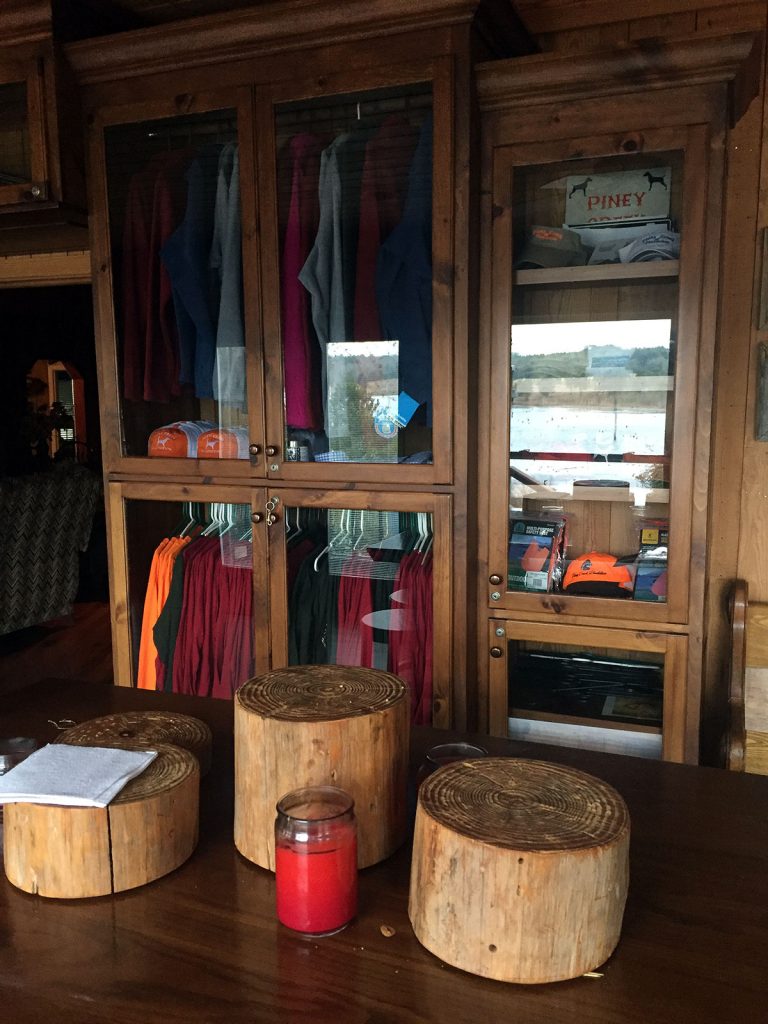 After getting the lay of the land, we were all set.  Guns and dogs were loaded up and we packed on as many layers of clothes as humanly possible.  The crow's nest of the truck was a bit chilly, but the view was outstanding.
On the dogs: Our truck was outfitted with six cages for GSPs under the crow's nest, and two Cockers (below).  Yeti (left) is an 8 year old, and Skeeter (standing), an 8 month old.  Yeti pretty much ran the show, and Skeeter did really well.  These two took the cake for 'best attitude'.
We had our foursome on the truck with one guide.  We hunted two at a time, with two plus the guide in the field, and two back at the truck.  Each session lasted about 20 minutes, which went a lot quicker than the mid-30s temperatures should have allowed.  It didn't feel like there was any downtime.  Bill, a Dawson native and our guide, was GREAT with the dogs, as well as keeping us on track.  He was really personable, and had some stories…
After the first pair finished up, it was our turn to go.  This was my first quail hunt, so I was a little anxious.  Being that I'm a goal-oriented person, I level-set with myself that a goose egg on this trip was OK, as long as I learned as much as I could for future trips.  Think about the first time you swung a driver on the tee box, or cast a fly into moving water.  It was that same feeling.  I usually score pretty well when shooting sporting clays, but this was the real deal.
We walked the first hundred yards, where the GSPs and Yeti flushed two coveys.  I got off three shots, and didn't hit a thing.  No surprise there, I was all nerves and had to get settled in.  The good news was that I didn't shoot a dog, my partner, the guide, or myself.  We reloaded and kept going.  Then it happened.  Jake, one of the GSPs, pointed about 20 yards directly ahead of me.  Yeti the cocker followed suit and flushed three quail that all jumped straight up and caught the wind.  I aimed, missed the first shot, but landed a direct hit with the second shot.
All of the prep I had done, all of the money I'd spent, the long drive down to Dawson, GA, and the near-freezing temperatures…all of that disappeared from my mind.  I had just shot my first quail!  I'll ask all of you that have been shooting birds since you could walk to bear with me.  The feeling was amazing.  It was like I had conquered something.  The fact that I hit a brown missile out of the sky with a 20 gauge shotgun is an accomplishment that I'll never forget, and I'm grinning ear to ear as I write this.  Yeti brought the quail to our guide, who walked it over to me:
He knew this was my first bird, and I think he was just as excited as I.  My friend came over and congratulated me as well.  It was a GREAT moment; a memory I'll never forget.  After I came back down to Earth, I knew that I had been bitten by the bird bug.
With my first bird coming less than 30 minutes into a half-day hunt, I began to feel comfortable with the process.  We saw some huge coveys rise, one being around fifty birds.  It was like nothing I'd ever seen.  I apologize for the low number of action shots, but we were moving at pretty good clip and my focus was elsewhere.  I did capture a couple good shots:
At the conclusion of the hunt, we all commented at how the time got away from us.  All in all, we tallied 48 birds.  I ended up shooting seven, and am ecstatic.  WAY more than I expected.  They rotate meat, so I was able to bring home a nice little stash for Mrs. RCS.  She's looking for recipes now.
Piney Creek served an outstanding meat and three lunch, where our foursome and the owner of the plantation shared stories, a few cups of hot coffee, and fellowship.  The pecan pie was the perfect icing on the experience.  After eating, we all got a couple t-shirts and hats, and settled up.
I can't say enough nice things about the Piney Creek staff.  They made my first hunt an excellent experience, and I know I'll be back – probably this season.  The price seemed VERY fair for all the birds we saw.  I can't thank them enough for making  my first experience a great and memorable one, and I can't thank my buddy enough for the invitation on the first of what will be many more hunting trips.
Do you still remember your first bird?