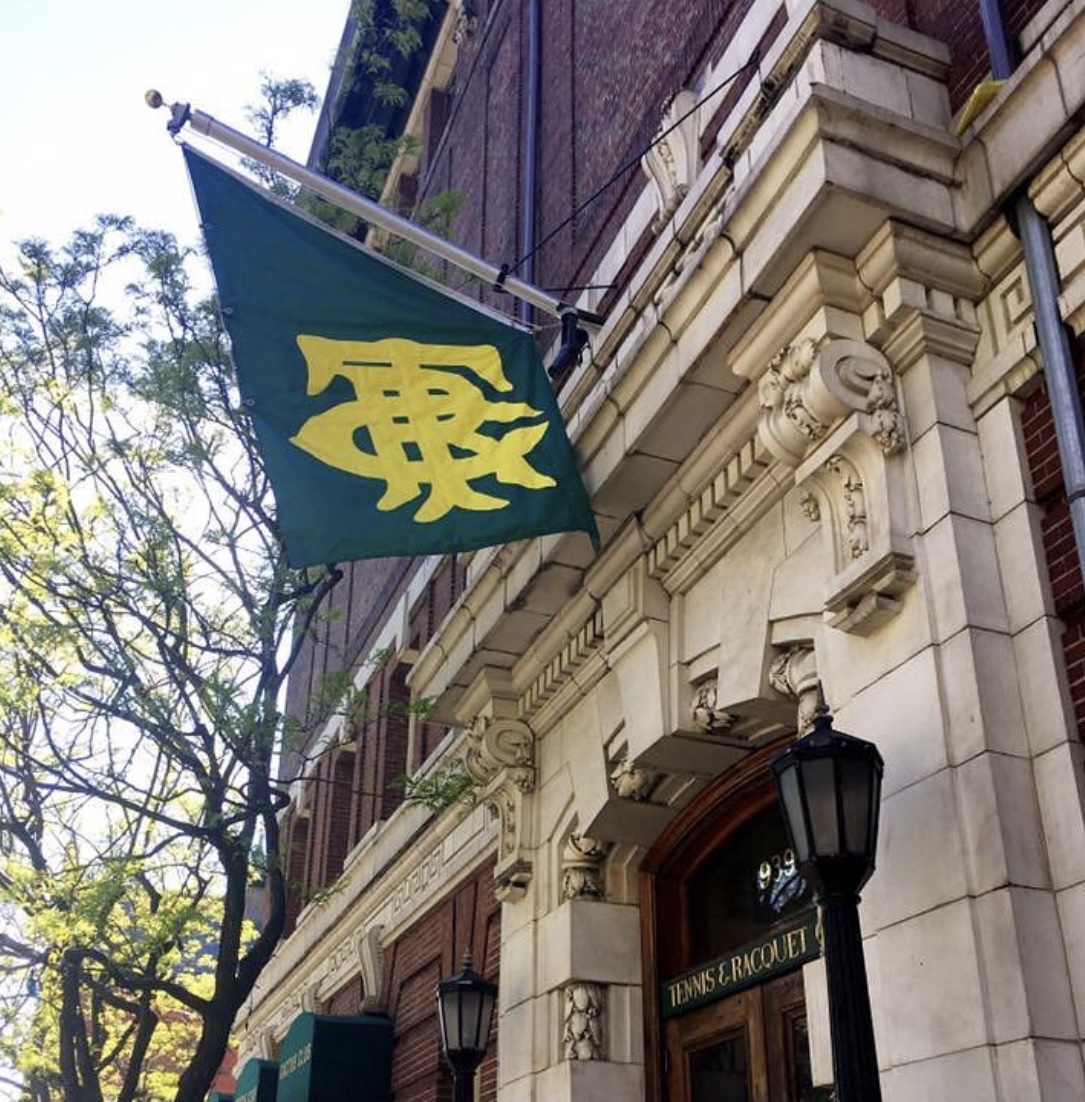 When I was a kid our garage was where Dad smoked cigarettes, hung out with the neighborhood men, and tinkered around. There was no drywall – just exposed beams with shelves full of wooden-handled tools, mason jars filled with nuts and screws, and fishing reels in various stages of repair. It smelled of oil, tobacco, and dried leaves. In one corner was a bag of old golf clubs, a metal tire pump, and Dad's tennis rackets in wooden guards from his playing days. He didn't care if we borrowed his clubs as he wasn't a big golfer, but his rackets were off limits.
I grew up hearing stories from my Mother about my Dad's dominance on the tennis court. They played doubles against other couples, but it was usually tales of his supreme athleticism and perfectly tanned legs. As a boy, I didn't understand what his tan had to with winning, but man alive was she impressed.
It was inevitable that my brother and I would grow up playing tennis. Living in Atlanta where every neighborhood came with a pool, tennis Moms, and several courts, had its perks. On more than one occasion the neighborhood yuppies kicked us off the lighted courts – only to find Dad tearing them a new ass for messing with his son's court time. We knew good and damn well not to challenge him. I'm inclined to call him a benevolent dictator, but he just wasn't all that benevolent. He was a Vietnam Vet who could pack a punch. And unfortunately for these thirty-something yuppies, they were from another generation (i.e. they hadn't fought in a war) and thus, were useless as far as he was concerned. Jeff and I got a kick out of these "men" being forced to give us our court back and apologizing before packing their shit and going home.
When I got to the University of Georgia I was introduced to racquetball. I fell in love with the speed and three-dimensional aspect of the game. I played three or four times a week at the Ramsey Center and wouldn't miss it for anything (including academics). My partner was a jock who grew up playing at his father's club in Florida. It took me 277 games until I beat him. 277! I loved every minute of it.
After college it was back to tennis, which I'll refer to as lawn tennis from here on out, at the Atlanta Athletic Club for Men's Night. I loved watching the club champs go after one another like their lives depended on it. I pictured Dad as a young man with the same vigor. We'd play for hours on end – sweating out the Heineken's as quickly as we put them in. When the competition was over we smoked cigars courtside.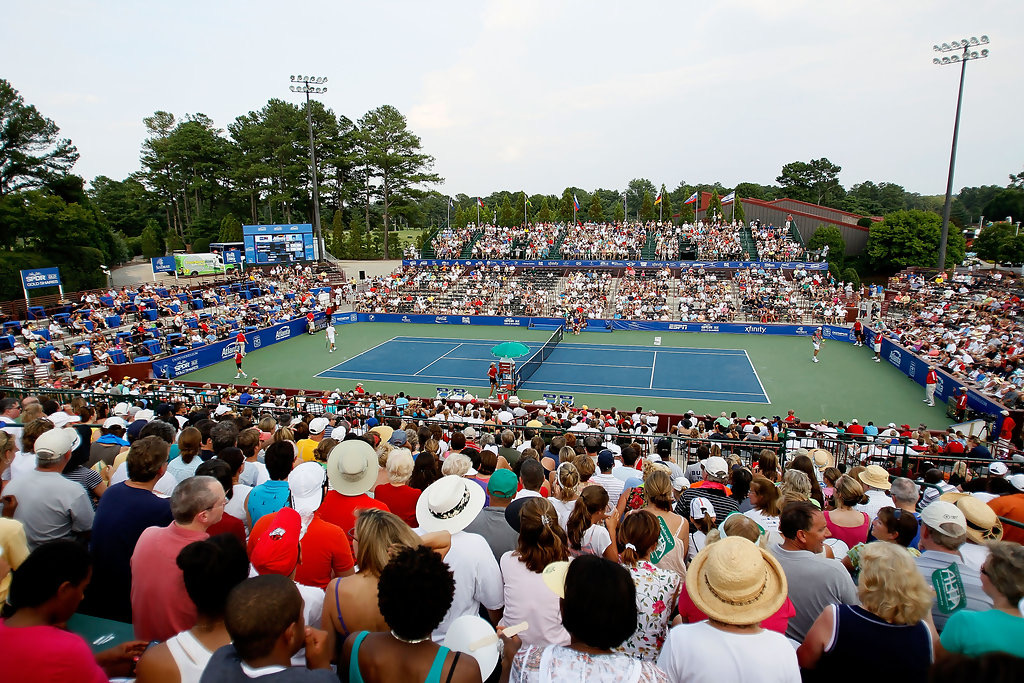 The Atlanta Open – Atlanta Athletic Club
I did this for years until a gentleman named Sexy Ted introduced me to squash. Ted was, and still is, a machine on the squash court. But above that, he's a gracious and patient teacher. As they say, "When the student is ready the teacher will appear." Mine came in the form of a fellow cigar smoker with a burly beard and a penchant for abstract art. Our first conversation was on Rothko (a man after my own heart).
Squash quickly took over my life. Similar to golf, squash has an addictive element to it. I found myself watching online matches in lieu of sleeping and scouring libraries for literature. I've since acquired a small library on racquet sports. Seven years later I still plan my weeks around my games. Mondays at 6:00am and Wednesdays at 11:15am are off-limits. Not to mention a post-game steam, shower, and newspaper.
I love when my heart begs for mercy at 160 beats per minute…when my lungs switch back and forth between an inflated bagpipe and a deflated balloon…when my brain and body are working in perfect harmony…when flow state hits and you're dancing with yourself…when you couldn't possibly live more in the moment.
I have an insatiable appetite when it comes to hobbies. This way of living usually gets me in trouble, but I don't have any desire to govern it. As Mr. Gekko famously said to the shareholders of Teldar, "Greed — for lack of a better word — is good. Greed is right. Greed clarifies, cuts through, and captures the essence of the evolutionary spirit."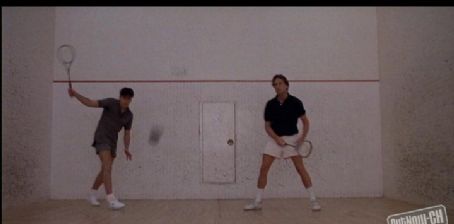 Gekko schooling Bud Fox on the squash court
Yeah, it's a bit much. We're no longer in the eighties, greed is a four-letter word, and Gordon slugged out eight years in Otisville without his Flusser suits on account of cupidity. But, Gordo wasn't exactly wrong. The desire for more isn't inherently evil – at least I don't think so. Either way, it's what caused me to look for something new.
As luck would have it, I was having lunch with a guy who told me about a sport he played with his father at the Detroit Racquet Club called Racquets. He spoke of a massive dark court, old fashion wooden racquets with long necks, and a ball as hard as a Titleist that traveled at speeds of 170 mph. I was mesmerized. I HAD TO PLAY! And so began the pilgrimage. One that would take me to New York, Newport, and Boston.
But first, let's discuss this sport. Racquets is not on anyone's radar – unless of course you're a racquets junkie and live in one of six cities in the U.S. that has a court (New York, Boston, Chicago, Philadelphia, Detroit, and Tuxedo Park). Furthermore, these courts reside inside private clubs…some of which are akin to joining the likes of Augusta National (Chicago and New York are not taking applications).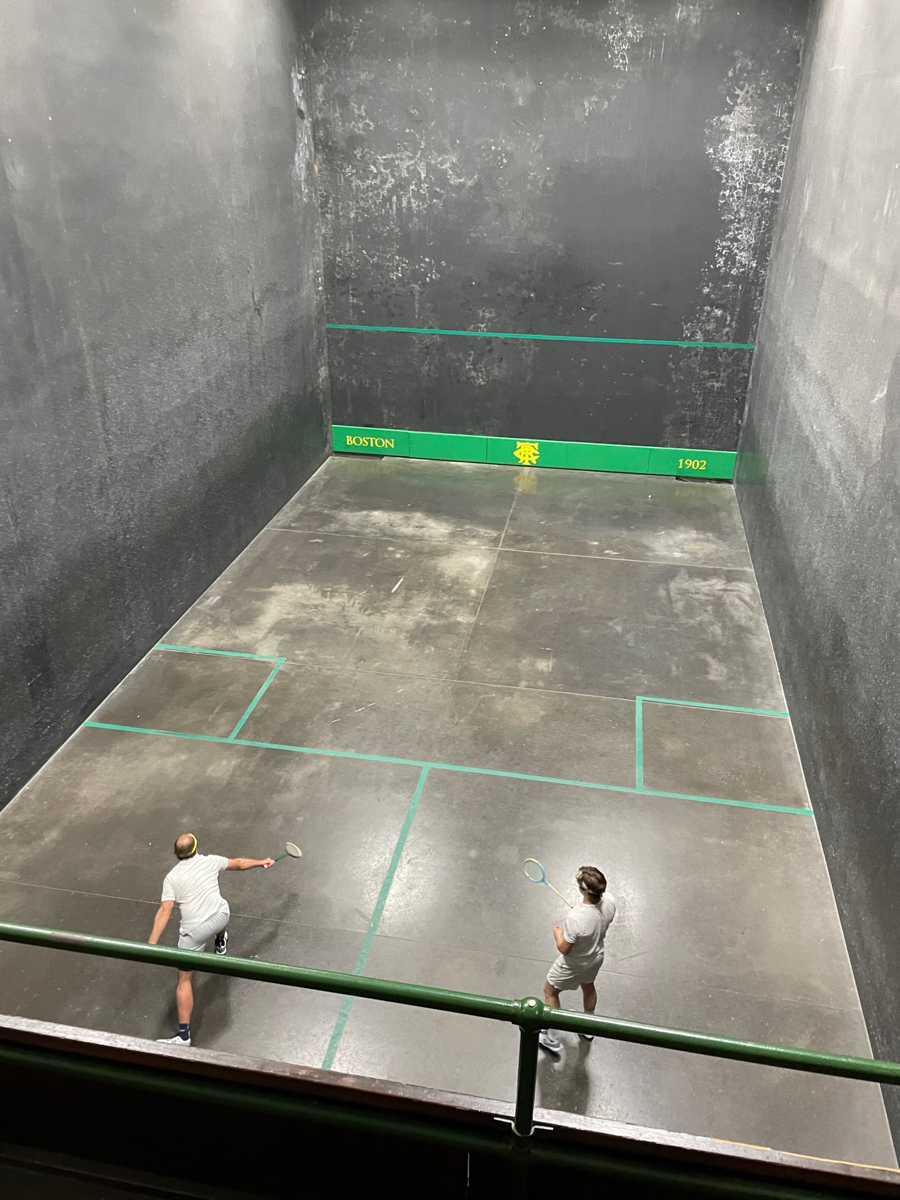 Racquets Court, T&R Club – Boston
Racquets is dangerous and the most difficult sport I have ever seen. It was invented in British prisons in the 1700's and eventually spread to private clubs in the U.K. and U.S. It's also a precursor to lawn tennis and squash. Maybe even cooler, it was played in the 1908 Summer Olympics in London – along with Polo, Tug of War, and Jeu de paume. I had a blast at the 96' games in Atlanta, but Tug of War at the Olympics! Maybe Juan Antonio Samaranch would've given us "Best Ever" instead of "Most Exceptional" had we included Tug of War. Either way, he can still go to hell and Billy Payne will always be a hero of mine.
The court is 30 feet wide, 60 feet long, and ceilings are at least 30 feet tall. Twenty feet up in the back of the court are hundred-year-old wooden bleachers covered in dents. For comparisons sake, a singles squash court is 21 x 32 x 15. The ball is the size of a golf ball, at least as hard, and moves at dizzying speeds. If it hits your eye it will proceed to park itself inside your skull. The walls are dark, made of stone, and the courts aren't heated in the winter or air-conditioned in the summer. Only the server can score a point and games are played to 15. Outside of a good polo match, nothing beats two jocks going at it in racquets. You have to see it to believe it.
Shortly thereafter I discovered another racquet sport called Court Tennis, or Jeu de paume, for our French readers. I was at a Christmas party at the Racquet & Tennis Club in New York where I befriended an older gentleman. We found ourselves sitting fireside in the library chatting about squash. We got along famously and ended up enjoying steaks and bourbon at the Harvard Club – one of those quintessential New York nights. Somewhere between 52nd and 44th he told me about Court Tennis. I was intrigued, but getting a game at the R&T is like walking up to Shinnecock expecting a tee time.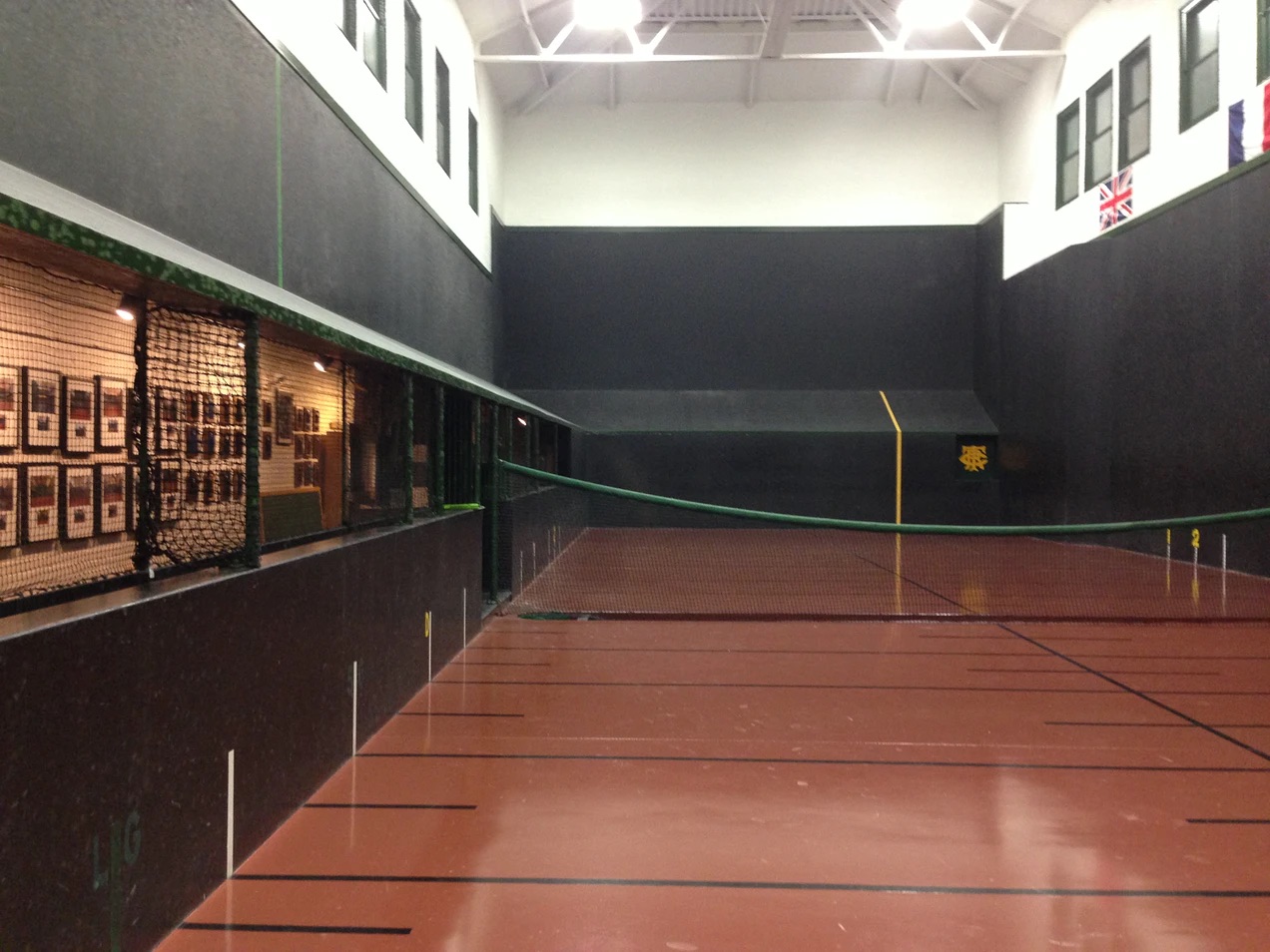 Court Tennis Court, T&R Club – Boston
Court Tennis originated in the 1300's in France. Henry VIII had his first court built in 1530 and would build them in several of his palaces. The story goes he was playing a game while his second wife was being executed. As you can see, the Sport of Kings, as it's known, arrived centuries before the English took to polo in 1862. Fast forward to 1876 when the first court was built in the U.S. in Boston. Soon after other U.S. cities had courts, but again, all were within the confines of private clubs like the Tennis & Racquet Club in Boston, Racquet & Tennis Club in New York, and the Racquet Club of Chicago. There are a few old courts on Harvard's campus, but they've been repurposed into storage facilities (such a shame). To make sure we're on the same page, lawn tennis is not played in any of these clubs. Court Tennis is played exclusively.
Imagine lawn tennis, but being able to play off walls on all four sides with weird angles to boot. Balls are handmade by club pros, meaning no two are exactly the same, and have changed little since the 15th century. Racquets are hand made in England out of hickory, have an asymmetrical shape, and are heavy. Similar to lawn tennis, scoring starts at love and proceeds to forty, but there are TONS of complex differences that would take a week long workshop to teach. Whereas Racquets is fast and dangerous, court tennis is enjoyed leisurely. Bottom line – it's the most fun sport I have ever played.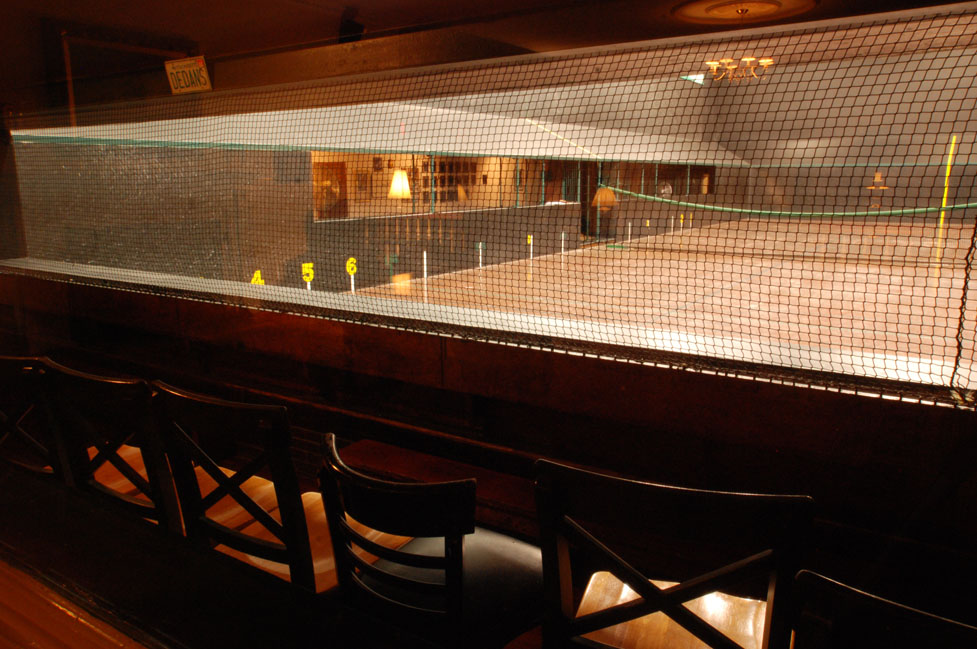 Court Tennis Gallery, T&R Club – Boston
I spent last summer working in Boston. In my free time it was Red Sox games, museums, golfing on the Cape, and swimming in Fishers Island Sound. I fell head over heels in love with New England. The first thing I did when I got to Boston was contact the Tennis & Racquet Club to see if I could arrange a private court tennis lesson. Can't hurt to ask, right? And maybe, if I was lucky, a racquets lesson too. Long story short I joined the club and lived there all summer. I played as much court tennis and racquets as I could. And when those courts were booked I played squash or hardball. Being a genuine racquets club, sometimes all the courts were in use at the same time, so off to the bar I went to roll dice, shoot pool, or play backgammon.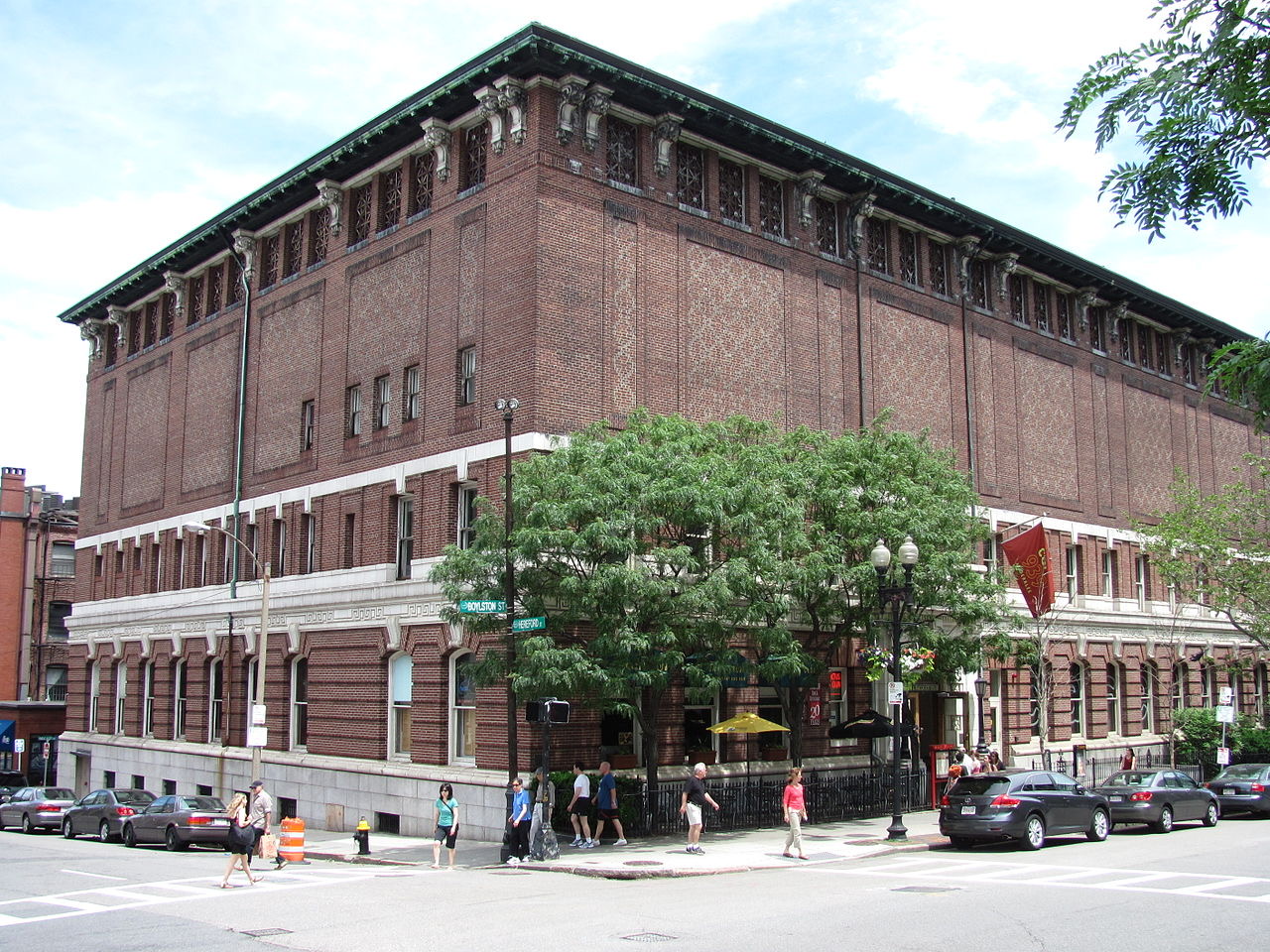 Tennis & Racquet Club – Boston
The Parker & Thomas designed clubhouse, which spans several floors between Newbury and Boylston Street in Back Bay, moonlights as a member's museum with over a centuries worth of artifacts and photographs lining its many walls. Old trophies, antiquated equipment, and a few original bottles of T&R Club Whiskey sit behind glass cases. Like most historic clubs, you get the feeling that little has ever moved. It took me a few weeks to be able to navigate through the club with efficiency. Secret passageways, concealed doors, and ancient ladders lead to hidden courts; some of which have Handball painted on the door (which hasn't been played at the club since WWII).
Out of respect for the privacy of the club, I won't go into detail, but suffice to say the locker room and downstairs bar are two of my favorite places in New England. It says a lot about a club whose bar works on the honor system with chits. The upstairs bar, where I took afternoon naps, has a wood-burning fireplace, oil paintings, and a formal viewing platform for court tennis – my kind of place.
Similar to the Cal Club in San Francisco, the members are welcoming and friendly. I ended up making a lot of good friends who I've since stayed in touch with – from a stylish MIT Professor who inconspicuously buzzed around town in a Bentley, to a Boston Pops musician who sang the national anthem at a Red Sox game, to a South Georgia boy who dated a communist at Dartmouth. But, as the saying goes, all good things must come to an end – as did my summer in Boston.
I moved back to Atlanta and to no one's surprise, I haven't played racquets or court tennis since. Even though all racquet courts are north of the Mason-Dixon line, there are two court tennis courts south of it in D.C. and Aiken, South Carolina. In fact, the former world champion and club pro at the T&R in Boston, Camden Riviere, grew up playing at the Aiken Tennis Club. The venerable Whitney family wintered in Aiken and also brought polo, golf, and squash to that beautiful town.
These days Dad is too old for tennis, but he still talks about playing me every once in a while. We watch Wimbledon and the U.S. Open together, but that's about it. His first love is trout fishing in Rabun County in northeast Georgia. His garage today is full of fishing poles, tools he'll probably never use again, and tackle boxes. In his mid-seventies he can still navigate a stream, albeit carefully, while Mother reads in a lawn chair with her feet in the river. They've been doing this for almost fifty years. Their tennis days are long gone, but thankfully they still have the outdoors.
Dad bought my son his first tennis racket when he was five years old. I tried to teach him the basics, but it was a lost cause at that age. Andrew is ten years old now, becoming a good golfer, and recently received his first squash racquet. I look forward to taking him and Dad to the T&R next summer to introduce them to racquets and court tennis. It'll be nice to have three generations of Evans' on the court…if only to watch a few jocks go at it.
Contributor Bradley A. Evans is a good buddy, a UGA grad, and an idea guy.  He is the former Condo Board President of Del Boca Vista – Phase III.  We're lucky to have his thoughts here at RCS…more to come.