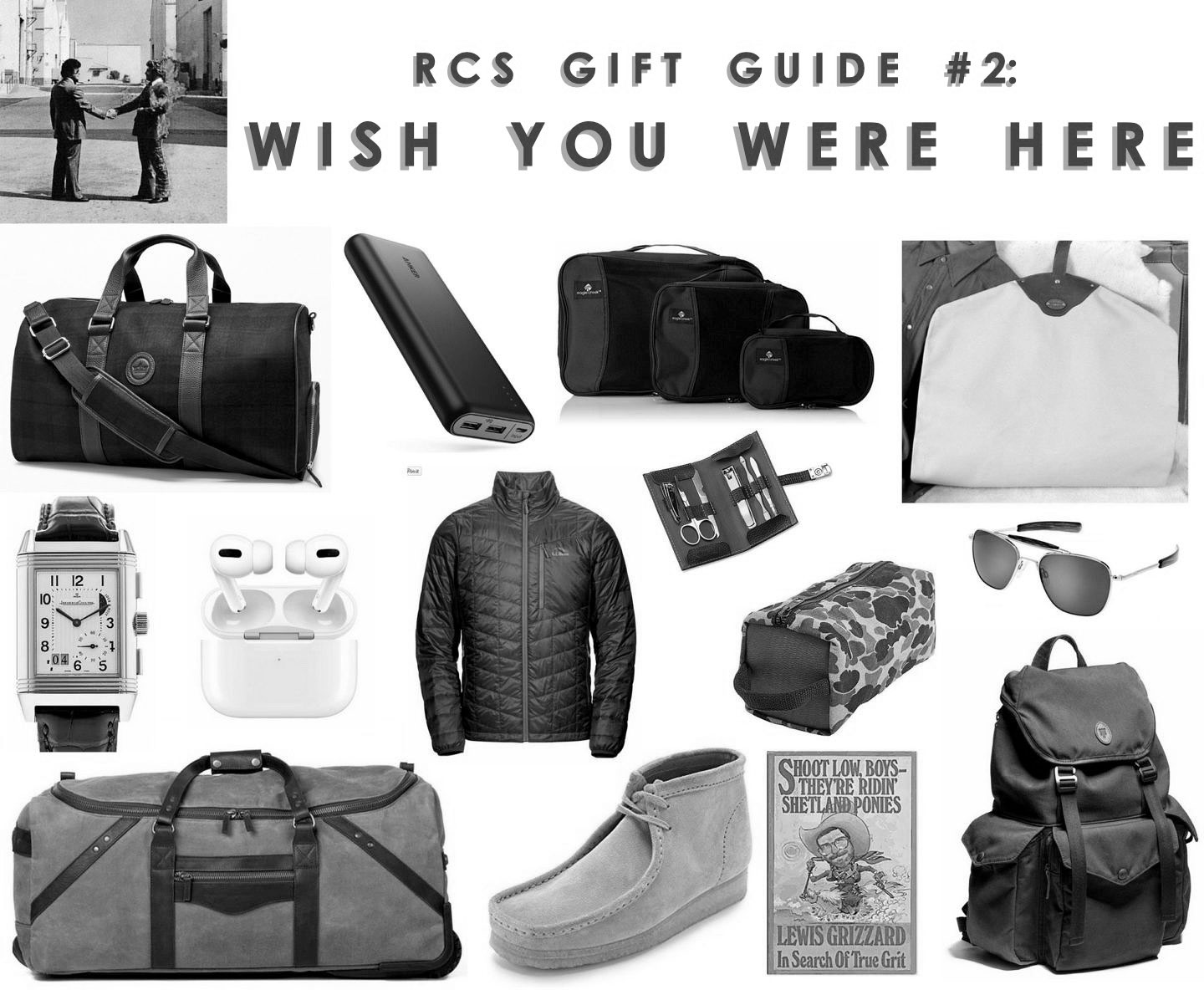 Moving right along with the 2019 RCS Gift Guides…this one is for the movers: gifts for the traveler.  Are you buying for a Million Miler?  For a guy that is ALWAYS upgraded?  Or the guy who likes to head out of town every weekend to stretch his legs?  This is the guide for you.  We've curated a great collection of gift ideas at a wide range of price points that should satisfy every traveler.
So consider yourself boarded: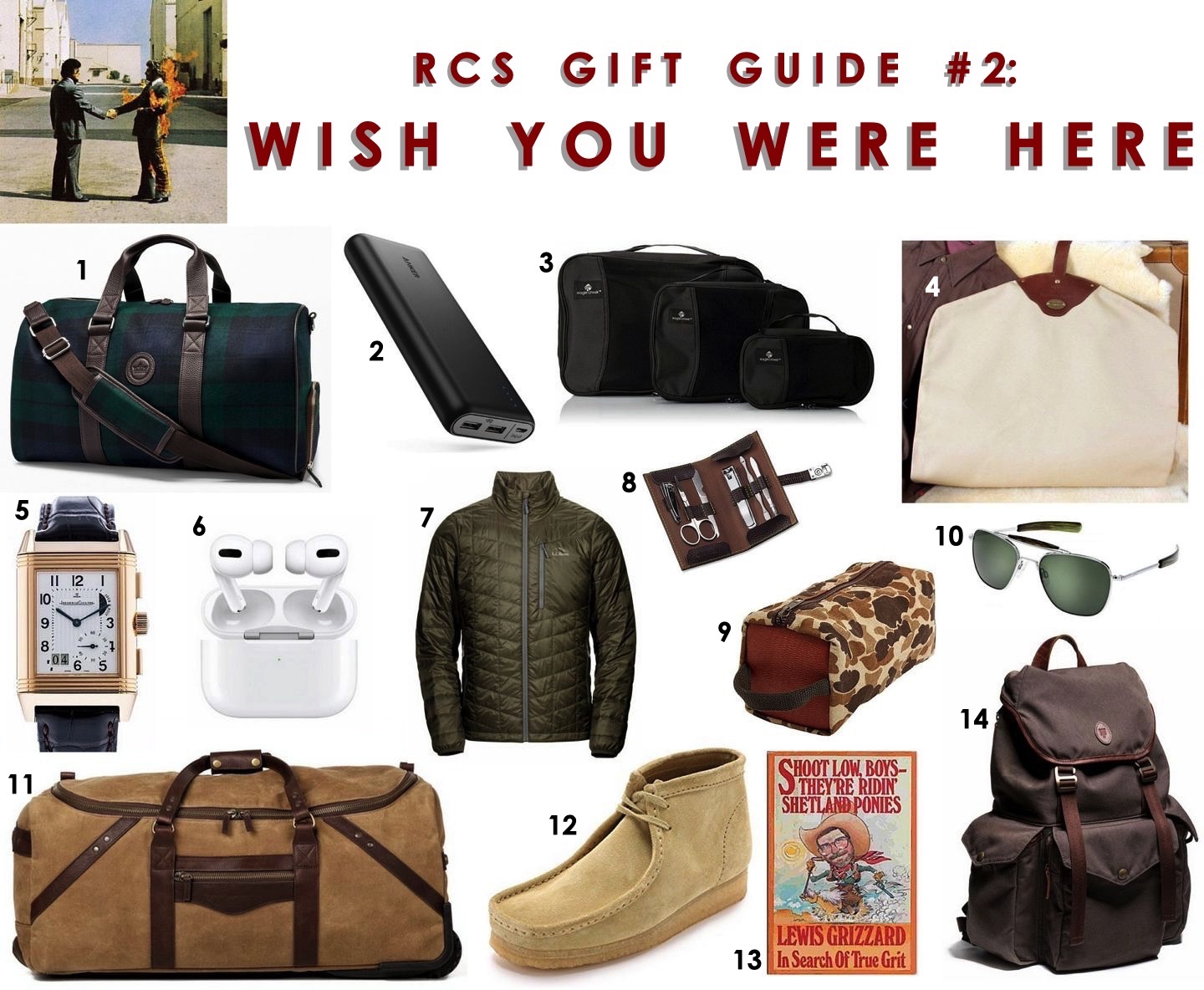 From Top Left:
1. Peter Millar Mountainside Wool Duffle:  There are a lot of duffles, and then there are wool duffles.  They have become a little harder to find, but are almost a must-have.  Jack Spade used to make some GREAT wool options, but…  Peter Millar has picked up the torch with this bad boy.
2. Ankur Portable Charger:  Arguably the most important thing besides your toothbrush.  These hold enough power to fly the plane, so a few iPhone charges are a walk in the park.
3. Eagle Creek Packing Cubes:  I like things organized, and I like clean workspaces.  These cubes are fantastic for traveling – they keep all your stuff organized, both for the trip out, and the trip back (dirty laundry).  They are extremely well priced, and can be washed.
4. Colonel Littleton No. 7 Garment Bag:  There is so much talk about bags, duffles, rollers, etc, but the suit covers seem to get the short end.  Well, we're a huge fan here at the fort, and can't recommend them high enough.  The Colonel Littleton option is really thoughtful (big surprise…), and has the handsome look an updated, vintage piece.
5. Jaeger LeCoultre Reverso Grand GMT Duo:  Travel a lot?  Well, this is what the GMTs are for.  And the Jaeger Reverso has you covered, no matter where you go.
6. Apple Airpods Pro:  I'm usually a 'wait a couple months then buy' when it comes to Apple products.  These Airpod Pros have finished their pledge period, and are ready for prime time.  My only ask: please be self aware when wearing these…remember that when you are in public, you are in PUBLIC.
7. LL Bean Packable Jacket:  Sure, it's a great layer, but it's a great airport have, as it doubles as a pillow or a makeshift blanket.  There isn't much worse than an overnight delayed flight.
8. Orvis Travel Grooming Kit:  No brainer.  Own and throw it in your dopp kit.  It's the times you wish you had it that make you realize you need it.
9. Ball and Buck Dopp Kit:  A great dopp kit for a single traveler.  Not too big, not too small.  Enough room for all the essentials plus a place to hide your extra watch or incidentals.
10. Randolph Engineering Aviator II Sunglasses:  Great looking shades while on the road.  These are the 'go with everything' option.
11. White Wing Waxed Cotton Large Rolling Duffle:  When you absolutely have to check the bag, get a good one.  The White Wing Large option is a great size for your better half AND your goods a long weekend trip to the beach, or a great option for carrying all your layers on a hunting trip.  It's tough, and the waxed canvas will only get better with age.
12. Clarks Wallabees:  Bourdain loved the Desert Boots, which I get, but I'm a Wallabees guy.  Really comfortable traveling shoes, and they go with almost anything.
13. Paperback Books:  I can't do e-readers.  I feel like staff on the USS Enterprise.  I like the feel of paperback books, and when I'm finished, I like to sign and date them, and leave them for the next reader.
14. Tom Beckbe Rucksack:  You know why backpacks haven't gotten much press in the last few years?  Because they aren't making them like this.  A great option for overnight trips, more room then you think, and paired with a briefcase, you are set for a couple nights.  Oh, and it's good in the field.
What did I miss?  Any other travel gifts that should be included?