Up next: the Randall "Pink" Floyd of gift guides.  Some of the coolest gift ideas for cool guys.  The "put some ice on it.  After that, there's nothing a few beers won't take care of" guys.
Think of these as gifts for the guy who has everything, and is looking to upgrade, or add something that incrementally upgrades what's currently in his closet.
Whether it's for a dad, a bro, or a good dude, these ideas are sure to garner some serious store credit.  Here we go: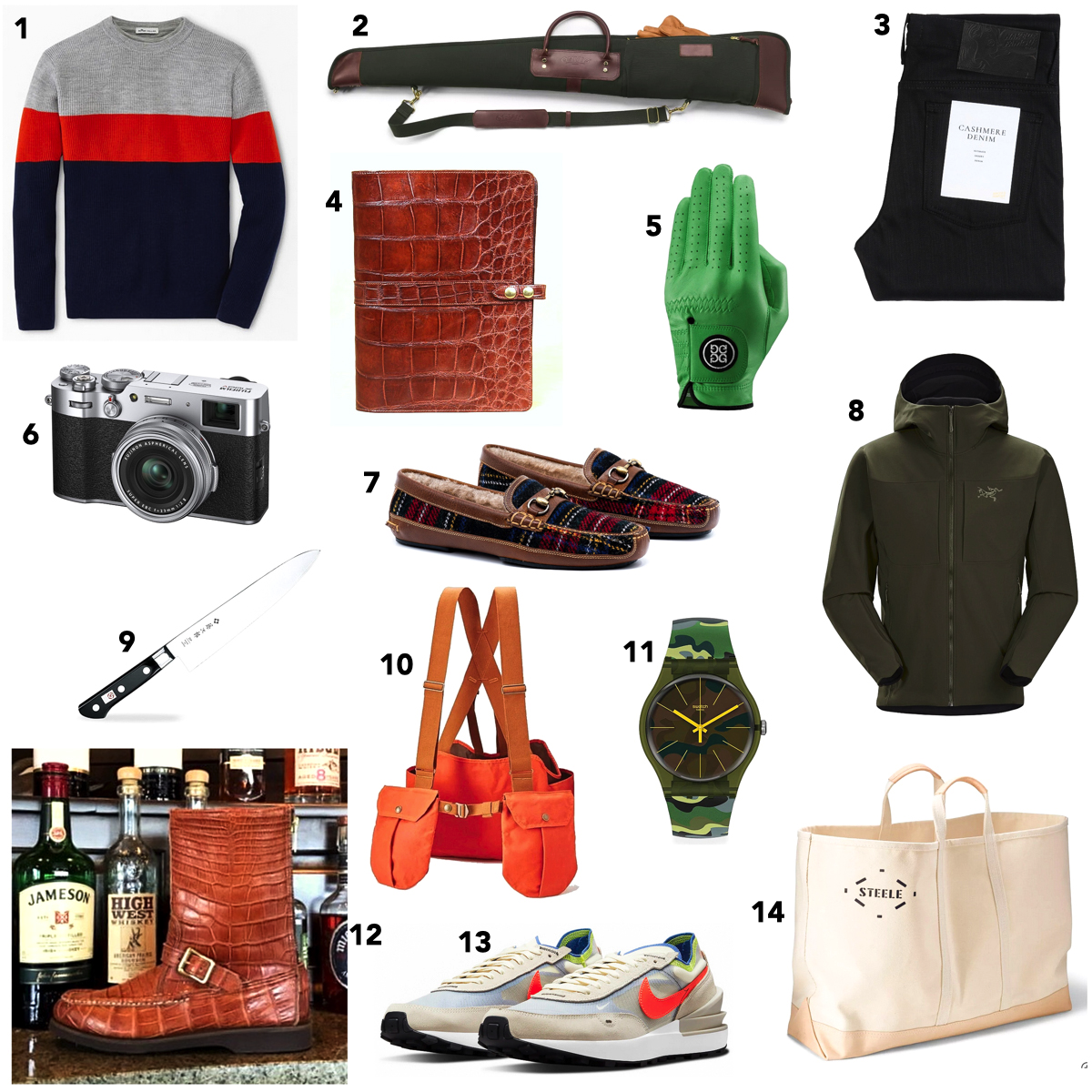 From top left:
1. Peter Millar Apres Ski Crew Sweater:  A cool sweater that has a somewhat elevated vintage feel.  Probably doesn't have anything in his closet like this.
2. Orvis Battenkill Single Shotgun Case:  There are a ton of good options out there, but don't forget the original.  The Orvis Battenkill line has been around for a million years for a reason.
3. Naked & Famous Black Cashmere Denim:  I rarely wear (or recommend) black, but I recently saw these and haven't stopped thinking about them.  The cashmere fabric makes these super soft.  Pair with an OCBD and black bit loafers, and you are good to go.
4. Colonel Littleton No. 18 American Alligator Portfolio:  Upping the game on the best portfolio on the market.
5. G/Fore Golf Glove:  White gloves are cool but not as cool as an emerald green glove.
6. Fujifilm X100V:  A great camera to tote on a hunt, on the boat, the beach, or watching your kids play sports.  For those wider shots.
7. Martin Dingman Harris Tweed Horse Bit Slippers:  You had me at Harris Tweed + Bits.
8. Arcteryx Gamma MX Hoodie:  I'm big on Arcteryx.  I have a few pieces, and they all work better than advertised.  Now is a good time to up the outerwear game.
9. Torjiro DP Gyotou 8.2″ Kitchen Knife:  The highest-ranked kitchen knife on the market – and it's under $100.
10. Tom Beckbe Orange Strap Vest:  The orange waxed material is cooler than a cucumber.  The deep pockets are really handy for those long walks in the quail field or walking the farm for pheasants.
11. Swatch Camouforest Watch:  A super cool weekend beater.
12. Russell Moccasin Full Gator Zephyr Boots:  The best of the best.  These are the Top Gun of boots.
13. Nike Waffle Ones:  Much cooler than any other casual sneakers out there.
14. Steele Canvas Utility Tote:  There's something about a huge tote.  This one is enormous…it could carry your golden retriever comfortably.  It's tough, too – clean it with a pressure washer.