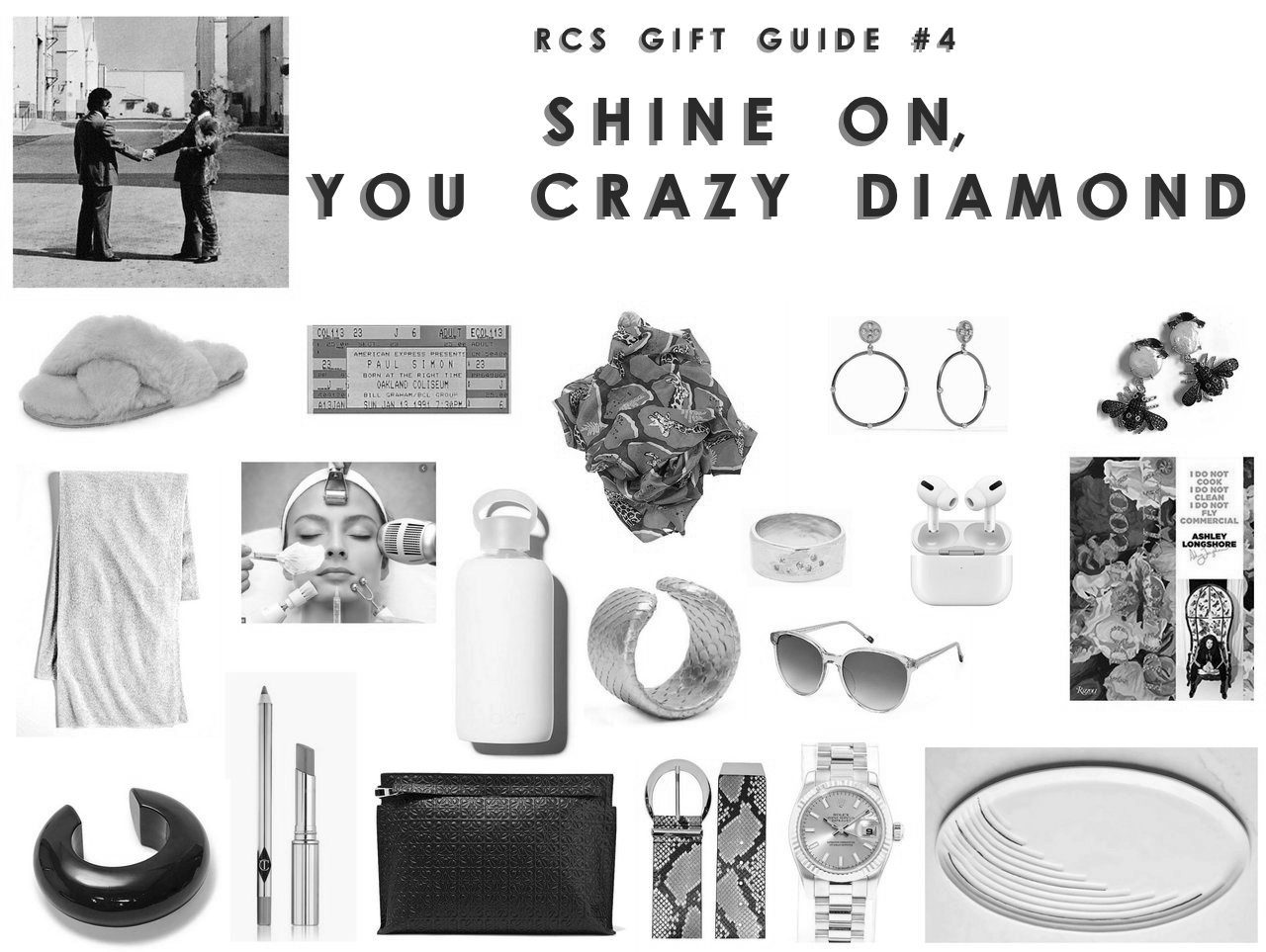 Hey guys, here is a run down of gift ideas for the ladies in your life- your wife, girlfriend, mom. Many of these items I have and love, and many of my friends have loved receiving them. As you click through links below, consider each an easy starting point, and pick a color, texture, style that reminds you of her. Of course, if she has dropped a hint or two about something that's already caught her eye, then buy that thing!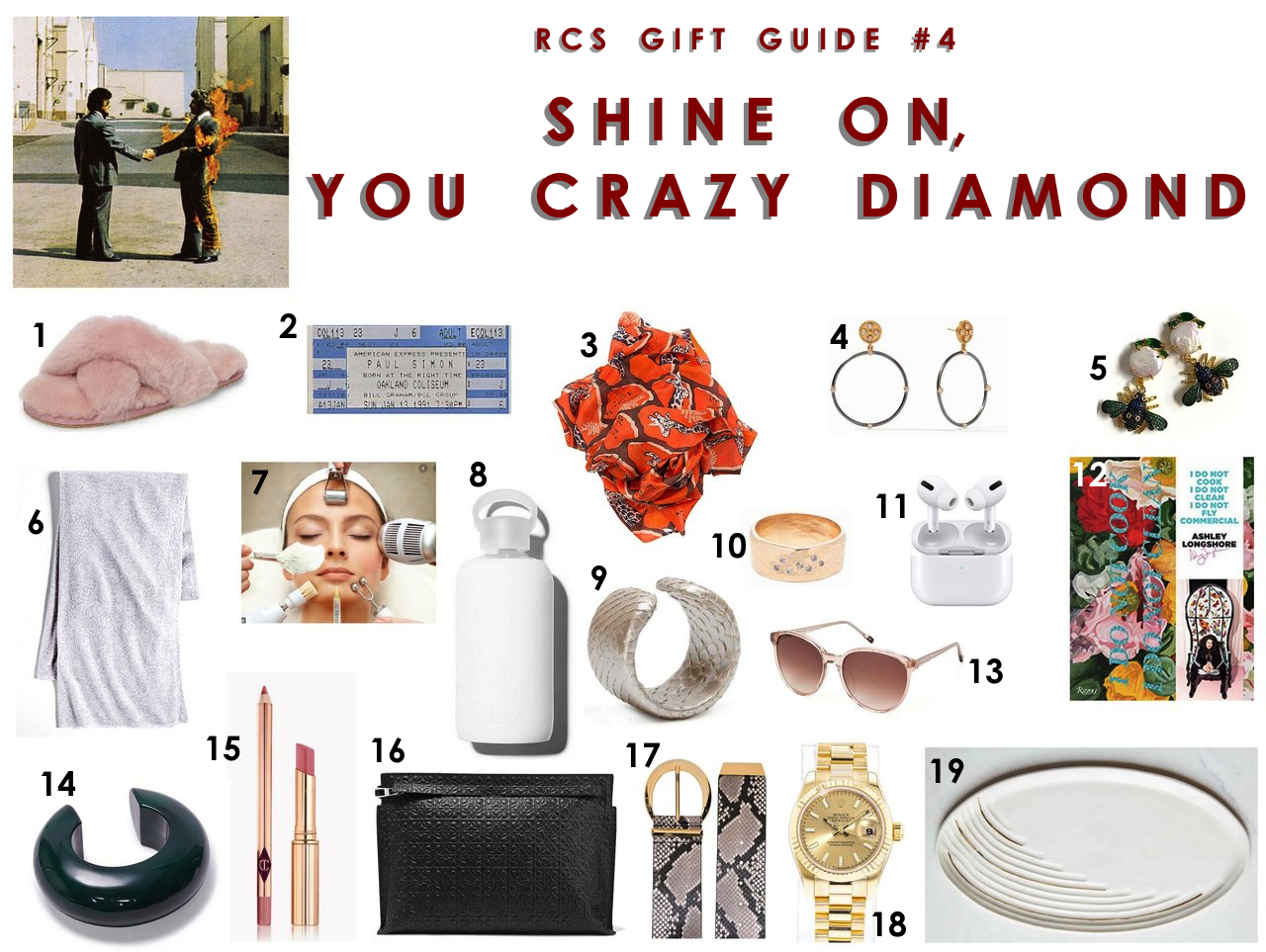 From top left:
1 Mt. Hood Sherling Slippers: I need a new pair of slippers each year, because #dogs. These are on my list for this year and are fun enough to make a great gift.
2. Concert Tickets: These are not tickets to a band that you love, but to see someone that she loves. Memories last longer than anything!
3. Ann Mashburn Ahmaddy Silk Print Scarf: Ann Mashburn and her team of elves are the queens of perfect accessories.
4. Julie Vos Paris Statement Earrings: I bought these for a specific event, but find myself wearing them all the time and so will she.
5. Nicola Bathie Garden Bug Earrings: Each of Nicola Bathie's pieces are unique and special little statements. Choose a pair that you like for her, and I promise she will love them.
6. Bop Basics Cashmere Scarf: This scarf is more like a wrap and is perfect for her next flight or trip, curling up on the couch with a book (or Bravo), or just keeping jack frost at bay.
7. Facial: Every woman I know well loves a facial, but most rarely make the time for themselves. Snag a gift card to her favorite place, and for extra points, make the appointment for her. Just make sure you handle the kids or have a sitter lined up so it's truly effortless for her.
8. BKR Winter 500ML Bottle: You can keep your Yeti. BKR makes my favorite (I have 3), and because they are glass, they won't leave her water with that weird metal taste that others often do.
9. Presmer Kate Cuff: There are a couple dozen color and size options for these cuffs, so pick whichever reminds you of something she would wear. And these are so well priced, you could grab 2 for her to stack.
10. JP Holiday Sprinkled Cigar Band: Her left hand already has the bling it needs. This cigar band inspired ring is just the magic that her right hand craves.
11. Apple Air Pods Pro: I realize that snagging these before the holidays may actually be next level impossible. If you can't manage before the big day, put a picture in her stocking, and when they are delivered a week later, it will be Christmas all over again.
12. "I Do Not Cook, I Do Not Clean, I Do Not Fly Commercial": Ashley Longshore is having a moment and we are here for it. This book is cheeky and refreshing and such an antidote to the more traditional coffee table books sprinkled around her home.
13. Le Specs Luxe Elan Vital Butterfly Sunglasses: I love the flattering shape of these fun pink shades.
14. Lizzie Fortunato Arc Cuff: Acrylic and modern bangles are back and thank goodness! These are big and bold, but also check the sleek options from Waiting on Martha Everyday.
15. Charlotte Tilbury Lucious Lip Slick: A perfect stocking stuffer.
16. Loewe T Embossed Leather Pouch: This clutch is perfect! It will be her new go to for date nights, girls nights and can easily slip into a larger bag when traveling. I use mine all the time, and it's one of my most complimented pieces.
17. B-LOW the Belt Kate Python Belt: What do you buy for the lady that can buy whatever she wants? This chic snakeskin belt is just extra enough.
18. Rolex Gold Datejust: After all, she was very good this year.
19. Honeycomb Studio Tidal Platter: If she loves to host and entertain, she will love incorporating a bespoke piece from Honeycomb Studio. I'm happy just thinking about all of the special times she will put it to use.