A while back I mentioned on the Instagram that I finally procured a Colonel Littleton #18 Portfolio.  After a couple week's use, I am convinced that it is the best $150 you can spend.  I'm already getting comments, and have shared the website link to three co-workers.
Speaking of comments, I had quite a few folks send me pictures of their well-aged #18.  What a great idea for a 'Reader Submission' post…here is the collection of those photos.  They all look great, huh?
Got a #18?  Send it my way and I'll update the post.  The more the merrier!
OK – here is the 'drop the mic' of #18 Portfolios.  Bob McClellan (the owner of M.S. McClellan in Knoxville) sent this picture of his:
This is what he says about it: "We have been a Colonel Littleton retailer from day one, and the Colonel is a dear friend.  This portfolio belongs to me and I have owned it since 2000. I expect I will have it when I die. Look close and you will see the barbed wire scratches that would have been considered a flaw."
The one and only James T. Farmer:
Reader WEI:
Reader STJ's #18L:
Reader HJT: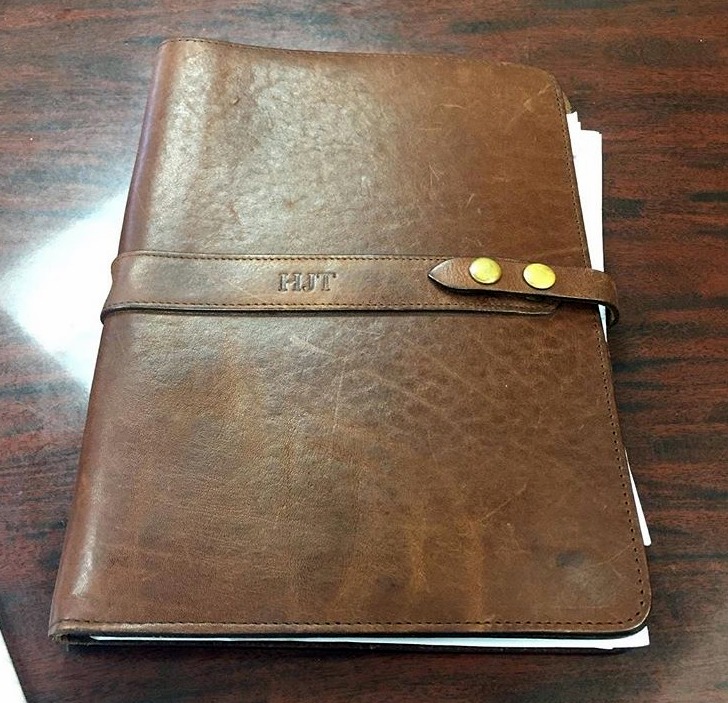 Reader CJ Adams:
Reader TMD (Day 1 for the notebook up front):
March 10th Updates:
Reader JGW:
Reader SF…check out that brand!:
=======
March 17th Updates:
From reader BMC:
From reader BG:
From reader WF:
Got a #18 Portfolio you'd like to share?  Send a picture to jrs at redclaysoul dot com and I'll update the post.