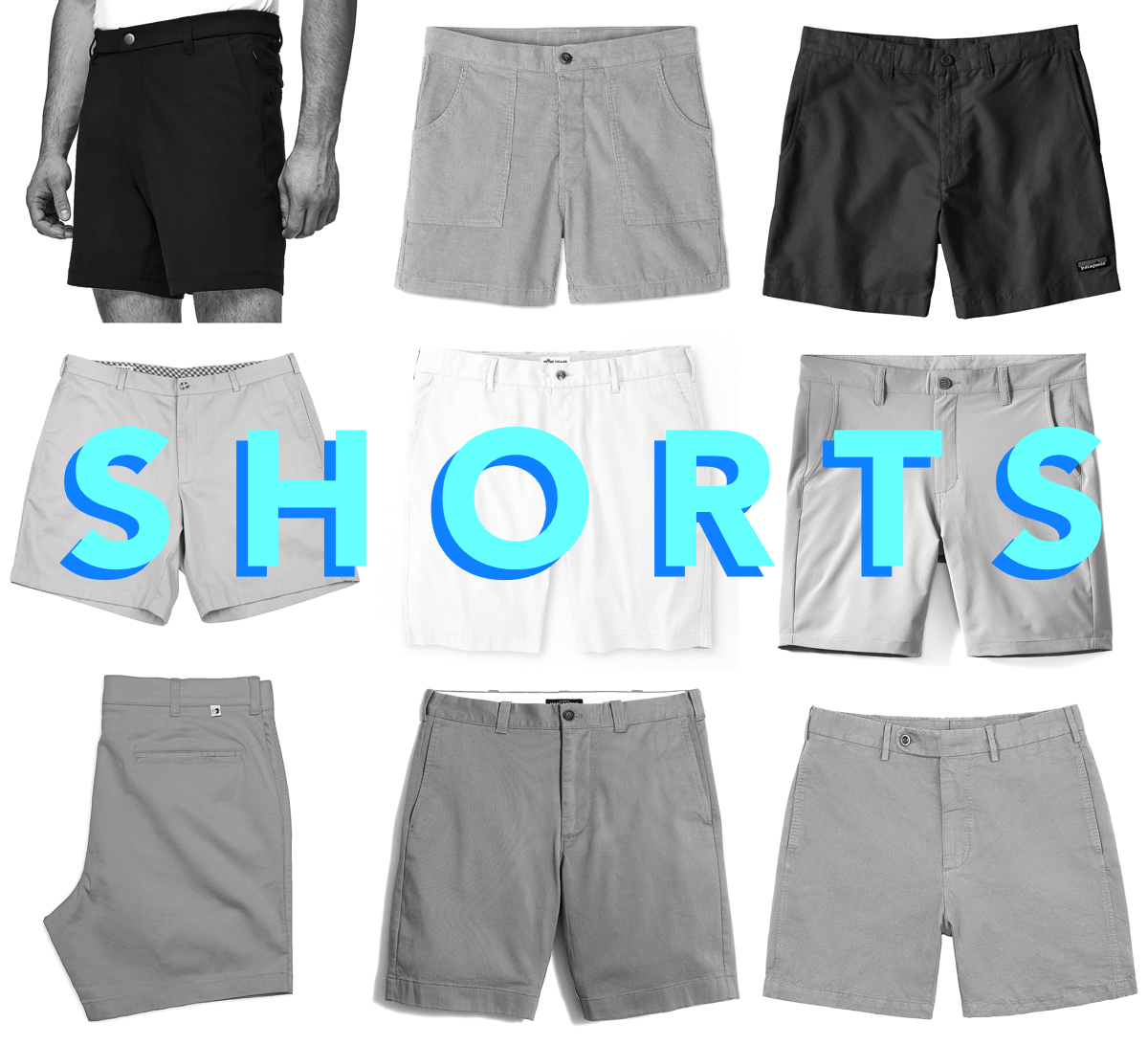 I get so many questions about shorts.  Which ones, the right inseam, cotton vs. stretch, and the list goes on.
Shorts have come a long way in the last 10-12 years.  Remember, it used to be a brand's version of chino shorts, then you could add in some Baggies, Champion athletic shorts, Columbia fishing shorts, or some Wookie option from Kavu or REI.  Well, we aren't in Kansas anymore, Dorothy.
For shorts, my preference is to have them broken into a few categories:
Dress shorts – shorts that I wear with a button-up or nice golf shirt and bit loafers/Res Ipsa loafers.
Golf shorts (some overlap with above)
Casual shorts – shorts that are nice enough for a cookout, but you don't sweat a mustard stain
Bum around shorts – for when you are 'home sick'.
I'm also a big advocate of color.  You should have a khaki and a navy pair (of course), but it's great to fill out the color palette.  It adds some variety and it's high on style.
Here are some options that I like: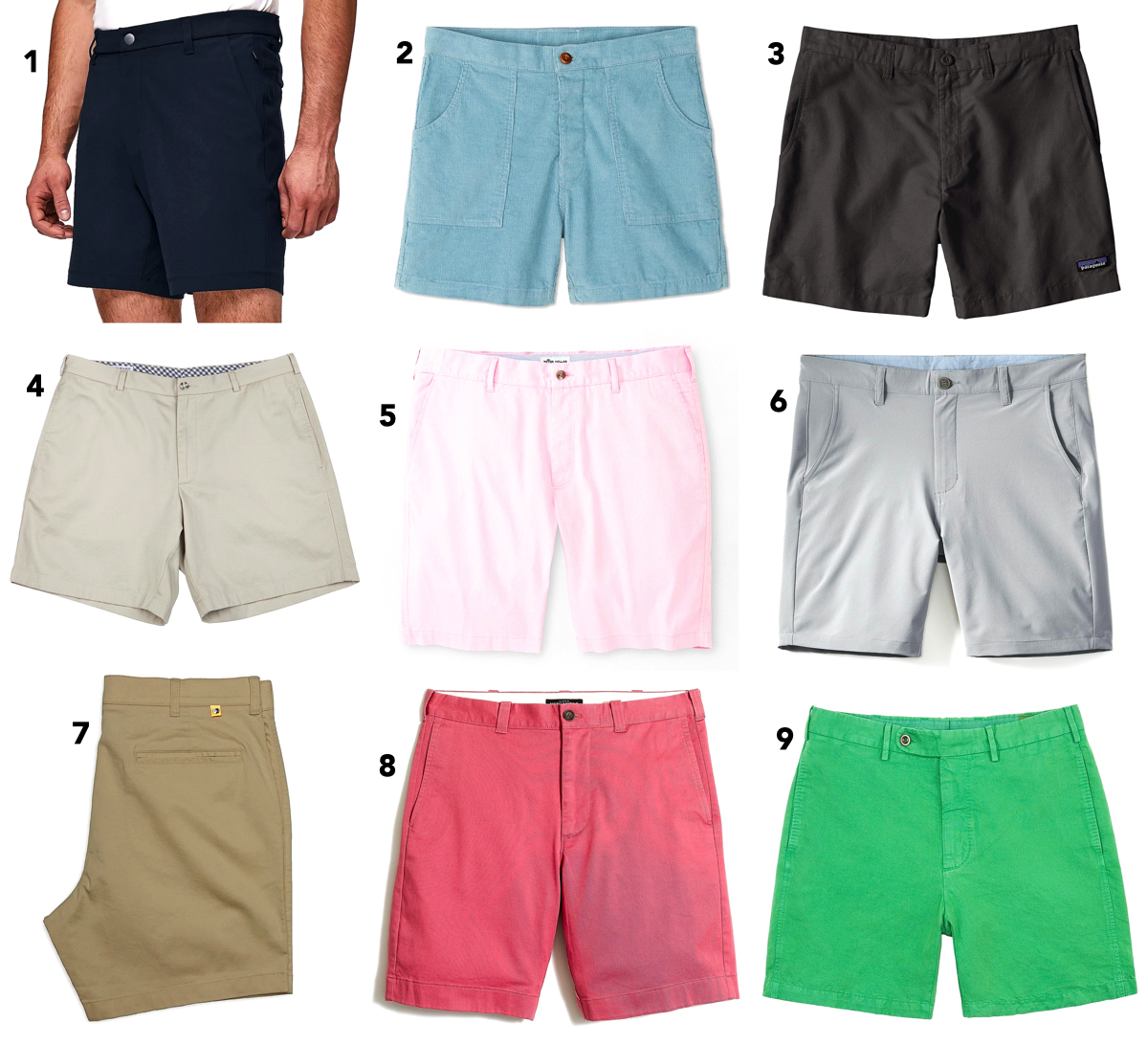 From Top Left:
1. Lululemon Commission Shorts:  These have essentially become my go-to shorts, especially for the golf course.  The fit is spot on, the fabric doesn't look techy at all, and the stretch has is just enough give not to interfere with my missed fairways and three putts.
2. Birdwell Corduroy Shorts:  Birdwell is largely known for their board shorts, but don't sleep on these corduroy shorts.  An ode to the old OP versions from back in the 70s and 80s, these are a really cool look for more casual situations.  Think Criquet shirt and Rainbows.
3. Patagonia Hemp All-Wear Shorts:  We talk about the Stand Ups and Baggies from Patagonia all the time, but these hemp all-wear shorts deserve a little credit.  The fit is a little less baggy than Stand Ups, therefore a little more dressy.  I'm not a huge fan of the label on the leg, but a Xacto knife takes care of it in ~30 seconds.
4. Onward Reserve Piedmont Shorts:  When Onward released these a couple of years ago, I got two pairs and have been a huge fan ever since.  They have held up extremely well, and don't need any sort of alterations/etc. post-purchase.
5. Peter Millar Bedford Shorts:  Can't ever sleep on Peter Millar.  Their Bedford shorts are fantastic.  Here's how I handle the 9″ inseam: I order an inch bigger in the waist vs. my normal size, wash and dry, then have them tailored to my preferred outseam.  Boom.
6. Free Fly Hybrid Shorts:  These are essentially dressy athletic shorts, but they are really nice, especially when you don't feel like wearing something with an elastic waist.  Keep in mind that they run a little big, so size down.
7. Duck Head Gold School Shorts:  Duck Head has really found their footing, and their recent release of the Gold School shorts in a 7″ inseam is a VERY welcomed addition.  These are your standard khaki shorts, guys.  They work with everything.
8. J. Crew Factory Reade Shorts:  The most cost-friendly of the rundown, J. Crew Factory offers 7″ inseams in a variety of colors that are ready to go off the rack.  It's not a bad idea to have a couple of pairs of these on the ready….you never know.
9. Sid Mashburn Cotolino Garment Dyed Shorts:  These define 'cool'.  The color is absolutely killer, but the Cotolino fabric is spot on.  These will be the coolest shorts in your drawer.
What did I miss?