After each season I forget how much I love bird hunting.  Hitting my limit on birds gives me a great sense of accomplishment, but it's the little things that I don't think about in the offseason that really fill my soul.  The weight of a new box of shells.  The smell of a waxed cotton coat.  The weight of my boots.  The noise of the dogs.  More than anything, it's the general excitement of my hunting party.  Sitting 'at the ready' with a group of good friends is really what it's all about.  I can't wait to experience those feelings with my son.
Getting to experience pheasant season's opening day this year in South Dakota was on a level that's hard to explain.
We started the planning process in March, and were lucky enough to book our preferred guide for a three day hunt.  A good guide with good dogs is so important for a good hunt.  We've been very lucky with JP Denmark over the past two years.  They run a good operation, and I'd endorse them to anyone looking to get into some roosters.  Our guides Eric and Paul are seasoned veterans, and their dogs are world class.  Needless to say, we were in very  good hands.
There aren't any direct flights from ATL to Sioux Falls, so we had to connect through Chicago.  To give you a hint: our flight from Chicago to Sioux Falls had 48 men, 2 women, and 49 guns checked.  Single track minds….it was like we were invading South Dakota.  There were seven guys in our party – three of which have done this South Dakota trip before, and four who were rookies.  All of us have good experience chasing birds, and we were all prepared.
Opening week has a hard start time at noon each day.  They say this is because of daylight savings time, which doesn't make a lot of sense, but whatever.  We elected to stay at the Freeman Country Inn this year, mainly because it was very convenient to the farms we were hunting.  The weather was unseasonably warm: our second and third days were well into the 60s, which makes gearing up a bit of a challenge.  It was extremely windy on both the first and second days, but had all but dissipated on day three.  That adds an extra element to consider, and keeps the hunt raw.  I'll get into the lessons learned on what I packed later on.
We were all awake early on Saturday morning, jacked about taking the field.  We packed in a good breakfast at a local diner and headed back to the Inn to get changed and loaded up.  We were scheduled to meet at the main farm at 11AM and shoot clays for an hour before starting to hunt.  We were all ready to go at 9:30 – an hour early.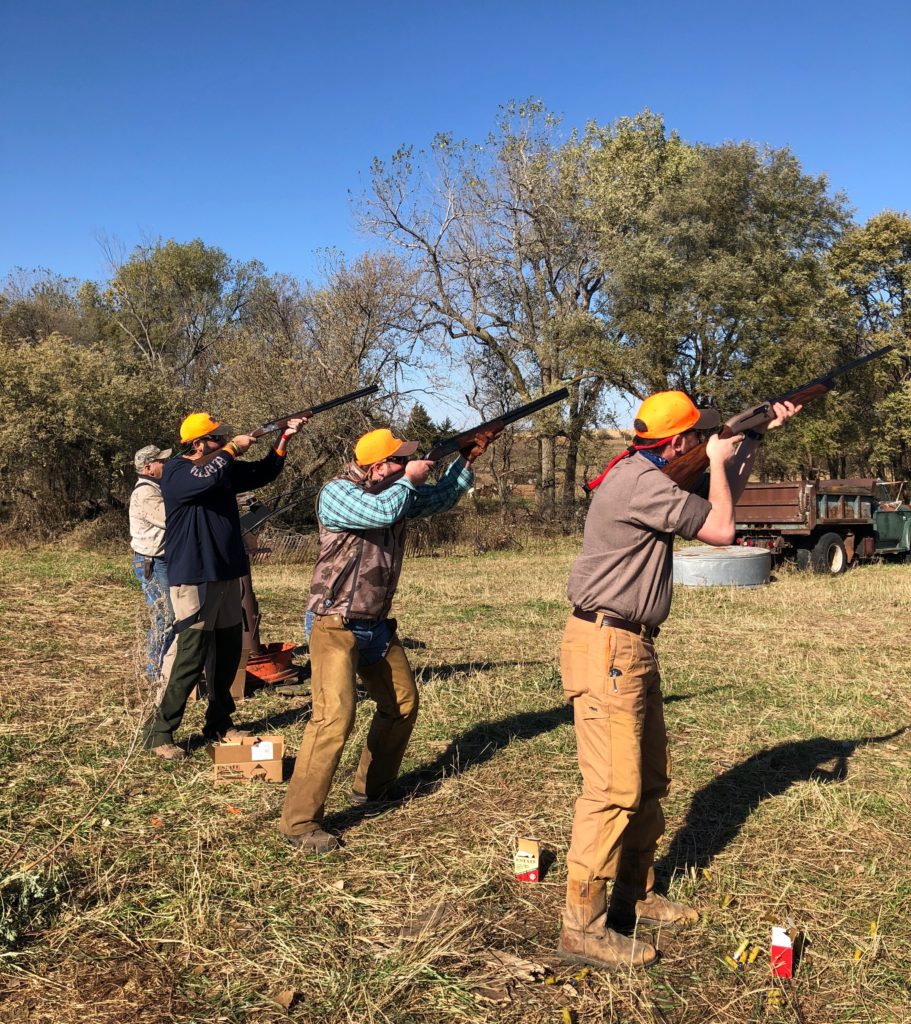 After staring at our watches for an hour, we finally headed over, met Paul and Eric, and hammered a box of clays before we hit the field.  Our group can shoot, and there were seven of us, so in those types of situations, it's really blind luck in terms of who sees the birds and who doesn't.  I should also mention that it has been extremely wet in South Dakota over the past couple of months, so quite a bit of the corn and sorghum hadn't been harvested into rows.  There was PLENTY of cover for the roosters, which would make finding the birds more challenging then in years past.
We got going on day one, and immediately found the birds.  We mostly did driving with blockers, and had quite a bit of luck.  We hunted for ~3.5 hours on Saturday, and shot 23 birds, one under the limit.  We were really happy with that, as everyone got in on the action.  After a quick dinner and a couple bourbons, we all hit the sack.
Day two was by far my favorite bird hunt, and I mean ever.  We walked five guns wide with two guides and two dogs working a LONG row of sorghum, cedar trees, and dead bean fields on both sides.  When I say long – I mean about a half mile. We had two blockers about 80 yard in front of us on either side.  We started walking, and the birds started flying.  It was like watching a hunting show.  The weather was perfect, and the birds were flying high.  Everyone in the group shot well, and we were at 15 birds after the first push.  There were quite a few roosters that we pushed into a low creek area, which we chased out much like a quail hunt.
It didn't take long to limit out on Sunday.  It was great to see everyone in our group with huge smiles, enjoying cold Michelob Goldens after a successful hunt.  We got some pictures back at the farm and took some extra time at the barn breasting the birds and listening to stories from our guides.  I'll never forget that day for the rest of my life.  It's the hunt most guys dream about.  We went straight to a roadside diner and grabbed a quick dinner, then went back to the hotel.  We might have stayed up a little late on Sunday night.  I can't remember.
We snuck into Mitchell on Monday morning.  Our excuse was that we wanted to see the Cabela's, but in reality it was because we were itching for some civilization.  That Egg McMuffin was the best I've ever had.  After an hour, we were ready to get back.
Monday's hunt was tough.  We were only at 12 birds after a few hours, and we started to lose faith.  We looked everywhere, and eventually hit the jackpot.  Since it was dry all weekend, the combines were starting to run, and pushing the birds into the ditches.  We circled the farm and needless to say, we found 'em.  We ended up with 18, and with the sun getting low, we decided to call it a day.
Leaving a hunt is always bittersweet.  We were all excited to get home to our families, but there is something about the camaraderie and the unfamiliar environment that makes me think 'just one more day'…  That fleeting thought was lost in the wind when I think about seeing my wife and son later that evening.  I missed them dearly, and couldn't wait to tell them about our adventure in South Dakota.
Lessons Learned:
Be considerate of where you are staying vs. where you are hunting.  South Dakota is open country, and nothing is close.
It's actually tough to find any vegetables on a menu.  This sounds weird, but after your third or forth cheeseburger and fries, you'll crave something green.  Stock your room with apples, bananas, oranges, or any other fruit that will offset the carnivorous menu.
Shoot some clays before you hunt.  Chances are the conditions are not what you are used to at home, so it's a good idea to hit a few clays before you get going.  It pays off, trust me.
Be sure that someone in your group brings a good camera, and uses it.  We had two with us, and the images make a HUGE difference.
I talked quite a bit about packing for the trip in a previous post, and while I did a lot better this year, there are still quite a few things I would have changed.
Layers are key.  While this isn't new news, it's more about the right layers.  The terrain is rough, so my field pants and Duxbak shirt were the base, but then adding on a Wool field sweater (pictured), or swapping out a quilted vest was great late in the day.
My strap vest was the most important thing I brought.  We walked 4+ miles a day, and it was very nice to have everything on me.  Shells, water, my camera/phone, gloves, sunflower seeds, and then the bag in the back to shed layers or hold birds.  The probably won't be needed for quail hunts, but it's nice to have out in the open country.
Good boots = comfortable feet.  Four miles may not sound like a ton, but remember it's trudging through corn, sorghum, CRP, and mud.  It's like walking through a foot of snow all the time.  My Russells provided great support, and I felt as good on day three as I did on day one.  I'm still searching for the right socks.  I like wool socks, but all the over-the-calf options are super thick, which is not what I prefer.  Suggestions welcome.
Secondary shoes are a must.  As I've covered, your dogs are going to be barking at the end of the day.  Bring a good pair of slip on secondary shoes for lodge time/dinner.  I brought my OSBM camp mocs, and am really glad I did.
Get a good gun case.  They are really serious about it at FSD, so they'll all but turn you away if you have a flimsy plastic case.  Wheels make a huge difference as well.
Chap Stick.  It's windy.  Really windy.
Speaking of the wind, bring a neck gaiter.  Windburn is real, and you'll be thankful that you protected your neck.
Next time: I'm packing half of what I did this year.  My wife says pack half of what you think you need, and twice as much money. She's not wrong.
Anyone else get out on opening weekend?  I'd love to hear your story…