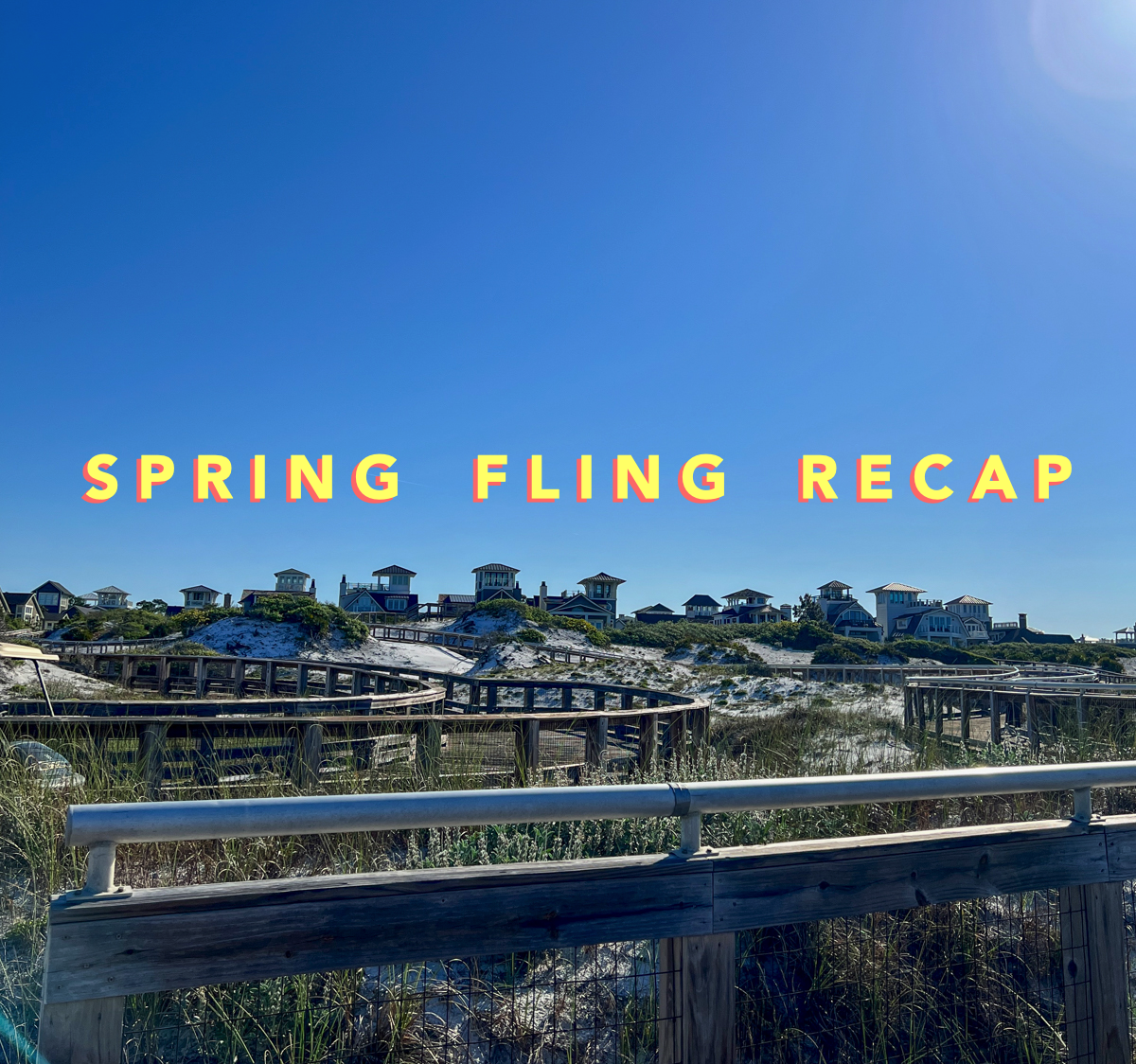 We made it back from a GREAT, kids-included vacation last night, and needless to say, we are in need of another kid-free vacation.  Luckily, we are heading to Charleston a week from today sans kids, so that'll take care of that.
Now that our kids are just about to turn 3 and 5, I understand what parents mean when they say 'cherish today'.  We had an absolute blast.  Watching our boys be boys at the beach will be memories that Mrs. RCS and I hold near and dear for the rest of our lives.
To recap, we rented a house in Watersound with another couple, who also have two boys right around the same ages as ours.  They are dear friends of ours, and our kids are really close.  Being that no one in either of our houses adheres to a traditional school schedule, we're able to book vacations in what is considered 'off-season'.  The rates are MUCH lower, and the neighborhood was only about 25-30% capacity.  For the most part, it felt like we had run of the place.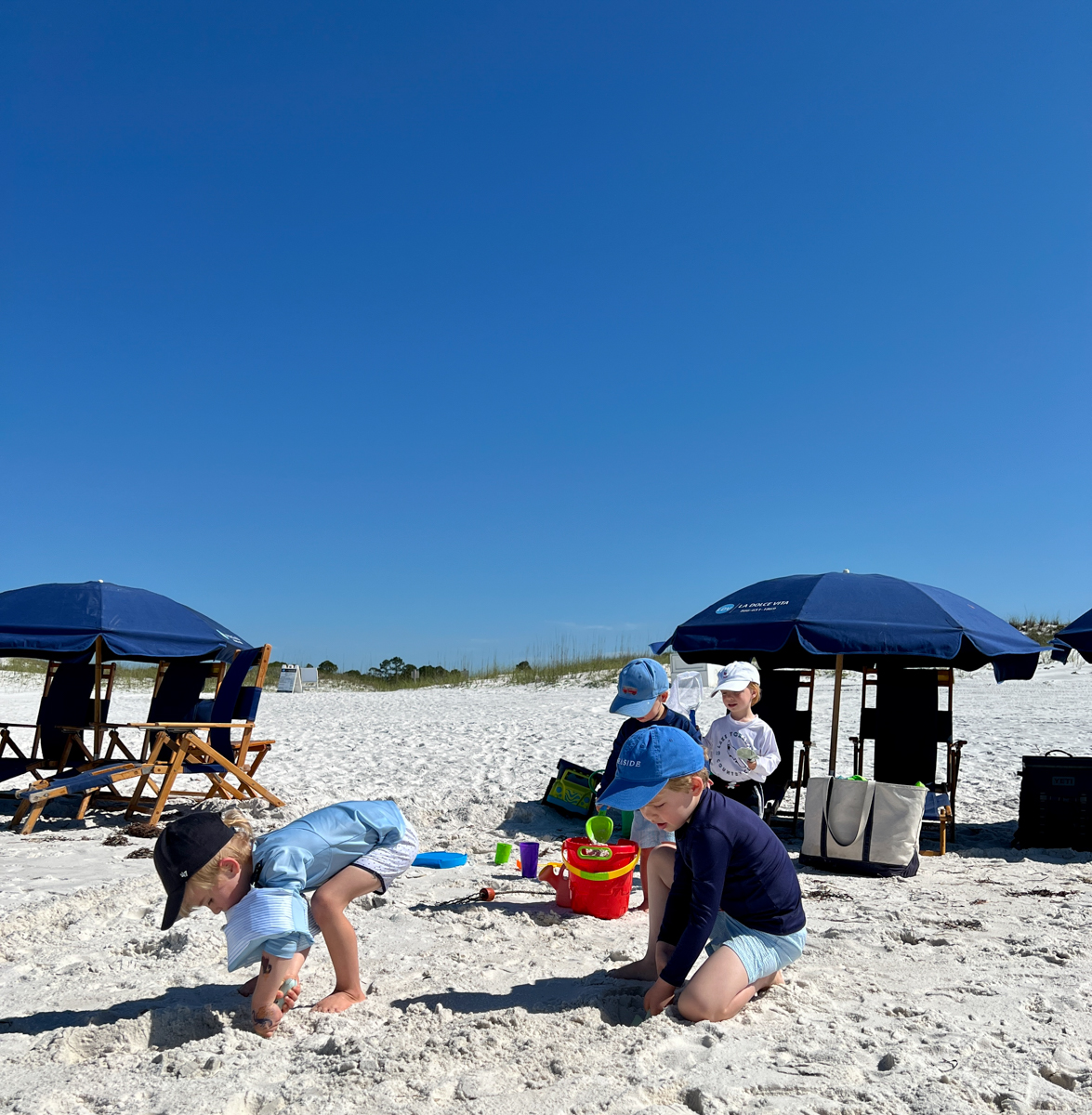 Watersound is absolutely perfect for families.  It's a gated community, where the main source of travel is a golf cart (which is typically included in the house rental).  The neighborhood has a playground, a GREAT pool, an 18-hole putting course, and tons of walking paths.  The beach is private as well, in that there is no public access.  It's really quiet…much different than the rest of 30A.
For this trip, the families agreed to go low-key.  Meaning that we weren't going to bring a nanny, we weren't going go out to dinner, or do anything extravagant.  The plan was to manage the kids and grill out every night.  It made packing very easy and kept the stress down.  For those that know…outside of the food trucks in Seaside, there aren't many restaurants that can accommodate four kids under 5.  Our plan worked really well.
We were late getting down there on Saturday night, as Mrs. RCS picked me up in the parking lot of a local club following their Member-Guest, and we were on our way.  We arrived at ~8:45PM CST, and got the kids straight to bed.  Our friends got down there in the early afternoon, unpacked, and enjoyed Bruno's Pizza for dinner (located right at the front of the Watersound neighborhood).  After a quick unpacking and a couple of Miller Lites, we went to bed.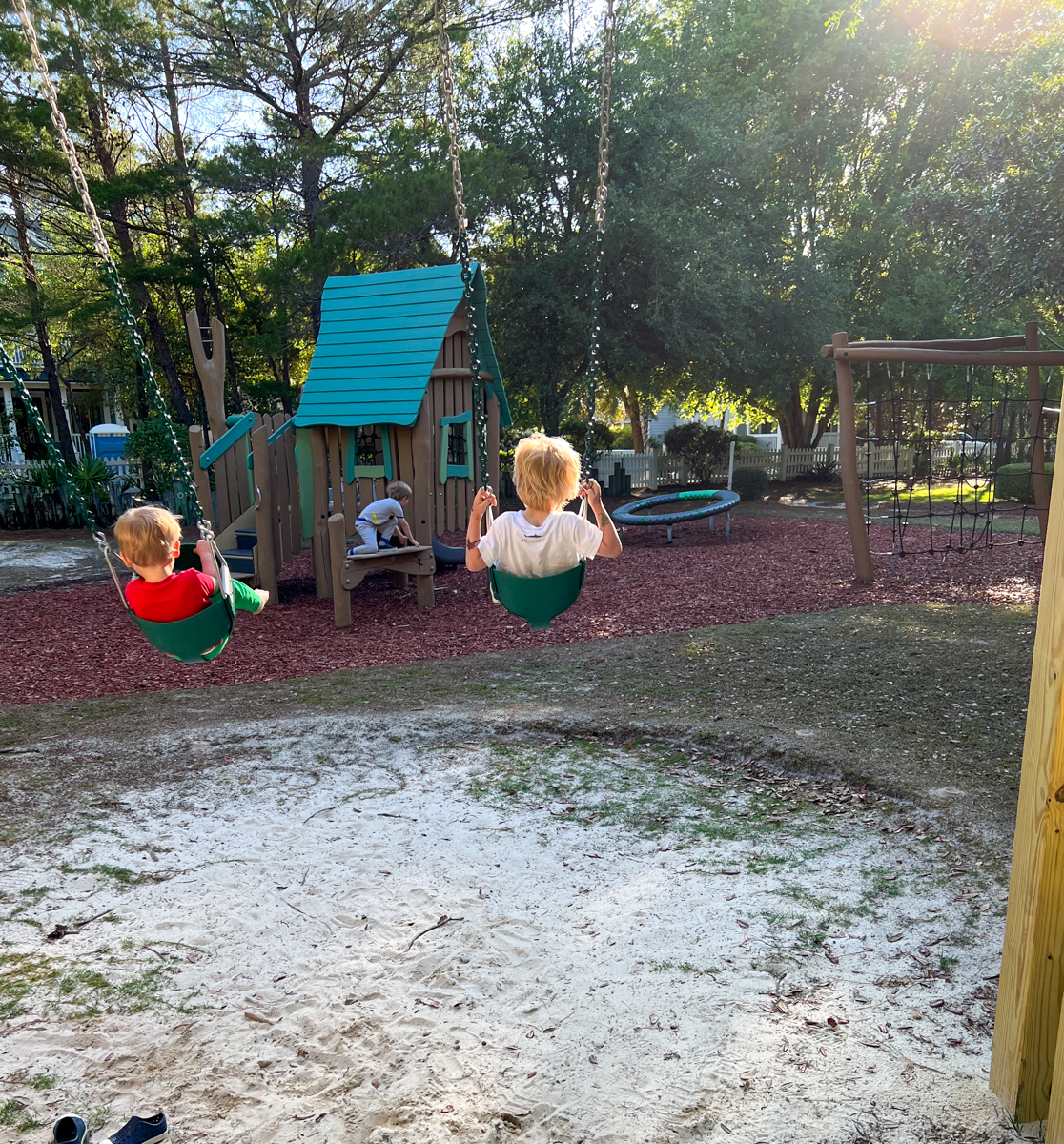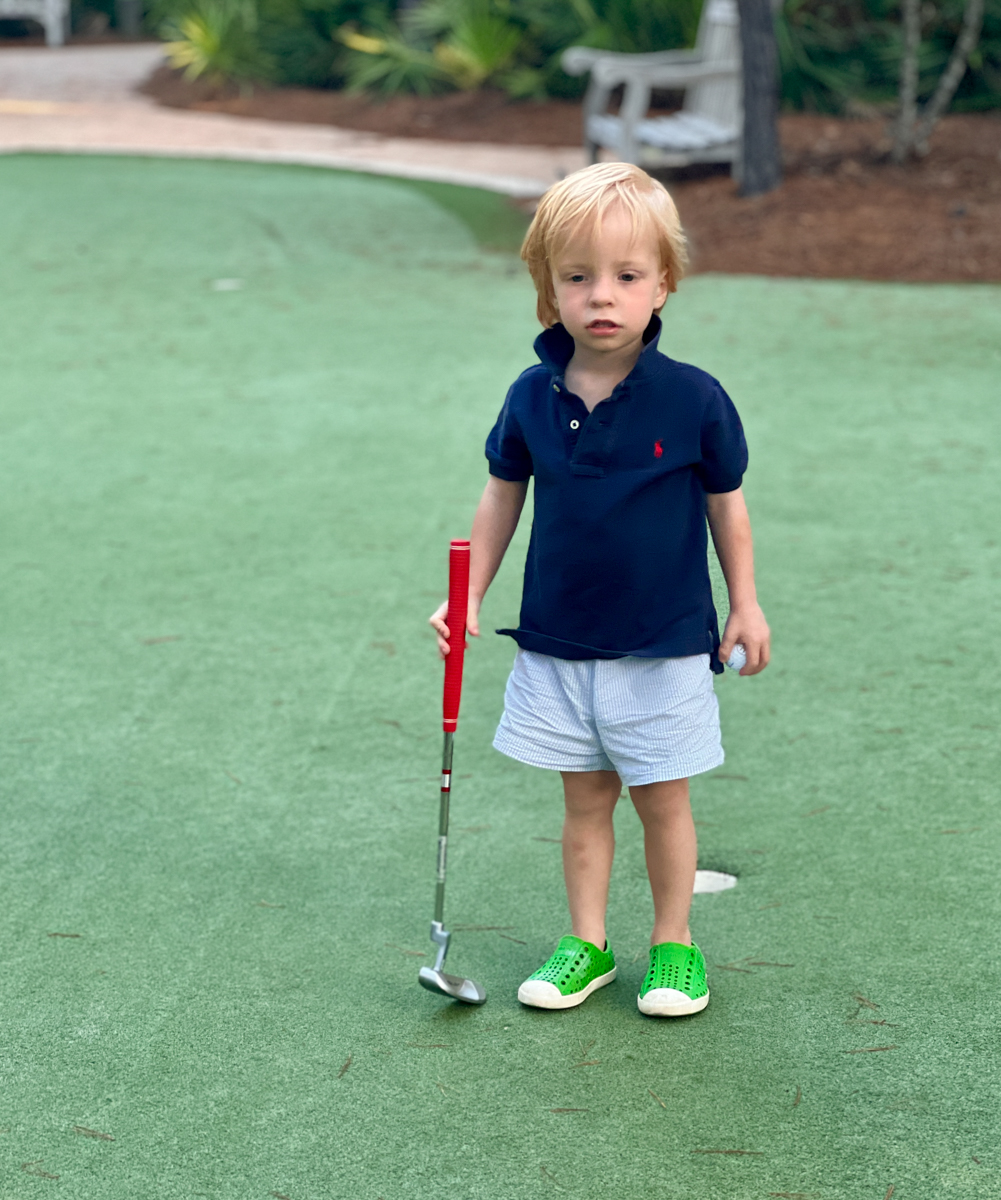 Our days usually looked like this:
Kids would wake up at ~5AM CST.  The time zone change is a killer.  We'd find a quiet corner and I'd do everything possible to keep them quiet.  That usually lasted an hour before the inmates took over the asylum.
Quick breakfast and either walks around the neighborhood or golf cart rides to the playground/Putters Park.
We were usually packed, sunscreened, and leaving for the beach around 9AM.  We rented chairs (the only way to fly), so we'd all pile on the golf cart and be digging in the sand by ~9:15.
Leave the beach around 11:30 and head back.  ALL the kids would jump in the outside shower and get changed into comfy clothes.  After lunch, the little guys would go to sleep for a couple of hours, and the older guys would get some quiet time in the spare living room on the couch.
Quick snack at 3PM, then head to the pool.  Cannonballs.
We'd head back home around 5:30.  Boys would all shower again, and we'd get dinner ready for them.  One of the older dudes would light the grill and get the fish going.  For the most part, we ate every meal standing up, buffet style.  Some would make tacos, some would make bowls, or whatever.  Everyone ate (and drank).
We'd get the boys down around 7:30-8PM, and take ~30 minutes (with a drink in hand) cleaning up the house and driveway.
By 8:30 all the adults were on the back porch relaxing and boozing.
Bedtime(s) followed along pretty soon thereafter.
Rinse and repeat for four days…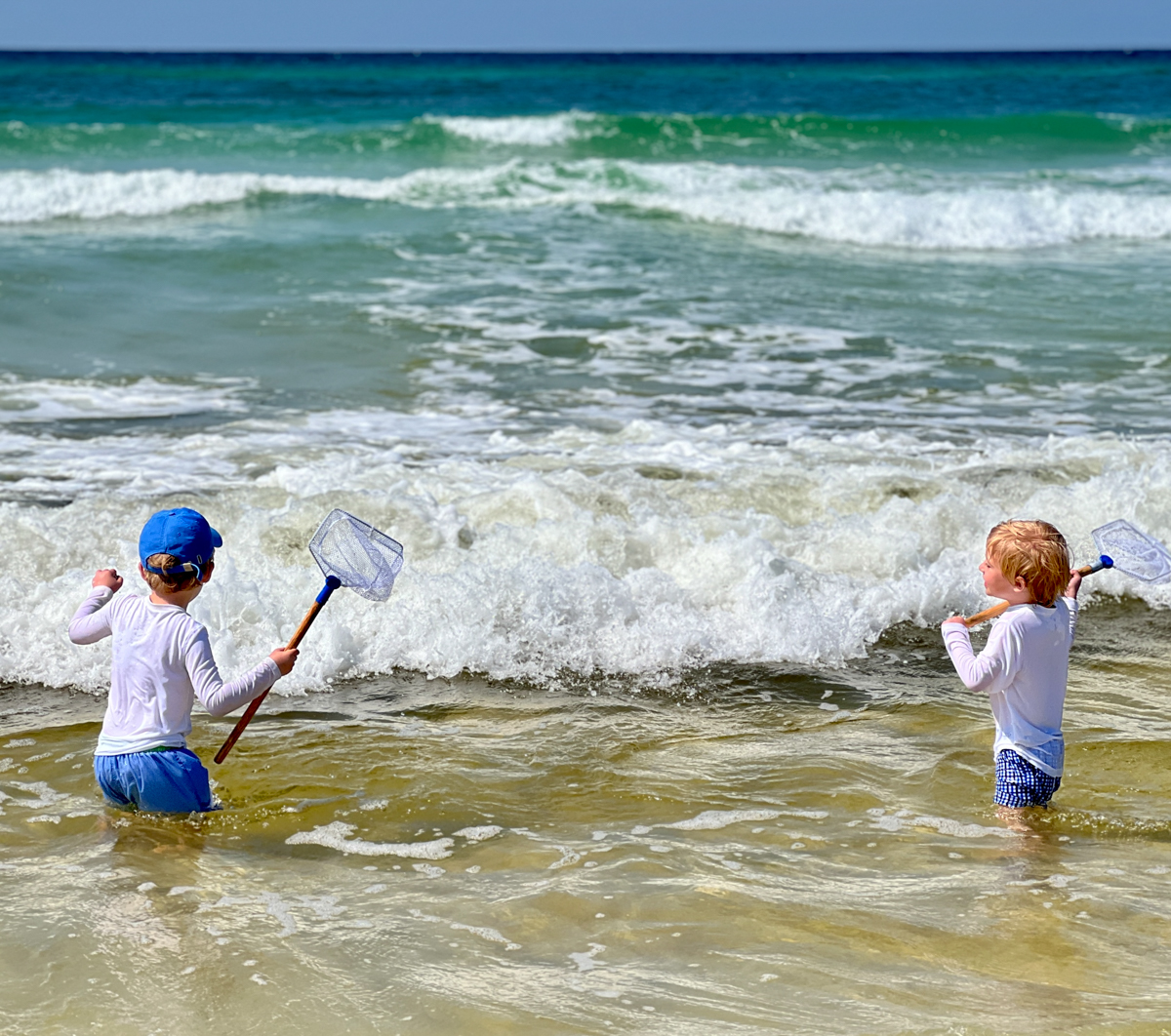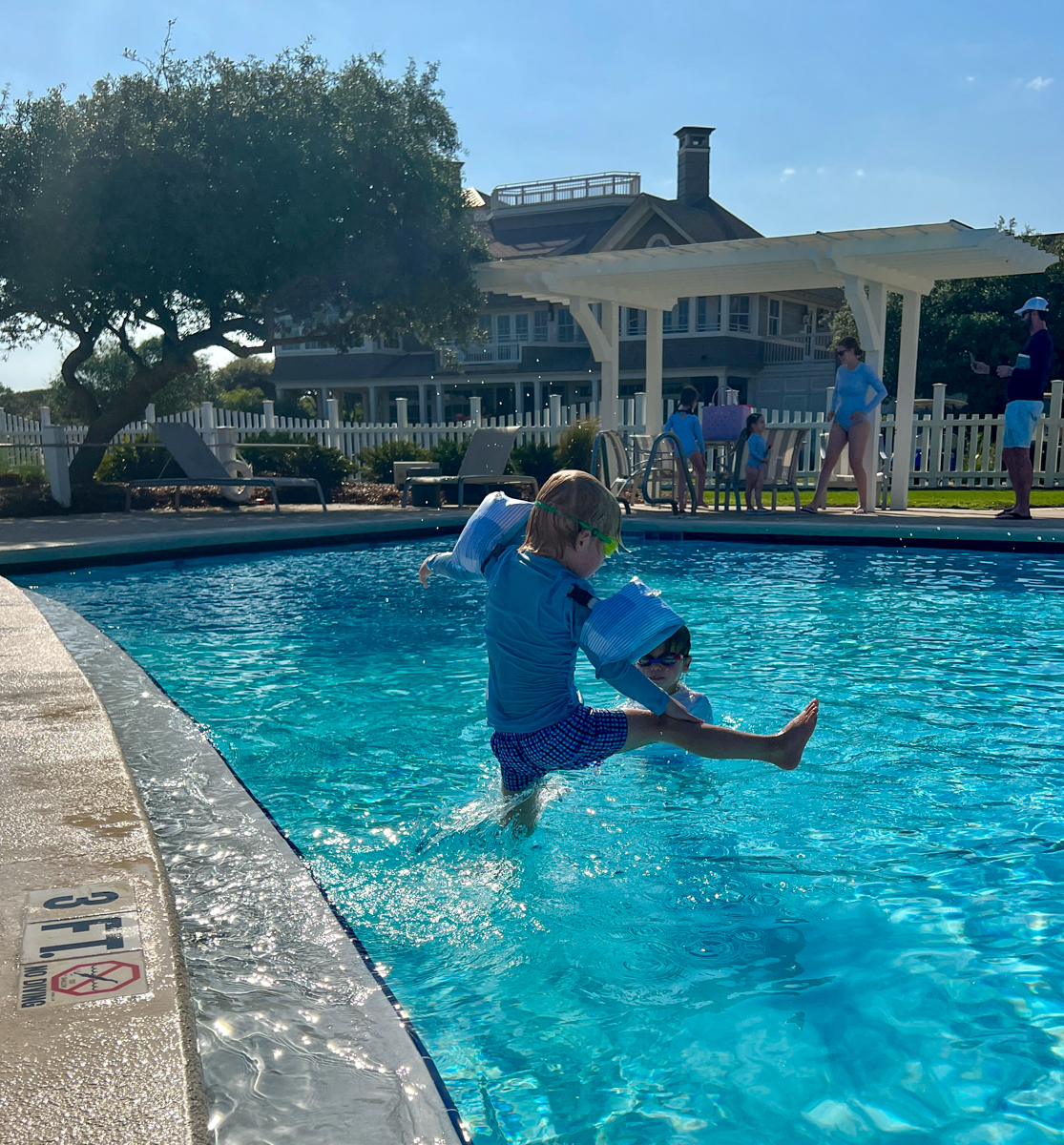 It was time to come home after all that…we were all pretty wiped out, and the kiddos were fried (not sunburned, just mentally and physically).  However, we can't wait to do it again…
Some learnings:
We packed A LOT of meds for the kiddos.  The youngest was teathing (molars), so keeping him comfortable was key.
Sound machines: Got to have them in a house with that many people.
Bug spray: Not only were the mosquitos getting lively, the sandflies were out.  So annoying…
Yeti Backpack Cooler:  I have the older model with the zip top, and it's the best cooler I own.  I don't know why they changed the top.  If you can find an older model on a second-hand site, buy it.
Yeti 45: I've learned that with the amount of beer and bottled waters that we consume, we have to bring a secondary cooler so as not to overpack the refrigerator.  Works like a charm.
Dips: We bought about half a dozen seafood dips/salsas/etc. from the seafood markets and grocery stores.  We always had them out.  It felt like a resort.
Weather: This is such a good time of year to be down there, along with October.  Not too hot, and the humidity is pretty low.
Popsicles.  Our kids will do ANYTHING for popsicles.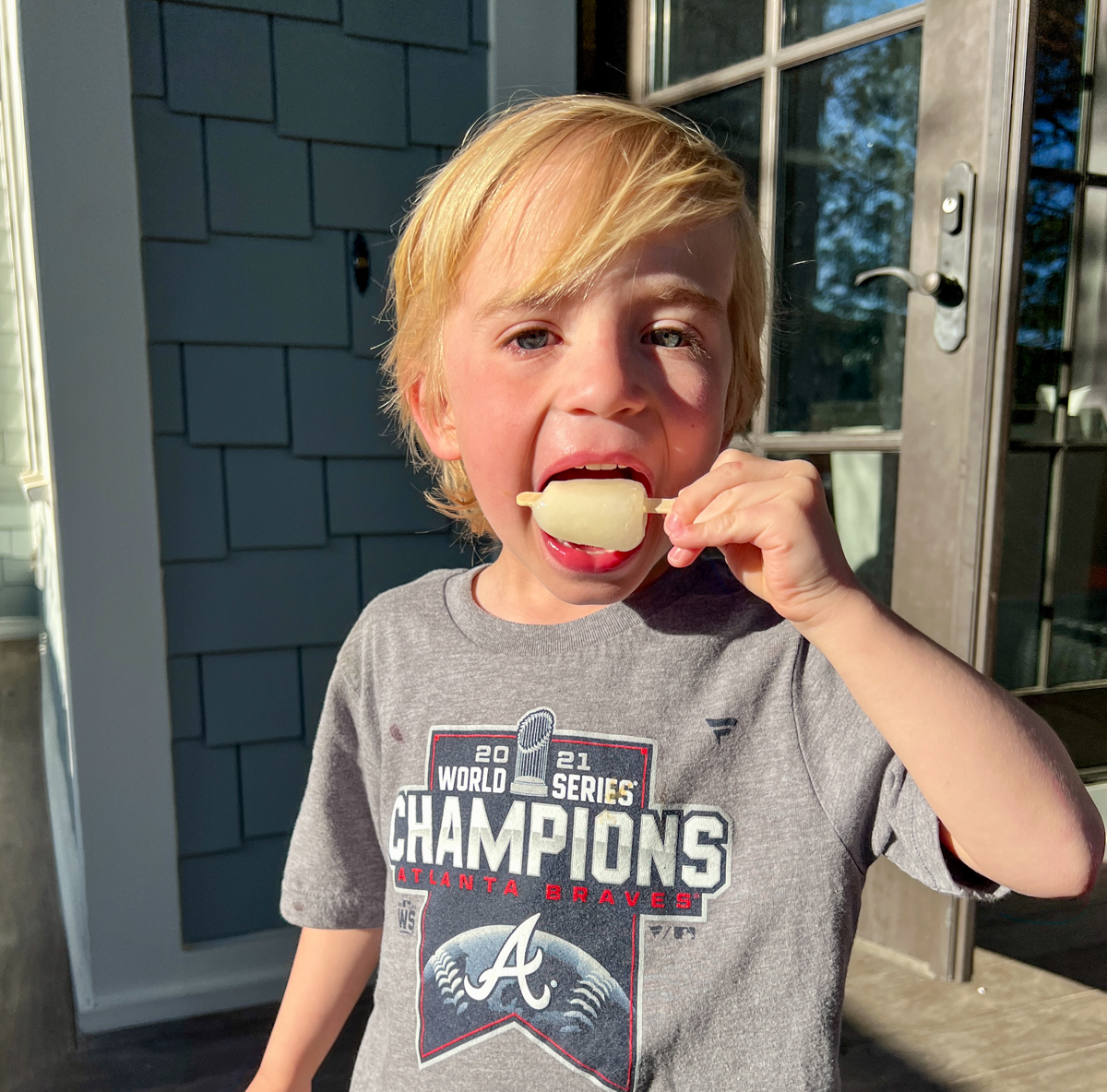 Happy to answer any questions…