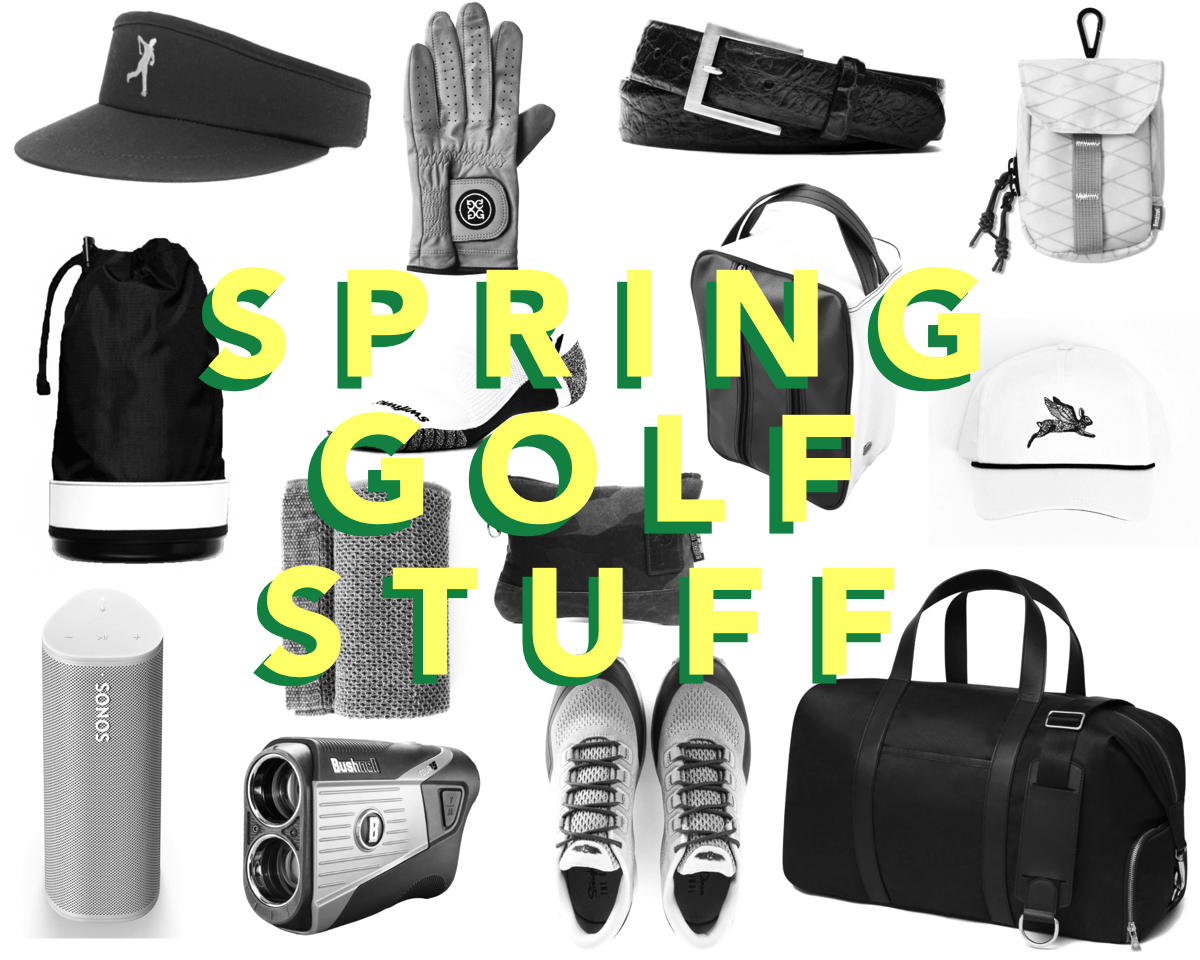 Golf season is here, folks.  Atlanta temperatures are up, and all the greens have been punched.  The fairways will green up over the next few weeks, and then The Masters will be here.  I can't wait.
I went through my bag the other day.  I cleaned it out, threw away a bunch of junk, and took stock of what I needed.  It's a refreshing feeling to think about the thousands of swings and three putts that are coming my way…  My golf stuff is like my golf game: a constant state of chaos.  I really like to be organized, while at the same time trying to stay light and nimble.   Not too much stuff…minimal.  Here's what I've got my eye on: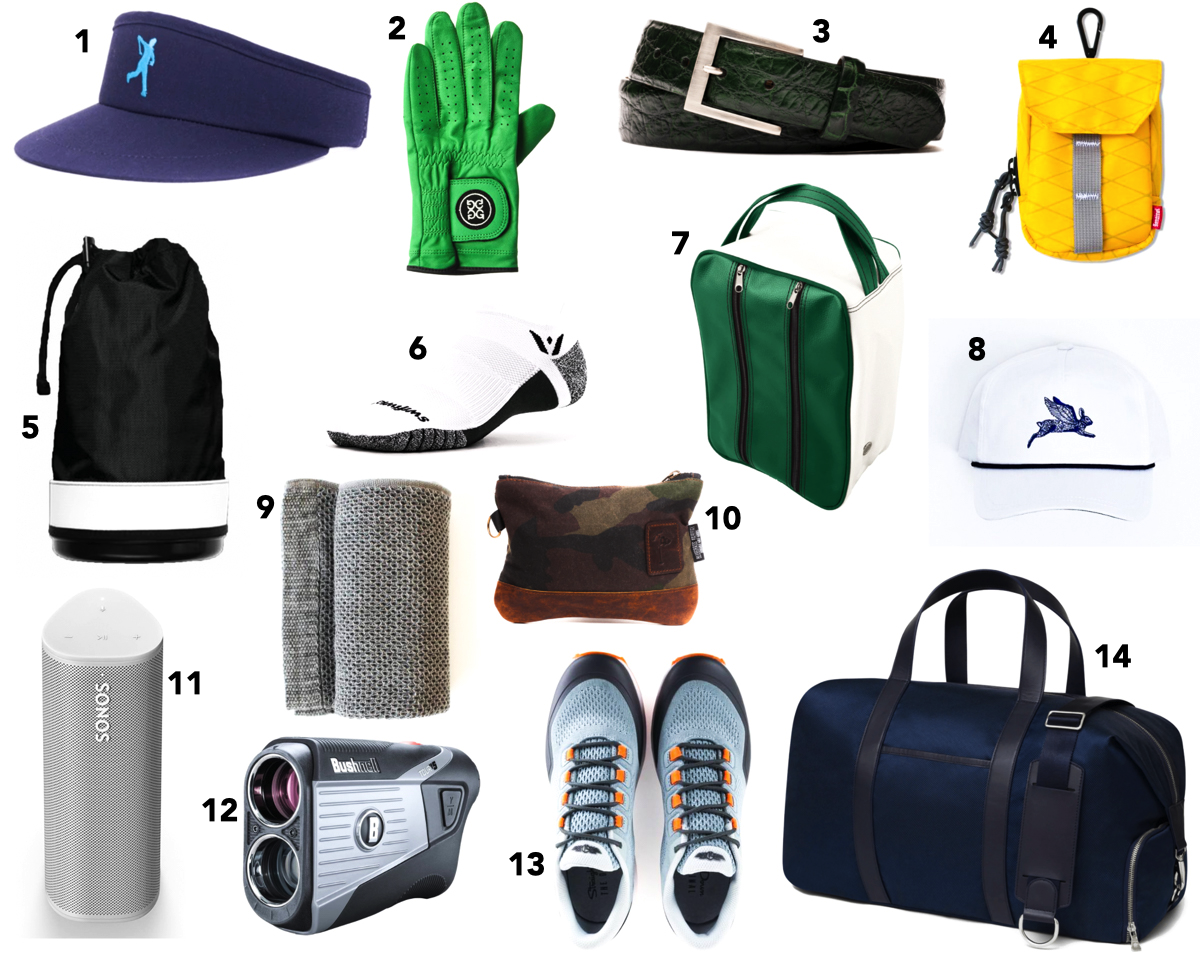 From top left:
1. Live Forever Golf Tour Visor:  White tour visors are all the rage, but go Navy in the early season.  Once you can see the sweat rings, retire it for the pool/lake/yardwork stack.  Wear it well.
2. G/Fore Golf Glove:  The absolute best gloves on the market.  I actually did the numbers.  These cost on average $8-12 more than their Titleist counterparts, but last roughly 40% longer.   Good investment.  And the colors are a lot more fun.
3. W.Kleinburg Matte Alligator Belt:  By now I have to believe that all of you have some sort of alligator/crocodile belt…and I'm sure it's either brown or black.  Now – go add something GREEN.
4. Sentinel Scout Rangefinder Case:  I'm pretty obsessed with all of the Sentinel Golf products.  I've been using their Scout rangefinder case for about a year now, and love it.  Functional, and a nice pop of color.
5. Jones Ranger Bag:  These are such cool bags.  I've seen these given out at Member/Members and Member/Guest events.  They are a cool design in that they have a flat bottom so they fit nicely into the back basket of a cart.  Yes, they act as a cooler, but I see a lot of guys use these to carry their junk for the course (speaker, towel, etc.).
6. Swiftwick Golf Socks:  Don't sleep on golf socks.  and they have to be no-shows.
7. Jones Shoe Bag:  Freshen up that shoe bag, folks.  Quit showing up with the plastic grocery bag from Publix.
8. The Fliers Club Harry Rope Hat:  One of the coolest logos out there.  A white rope hat is all the rage.
9. Sentinel Kontex Towel:  Again, Sentinel kills it with this bad boy.  Not like any other towel you see on the course.  I love the simplicity.
10. Bluegrass Fairway Field Pouch:  This might be the perfect size valuables pouch…Bluegrass Fairway rarely misses.
11. Sonos Roam Speaker:  I recently got my hands on one of these, and LOVE it.  It's the perfect size for the cart, and it's LOUD.  Rock out, folks.
12. Bushnell Tour V5 Rangefinder:  I've been extremely happy with mine.  Easy to use, not too hard on a battery, and gets me dialed in.
13. Straight Down Mojave Golf Shoes:  These have that cool, New Balance 587 vibe.  I used to rock those in college and miss them…  These work GREAT with pants, and are really comfortable.
14. Holderness & Bourne Byers Duffle Bag:  Here, I just gave you a reason to upgrade your golf duffle, aka my 'Go-Bag'.  Always be ready for the call…
What's got your attention as we head into Spring?