I've been a huge fan of Drake's for quite some time.  They make the best looking ties out there, and have recently expanded their line to essentially a complete array of mens apparel and accessories.  Their jackets and sweaters are works of art.  For us here in the States, the English company is a refreshing look into top shelf menswear.   Very regal, but wearable.  Here's a little history on the company:
Founded in 1977 by Michael Drake, the original Drake's collection was comprised of men's quality scarves. A range of English handmade ties and pocket squares quickly followed, which swiftly became the 'heart and soul' of the business. Over the years the company has won prestigious accolades for design and export achievement, including the Queen's Award for Export and the UK Fashion Export Gold Award for Outstanding Export Achievement.
Our ties continue to be entirely handmade in London's East End, on Haberdasher Street. The dedication and constant attention to detail that is given to the product is never compromised and truly sets Drake's apart in this age of the numbingly ordinary and the quaintly redone.
All Drake's products are made of only the finest quality materials, designed at Haberdasher Street and manufactured exclusively in the UK and Italy.
The Drake's style, beginning with a refined English discrimination, has evolved with a touch of consummate French chic and a nod to the Italians for their abundant sense of style and colour. This aesthetic represents a vision of how English style is perceived to be, rather than the reality which today is all too often less inspiring.
Change in Ownership  A change in ownership came about in 2010 when Michael Drake retired and Michael Hill (above), Michael Drake's previous understudy and lead designer, and Mark Cho, co-founder of The Armoury haberdashers in Hong Kong, acquired Drake's. The original ethos, quality and brand direction remains the same.
Launch of the Online Shopping Site  In Autumn 2007 we launched the Drake's online shop. The idea was to introduce a virtual haberdashers for the discerning gentlemen, with the purpose of making our quality wares available worldwide.
Bricks and Mortar  On May 20th 2011, we opened our first retail shop at No. 3 Clifford Street, London. The building itself is something of a landmark in the heart of Mayfair. Formally the home of a prestigious art and antiques gallery, it is agreeably situated just between Savile Row and Bond Street.
The interior of the store features Harris Tweed covered armchairs, natural wood floors and cabinetry from the Natural History Museum.
The No. 3 Clifford Street store has allowed us to fully display what we consider to be the 'Drake's look', featuring our handmade ties, pocket squares, scarves, shirts, knitwear and tailored outerwear, as well as our leather and horn accessories.
Our New Home  In April of 2013, we moved into our brand new home of No. 3 Haberdasher Street. For the first time in our history we have combined all aspects of the business under one roof; the factory, design studio, showroom, warehouse, head office and our Factory Shop.
Acquisition of Rayner and Sturges Shirt Factory in Chard, Somerset  In July 2013 Drake's acquired the Rayner and Sturges shirt factory in Chard, Somerset. In doing so, Drake's has inherited a workforce of 35 highly skilled artisans producing handmade bespoke and ready-to-wear shirts.
As well as producing private label, Michael Hill relaunched the historic Cleeve brand, owned by Rayner and Sturges, and introduced the first capsule collection of ready-to-wear shirts into the Drake's store on No.3 Clifford Street and online.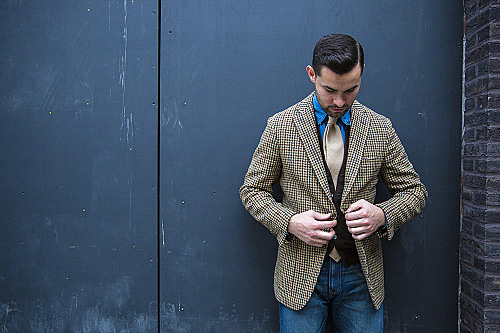 In the Summer of 2014, Drake's added a Made to Order service, available through our website and a Bespoke shirting service at our brick and mortar on Clifford Street. Winter 2015 saw us overhaul our website and replace it with a new site that's both design-driven and more user friendly, with a focus on honing our e-commerce business.
~~~~~
Be sure to follow Drake's on Instagram and like their Facebook page.  Their images are essentially inspirations for OOTD posts.