There's no better way to fuel up for a day than with the perfect breakfast sandwich. No matter where you are, your cast iron skillet is the key to your success.  The good folks at Ball and Buck have a recipe that bears repeating.  Grab your most seasoned cast iron skillet, some farm fresh eggs, thick-cut bacon, and cheese and get ready for your day.
Recipe Makes 4 Sandwiches
Prep time approx. 5min
Cook time approx. 15min
Ingredients:
1/4 tsp Salt
1/4 tsp Fresh Ground Black Pepper
1/4 tsp Red Pepper Flakes
1/4 tsp Rosemary
2 tbsp Olive Oil
2 Garlic Cloves Sliced 1/8in thick
4 English Muffins
4 Strips Thick-Cut Bacon
4 Eggs
4 Slices White American cheese
Preheat oven to 150 degrees F, with oven safe plate inside
Warm cast iron to low
Pour in olive oil
Lay bacon flat, season top side with pepper, rosemary, and red pepper flakes. Sprinkle half of seasoning onto bacon and remaining half around the bacon directly onto pan
Place garlic around edges of pan and in between bacon strips. Once golden brown, remove garlic and place on plate in oven
Flip bacon to brown second side then remove from skillet placing onto plate in warmed oven.
If too much bacon grease accumulates in pan, pour into small dish and use as needed when cooking eggs.
Toast English Muffins, be sure to separate by hand or lightly using fork. Do not use a knife to cut as you will eliminate all the nooks and crannies. When muffins are toasted to desired level place into heated oven directly on rack.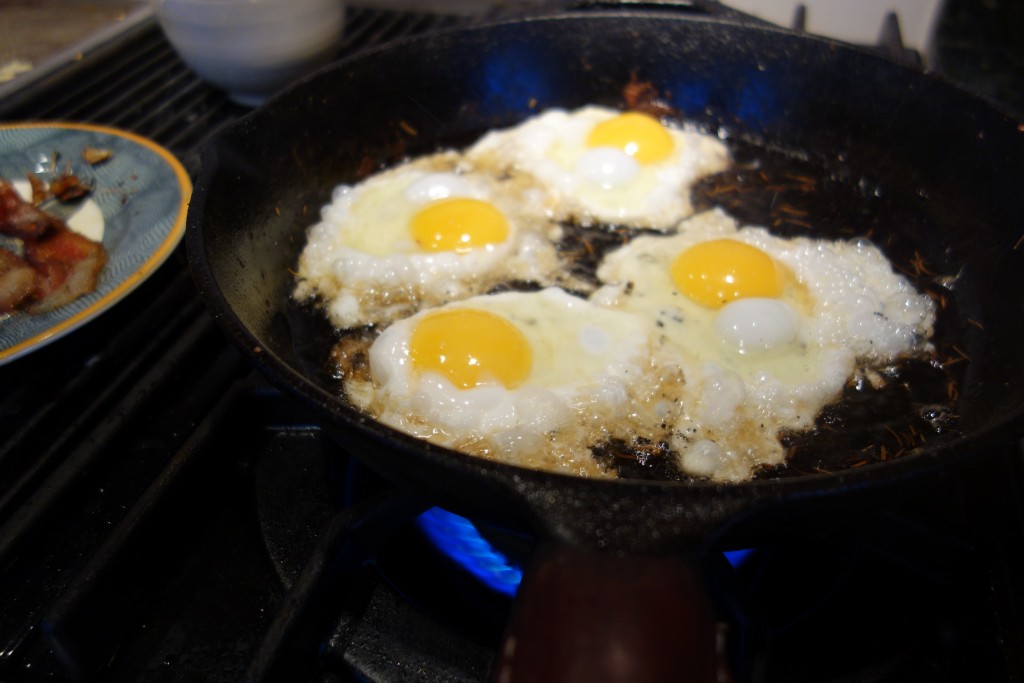 While toasting muffins. Heat pan to high until just beginning to smoke. Crack eggs into the skillet, lightly salt. Flip when edges become brown and bubbly. Continue cooking and add one slice of American cheese 20 seconds before eggs finish cooking to desired consistency.
Place cooked egg and cheese on each English muffin. Rip one bacon strip in half and place side-by-side atop cheese. Sprinkle even amounts of garlic atop bacon on each sandwich.
Place top of muffin on sandwich, serve, and enjoy.
Got a breakfast recipe that is worth sharing?