I'm a planner.  I like to set goals.  I have plans for *when* I win the lottery at different $50M intervals (pre-tax).  Hint: you'll never see me again.  Ever.
It's been about six years since I purchased my first luxury watch, my Panerai PAM112.  Since then I've added a couple more to the rotation, and always have my eye on a couple more.  There is a larger picture, though.  There are watches that are the dream watches…the 'it' watches, if you will.  If I were ever in a position to buy a watch of this caliber, I wouldn't deviate too far from my mean…I wouldn't start wearing a large gold Yacht Master or a Richard Mille just because I could afford it.  That's like driving a giant cigarette boat around Lake Lanier.  Very 'white Oakley's'.  While those are both very nice watches, I would stay true to my style: get a watch that fits with how I live, somewhat understated, and somewhat rare.  I would prefer to wear something that you don't see on many people's wrists, without being too ostentatious.
There are three watches that I would call my 'it' watches.  In no particular order, here we go:
Vintage Panerai 3646.  These were manufactured back in the 40s by Rolex before Panerai started producing their movements in house.  These typically come in two faces: the California (top – which is my favorite), or the Kampfschwimmer (combat swimmer) engravings (see below).  Very rare.  Very cool.
Second, the iconic Rolex Day Date with a green Stella dial.  Day Dates are incredible watches, but just a bit out of my price point.  Add in the Masters green Stella face on a gold watch?  Sign me up.  The Day Dates are a friendly 36mm face, so the gold watch doesn't look like a GOLD WATCH, that needs a gold rope necklace with a gold bald eagle charm to create balance.  It's understated, it's rare, and it will look good with either a gold band or a gator strap.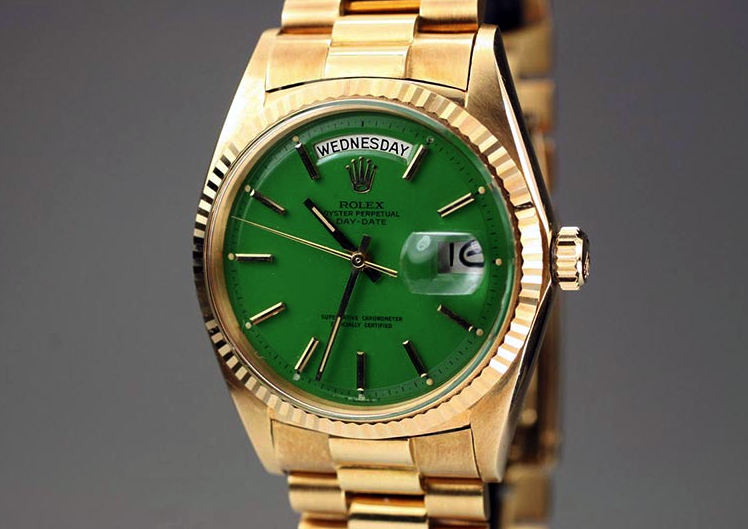 Third, but by no means last, the Patek Philippe Nautilus with a white face.  I absolutely love this watch – it looks like a mechanical wonder from the future.  Everything about it is cool, including the price.  Those that have no idea about Patek will think this is a Wal Mart watch with a twist-a-flex band.  That's exactly how I like it…understated.  However, those that know will stop you in traffic to get a look.
That's where my head's at.  What about you?  What is your "It" watch?
P L E A S E    S U P P O R T    O U R    P A R T N E R S :