Be careful…Spring will be here before you know it.  Here in Atlanta, we're getting some good mid-day heat, but the temps drop pretty quickly as soon as the sun gets behind the trees.  In our 2022 effort to do more date nights, Mrs. RCS and I have enjoyed getting out and about.  It's a great feeling.
This time of year, I'm excited to add pops of color.  Done are the short, cold, wet days of Winter.  Teasing out the Spring feels like the right thing to do.  Here we go: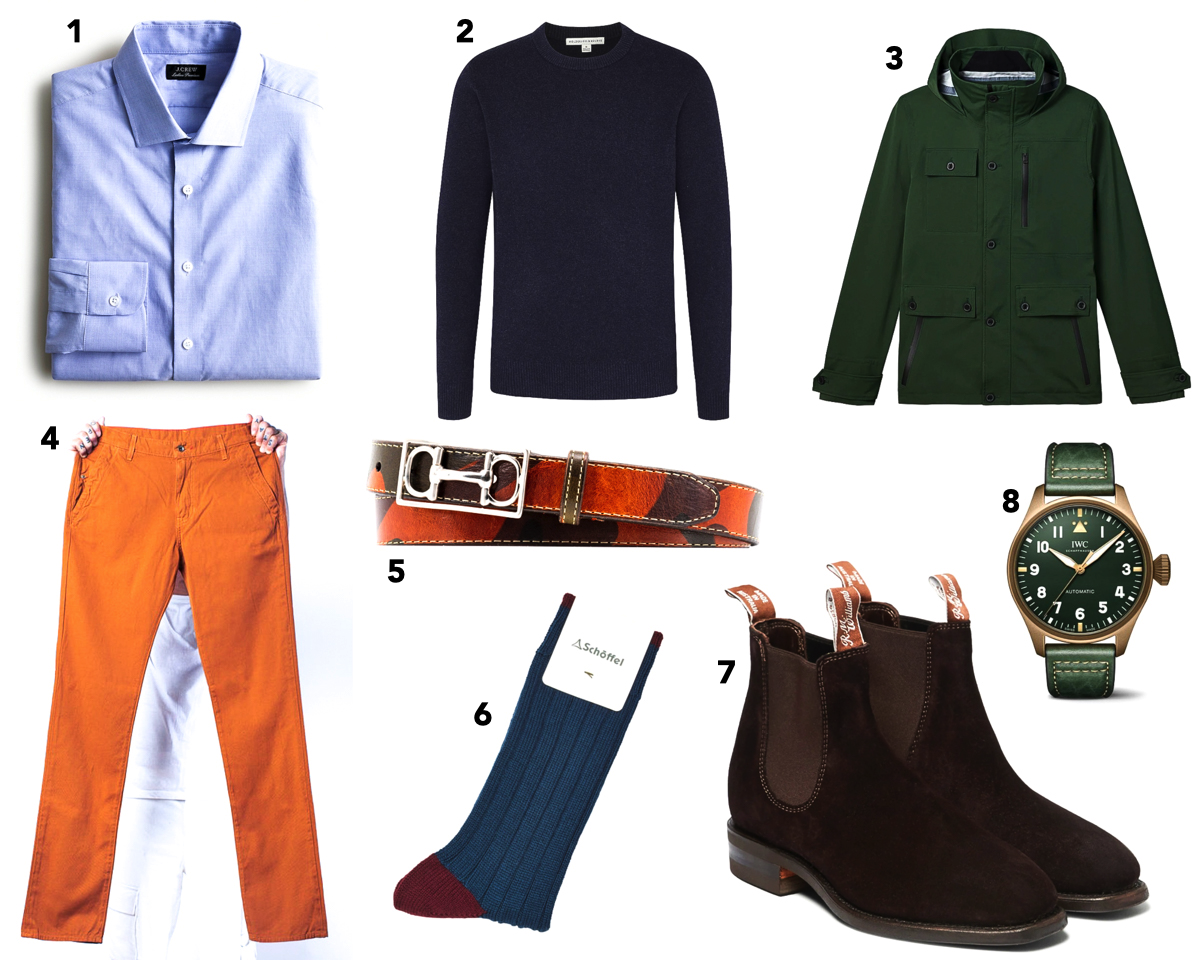 From top left:
1. J. Crew Slim Fit Ludlow Dress Shirt:  I give J. Crew a lot of crap, but their Ludlow line of dress shirts is legit – especially if you can get them on sale, with an extra 50% off, and another 10% off if you sign up for emails…etc.
2. Holderness & Bourne Sargent Sweater:  A KILLER sweater: the lighter weight wool and cashmere blend is a perfect layer for the course or a night on the town.
3. Aether Endeavor Jacket:  Aether creates some of the most innovative outerwear in the world, and the Endeavor leads the pack.  Not too heavy, and not too light, and functionality in all the right spots.
4. Raleigh Denim Jones Canvas 5-Pockets:  I get questions all the time looking for 5-pockets that aren't too full but not too skinny, and the Jones from Raleigh are a GREAT response.  Off the rack they are fantastic, the canvas isn't too heavy, and the fit is spot on.  Just right for boots and for loafers.
5. Martin Dingman Henry Italian Leather Belt:  Add a little flare to your waist.  The hand painted camo leather is so cool, and the bit belt is a nice, country touch.
6. Schoffel Hilton Socks:  Don't sleep on Schoffel.  Ever.  More to come…
7. RM Williams Comfort Craftsman Boots:  I look for an opportunity to wear my RM Williams any chance I get.
8. IWC Big Pilot Spitfire Watch:  Brass and green.  Seriously – is there a cooler colorway?
You getting excited for Spring?