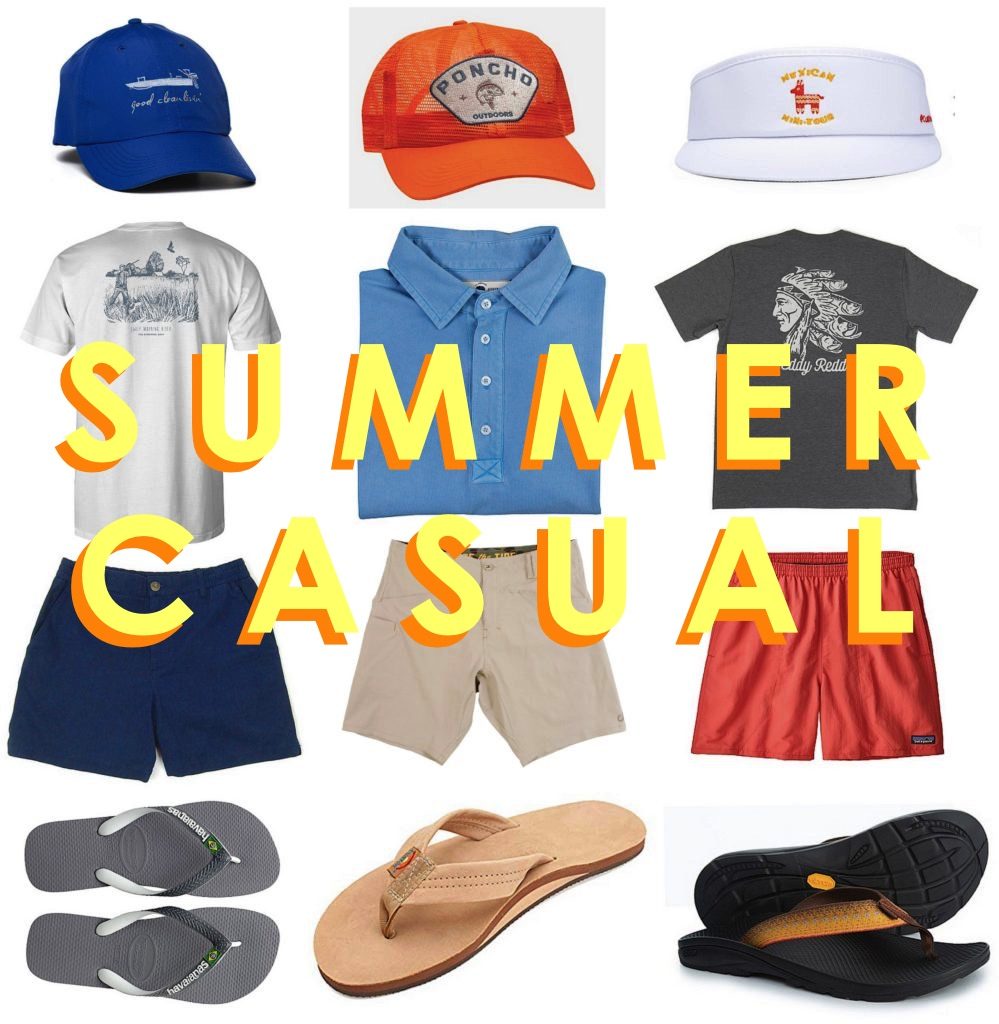 I talk a lot about putting looks together, usually around a particular event, and usually around dressier options.  While I take that seriously, I don't live in those outfits.  So while I wear a sport coat quite a bit, I put it in the closet when it's time to relax.
It's Summertime, and the living's easy.  There's more opportunity to chill out and while I like the casual feel, I still buy smart.  Smart and comfortable.  Ms. RCS tends to spring activities and errands on us, quick, fast and in a hurry.  When I'm bumming around after work or on the weekends, here's how I do it, always at the ready: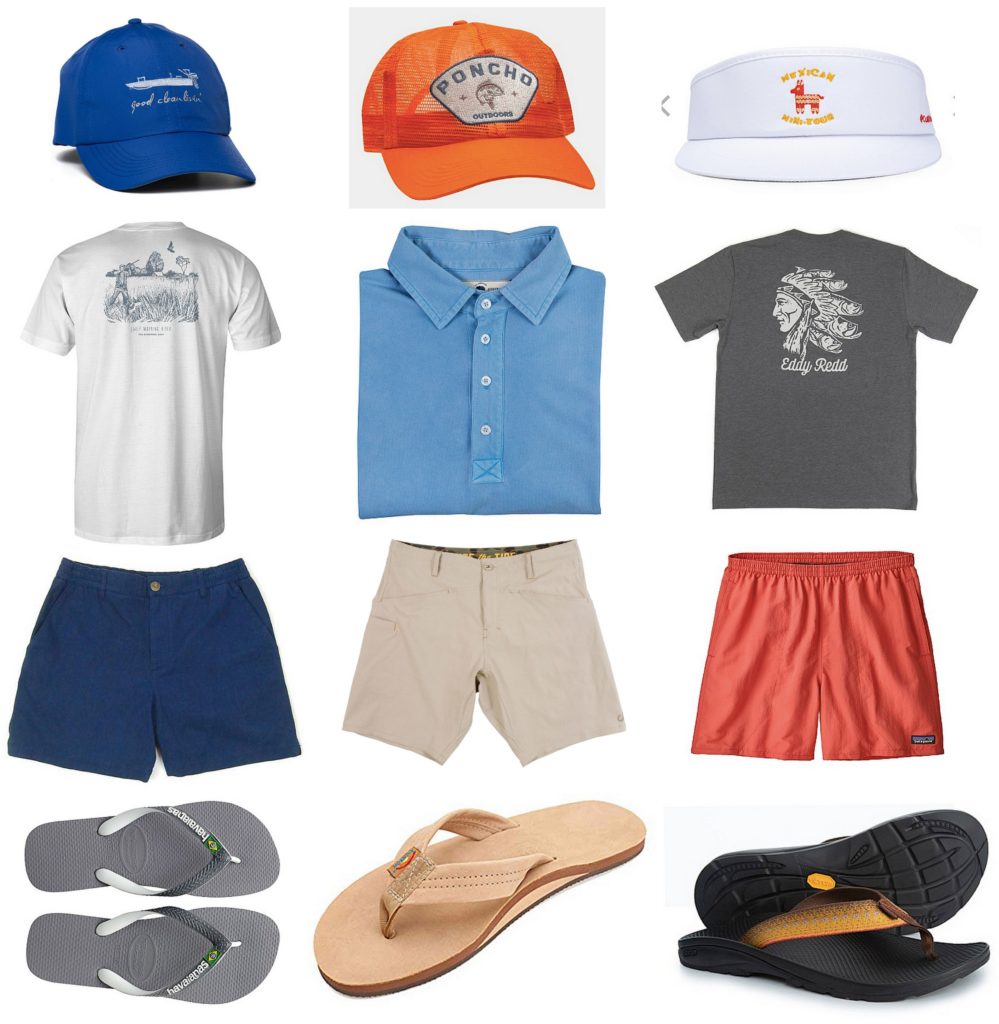 Line by line…
HATS:
Flood Tide GCL Skiff Performance Hat:  I really dig performance hats.  I've got a bunch of white ones from golf courses and a cool one from Rhoback.  I like the idea of adding a royal blue hat.  Flood Tide does it right…
Poncho Carp All Mesh Cap:  It's all mesh.  Not much more to say.
Club Pro Guy "Mexican Mini Tour" Visor:  Don't forget about your tour visor – especially one as cool as this bad boy from Club Pro Guy.  If you don't follow him you are missing out.
SHIRTS:
'Early Morning Riser' from The Sporting Gent:  I'm a sucker for a pocket T.  Call it the nostalgia from my old Fraternity t-shirts or whatever, but I always go for these on the weekends.
Onward Reserve Washed Pique Polo:  It feels like a t-shirt, but has a collar.  I like to wear these shirts as if they are a t-shirt and I don't look too much like a hobo when we are at the taco restaurant.
Eddy Redd Big Chief Shirt:  Probably my new favorite t-shirt.  It's a blend, so it breaths a little better.  I don't think I'll ever go full-tech unless I'm on the water.
SHORTS:
Southern Proper PC Shorts:  Fantastic casual shorts with a great fit, an even better inseam, and enough structure so they fit like shorts, not cut-off sweatpants.  Don't sleep on navy shorts in the Summer – they work year round.
Marsh Wear High Tide Shorts:  A new option from the folks over at Marsh Wear, these fishing shorts are also a great utility option.  They fit well, and are ready for acton: chasing kids around, nap on the couch, or getting thrown in the pool.  Always be prepared.
Patagonia Baggies:  The classics.  Top of the heap.
FLIP FLOPS:
Havaianas:  The best value proposition out there.  These are almost disposable, but actually get more comfortable with age.  I have some pretty nasty ones, but at $24 a pair, it's hard not to replace anytime needed.
Rainbows:  The go-to.  All other leather-ish flip flops aspire to be these, as the fit is dead on.
Chacos:  More heavy duty, but a worthy pair.  Good for long days…they actually provide a little arch support.  God I sound old.
What did I miss?  What's your go-to casual feel duds?
P L E A S E    S U P P O R T    O U R    P A R T N E R S :