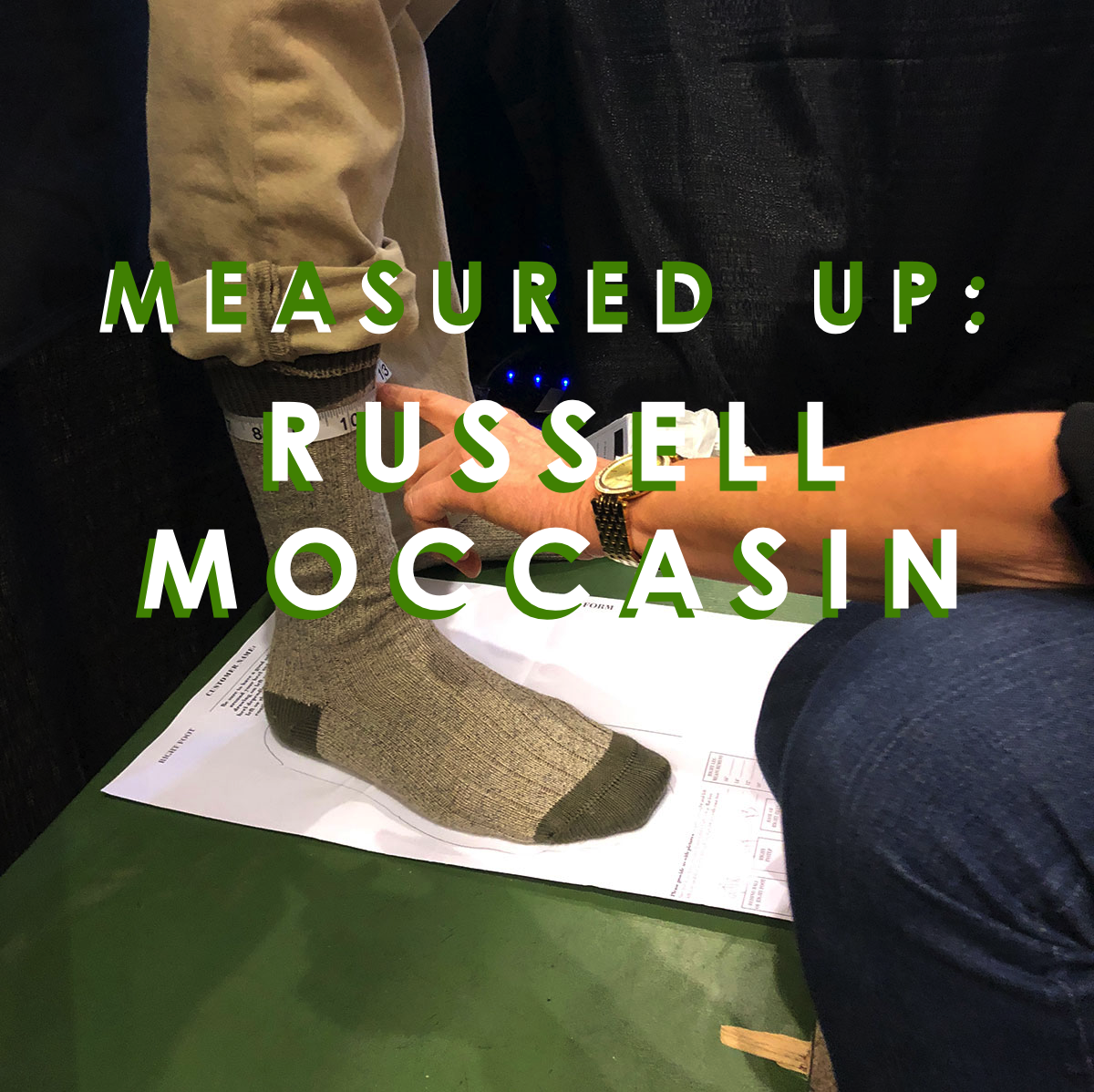 Not only is SEWE a great place to see a ton of interesting, outdoorsy stuff, it's a great place to shop as well.  I have been planning to pull the trigger on a pair of custom Russell Moccasin boots for quite some time, and thought SEWE would be the perfect place to get measured.  I documented the process for reference…it's actually REALLY easy.
Russell is smart; they bring their whole collection in different leathers and styles:
The Turkey Hunters and snake boots:
All proudly made in Berlin, WI:
Close up of these beauties:
When you think about Russell Moccasins, you have to start with the perspective that this is a bespoke boot.  It's very similar to getting a suit cut just for you.  The measurements are important, as these boots will be constructed for your feet, and your feet alone.  Russell will keep you measurements on file for ten years, and will extend that expiration every time you buy a new pair.
As I mentioned above, the measurement process is actually really simple.  It helps to have a friend, but after watching Sue work her magic, I think you could get away with doing it yourself…just prescribe to the 'measure twice, cut once' mentality.
The first thing you do is go to the Russell website and print out the measurement form.  It will walk you through all the measurements you need.  You will need a sewing tape measurer, which are easily accessible.  Or you can order one via Prime.  Don't skimp here…accurate measurements are super important.
You'll take more measurements that you think, but that's OK – Russell is extremely precise in their build and construction.  I would advise measuring to the 1/8″.  Also, I would recommend wearing socks when you do your measurements.  I chose some cotton socks that aren't too thin, and not too thick as to account for different sock options down the road.
Even if you are ordering camp mocs, do the complete measurements all the way up the leg.  This will be on record should you choose to order Cavaliers/Zephyrs or snake boots down the road.  And yes, you need to do measurements for both feet.
This is what a completed form looks like:
After this, you simply place the order for your boots via the website.  You'll see the spot to upload your form, and you are off to the races.  But first, you have to choose the boots, and then all the options…
I chose the Cavalier Crossover, as it's a pair that I'll be able to wear on 80% of hunts, as well as bumming around town or to a game.  They are an everyday boot that will get a ton of wear.  I went with the 6.5 ounce bullhide leather, and am extremely excited to get them.
The construction of Russells are in true moccasin form.  They start at the bottom, and each layer is built on top of the previous, giving it an extremely durable finish, as well as a comfortable fit.
The cost of a pair of Russell Moccasins should be looked at as an investment.  It's very common for wearers to have a couple pairs of the same boots; one for dress, and one for the field.  While the investment may be steep, just read the comments below by Russell boot wearers.  It is a religion, and one where the faith is practiced regularly, and exclusively.
I can't wait to get mine in ~15 weeks.  I'm already trying to decide what will be pair #2…