It's taken me a while to get here, but I have started to enjoy jamming out on the golf course.  I used to be adamantly against it, but then I realized that my golf skill level isn't significantly impacted by some tunes.  I'm on board.  I've been jamming out on the course for a little over a year now, and it's very safe to say that the vast majority of golfers have not caught on as quickly as I have.
Listening to music on the course is breaking a rule.  I don't know what that rule is, but I'm sure it's out there.  Most of the traditionalist think it's a rule, and they believe it's their duty to enforce it.  I've had very predictable conversations at public munis, and at exclusive private clubs.  However, the music still plays.
Here are the tricks we've been using:
Keep the volume low.  If you can hear the music 50 yards away, then so can the group on the next tee box.  Enjoy the music, but don't be annoying.
Be discreet.  No one should know you have a speaker outside of your foursome.  This is not a time to 'jingle your Rolex'.
Get permission.  Make sure everyone in your foursome is cool.  If not, get few beers in them, and they'll be ready to rock.
So without further adieu, I present you with the official Red Clay Soul On-Course Playlist.  This list takes a lot of things into account: the importance of the first and tenth holes, the nod to some 90's rap for the home stretch of the front side, the Saturday Night Gold country to go right along with your buzz on the backside, and a slap to reality with Hornsby.  I don't know how to share this on Spotify, but feel free to make it and share the link in the comments below.
1. "Sussidio" – Phil Collins – start it off right
2. "Addicted to Love" – Robert Palmer
3. "I Want A New Drug" – Huey Lewis & The News
4. "Pride & Joy" – SRV
5. "Gimme Shelter" – Rolling Stones
6. "Ain't Wasting Time No More" – Allman Brothers Band
7. "Who Am I? (What's My Name?)" – Snoop Dogg
8. "Hypnotize" – Notorious B.I.G.
9. "Today Was A Good Day" – Ice Cube
10. "Shoot to Thrill" – AC/DC – see what I did here at the turn?
11. "Hell in a Bucket" – Grateful Dead
12. "Tush" – ZZ Top
13. "Honky Tonk Heros" – Waylon Jennings
14. "Mama Tried" – Merle Haggard – at this point, your blood/alcohol level will require a ride home
15. "The Closer You Get" – Alabama
16. "East Bound and Down" – Jerry Reed
17. "Life in the Fast Lane" – The Eagles
18. "The Way It Is" – Bruce Hornsby – face reality
Now, let's talk about on-course equipment.  While this would be preferable: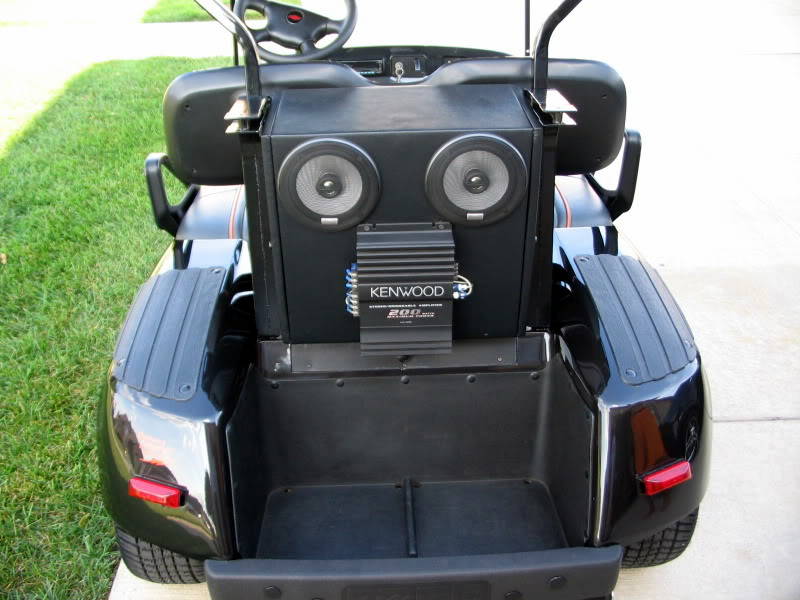 It's best to use some situational ethics.  A boom box on the course is NOT like the suburbs, where we overbuy everything.  Just go with what you need.  Here is what I recommend:
From top left:
1. Anker Soundcore Portable Speaker: I'm a big fan of Anker stuff.  This is a little smaller than the Jawbone, produces better sound, and a much better price point.  This is the preferred speaker if you are seriously ready to party.  This one works in the golf cart 'glove box', in a cupholder (long ways), or in the towel pocket of your bag.  They'll hear you on the next hole with this bad boy.
2. Anker Soundcore Mini Speaker: This is preferred for the cart.  This one fits in the cup holder.  Not good if it's cart path only.
3. JBL Clip 2 Waterproof Speaker: Good for the walking crowd, as it hooks to your bag, or you can clip it to the cart roof.  Just don't forget it.
4. Anker Powercore: This is key.  A (charged) power source with two USB ports will be a lifesaver, since a) you probably forgot to charge your speaker, and b) you definitely forgot to charge your phone.  Spotify doesn't work very well when your phone is out of charge.  This bad boy will charge an iPhone seven times.  And don't forget a charging cord.  In fact, go ahead and put an extra one in your bag.
What say you?  Are you a music-on-the-course kind of guy?  Why?  Why not?  What are your tricks?