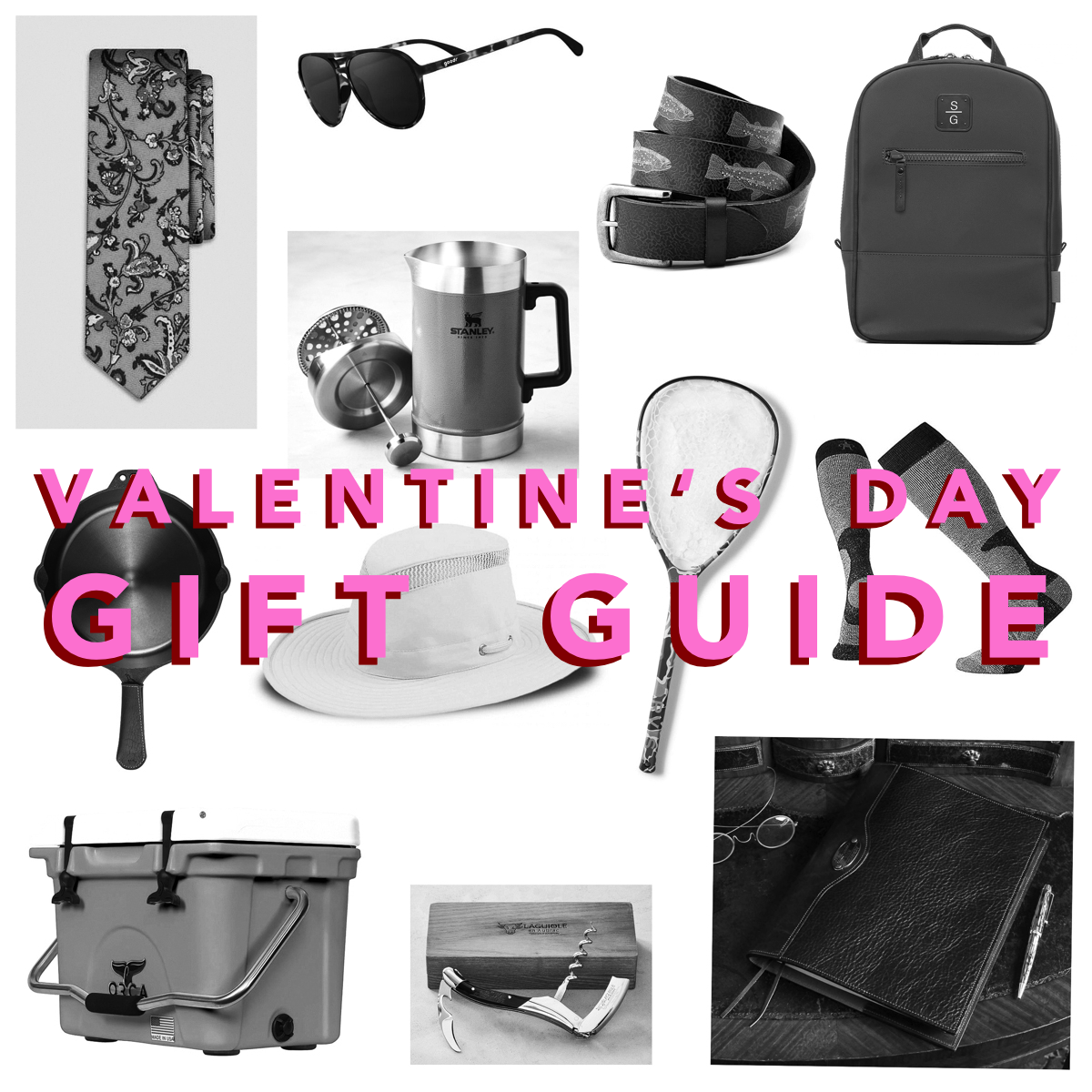 Well, Valentine's Day is about three weeks away.  Seems to have snuck up on us a bit, and I was gleefully reminded by a couple of DMs from ladies asking for help.  Well, all things considered, Valentine's Day is really about the lady.  Guys – no offense, but SHE is your gift.  And if you don't have a better half, then all the drink specials at local bars will have to do (wink face emoji).  And don't worry – Mrs. RCS is compiling her list now, and I'll post it as soon as she's done.
So ladies, this one is for you.  I compiled a list of things that he doesn't NEED, but also things that he probably wouldn't buy for himself.  These are great gift ideas that will up his game, are useful, super cool, and affordable: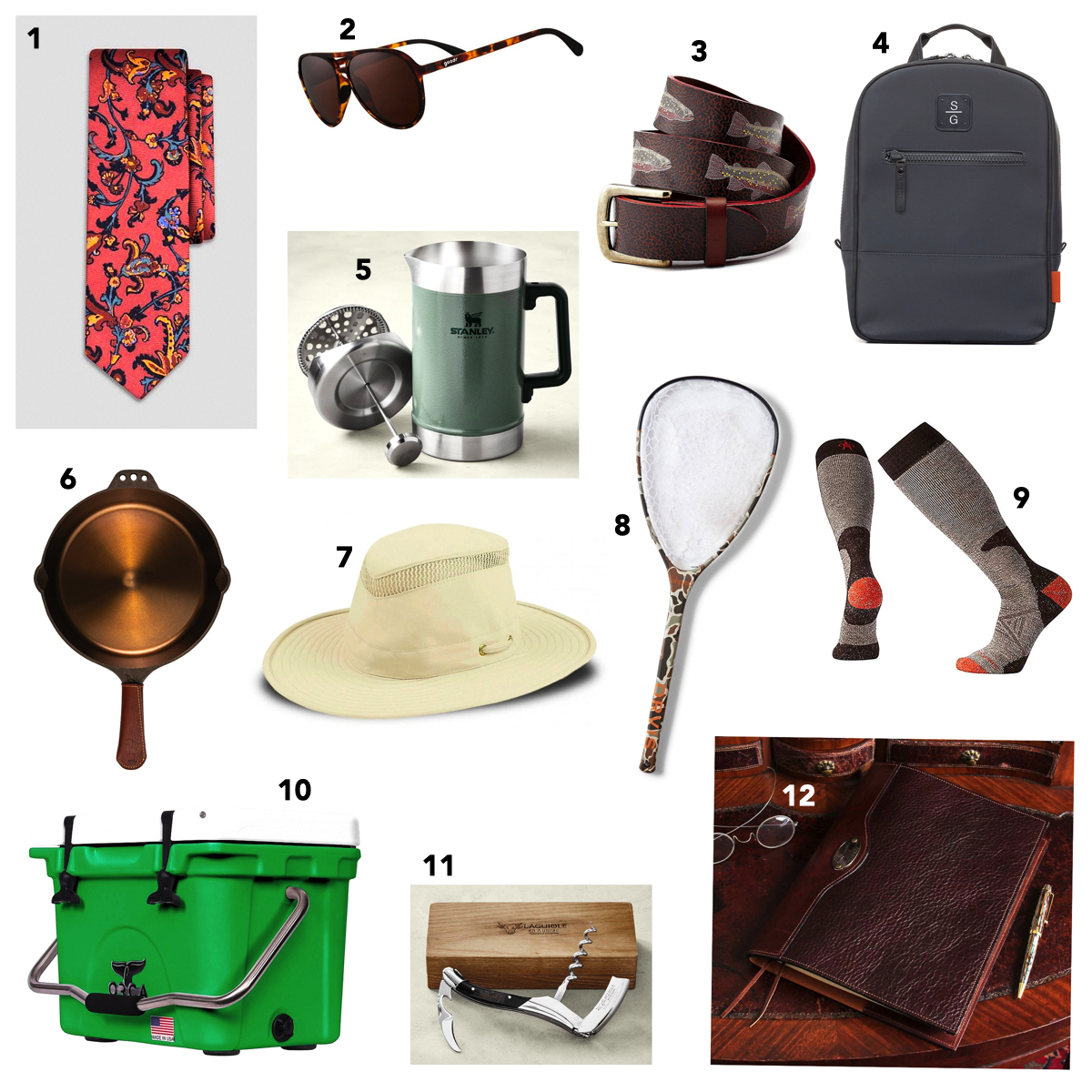 From top left:
1. Paisley Tie from Drake's:  Go ahead and outfit him with his Spring Wedding tie.  Every guy needs one.  His neck will be the best dressed in the room.
2. Goodr Mach G Sunglasses:  I got these last year and can't stop wearing them.  The low price point and high style are great – these sunglasses live in Bertha and are standards at the pool and the beach.  I'll probably get a second pair this year just in case.
3. Cattamarra Trout Belt:  If your dude is a fisherman, he'll appreciate this upgrade to his trout needlepoint belts.  He can wear this one to church.
4. Stitch Golf Shoe Bag: By far the coolest shoe bag on the market.  A good example of the PERFECT gift (not something he'd buy for himself).
5. Stanley French Press:  The manliest way to French press some coffee.  And super cool.
6. Smithey Cast Iron Skillet:  The 12″ model is the way to go.  Before you know it, he'll be a pro at the one-pan meals, frying eggs, and cooking steaks.  And they'll never taste better.
7. Tilley Airflow Hat:  I got one of these early last year and wore it a TON – bass fishing, beach days, yard work, and playground playdates.  The sun is my enemy, and my Tilley is on my side.
8. Orvis X Fishpond Mid-Length Net:  Another example of a perfect gift.  This is a GREAT net to take on the boat when fishing for largemouths, as well as trout fishing some bigger streams.  It's super light, and the camo paint scheme sets this one out from the pack.
9. Smartwool OTC Hunting Socks:  The absolute best winter socks I own.  I wear them chasing quail, stalking deer, standing in a trout stream, or when sitting around a campfire.  They are awesome.  My feet thank me.
10. Orca 20qt Cooler:  These coolers are so cool.  I love the fact that they are 100% made in the USA, and the color schemes are fun.  The 20qt is great to have with the kids, as not only does it keep their juice boxes cold, but it provides a seat!
11. Laguiole Waiters Corkscrew Wine Opener:  For the guy who's getting into wine, or who needs an upgrade for that corkscrew he stole from the hotel.
12. Col. Littleton No. 30 Journal Notebook:  If your guy is a list guy like me, this is PERFECT.  I use mine all the time.  It keeps me in order and on task.