I've been a big fan of the Omega Speedmaster for quite some time.  First introduced in 1957 as a sports and racing chronograph, it has a storied history including being the first watch to walk on the moon.
Time and Watches did an excellent historical piece on the Speedmaster.  An excerpt:
Beginning in about 1962, NASA purchased a series of chronographs of different brands including Breitling, Longines, Omega, Rolex and others with the task of finding the best watch available for their astronauts to wear in space.
When NASA received the watches, they were subjected to a series of tests and pre-selection processes called the "Qualification Test Procedures". Only three watches out of six chronographs successfully survived this arduous pre-selection phase. The finalists were then subjected to 11 different tests – the most rigorous trials endured in the history of horology:
1. High temperature: 48 hours at a temperature of 160°F (71°C) followed by 30 minutes at 200°F (93°C).
2. Low temperature: 4 hours at a temperature of 0°F (-18°C).
3. Temperature-Pressure: 15 cycles of heating to 71°C for 45 minutes, followed by cooling to -18°C for 45 minutes at 10−6 atm.
4. Relative humidity: 240 hours at temperatures varying between 68°F and 160°F (20°C and 71°C) in a relative humidity of at least 95%.
5. Oxygen atmosphere: 48  hours in an atmosphere of 100% oxygen at a pressure of 0.35 atm.
6. Shock: Six shocks of 40 G, each 11 milliseconds in duration, in six different directions.
7. Acceleration: From 1 G to 7.25 G within 333 seconds, along an axis parallel to the longitudinal spacecraft axis.
8. Decompression: 90 minutes in a vacuum of 10-6 atm at a temperature of 160°F (71°C) and 30 minutes at 200°F (93°C).
9. High pressure: 1.6 atm for a minimum period of one hour.
10. Vibration: Three cycles of 30 minutes vibration varying from 5 to 2000 Hz.
11. Acoustic noise: 130 db over a frequency range of 40 to 10,000 Hz, duration 30 minutes.
On March 1, 1965, the test results were completed and only the Omega Speedmaster passed. At the time, NASA's testers wrote, "Operational and environmental tests of the three selected chronographs have been completed; and, as a result of the test, Omega chronographs have been calibrated and issued to three members of the Gemini Titan III crews."
On the 20th of July, 1969 the first manned lunar landing was certainly one of the most dramatic scientific achievement in human history. Neil Armstrong was the first to step onto the moon's surface.  Since the electronic timing system on the Lunar Module was not functioning correctly, Armstrong had left his watch aboard as a reliable backup. Nineteen minutes later he was joined by Buzz Aldrin, who was wearing his Omega Speedmaster Professional was the first watch worn on the moon. It was a Omega Speedmaster Professional with a Calibre 321 movement. A few months after this mission, Buzz's watch was stolen and never returned.
…and Omega rode this in their advertising: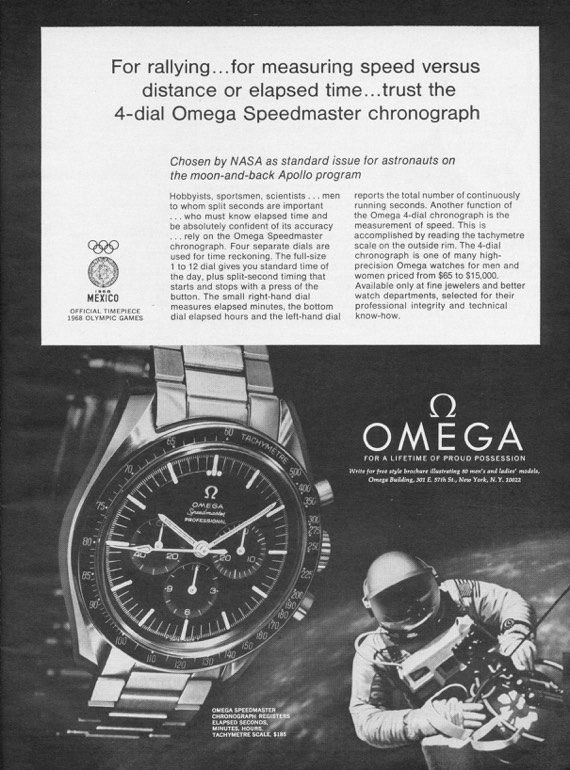 More Speedmaster history from Hodinkee, and Hodinkee again, and a Buyer's Guide from Fratello.
Good stuff, Omega.  All the right stuff…