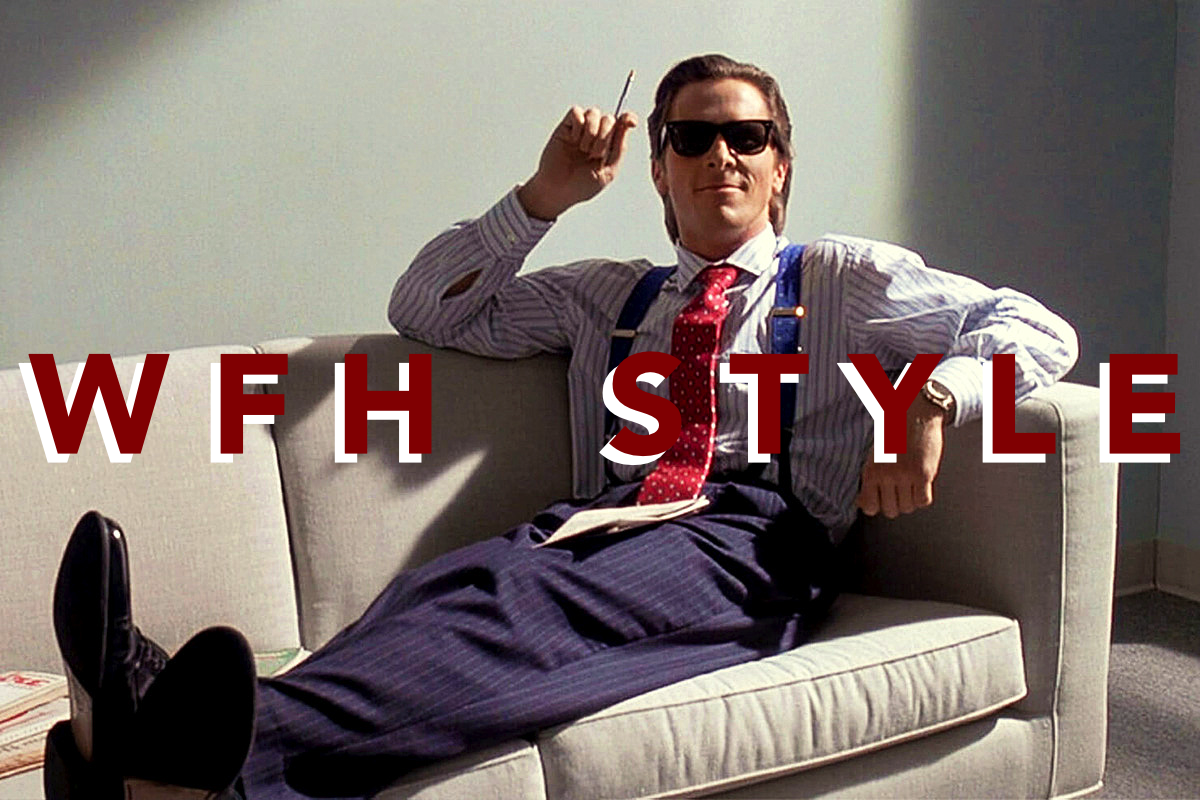 Over the last couple months I've learned that function is a major priority when getting dressed every morning.  My original thought was that I was going to get dressed every day as if I was heading into the office.  Essentially it was an effort to keep some semblance of normalcy.  At this point, I think we've started to transition into the 'new normal'.  No one has a crystal ball, but I've got to assume the office environment will never be the same.  Since we've all been immersing ourselves in being at home, I've learned a few things:
1 Routine is key.  As it relates to this article, I mean taking a shower every morning and getting dressed.  It helps me start the day, and I feel so much better and refreshed.  It's my conscious effort to kickstart the day.  Enough can't be said about the impact of thoughtfully getting dressed.  It's an immediate confidence booster.
2. Working from home isn't a constant 9-10 hours of work.  It's 8-9 hours of work spread over a ~10-14 hour day.  No one knows what the future of offices and workspaces will be, but I can see quite a few folks staying at home for at least a portion of the week.  There's no more bookends of a commute, so work isn't confined to an office.
3. I've found myself getting into small projects during the day.  Everything from a quick hour of yard work, cleaning up/organizing my section of the basement (hunting/fishing stuff), going for a walk, running errands, etc.  I'm looking forward to getting my haircut, or hitting a Goodwill.
These lessons have made me rethink the WFH style.  Function has become a huge role in what I wear.  I'm not going to wear a top shelf dress shirt on a day where I'm going to go spray weeds with Round Up or trim a few bushes.  Instead, I'll opt for a polo or an OCBD with the sleeves rolled up.  I'll opt for a pair of 990s or Camp Mocs.  Jeans and 5-pockets have become the standard.  Of course I try to add a little style, with a cool belt, a vest, and a cap.  Here is what I'm wearing:
Shirts:  For the most part, I'm wearing OCBDs and polo shirts.  These give me a good look up top if I ever need to be on a video call.

L-R: Brooks Brothers | Criquet | Holderness & Bourne | Vintage BB
Pants:  It's been mostly jeans and 5-pockets.  Neither of these require any sort of ironing, and are tough – in the sense that they can keep up with the wide breadth of chores and tasks throughout the day.  I have a feeling that shorts are about to start to creep in as Summer inches closer…we'll deal with that when the time comes.

L-R: Sid Mashburn | Levi's | Onward Reserve | Duck Head
Shoes:  For the most part, I've been sticking to 990s and Camp Mocs.  I'm doing everything I can NOT to wear flip flops, as I'm trying to keep some semblance of formality.  These are great utility shoes that work for any activity that pops up that day.

L-R: Oak Street Bootmakers | New Balance
Belts:  Honestly, nothing has changed here.  I am pretty proud of my belt game, and I take it seriously.  Lots of Smathers, La Matera, golf club belts, etc. give a little jump start to any outfit.

L-R: Smathers & Branson | La Matera | Martin Dingman | Sugarloaf Social Club
Pullover/Vest: These have been mostly used in the early morning, but they are still getting use.  I have to give props to the Orvis Pro Insulated vest.  Super cool – and a great fit.  It's been getting a lot of play.

L-R: Orvis | The Sporting Gent | Holderness & Bourne | Patagonia
Hat:  Gotta have it.  You never know.
What dressing habits have changed for you?  Any observations to share in the comments?