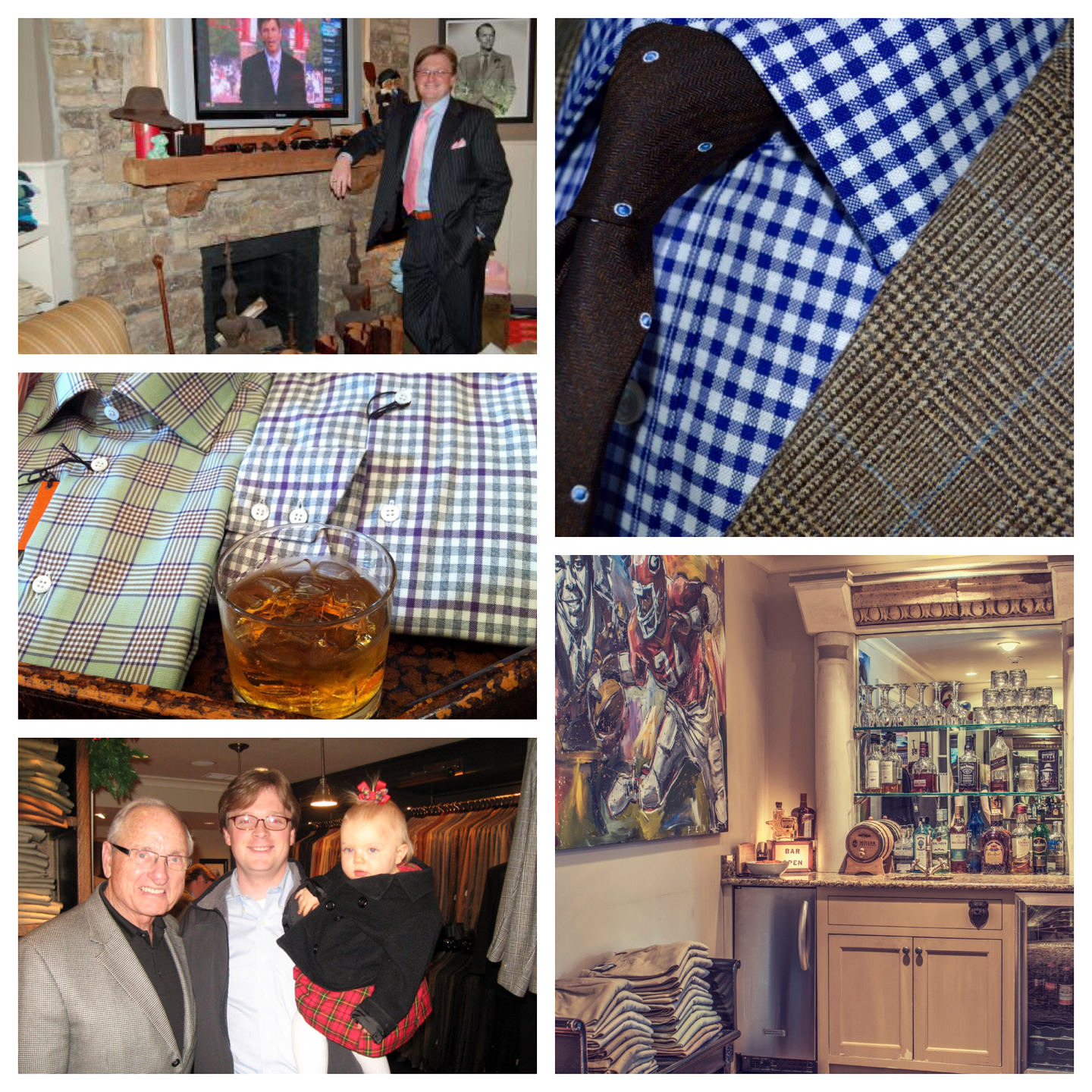 Bradley A. Evans is a frequent contributor to Red Clay Soul, and a good friend.  In his younger days, he spent some time as a Haberdasher at Miller Brothers here in Atlanta (which he documented here).  Today, we go through a day in that life…

7:30am – Wake up hung over from the evening before.  There are a multitude of reasons why this happened; social events, impromptu shenanigans, etc.  It wasn't uncommon to have an old stockbroker colleague wake up on my apartment couch on a weekday morning because I invited everyone to everything I was invited to – and there were a lot of invitations as a Man of the Cloth.
7:40am – Long shower followed by my Duke of Windsor morning ritual; an effortless and subtle mixing of patterns.  It could be a plaid jacket, gingham shirt, and billowing paisley pocket square.  Or, if I was feeling lazy, I'd pull a Gordon Gecko: custom pinstripe suit, Albert Thurston braces, and cufflinks.  Either way, it was always a four-in-hand and black shoes were a no go.
8:35am – Swing by Goldberg's off West Paces for a bagel and orange juice to wash down a few Tylenol
8:59am – Arrive at the shop with seconds to spare; desperately trying to ignore the Little Drummer Boy inside my skull
9:03am – Turn on Z-93
9:30am – Open a ton of UPS boxes containing one incredible handmade garment after another – from Italian sweaters to Swiss shirts to English socks.  After affixing price tags and meticulously arranging everything, I realize my Christmas wish list has surpassed twenty thousand dollars (at cost) and it's only August.
10:23am – Sneak in first cigarette of the day on the back porch with the venerable Barnes Ford
10:50am – Help a client decide between bit loafers or drivers and bring several sizes of each for him to try on
11:15am – Get told for the second time to stop lounging around on the couch pretending to be doing something while watching ESPN
11:37pm – Take my fifth trip to the basement to get a client's newly hemmed trousers for his wife to hang up in the back of her Range Rover; replete with either a Lovett or Westminster sticker on the rear window and a Capital City or Driving Club sticker on the corner of the windshield
11:55am – Help a college kid find a needlepoint belt with his school logo (nine times out of ten it was in the SEC)
12:15pm – Walk to the old Henri's to get everyone lunch and run into buddies who are feeling the night before as much as I am.  Oh yeah…triple check for NO mayonnaise.  I could get away with just about anything, but bringing back lunch with mayo was grounds for an ass chewing.
12:40pm – Take the garbage out back and say hi to Richie Arpino who had the shop next door
1:11pm – Enjoy one of many conversations throughout the day with regulars who I truly enjoyed spending time with.  The haberdashery trade is akin to selling Christmas trees – everyone is in great spirits.
1:32pm – Drive Greg's Porsche to drop off clothing at a client's house and see how fast I can flip through the Tiptronic transmission as I attempt 100 mph on Northside Drive.  Barnes and I kept a scoreboard on who went the fastest.
2:30pm – Switch the radio from Z-93 to 790 The Zone
2:38pm – Watch Robby or Greg take measurements on a client ordering a custom made sports jacket (by far one of my favorite parts of the job was being taught how to do things like this)
2:55pm – Smoke a cigarette faster than a high school kid lighting one up in the school bathroom while Barnes and I kept a look out for one another
3:10pm – Head over to Pearson's to pick up a bottle of Blanton's, Johnny Black, and six-packs of Sweetwater and Stella to refill the shop bar
3:46pm – Help a client's wife pick out cufflinks for her husband's birthday
4:05pm – Pour the first of several drinks in vintage UGA glasses for clients (I still remember who drank what and how stiff to pour)
4:30pm – Shoot the bull with sales reps who swung by with samples
5:18pm – Make my 11th and final trip to the basement to retrieve someone's jacket, suit, trousers, shirt, etc.  While down there, I'd listen to Roy, our Master Tailor, who made suits for the Rat Pack and LBJ, bitch about something, but I never understood a word of it.
5:25pm – Find the perfect Drakes tie and hide it until payday so I'd get it at cost
5:40pm – Fold trousers, align ties, stack shirts, and line up jackets on the rack.  Do my absolute best to make sure the shop is in tip-top shape before we call it quits.  I took a lot of pride in the shop looking perfect.
6:00pm – Lock the front door, turn the window mannequins around so they face Paces Ferry Place, and rest my bones on the couch
6:12pm – Walk to Five Paces, order a bottle of beer, light a cigarette, and eat popcorn