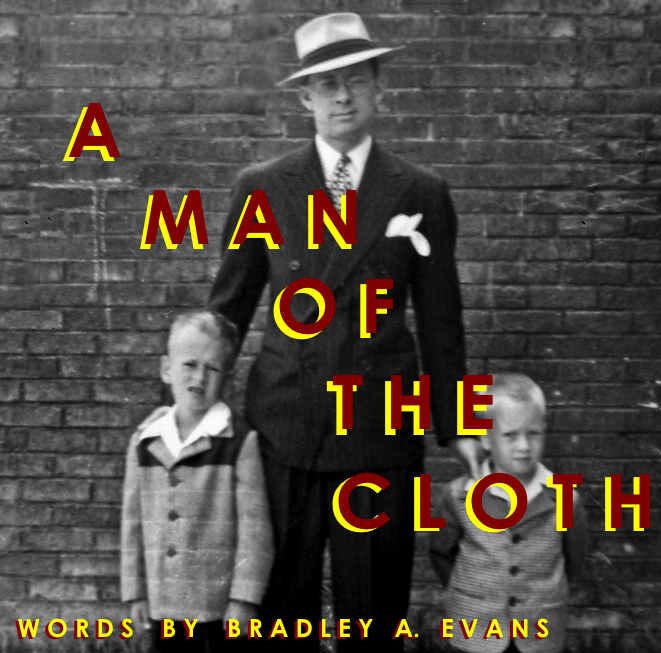 I come from a long line of traditionally dressed men. Both of my grandfathers lived in suits – one a teetotaler banker and the other a cigar smoking steel salesmen who knew the three martini lunch routine all too well; albeit he imbibed in a three-piece and fedora. I even have a black and white photograph of my great-grandfather at the family compound in Michigan wearing a tie during the middle of summer. To his credit, it rarely breaks 70 degrees up there, so an afternoon of fishing for pike in a tie is doable (for a really old school guy).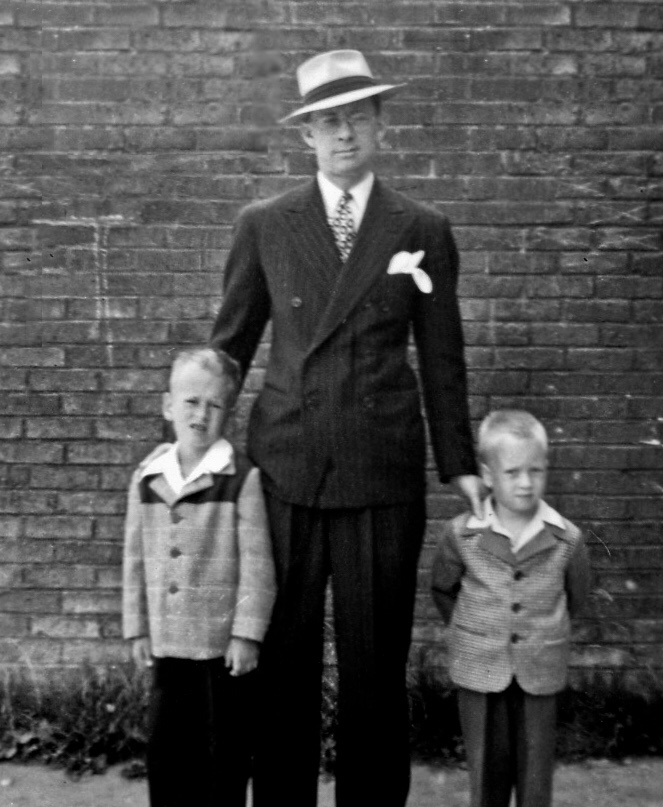 My memories of Dad as a kid are of him coming home every evening in a suit, tie, and his briefcase. He'd sit down for dinner with the family and if memory serves me right, he didn't loosen his tie until the news came on. Watching Don Draper in Mad Men reminds me of his conservative style and stoic mannerisms.
Speaking of Don, one of my favorite scenes is when a flavor of the month calls him at three in the morning for a roll in the sack. He greets her at his front door, in the middle of the night, in a suit and tie. She coquettishly asks, "Do you sleep like that?" His reply, "I'm vain." Classic! My kind of guy.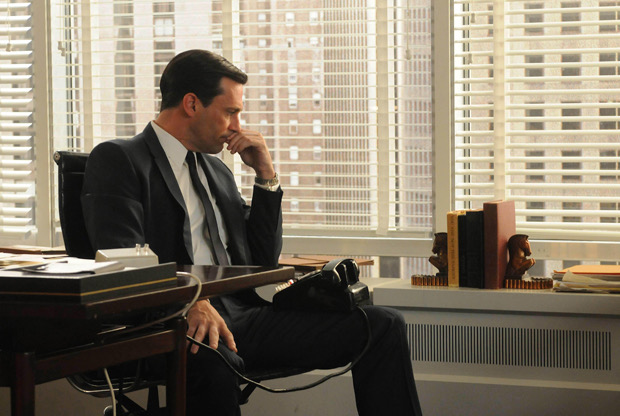 When I got out of UGA I took a job with a Fortune 500 where the dress code was a jacket and tie. I went to Brooks Brothers at Lenox and bought a few shirts, ties, wool trousers, and leather belt that I still wear with my first paycheck; a sartorial rite of passage. The semi-retired gentlemen who helped me was perfectly suited for the job as he'd done the same thing when he was my age.
I eventually left to work for Smith Barney where we not only wore suits and ties, but casual Friday was frowned upon. The furthest we took it was going sockless and were quickly told, "Boys, in case you didn't notice, this isn't the Capital City Club." We continued to do it anyway.
I took to the stockbroker world like a duck to water. Dressing up, trips to Manhattan, long hours and long lunches suited my interests. I thoroughly enjoyed my time at the firm, but my younger brother died days after I passed the seven. My world was thrown upside down. Eventually, one of the partners, who taught me how to tie my first bow tie, introduced me to the Miller Brothers. I needed a change of scenery and what better than transitioning to a "Man of the Cloth" – as our business cards said.
Robby and Greg hired me and for the next year I enjoyed every single day of life. Working for those two was a welcomed distraction and an opportunity to chase a dream. I always wanted to work in the haberdashery trade. In addition to learning the basics of the business, I was a bartender, delivery boy, and occasional grill master. I woke up every day excited to go to work – not a lot of people can say that.
We threw awesome parties, I met all sorts of interesting people, and the AJC did a full page spread on myself and new profession; the title of the article being, "From Stockbroker to Haberdasher".
But, life continued to happen and the real world came calling. My wife was pregnant with Annabelle, which meant it was time to get back into the only other trade I knew: finance. I ended up at SunTrust Robinson-Humphrey in the investment bank. Instead of pouring drinks and chatting up clients, I was in a grey cubicle on the 24th floor of one of John Portman's downtown skyscrapers. I still wore a suit and tie, but it wasn't the same.
I look back at my time as a haberdasher with fond memories. Every day with Robby and Greg was a blast. And, to their credit, they gave me a place to grieve the loss of my brother. None of us knew it at the time, but I'll forever be grateful.
I've stayed in the financial services industry and at forty years old I'm still in a suit and tie. I don't do casual Fridays, but certainly could as I work for myself. I enjoy the ritual of dressing up every morning. I still have a closet full of Miller Brothers clothing – no doubt their products stand the test of time; from plaid belts to Lilly Pulitzer trousers to pin stripe suits. As I write this I'm wearing a ten-year-old handmade Angelo Nardelli cashmere necktie that looks as good as the day it arrived at the shop.
Nowadays, I've adopted the "uniform" approach. Monday through Friday I'm in navy – top to bottom; with the exception of Allen Edmund Verona loafers (rotate between black and brown), a tanker watch with alligator strap that Dad gave me, and my great-grandfathers signet ring.
I wear an unlined navy jacket with a white pocket square that I never take off, white shirt with a spread collar, and navy tie, trousers, and over the calf socks. Not to get too intimate, but underneath it's always a white undershirt and white boxers. I'm a sight to be seen in the locker room in my old man undergarments and socks up to my knee caps.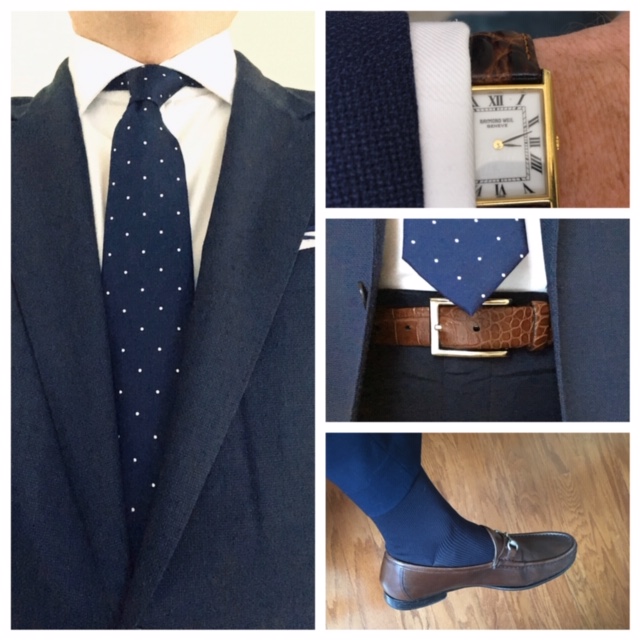 I, like any clothes horse, have gone through phases, but only a discerning eye would notice. To most I'm an indiscernible finance guy in a suit. I've been told on numerous occasions that "we" all look alike. And that's OK. I believe a wardrobe should stand the test of time. All the men in my family have dressed about the same; conservative by any standard, but with a sense of individualism. Dad prefers glen plaid sports jackets, whereas his father wore a fresh picked rose bud in the lapel of his double breasted suits.
I wasn't born in a suit, but I'll probably die in one. Why? Well, quite simply, I feel most comfortable in one. I wouldn't pull a Nixon and wear one on the beach or while rolling the rock, but I get it when he responded to Bob Greene's question about always being in a suit and tie, "It isn't a case of trying to be formal, but I'm more comfortable that way."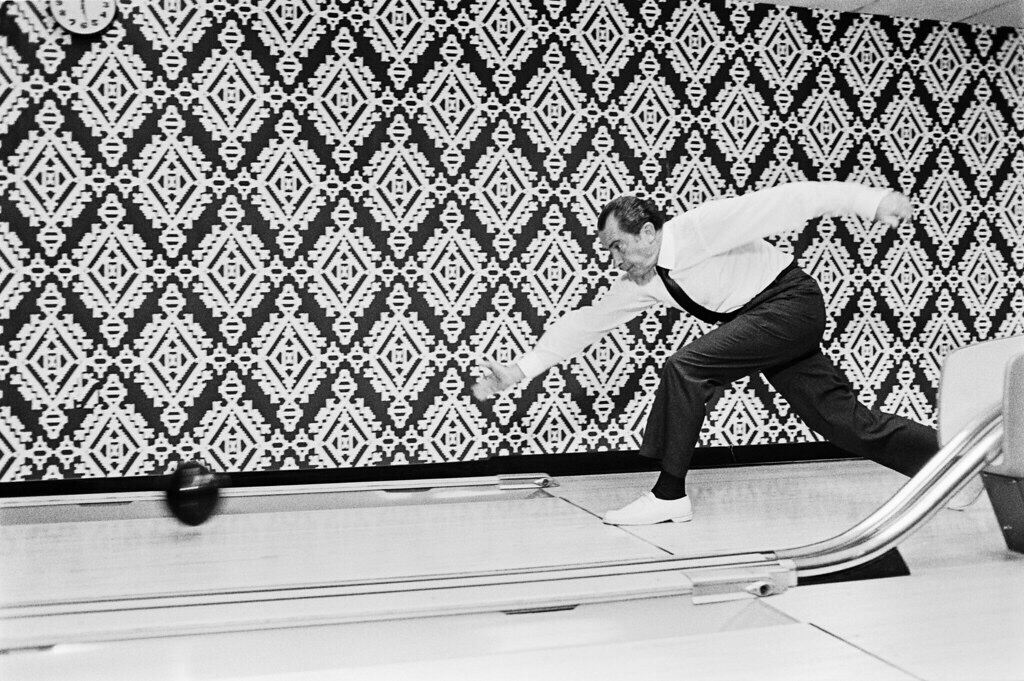 Contributor Brad Evans is a good buddy, a UGA grad, and an idea guy.  We're luck to have his words here on RCS…more to come.