Anyone who wore shorts between the years of 1993 and 2010 knows all about the iconic Polo Andrew Shorts.  These jewels from Ralph Lauren were all the rage…at least here in the Southeast.  And they were just about perfect: boasting a 5″ inseam, which was a clear middle finger to the capri-like inseams of cargo shorts, and pleats, because flat front wasn't all the rage (yet).  At $49 a pair, they were a deal, and could be found for much less as the discount stores, or on sale at department stores in the Mall.
They broke in just right.  They chino material got softer with age, to the point where the pleats almost disappeared.
I remember going through a few pairs a year during college.  As I added replacements, I didn't get rid of my older pairs until they literally disintegrated.  Those old dogs, along with their frayed edges, salsa-stained fronts, and torn pockets became my GTH shorts.  By the time they reached that point, they were more comfortable than gym shorts.
The label above the back pocket was very Polo-esque.
There were three acceptable colors that stayed in my rotation: khaki, stone, and navy blue.  The navy pair didn't get a ton of wear, but I've come to like navy shorts as much as khaki.  They offered them in other colors (black, a weird green color, and later on they offered Nantucket red), but those didn't get much play.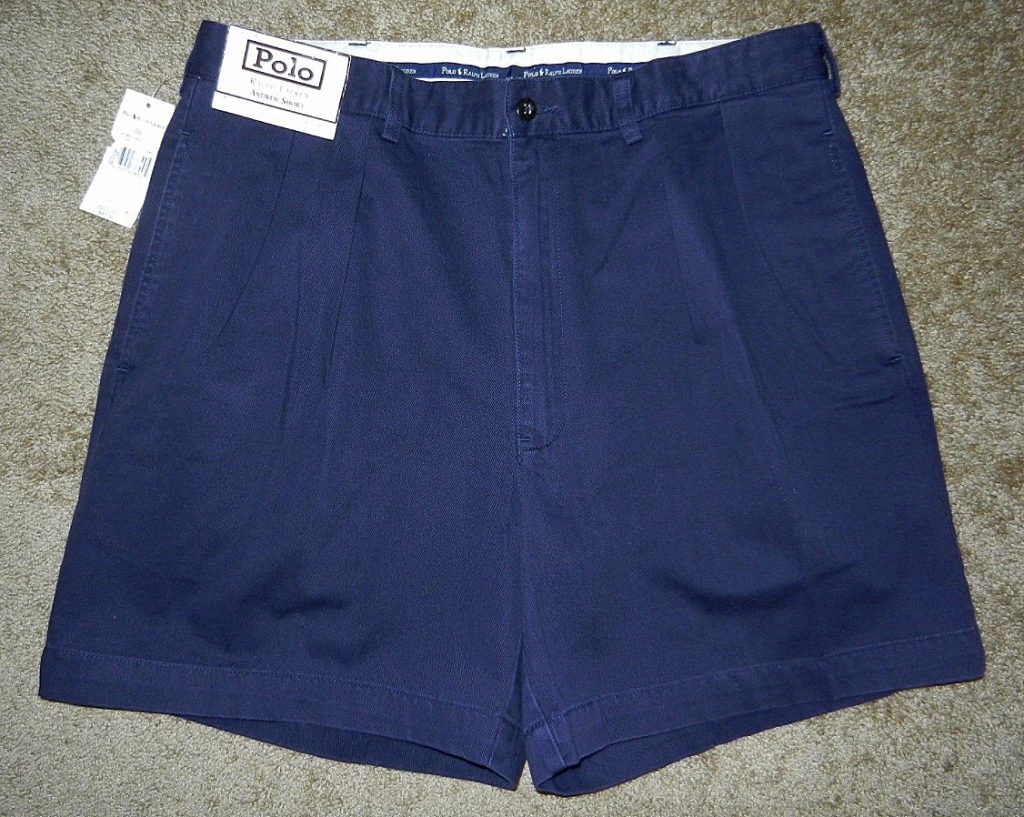 Ralph Lauren elected to stop making these shorts, probably because the shorter inseam and the pleats no longer favored the middle 80%. I get it, but these shorts were the stalwart symbol of the frat/post-grad frat/anti-capri crowd.  It's a shame, and those of us who were annual subscribers had to find replacements.  Pleats have become a thing of the past, so here are a few pairs of flat front chinos that I like.  I'm a 6″-7″ inseam guy, so some of these require a little work, but I'd argue it's a worthy investment.  Here are some keepers:
From top left:
1. Onward Reserve Piedmont Shorts: These check all the right boxes: good colors, 7.5″ inseam, and minimal logo.  The price is good for what you get.  High value prop.
2. Bill's Khakis Southport Shorts:  There are a lot of folks who are big on Bill's, and were let down by the last few years.  Well, there is renewed focus on the USA cut and sewn, so let's bring these back to the fold.  The inseam is too long (for me), so they'd need a little work, but it's worth it.
3. Orvis Sun Washed Shorts:  These are a thinner chino, which is pretty nice in high temp/high humidity climates.  These have a 7″ inseam, so they are ready to rock off the shelf.
4. Sid Mashburn Canvas Shorts:  Canvas is tough, but it breaks in well.  The inseam is very favorable for those who like to show a little more leg, but size up in the waist.  The waist size does not include any vanity.
5. J. Crew Garment Dyed Shorts:  They've been doing it forever, and now offer a 5″ option for those who are into that.  And don't sleep on Navy blue.
6. Peter Millar Winston Washed Twill Shorts:  I have couple pairs of these, and love them.  I got a few inches removed from the inseam, which was 100% worth it.
7. Patagonia All-Wear Shorts:  Love the dressed up outdoor look?  Add some of Patagonia's All-Wear shorts to your collection of Stand Ups (now $41).  The 8″ may be OK, that's your call.
8. Ball and Buck 6-point Duck Cotton Shorts:  The duck cotton is a nice touch, as it won't wrinkle like other chino.  Ball and Buck offers these in a ton of cool colors.
9. Ralph Lauren Core Classic Shorts:  I have to include these as they are the Ralph Lauren replacement, but they aren't the Andrews.  And the fabric isn't like it used to be.  Buy at your own risk (and preferably on sale).
What did I miss?  What shorts are you wearing these days?