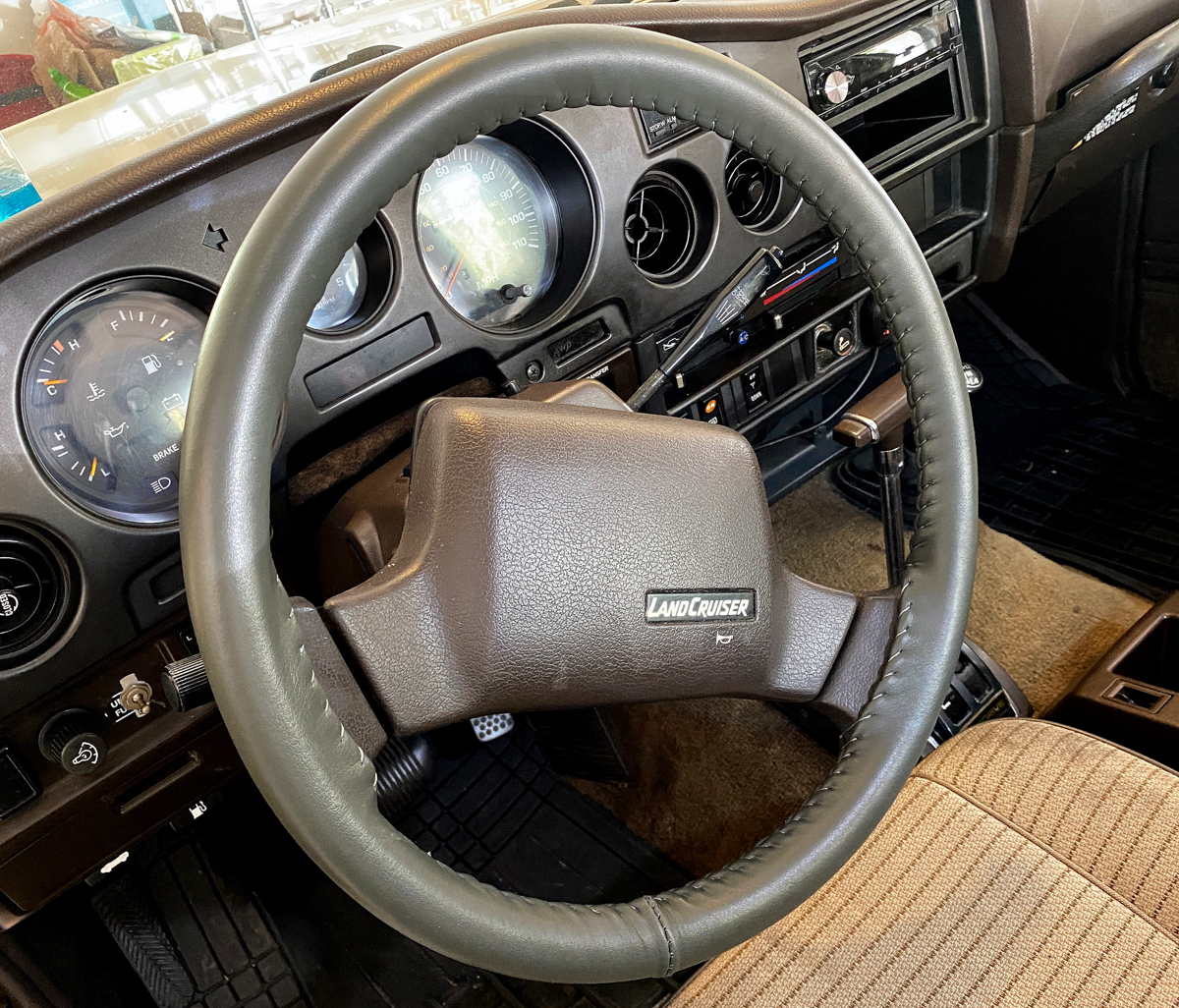 Time for an update. Been a couple of busy months for Bertha, as we are getting her road-ready and cleaned up.  EDIT – I think it makes sense to talk about the post-buy financial investment involved.  I've included the costs so you folks know what you are getting into.
Since January, the major work I did was to have the exhaust replaced ($1200).
Here's what we've done since then:
I took her to her first spa day at ACC Garage, and had the following done:
– New AC compressor and intake
– Got all the door locks replaced
– New LED headlights
– Tried to straighten the steering wheel, but it's still a little slanted (I'm going to attempt to straighten…)
They replaced all the interior/gauge lighting, but it turns out the switch is bad. No biggie – most of the bulbs were burnt out. ACC was able to find a new switch, and we'll replace it next time I bring it in.  Total Cost: $3700.
Before my visit to ACC, I found an oil leak, so I had them diagnose. Turns out it's a bad side cover gasket. They've found the part, which is super cheap, but the labor is high since it's a maze to get to it. Also, I spoke to them about my sound system/Bluetooth/etc. ACC offers a full restoration where they replace the head unit, all the speaker wire and components, insulate behind the speakers, and use brackets that allow for better/deeper speakers in the front doors (not depth limited) and cargo area (6×9 speakers vs. 6.5″ round speakers). I'll have a couple of mics installed for hands-free Bluetooth and it should be fantastic sound quality. Add in the dimmer switch installation, and the estimate is around $2800. We're working on getting this scheduled now.
ACC gave her a good report card as far as the engine and the frame. I think I have a guy that's going to take care of the rust, but I haven't gotten on his schedule yet…anyone have a good body/rust guy in the ATL area?
Did a little work last weekend/this week:
– New Battery. Didn't realize how weak the old one was… ($225)
– Installed the Dome/Cargo LED light from Old Iron. Man what a difference. Worth every penny. ($25)
– Installed the steering wheel cover from Wheelskins ($60). It took about an hour to install, but it is great. If anyone is looking to add one, my advice is to pull the string TIGHT. The tighter the better. Mine essentially has no give. Tight as a drum. Here's a picture: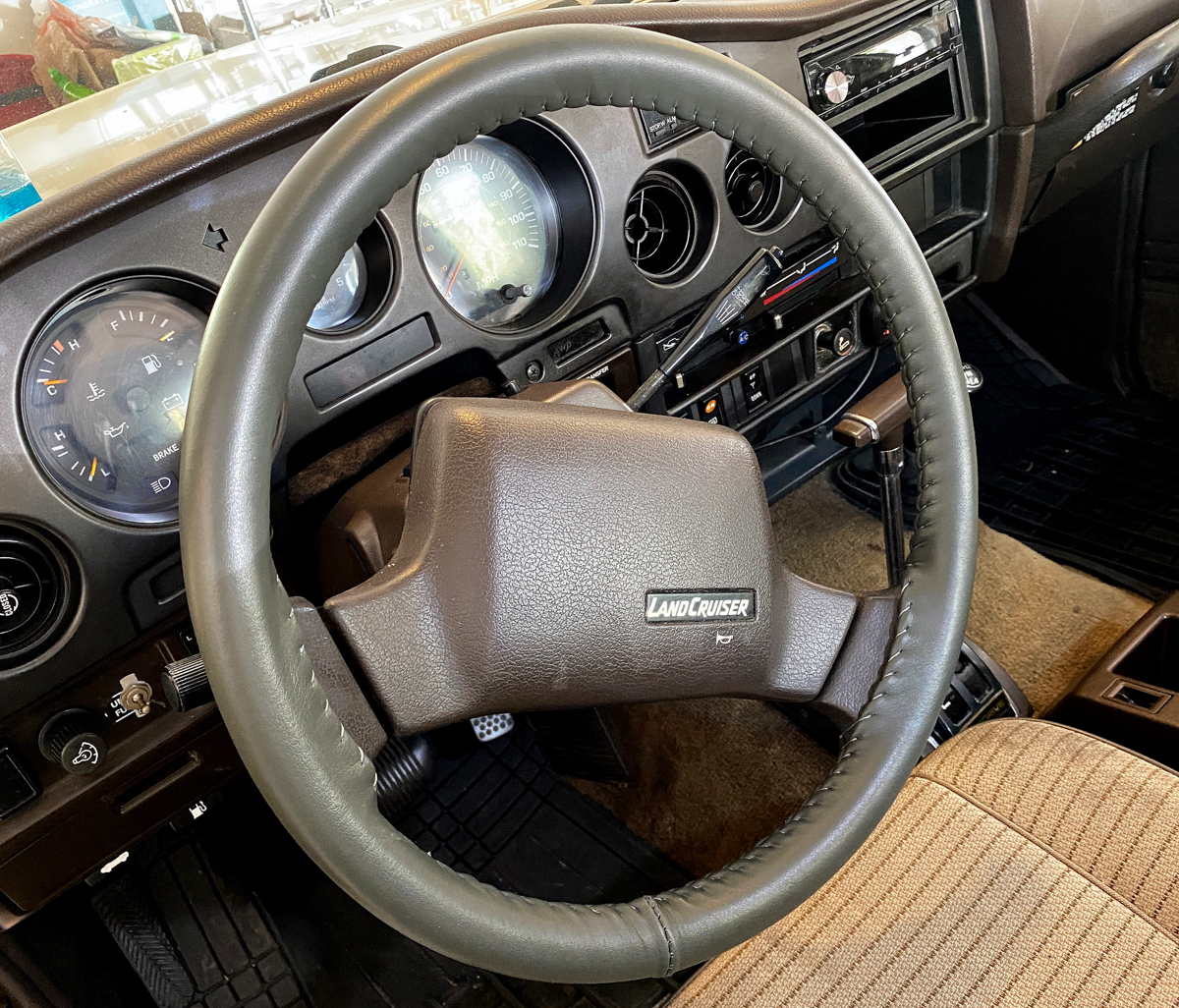 Lastly, I did a pseudo restoration of my console top. Thanks to some nice folks on IH8MUD, I was pointed in the right direction to clean the top and paint it with SEM vinyl paint ($17 for a can). Here are the before images: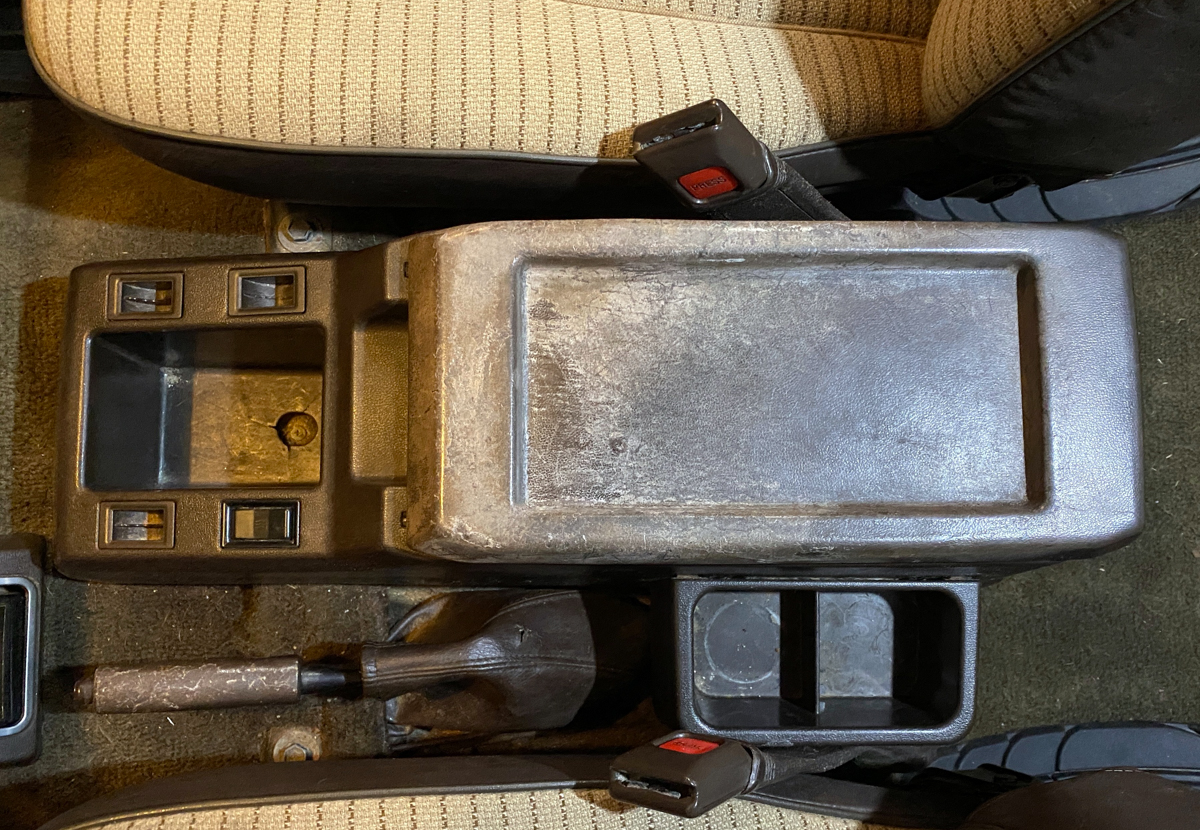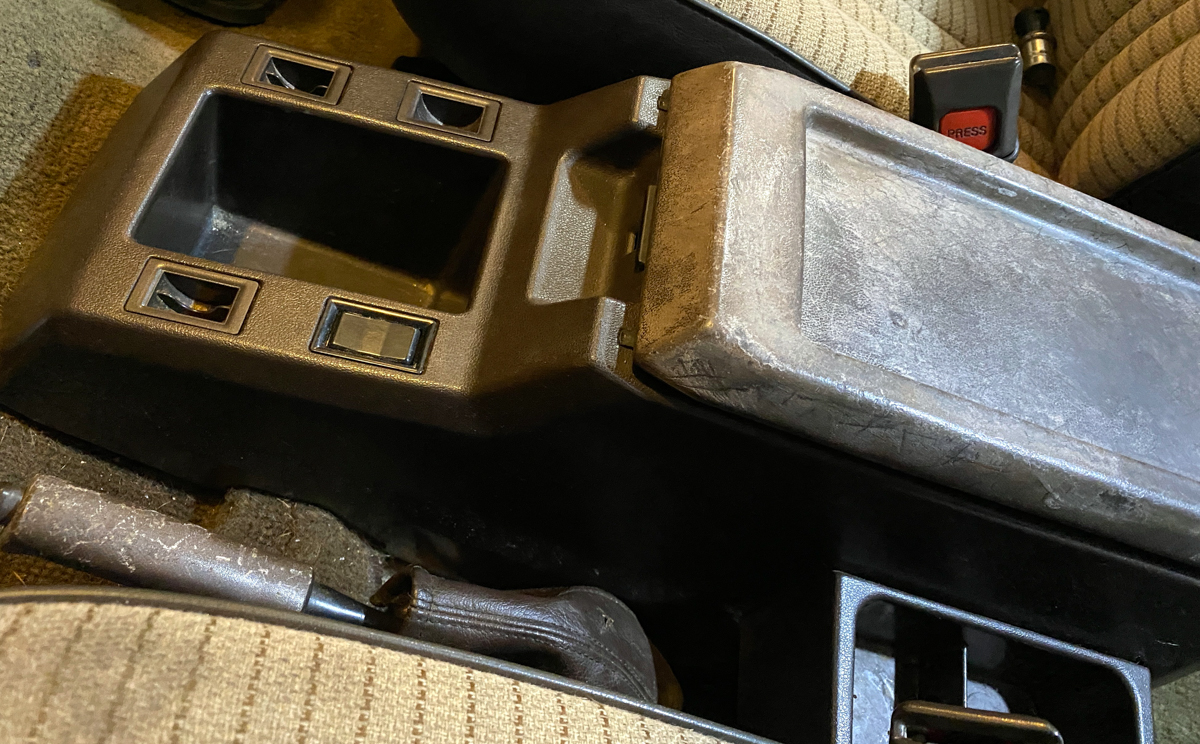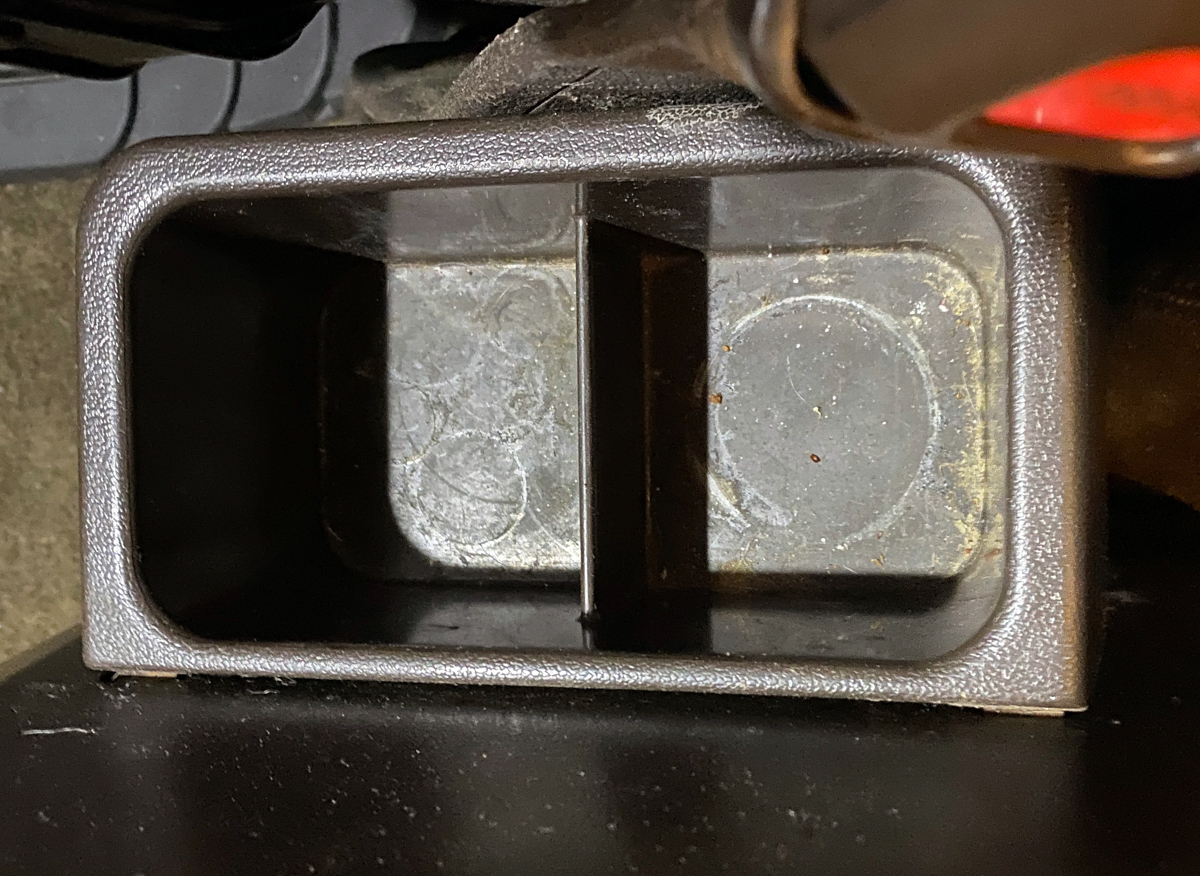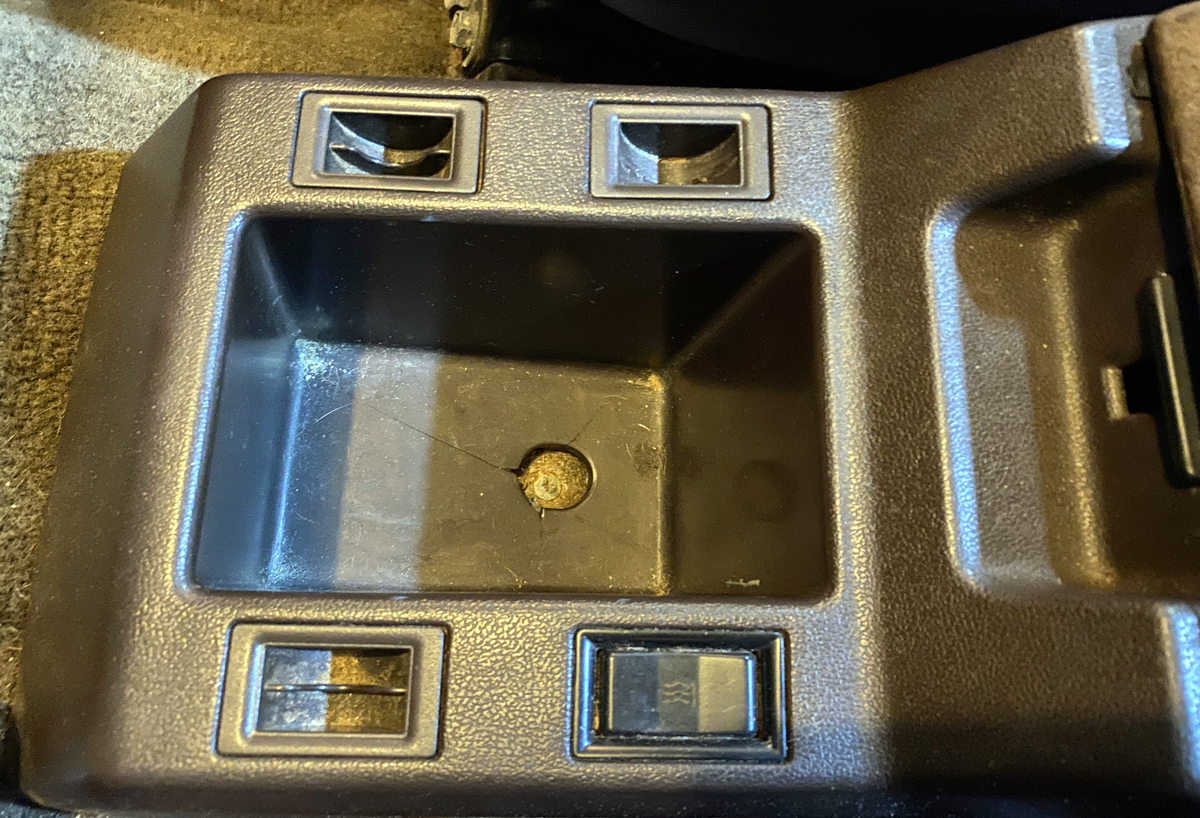 Generally speaking, the console was really dirty/dingy. I used some Krud cutter on the console top and a TON of elbow grease. After I scrubbed it as much as was effective, I used some fine-grit sandpaper to get it to a good place to paint. I applied three coats of paint, and probably could have done a couple more, but I like the matte look.
In addition, I cleaned the hell out of the console itself. I used the Krud Cutter, then used an interior restoration cream…the plastic really soaked it up, so I did a couple of coats. It probably would have been easier to remove it and clean it, but oh well. It really looks great.
The painting set up: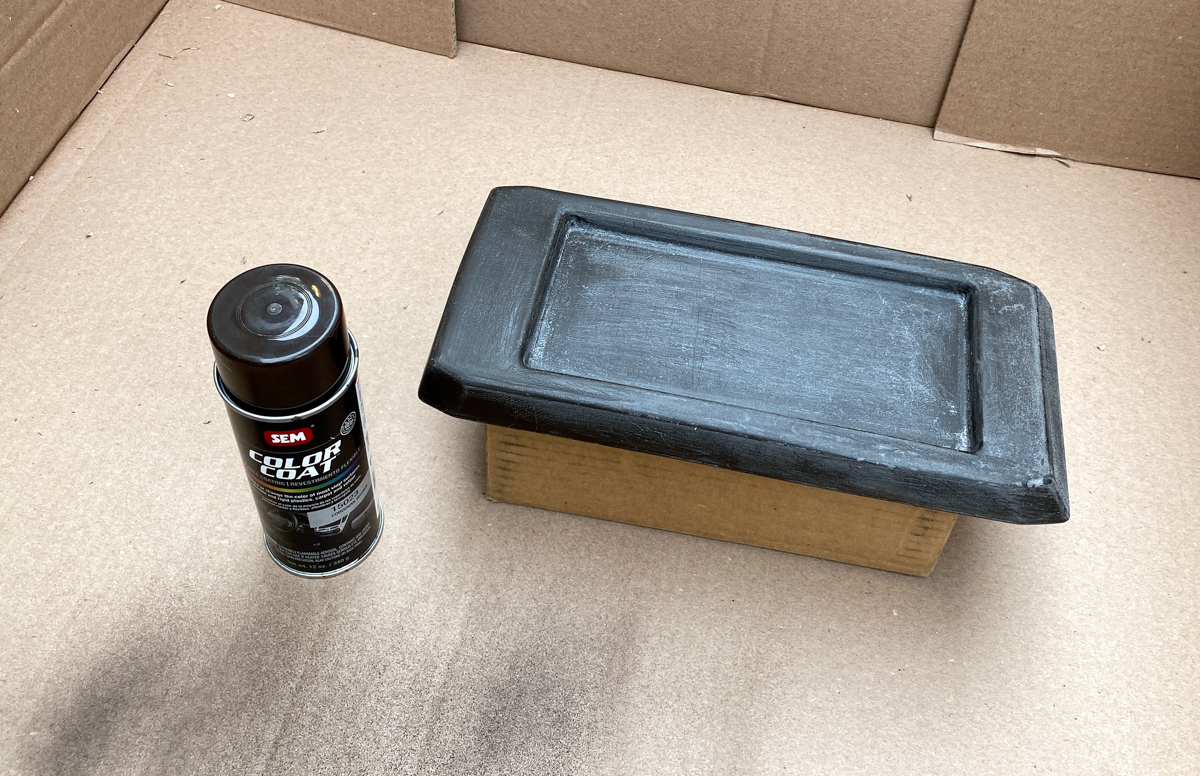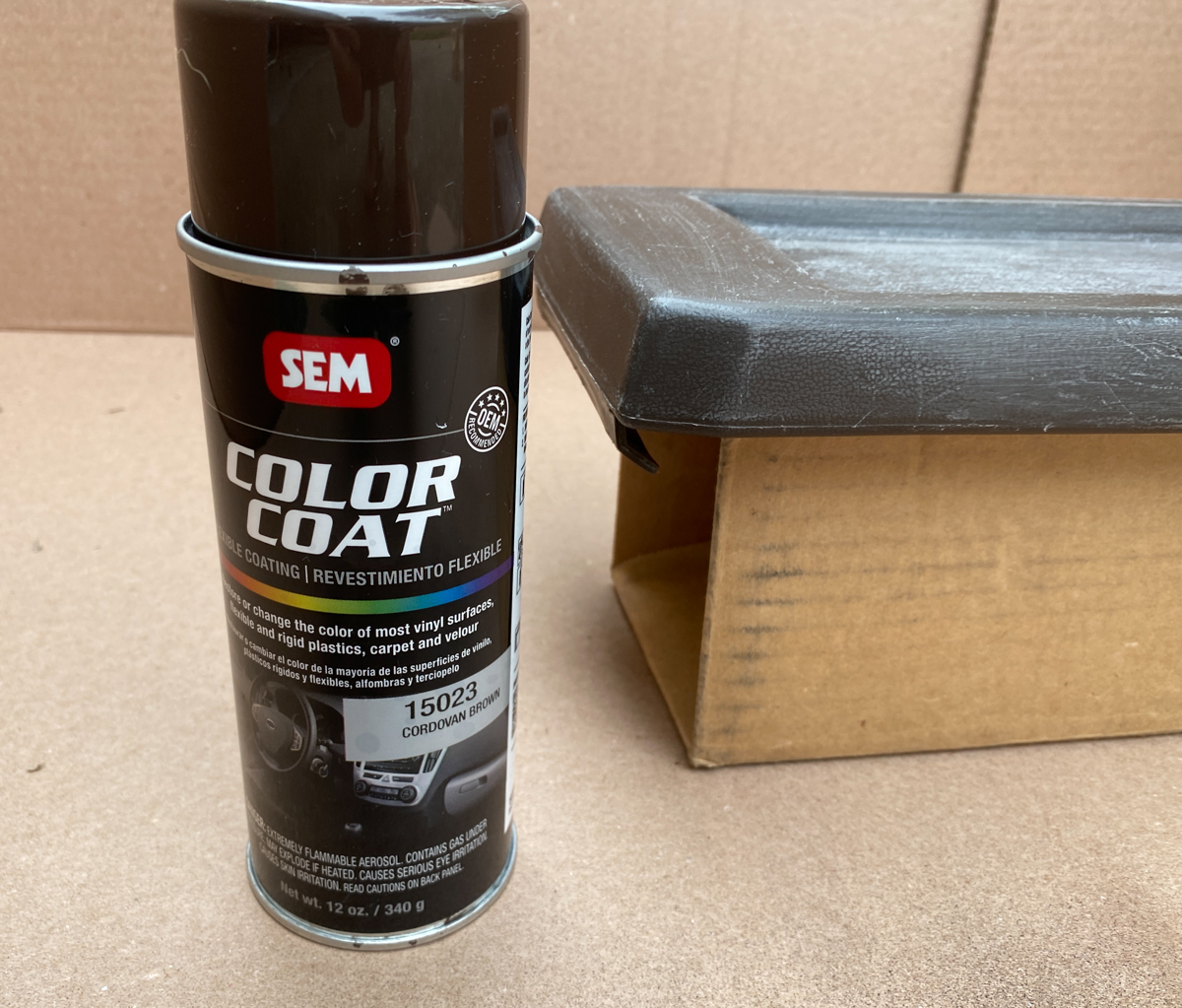 Lastly, I ordered a couple of sheets of silicone to line the bottoms of the cup holders and the console. Very cheap on Amazon ($13):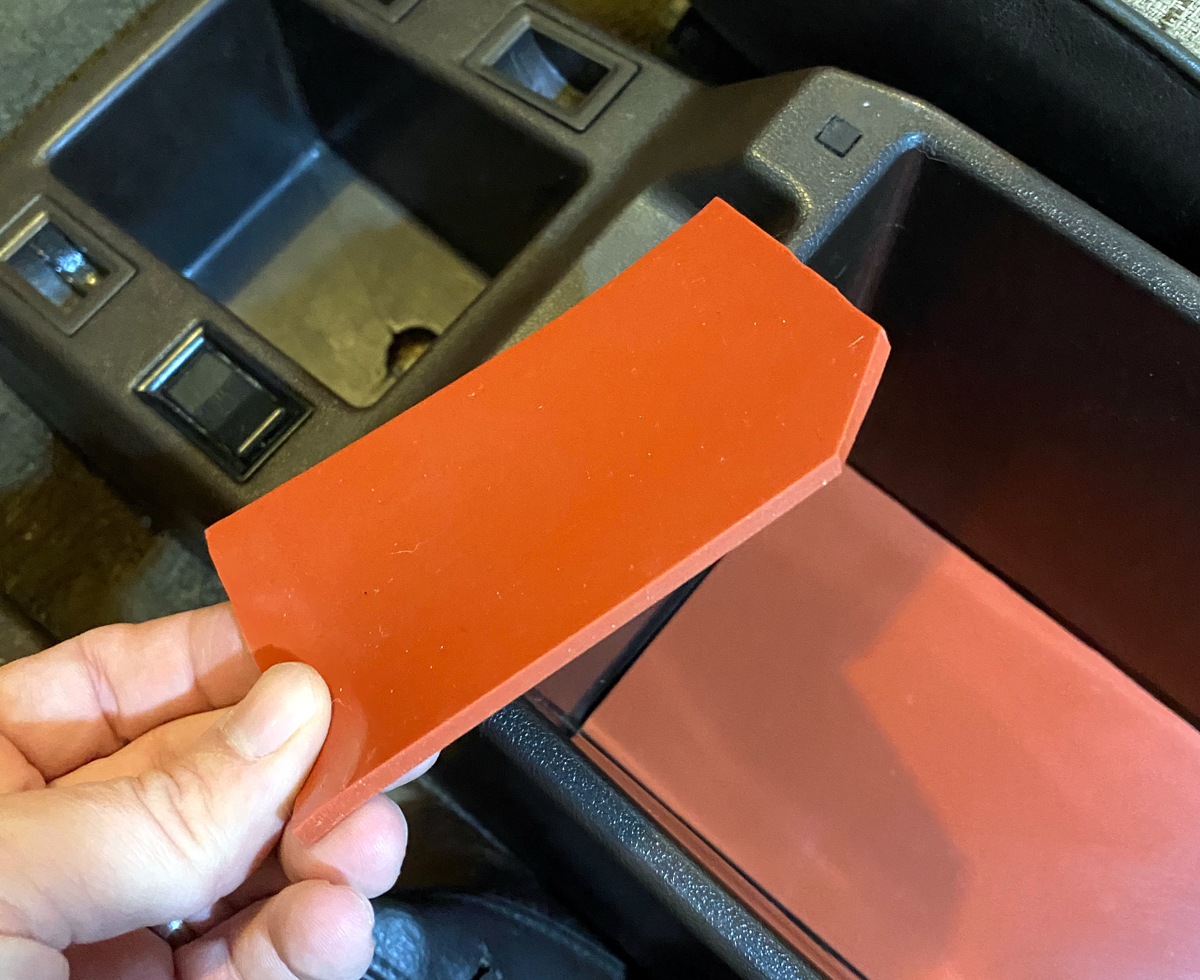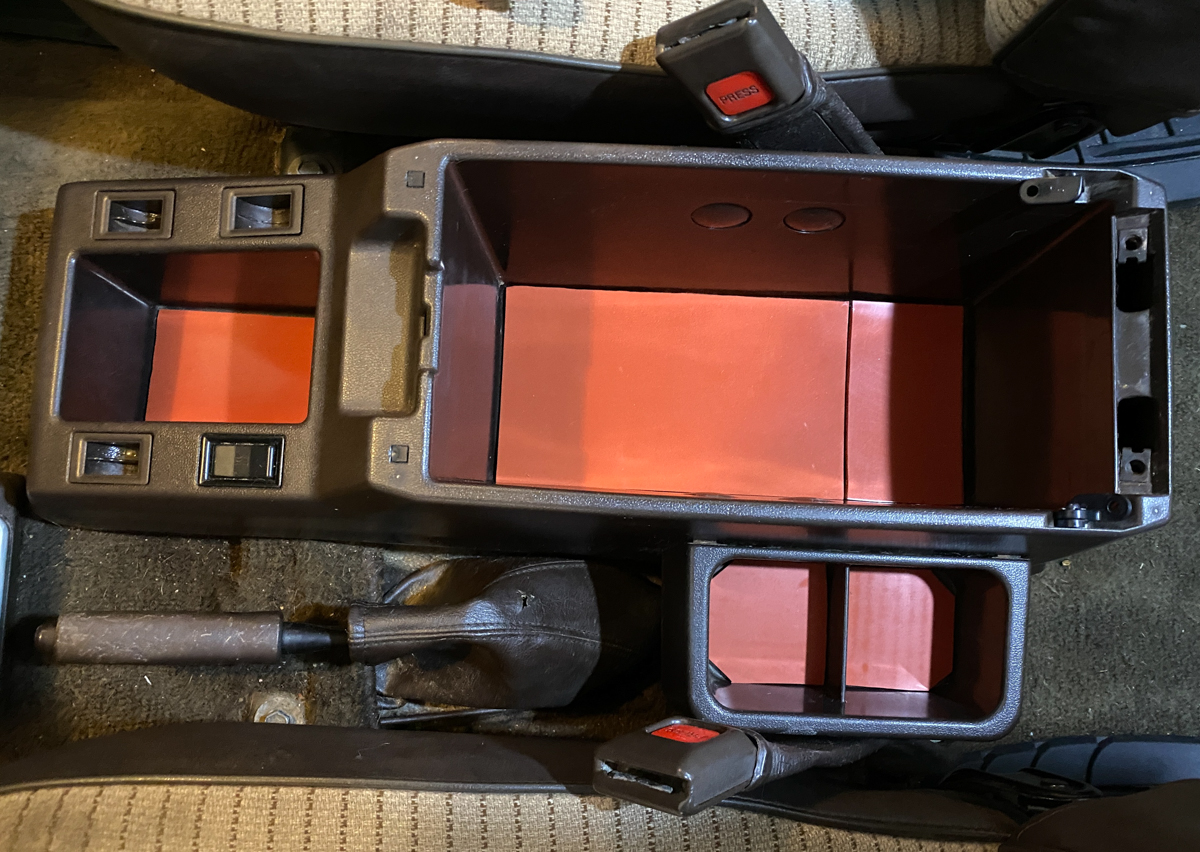 Here are the 'after' pics of the completed console. You'll see that the paint is maybe a half shade lighter than the rest of the console…I'm fine with it: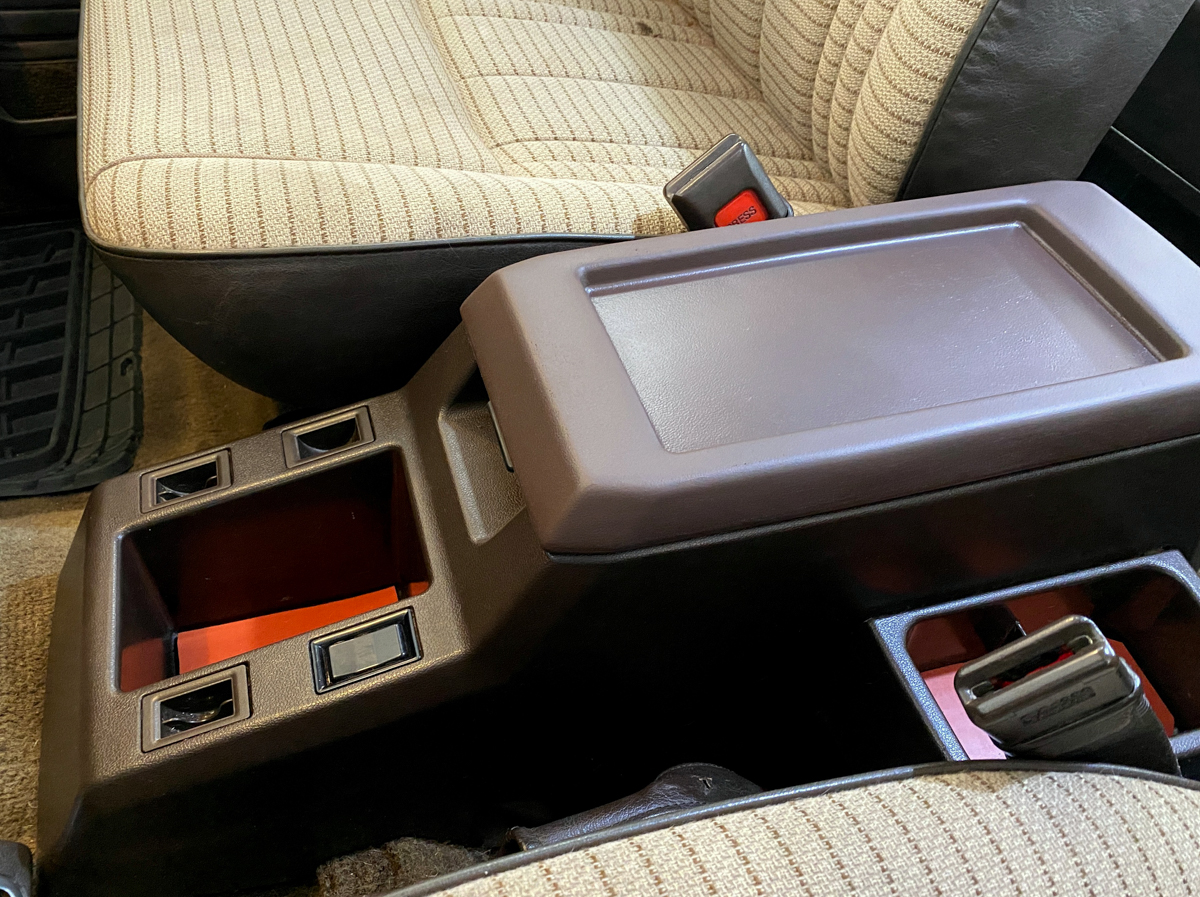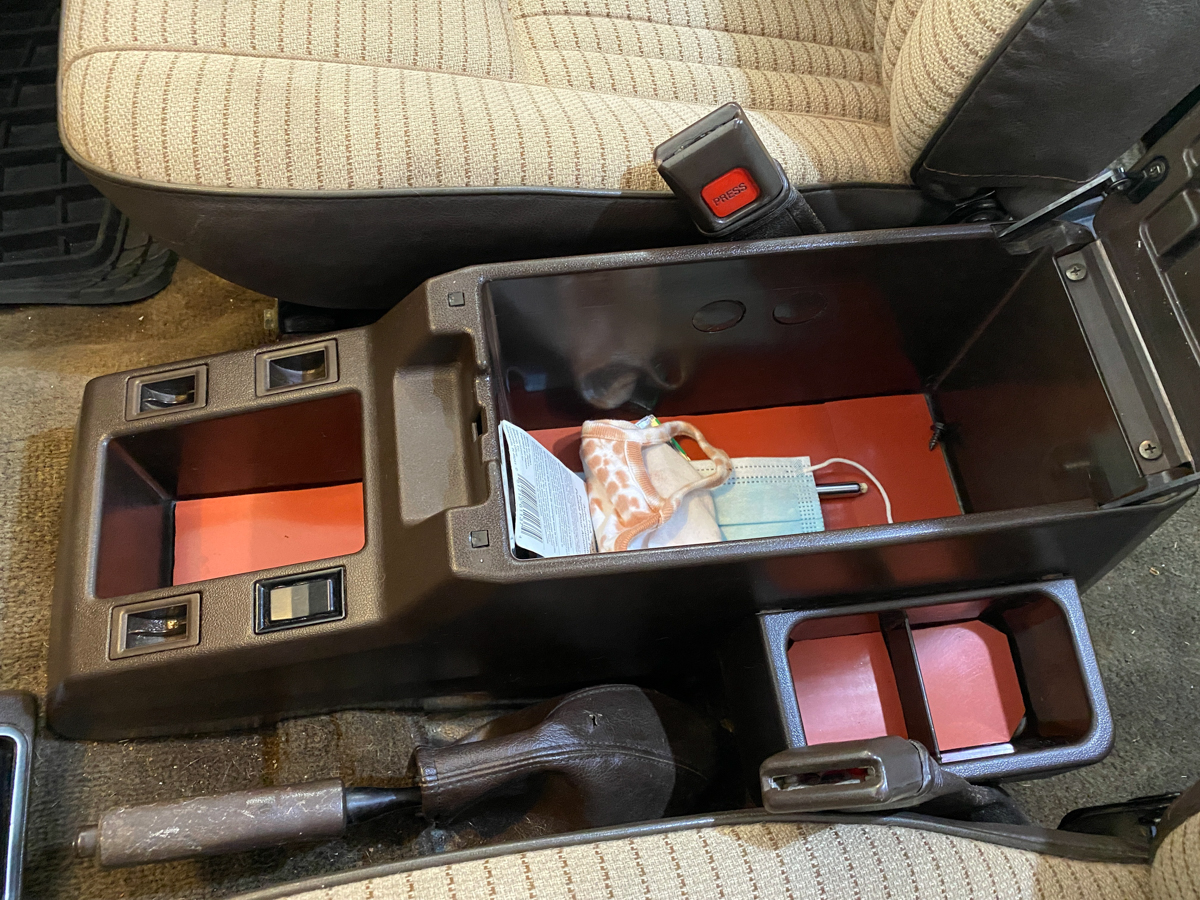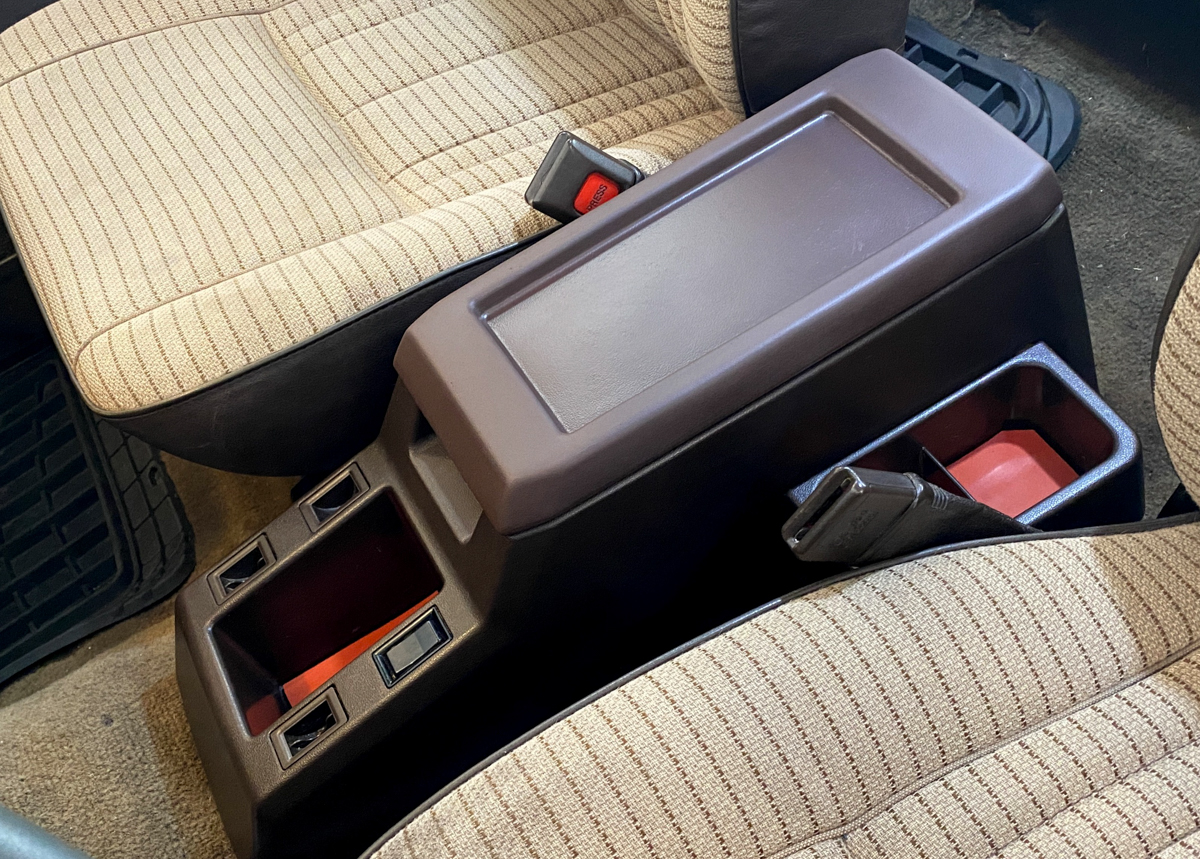 I'm planning on doing the rest of the interior this weekend, including the emergency brake handle, and giving her a serious vacuuming.
In terms of the costs, I think it's important to include these, as I get a TON of questions about owning a vintage SUV.  It's not to show off or be off-putting, but to be realistic in what is involved in owning an older SUV that needs work.
I've had multiple conversations in DMs about buying a vintage SUV, and I tell everyone the same thing: buying is the easy part.  It's after you get it home when it becomes a challenge.  Specifically, I'm talking about 'running' SUVs, not complete restorations.  I wouldn't buy a completely restored SUV because the prices are so high, and you are paying a premium for someone else doing all the work.  Plus, the first time something breaks (inevitable), it'll feel like you got ripped off.
So far, I've spent a good amount getting Bertha where we want her, and we are about halfway through the list.  We have to take care of rust and paint, which is going to be very expensive…like a new Tudor expensive.  But, we knew this going in, and we've budgeted accordingly.  I don't have any plans to get rid of her (unless the right offer comes along), but my analysis shows that with the prices continuing to go up on FJ60/62s, I'm going to get ~$1.30-1.40 of value for every $1 I spend.  I feel good about that.
She's getting there!